Those five years of being roommates at Melrose delivered so many memories, catch phrases and inside jokes. Wayward towels. Petrified sausages. "Maybe it's in the pants pile." Snatch snaps and crotch clasps and feta fights. We knew the value of a sturdy coffee table on which to dance. We made one poor life choice after another together—you know, things like, "Hey, let's make multiple manhattans on Wednesday night…it'll be classy!" We learned genius life hacks like, if you want diet coke and cannot be bothered to walk to 7-11, just order a pizza and they'll deliver a 2 liter... for free. Take that Buzzfeed.

With this girl, my fellow bridesmaids and I had the most bitchin' birthday bashes. We could take over a room when "Mr. Brightside" was played. And we literally wrote the book on dating and relationships. No, really … we seriously co-wrote a book! And now, with Raye's nuptials, all of The Girls™ have secured outstanding mates. I guess that means we really did know what we were talking about all along. We were pioneers in the field, and I'll be mailing the manuscript to Oprah's book club next week.

On a serious note, Raye has stood up for me in ways I can't even describe here. She has always had my back. She gave Andy a thorough grilling and bit of a scare the night we first met. Most importantly she's always been supportive…even when my dream was to move thousands of miles away. As we already knew, we were excellent traveling companions. So, long before I had even moved to London, we were already planning her trip to come visit me across the pond. Not kidding.

My first impression of Rob, when we were in school together at Goldsmiths was, "who is this guy who keeps making astute observations about Cormac McCarthy in this brawny northern accent?" It wasn't until the last day of classes of the first term—my birthday it just so happened—that Rob joined our rag tag group of hopeful writers for drink after class. That group included Charlotte, James, Luke, and others. Soon after, Rob's presence at our favorite pubs and water houses was an almost daily occurrence. He and I shared in shenanigans, dance offs, long-form pub chats about writing, and he always took care of me and made sure I was safe. Rob's character is a perfect mixture of silly, smart and sweet, and I found myself lucky to count him among my best of friends.

One day, over a pint at the Amersham Arms, I was telling Rob about my life and friends in Seattle, including my former roommate, Raye. "I think you and Raye would get along well," I said. Then I paused, and thought about it some more. "Yeah, you and Raye would really get along well, actually."

Just a month later, Raye came to visit me in London. Indeed, she and Rob hit it off right away, and I got to hear Rob's now-infamous words, "Miranda … Raye kissed my face!"

I know it's been a long road for both of you with all of the trials, miles and tedious bureaucracy you've had to endure to be together. But, here we all are! This is your day!

I couldn't be happier for the both of you. I am so proud of you two for pushing through life's sometimes frustrating roadblocks to make this day happen. And, I am so honored to be, not just part of your big day, but a part of your lives.

Raye you've always been family to me, an honorary Staley, Sparky's auntie Raye, and part of the Schmee family. Rob, for that special year in my life we were the "urban family" in London and I am so happy to finally call you part of the "Seattle family" now. I love you both and I wish you a long and happy marriage.

A toast to Raye and Rob!
Back in the mid- to late-2000s I was in my mid- to late-20s. When I met Raye back in December of 2005, I remember liking her right away. So it was of little surprise when she and I decided to move in together just six months later. There are so many ways that scenario could have played out. For us, it was life-changing start of a beautiful friendship.
A Room with a View
I went downtown on my own to check into the room. For some reason even though I was the one who booked it, I thought we were at the Hyatt at Olive 8 instead of the Grand Hyatt which was kinda embarrassing. Luckily the two are only half a block apart. For the rest of the night, I made sure to reiterate that we were at the Grand Hyatt on Pine, not Olive 8 Hyatt. even though I think I was the only person to make that mistake. LOL.
The room on the 28th floor was fabulous with amazing views. I wish I took pictures of the room itself but I ended up only taking pictures of the view while I was alone.
Looking up Capitol Hill
Looking at the building I thought we were staying in.
A sliver of the Puget Sound
There was a bit of a snag. The Seahawks are in the playoffs and there was a game that evening that Raye wanted to see. The idea was to have her watch at the hotel bar while we got the room set up but the hotel bar at the Grand Hyatt (remember I thought we were at Olive 8 Hyatt) was Ruth Chris Steakhouse which is pricey and it was full anyway. So Christine and Dani didn't get to witness the reveal of the room .to Raye Raye stayed in the bedroom and watched the football game while we set up.
Raye with football and bubbly
Party favors
Those balloons were ridiculously difficult to inflate.
Cherry
We had Raye, Dani, Christine, Sara C. Angie, Dorothy, LInsdey, Kristen and Sarah A. We had to pull Raye away from the Seahawks when our stripper, Cherry, arrived. Christine found Cherry and she was a perfect fit for Raye all cute and tattooed. She says this was her first party for girls but maybe she says that to all the girls but she seemed to really enjoy herself and we enjoyed her but most importantly Raye did too. I need not get into the details but I will say that probably the funniest part of the night was when Sarah A. arrived late and got a lap dance and the way she reacted "what am I supposed to do here? Can I touch you? What's that in your but?" had me laughing until I was crying. That is until she got a little too into it.
After the Cherry portion of the night was over there was very difficult cat hearding to get everyone into cabs or Ubers to the gym where Jell-o wrestling was happening.
Jello-o Wrestling
We managed to get to SLU in two vehicles. Kristen and Sarah A. didn't join us. We had VIP seats ringside for the ladies jello wrestling. I should not that our entertainment was provided by women, the stripper service was women-owned and the jello-wrestling was women produced. Jello wrestling was fun, messy but fun. Raye and I were called up on stage at Jello wrestling, it was so slippery I amost fell in front of over a hundered people. I've never been in a boxing ring before, i never realized how bouncy they were. The emcee asked us some questions and we were given the weakest whipping by the co-emcee. We stayed to the end and the girl I was rooting for was the champion. Oh naturally there were jelloshots to imbibe there. Kristen brought jello shots made with vodka to the room so imagine my surprise to get to the wrestling place and take a jello shot that was made with tequilla and rum. Ofta This is where my hangover came the next day. I was trying to stay together and not drink too much but I had now had mixed my alcohols and had a bit of everything.
The Champion wears the victory belt!
Drinks & Afterparty
After wrestling we went to the Victory Lounge which was kind of sweet because, back when that space was the Lobo Saloon, that was one of the first bars Raye and I ever hung out with together. Awww
The service was terrible though and people were getting hungry so we hopped in an uber (we lost Sara C and Dorothy at this point) and headed to Belltown where we got Seattle dogs from a street vendor before stopping in at the last bar for the evening, the Screwdriver which is my new favourite bar. We were only there for a couple of drinks before it was chucking out time, didn't even get to hear my songs on the jukebox. But that was okay. Raye, Lindsey, Christine and I headed back to the hotel where we were drunk and silly for a little while longer before it was time for bed.
The next morning my hangover was no joke. I didn't even get legless but I can't drink like I used to. We cleaned up the room and headed back to Ballard.
I think Raye had a very special night for her bachelorette. I'm pretty proud of the night we planned. There were a lot of memories born that night, though I can't get in to all of them here. When I reunited with Andy at home he told me stories about his night at the bachelor party and I stories about our night.
This weekend is the wedding. Cathy lands in town tomorrow (squee!) and I have 4 days off, 3 of which will be very busy with wedding stuff. Here we go!
Saturday was Raye's Bachelorette party. As MoH it was my job, with considerable help of Christine and Dani, to make sure the bride had a bitchin' time. I got us a large suite at the Grand Hyatt downtown, we had a stripper coming and then we had plans to get to South Lake Union where we had VIP seats for Jello Wrestling. After that, the plan was to have drinks till the night was over.


Then next week is the wedding. I'm excited to see Cathy in the flesh. I am looking forward to the service and the party at the Schmee.

Then it will be a short reprieve before it's time for me to start bustin' my ass on QC again.

Looking further ahead what would I like to see in 2017?

I'd like to get back into writing and I don't mean just journaling/blogging. I'd like to write a short story again. I've been reading more and more this year and ideas are starting to come to me I just need to set aside the time and make the effort. I realized on New Years Eve when Ryan asked if I had written anything that my answer to that question has been 'no' for too long.

I plan to start saving. Between overspending for Christmass and R&R's wedding I've dug myself into a bit of a hole I need to get out of but once that's sorted I plan to start squirreling away money so hopefully we can some day have a down payment on a house. Last year we were told in no uncertain terms how much we'd need to come up with and under the circumstances coming up with that kind of money is about as likely as spitting out a magical frog. Now that I've got a promotion with a bit more money I can live on what I was living on and put that excess into savings. That's the goal. Plus I've been enrolled in a 4013b at work so I'm putting a little away for retirement (even though my generation doesn't really expect to retire). Maybe once my 1k+ a month on student loans is behind me I can put that amount of $$ into retirement and maybe by the time I'm 70 I can chill (if I make it that long).

Speaking of making it that long I need to loose weight. I have a mental block where I still think of myself as looking like I did when I was in London when I was walking 5-10 miles a day, when in reality I sit at a desk for 8-9 hours a day. It's only when I catch a glimpse of myself in a mirror (which I purposefully avert my eyes from 98% of the time) or when I need to buy clothes that I am hit with the reality of what everyone else sees when they look at me and I'm disgusted and want to cry. I need to amend that.

I need to get my wisdom teeth removed this year. I needed to do it last year but I didn't make the appointment and then my dental insurance changed and I gotta start all over with a specific dentist which sucks. I've also toyed with the idea of just trying to quit smoking when I get the surgery because I can't smoke after it for a while. I don't know. We'll see.

No travel plans for 2017. Don't think we can afford it if we want to save money. Maybe we can do little trips. Go to Vancouver with Andy, perhaps. Andy's looked at cabin rental in the Cascades for the summer. Maybe just go back to Port Townsend sometime. We'll see. I'm sure I'll get wanderlust but at the moment I'm accepting it because I'm so stoked for my folks to finally go to New Orleans and that means more to me than me taking a trip in 2017.
I was going to write some sort of retrospective on 2016 but fuck it. The past is behind us and I've already really hit the ground running in 2017. Raye's bachelorette party is tomorrow, the wedding is a week from tomorrow. With the holidays and being in vacation mode I needed a bit of reminding to light a fire under my ass on the planning but once the new year came around it's been full on plan, plan, plan for the party. I hope it goes smoothly and that Raye has a good time.
The reveal on Christmas morning went well. Everything went to plan.
I was also looking forward to giving Andy a surprise present. I had pictures and mementos from the World Series Mets game we went to in 2015 framed.
Andy got a little teary when he opened it, so I did well. I also got him a PS4 that he knew was coming so this was a big ticket item that was actually a surprise.
We were really looking forward to Christmas day this year because we had a big surprise in store for my parents. We bought them a trip to New Orleans. Andy came up with a way to present their gift that we put together. We had to come up with a lie about them going to Las Vegas to get their names as on their IDs and make sure that my mom could take the time off from work. Ever since, I was looking forward to shouting "it's all been a clever ruse!" Andy's idea was to take these pictures that allude to New Orleans but don't outright say New Orleans by themselves. We would have the pictures framed and numbered and have a tape recorder they play which goes through them all and tells a little story.
Beer Making
Andy's wedding gift to Raye and Rob was to make beer. Andy has a co-worker who does this a lot and he took Andy out to try it a while back and Andy thought this would be the kind of thing that Rob, Cory, Dani and Raye would really enjoy (Ray couldn't go because of her work schedule). So on the 30th we went up to Edmonds to the beer-making place and made beer. Andy & Rob made the beer for the wedding (coined by Cory 'I Do Brew'). They made an IPA. Cory and Dani made a pilsner and I made cider. The cider was pretty easy so mostly I just wandered around and took pictures of the others making their beer.
SCIENCE!
This week we returned (sans Dani) to bottle. We went on Tuesday but I learned that my cider wasn't ready so Andy and I had to come back the next day. The boys have got their beer and me my cider (which is nice, I made it fruity but also dry. I wasn't sure if it was going to work but I like it.)
I want to help Rob & Raye with labels for the 'I Do Brew' but I want to talk to them about it first. More wedding crafts to come.
Questionable Content
Dec. 10th was QC at the Pocket in Greenwood. This was the last show of the year so I wanted to do the annual year-in-review show. David was out for medical reasons so Phill hosted for us and Ray was also out. Sarah put together a great group of panelists super quickly which was rad. This one really took a lot out of me. Part of that was because I caught a cold at the begining of the work week leading up to it and that really slowed me down. Part of it was that I really wanted to the content to be good but I was feeling really uninspired because I was sick and foggy on DayQiill but also pushing through at work. I know I was bitchy to Andy that week even though he was just trying to break the stress with things like impromptu snowball fights at 11:30 at night. (Oh yeah and it snowed that Eventually I just started on the Powerpoint and it started coming together but I was working up to it all the way to a couple of hours before the show. I still managed to fuck up on the powerpoint on the numberings on a couple of slides which Andy missed and now I'm never gonna hear the end of.
The show was good though. I think the games all worked and that folks enjoyed it. Folks laughed. The jokes worked. At 10pm it was a more lively crowd (weird to be back in late night slot) who were a bit more but most importantly people showed up. I aim to get the video of the show when they offer it to me.
Even though it was a good show, i was so relieved when it was over. Now, with that show behind me, my next responsibility is to be the best Maid of Honor I can be for Raye.
Holiday-ing up the joint
On Sunday, now that QC was done I could clean up the house and get it ready for xams time. We went to out place where we've been getting our tree the last couple of years and they were almost completely sold out. We got the last good tree on the lot. On Sunday Andy was full on sick and napped and I did 6 loads of laundry and decorated the tree.
Birthday
For my birthday Andy got me an NES! There was discussion about this because I wanted the little mini NES that Nintendo was putting out but apparently those are super hard to come by. (What are you doing Nintendo? You're sitting a goldmine of 30-something nostalgia and you're fucking it up!) My parents never allowed me to have a gaming counsol. I was allowed an old school Game Boy (which I still have somewehre) but that was it. So this is my first NES.
It came the weekend before QC so I think I deserve mad props for managing to abstain from it for a week to work on the show.
Raye got me my first grownup make up that was not purchased in a drug store. I got a nice urban Decay pallent of eye shadows! It's beautiful and so vibrant!
I'm headed out for happy hour with folks in just a little bit here. 34 is nothing too special so I didn't want to make a big deal but I was told that this was wrong so now I'm meeting up with Raye, Rob, Dani, Sam and the Webbs for a cocktail.
It has been so busy since essentially Thanksgiving. The calendar has been full. I'll try to update as best I can.
Current Music:

angsty 90s music from my youth I don't know why
As 2016 winds down I'm excited to say farewell to this shitty, shitty year, but at the same time, I'm in no hurry for Inauguration day. So torn.
However, I do have an addition to my ongoing
Mir's life Mix Tape
the first in quite a while. I think this song accurately covers this absurdity of this year with the appropriate level of dread. It's not terribly personal but it does capture how I feel reading the news ever since the election.
I still can't help but feel like the distraction of the holidays and life goings on is like ignoring the fact that we are sitting in the middle of a burning house. I'm even trying to not pay *too* close attention to the news of who Trump is bringing in because it all is so infuriating and depressing and I feel so damned helpless.
Though it feels like I'm sitting here writing about banal shit paying no mind to the house fire I'm sitting in, there has been stuff going on before and after the election that I feel I ought to mention for memory's sake. In particular, I've gone to a couple of shows and the Schmee's gala & auction happened. Lots to tell.

Dylan Moran
On the Saturday before the election--yes, this is how we measure time now, Before Trump Elect and After Trump Elect-- I had tickets to see Dylan Moran at the Neptune. This was my 4th time seeing my favorite comedian this time on a very wet Seattle night. Early on in the show Moran was all "don't worry we'll get through this very quickly, I want to see what other kinds of rain you have."


The show itself was great. I mean I love him, he's my favorite. But it was one of the weirder comedy outting experiences I've had. Dylan Moran was talking about how, getting olde,r he can't have his favorite things anymore and there was a joke about having a picture of a chocolate chip cookie in his wallet. A little later, he was in this bit about being in Germany and looking for veggie soup. He was in maybe the last third of the bit, building up to the punchline and this girl just walked up to the stage and interrupted him by giving him a cookie. It totally threw him off and messed up his train of though. He almost immediately went to intermission. How freakin' rude and attention seeking of this chick. I was pissed off because this girl I think robbed us of jokes.

There were a couple of other things that were weird about that night, completely unrelated to Moran's routine, but I don't think writing about it will do those stories justice, or I'll look like a jerk. It was all topped off though when the girl in front of us throughout the show complimented Andy and me on our laughs. Like genuinely I don't think she was being facetious or anything. So that was kinda nice...but odd.

The Descendents
So on the Thursday after the election, while Seattle was still in shock and mourning, Andy, Raye, Ryan and I had tickets to the Descendents again at the Neptune.



Andy, Raye and I got there kinda early. Despite the mood being sullen going in, I was listening to some quality punk to help release the pent up anxiety about the election. The three of us sat upstairs for the opening bands and Ryan eventually joined us. Before the Descendents went on we went down to the floor and were standing right in the center of the crowd so of course once the show started we were tight in the pit. I'm a pussy when it comes to getting pushed and squished in the pit so that shit only lasted for one song before I made my way to the side. We lost Ryan but the the three of us found a good vantage point out of the pit. The amazing thing about this show is that people were stage diving and crowd surfing. Of course that's not weird for a punk show but it is very unusal in Seattle. Venues in this city are so uptight with liability that usualy when someone first tries it security usually nips that shit right in the bud. Not at this show. Raye got too hot in the crowd and was having problems with her shoe so she went back upstairs pretty soon. I stuck around on the floor with Andy until after I heard "Suburban Home" then went up to join Raye where I could get a good view of the crowd as well as the band.


Andy has way more stamina than me when it comes to shows and he stayed on the floor. I stuck around for the first encore but I missed the last two and in doing so totally missed my oppertunity to see my husband get up and stage dive/crowd surf. Goddamnit! Wen Raye and I reconnected with Ryan and Andy they were both drenched in sweat. It was a good night and needed escape from the sadness of the election result.

Auction Schmauction
On Nov. 12 the Schmee had our annual auction which raises funds for the year. Usually these are at the theatre but a lovely couple donated a venue, Escalia, for us which was all fancy and only a couple blocks away from the Schmee. It had a grand staircase, a chihuly, a huge bar and a sweet deck with outdoor fireplace, which would have been in more use if it weren't such a blustery night. Raye, Angie and I bartended and in addition to all the schmee folks Dani, Sam & David were there. It was kind of a mascarade theme so I got to wear my princess dress I haven't worn since Puerto Rico.



The theatre did well in raising funds and the venue was very happy with us becasue we were very good at cleaning up after ourselves and they would be happy to have us back! Sweet. And here I was a little worried about getting folks to give money after the election but it all went well.

I saw a thing
My mum bid on a thing in the silent auction that she was hoping to get out-bid on but did not. So she ended up winning tickets to Celtic Thunder at the Paramount. She asked if she couldn't get anyone else to go with her if I would go. I don't even know what this was but I wasn't interested. However, I can't say no to my mum so I agreed to go with her on Wednesday to this ridiculous thing.

Andy looked this group up and no it's not river dance. It's like a boy band for old ladies. It's like the Irish Backstreet Boys only not really for young people nor Irish people. They sing some Irish folk song but also popular songs that are older or palatable to old people. Andy teased me relentlessly for going to this ridiculous thing. He teased me the night before with YouTube videos of these guys and the next day when I was at work, Andy was emailing me memes teasing me.
(
Andy"s Memes
Collapse
)

Andy even got his co-workers involved and prank called me during work hours pretending to be Celtic Thunder. To which I emailed him "SERIOUSLY?!"

The things we do for our moms. I met up with my mum at the Schmee and we went and had a light dinner and cocktails before heading over to the Paramount. I was shocked to see so many people outside teh venue. The one cool thing about these free tickets was that they were VIP so we got to bypass the crowd and go in a special side entrance and we were given access to a special VIP area with free food and a full bar.

The minute we got into the theatre I was hit by the overwhelming smell of old lady. We made our way downstairs to the VIP area. This was the best part of the evening. I could get used to going to shows this way, if only I could afford it. Like I say there was free food -- Tom Douglas, too, fancy!-- and there was a bar that not only had no line but for the same price the plebs were paying upstairs I could get a good pour in a proper glass like a grown up. I had white Russians 3 & 4 in the VIP area, getting properly liquored up to face whatever was ahead.

We took our VIP seats in the balcony, I'd say the average age of the audience was probably 60 with a few outliers of "young people" around my age. The backup band came out and the music started and there was this ridiculous voice over "Thousands of years ago..." blah blah blah "..the sound..." you think they're gooing to say "of thunder" but instead it's "of drums" and the drummer began drumming and the music swelled. Eventually the Celtic boy band came out and the crowd lost it's fucking mind. My mum just looked at each other and laughed. They sang this dramatic song.

Song #2 was a song about a boat, I know because the projections were so damn literal. They wouldn't want anyone to miss the point that it's a song about a boat. Annoyingly but also a source of hilarity for me was the fact that their art director only programmed about 30 seconds worth of film in the projections so you just see the same boat footage replayed over and over again. I tried to stifle my laughter.
Song #3 was about a horse and the projection was all these wild horses running thorugh Irish landscape and I fucking lost it. As soon as my brain went to Father Ted and "My Lovely Horse" song, I couldn't be held responsible for my laughter. They brought me to this.
Don't worry I won't go through each song but song #4 was about gypsies and, again, 30 seconds of Irish gypsies on the screen and all I could think of was the line "I fucking hate pikies" from Snatch.

I survived the first half, of course they closed with a U2 cover, perhaps only slighlty annoying those around us with my laughter but I had remained mostly respectful to the fans of the rediculous thing that I swear does NOT get performed in Ireland at all.

Back in the VIP area more white Russians and there were salted caramel chocolates. We came back for the second half, even though I thought very honestly about skipping the second half. In the second half, the guys tried to be funny but it all fell flat. To me they were way more hilarious when they were taking themselves seriously. When they were trying to be funny I was annoyed with how un-funny they were but the old ladies just ate it up.

When the show finally got out and everyone was filing out of the theatre I noticed the big black security guard, who was the only face of color in a sea of old white people. That pretty much says it all about Celtic Thunder. At least I didn't see any granny panties being thrown on the stage, which honestly I expected.

Current Music:

The Descendents
And that's fine. Maybe? Because perhaps posting on FB my thoughts and opinions is just adding to the cacophony of liberal smugness that my opinion fucking matters. It goes against what I was trying to get to in the first place.
Besides a lot of people on my FB feed are still in an angry place. There are some articles and podcasts and the like calling out the left for our smugness in the election and our closing people down by saying they are racists and therefore the reply is, I'm sorry I won't support racists by engaging with them.
And sometimes that response feels fucking valid because while us white folks in our liberal bubble point fingers at who is to blame--racist hillbillies, Hilary, Bernie-bros--on the ground for our POC
this
is happening....
...and
this
...
..and
this
...
and when I see that I think, Jesus, the 'other side' are fucking monsters. Maybe the people shutting them out are absolutely right in doing so.
Our side doesn't want to think If we shut each other down and close the debate, close the communication, how the fuck are we supposed to end this? You can't just call people monsters and block them out and they'll come around. Or once you block them out they don't just cease to exist. They're still there and they'll never come around without discussion. If anything they'll increase their racism because they'll feel justified, too.
Further, I've seen folks on my side say that 'anyone who voted for Trump, supports
this
'. We have to remember, that, if that is the case, then it has to work both ways. In which case, anyone who voted for Obama supports drone strikes. We have to come to terms with that on our side. Especially the folks who were gung-ho Hillary, because that shit was sure as fuck going to continue with her.
It's interesting in the past two days I've seen the left use the words to describe the swath of people who voted for Trump, the rural poor, with the same words racists use to describe the urban poor, (code for black). The most interesting word being 'entitled'.
Maybe we should recognize that entitled is, in the right context, not a bad word. We all, as Americans are entitled to life, liberty and the pursuit of happiness. This is supposed to unite us. We are all entitled to that much. The minute you deny that from your fellow Americans, you are out of line.
I feel like we are at a head right now. What ails the people in middle America that voted for Trump is what ails communities of color in the city, poverty. The wealth is going too much to the top. We
have
to come up with a viable solution to poverty or easing poverty. The right, the monied, are not going to fucking do that. The neo-liberals are not going to do it either. It is our responsibility on the left to come up with that solution. We have to sell that solution to the very folks that many of us have cut off from our lives right now if we want to see a change.
It is all up to our side to do this.
But we are not going to be able to do so if we remain indignant and smugly disregard half the population like they don't matter and like they're not struggling.When Hilary said "when they go low, we go high" we, and her campaign, didn't even live up to that! We just smugly disregarded them. Now we really have to go high, and be the ones to try to solve this problem and we can only do that by listening, discussing We have to do that while on top of defending and fighting for the rights of people of color, Muslims, immigrants, women, and the LGBTQ community. That's a lot of responsibility for us to take on the left. Of course, it's going to be twice as hard because we'll also be fighting off the Trump administration (*vomit*) who will be trying to pull back the progress that we have made thus far.
OR
There's option B where we continue being divided. Close each other out. Move away. Try to break from the union, or, hell, things come to a head, Civil War, the sequel. In which case, times will get very tough because they're the ones who are heavily armed for one and they're from the place where our food comes from.
So we'd be wise to use our best talents, our diversity, our education, our open-mindedness and find again our empathy and compassion in order to solve the problem. That is our charge in the century.
Perhaps that's me doing the optimistic American thing. History shows, however, when fascism rises, so does violent strife and uncertainty to chaos and horror.
P.S.
I just realized that this is how I deal with stressful situations. I get this from my mom. When bad shit comes up and everyone around me is going "woe!" or "RAGE!' my instinct is to go, "okay, there's no way around this, what's happened has happened, let's take stock of our options and figure out what action to take. Suck it up and figure out how to cope." That's totally what I'm doing right now as I write these blogs.
Because I'm one of the few last holdouts on LJ, and you can see the tumbleweeds pass over here, I thought that maybe I should repost my thoughts in my last blog on FB. But I decided that the Book of Face doesn't need the opinion of another white person. Writing is the main way I process my thoughts and it's okay for me to do that here, in my own lonely corner of the interwebs.


These might be all scrambled. I might just start and then trail off. Please excuse me.

This is a somewhat familiar feeling to what was felt in 2004...only worse. So much worse. I mean Bush was bad but this is bad and so surreal.

I feel like my adult life, since I've been of roughly voting age (I was just a month too young to vote in 2000), I have watched this country fall deeper and deeper into a strange dystopia. The towers fell, we went into war that no one wanted based on a lie, hurricane Katrina made it clear that the USA is a 3rd world country. Sure Obama's run gave us some hope, but from the Tea Party, to Trump's Birthers, to just congress in general, he had to face so much obstruction, much of the progress we wanted was not achieved. Plus we live in this world where facts have become meaningless in forming policy. Its a scientific fact that yes, climate change is definitely happening, and yes, it's totally our fault, to which many people still retort "why should I believe scientists? Look at this show ball." Opinion apparently holds more clout than facts and data. Worse! Uninformed opinion holds more clout than that of expertise! Satire is fuckin' dead now, you realize. Donald Turm is going to be the god damned president...

*just breathe*

Since undergrad I've been interested in the historical period of the early 20th century and in past months I've been reading historical fiction set in this time as well as revisiting Howard Zinn's Peoples History of the United Sates on Audible focused on the chapters of this time. The labor strikes, the Wobblies (IWW), the suffragettes, the robber-barons, socialists, anarchists, unionization. It was a time where the struggles of many eventually earned us the things that we take for granted today. 5 day work week, 8 hour days. The end of child labor. The right of children to attend public schools. The right for women to vote. All of these things that we have taken for granted were won (many as a compromise, mind you) because of the fight of a lot of organized working class folks. People fought. People spent time in jail. People were beaten by the police (claims at that time too that the US was a police state, I think were valid). People died. Let's not forget too, and I don't advocate this but there was domestic terrorism then in this country by the far left and the anarchists. I'm sure with all that was going on everything seemed so tenuous. This question of "if everything is changing and the system crumbling what is the future going to look like?" was part of the zeitgeist.

Here we are again at the dawn of a new century and things are strikingly similar. We have modern robber barons (some, working under the corporate name avatar of their historical counter parts, J.P. Morgan/Chase Bank comes to mind). They and their public office, politician rent boys have been, since the Regan era, stripping away at these gains of labor has worked so hard to leverage; public safety nets, institutions of education and care, and fair distribution of the wealth. Again today the global economy is changing and the working class person, especially in rural areas is being left out. Hell, even with Obama's bounce back from the great recession, the guys at the top saw far more of the benefits than the working man.

People are mad, the future is uncertain and this time, apparently the people have been duped that the right, or I guess Donald Trump, is going to be their savior and fix thier problem. Instead of going the route the of the organized working man 100 years ago, these guys have veered far right and (ironically, as if 100 years hasn't passed) with a terrifying flair of xenophobia, racism, and sexism. Oh yeah and that domestic terrorism I mentioned of the far left 100 years ago, of course, these guys are armed to the teeth, thirsty for blood, violent at Trump rallies and even shooting up polling places.

However, the ultimate irony of all of this is--because this is 2016 and black is white, up is down, and facts and figures don't matter--they elected a Robber Barron elite to be their savior! Un-fucking-believeable!

*just breathe*

Though I technically have a couple of years on the one I've got, I need to replace my IUD before Mike Pence regulates my fucking uterus. Because clearly I can't be trusted to make decisions that affect my own body and life...

*just breathe*

Before the election, I was thinking to myself that the echo chambers the internet has given us might lead us to fascism. Or rather help us into fascism, and that we would go willingly. I've been seeing it on the right an on the left. I'm lucky that my family members in the fly over states don't post about politics too much, or if they do have it filtered so I don't see it. But every now and then I find someone who I see engage in an argument, usually a stranger to me but a friend of a friend, and then I lurk on thier page, becasue I'm attracted to the crazy that I can't wrap my head around. The far right have thier own blogs from which they post their "facts" and "news." None of which is credible. Of course in my own echo chamber on the left, I've been trying to be more conscientious about articles I share in an effort to not do the same. i have forsaken "addicting info" and other left-wing political click bait type blogs whose articles take little information and blow it out of proportion. I try to stick to proper journalism from, albeit lefty news outlets like the Guardian, Atlantic, etc.

On my lefty side there are echo chambers uppon echo chambers of anit-Hilary, pro-Hilary, and the far, far left. One thing I have noted, especially on the far far left is how prone people are to shutting down alternate views. Last week I got so upset by a thread on a friends page where the term "be safe" (in the context of saying to anyone going to Standing Rock to support) was being called out as being "a toxic microaggression" and a peer who argued--SUPER politely I might add, he was very respectful--got the "please message me to let me tell you why you're wrong" comment. How quick we've come to squashing anyone who disagrees with us because, see earlier point, ONLY OPINIONS SEEM TO MATTER. The left is just as guilty of this as the right is.

I wanted to write about this earlier about and how I was sure this was going to play into the election somehow but time did not allow for it but I had no idea just how much this played into the election.

Trumps win, you could say, is a product of the left's echo-chamber turning dangerous. The pro-Hilary people thought they had this in the bag (I was shocked to learn she didn't even visit Michigan!). Though all of us on the left were scared we all underestimated the angry rural people and have chosen to make fun of them at our own peril...and theirs.

I'm totally guilty of this, but throughout this election process, we laughed about the GOP imploding on themselves since that Donald Trump spanner was thrown into their works. How bitter it is to remember that laughter now that the GOP will take the house, senate, and white house. Oh my fucking god.

*just breathe*

Now I'm seeing a lot of posts of "shocked [or not shocked] that half of the country are xenophobic, racist, misogynist bigots." "Fuck them, by voting for Trump they have denied my humanity so I have nothing more to say to them" And I totally get that. As I've said before I'm a victim of rape and I was sickened that the republican female vote only went down 6% for Trump. What the actual fuck!

But at the same time I think, as we lick our wounds, we need to to "take the high road" in a different way. We are supposed to be the side that cares about people, all people, and that needs to include those who we can't wrap our heads around. We need to be less smug. We probably should have listened to them more instead of laughing at them. This is what Michael Moore was saying. We need to recognize their humanity and try to understand why they've done this. Because if we don't look at the facts and figures and historical and present context we can't win them back.

And to the left that say, "fuck them, we don't want them anyway" I implore you to look at the historical context. The disillusioned people who voted for Trump in this century are the same working class white folks that used to be on the left fighting for socialism 100 years ago. The establishment, from WWI on, has gradually and effectively crushed that effort to where socialism is now a dirty word. Though I think Bernie would have faired better with this disillusioned class than Hilary for sure, I don't think he would have necessarily won either, because of that. We on the left know that it is foolhardy for this populace to vote against their own interest by siding with the party and electing the robber barons. They don't have any answers for how globalism affects the working class poor in middle America.

There's a belief that reaching out to them, to just listening is justifying racist, xenophobic, misogynist attitudes but it's not. It's called empathy. Empathy is supposed to be a characteristic of our side. But when it comes to the other side, we turn it off. Well, this is what happens when you don't listen. This is what happens when you take them for granted. I know that it's hard for us to argue that we should pay more attention to white men, when white men are usually the ones with all the power. For me, I'm guilty of being aware of the argument reading the Michael Moore article and the David Wong article but perhaps not heeding it enough. My friends within my liberal bubble who have more conservative friends or rural ties were saying this as well. It's my/our own smugness that didn't head the warning signs and continued to laugh. This class of people just used what little power they had and it has fucked us all. We need to understand why, instead of just dismissing them. Like David Wong said in his article about these people, you can't shame people into agreeing with you. (Again I feel I have to say, for fear of being slammed I'M NOT JUSTIFYING THEIR RACISM I'm just saying that you cant fight or work with what you refuse to acknowledge or try to understand.)

We can't heal this unless we try to understand and we have to come up with solutions that work for that group. I think after last election, when this group voted for Obama, we thought Republicans were just old bigots we had to wait to die off, and for more latino votes to come in our side and this whole GOP thing would be a thing of the past. That was us taking this former unionized group of working poor for granted. There is a problem. We have to show that we can fix it. Because Trump's promise of "throw out all the immigrants" and "build a wall" is simply not acceptable.

*just breathe*

To my friends abroad. I am sorry. I'm well aware, that it is a privilage on my part just to be embarassed by this, but there it is. I'm embarassed. I am fearful for those who will bear the worst brunt of this; people of color, muslims, LGBTQ community. I promise to stand by them. I'm also worried about the inveitable recession this is going to cause (look at UK after Brexit and the markets have already gone down). I'm worried about the people who are going to go back to not having health care after they repeal the ACA. I'm worried about the health care of my parents, as my dad is dealing with health issues that are costly and my folks live on a one person income. I'm even worried about Trump pissing off the wrong people with nucluear weapons, who are capable of turning my city into glass. (Is that another way he's supposed to be making America great again, reviving cold war nuclear anhiliation anxieties?) I know that sounds like I'm being hyperbolic but only time will tell.

*sigh*

I'll leave with the parting words of a journalist who questioned the a fascistic tide in the government by saying...

Good night. And good luck.
I'm still processing the election outcome.
Current Mood:

scared

Current Music:

Tom Waits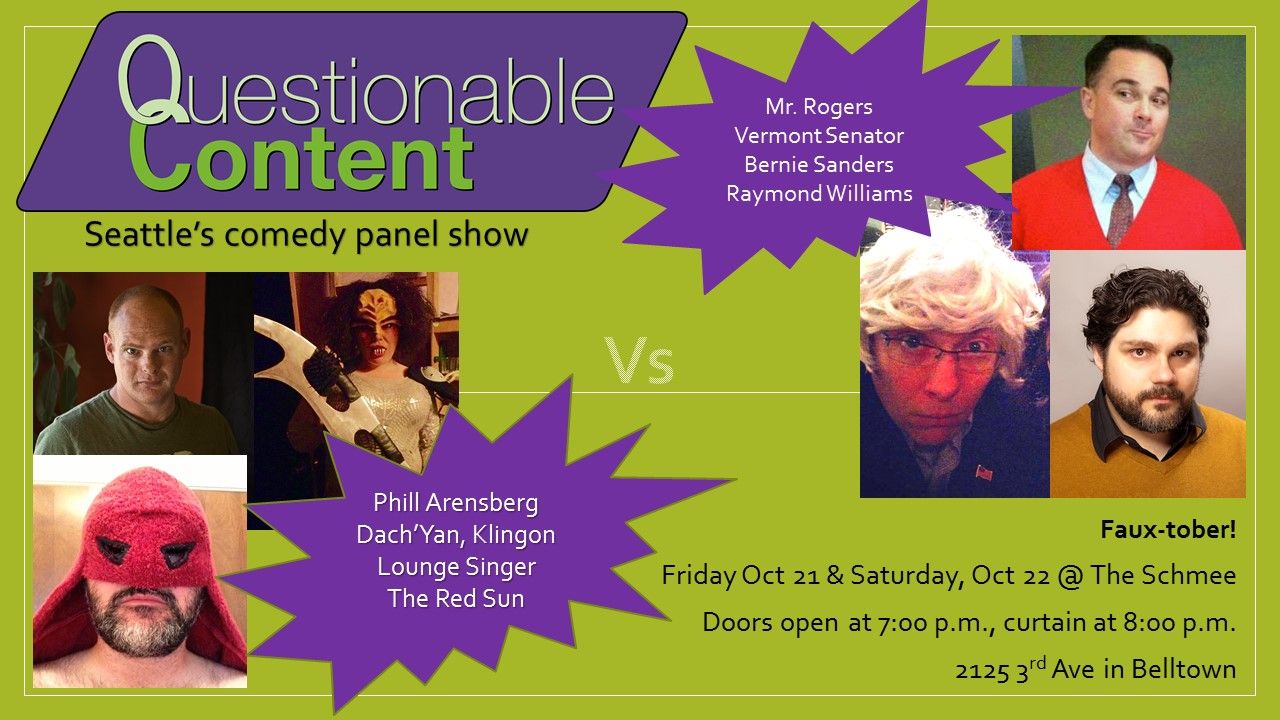 The process for this month on my end went pretty well. I was a little ahead of the game early in the week so I wasn't stressing as much as I usually do. The ticket sales were also looking pretty good so I wasn't stressing too much on that end.
Friday
In addition to our guests being in character, our cast were in costumes. Phill was groucho, Ray was a fork in the road (which he turned into a schtick that he milked during the show), Ian was Number 2 and David was David Bowie (yeay!)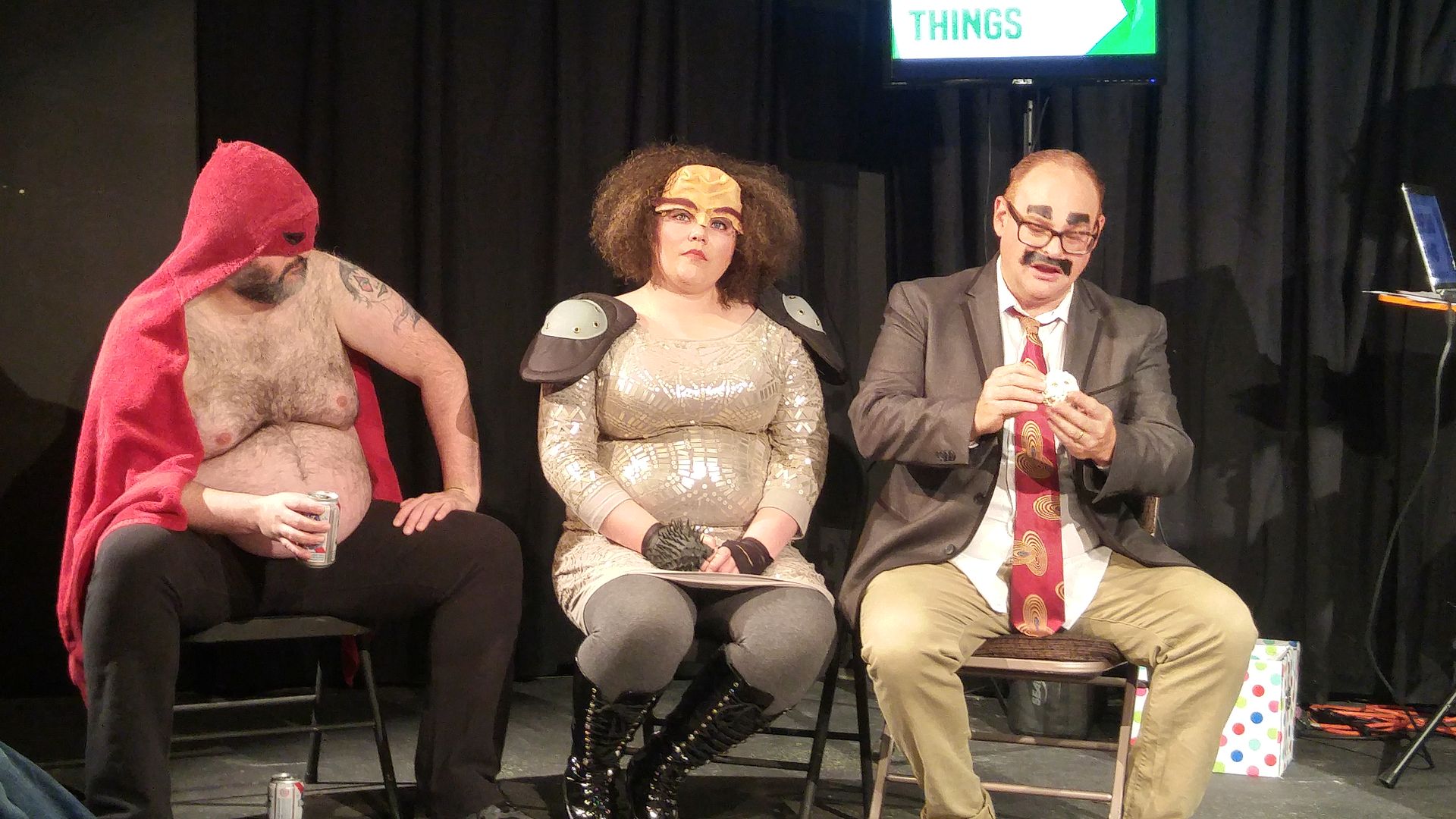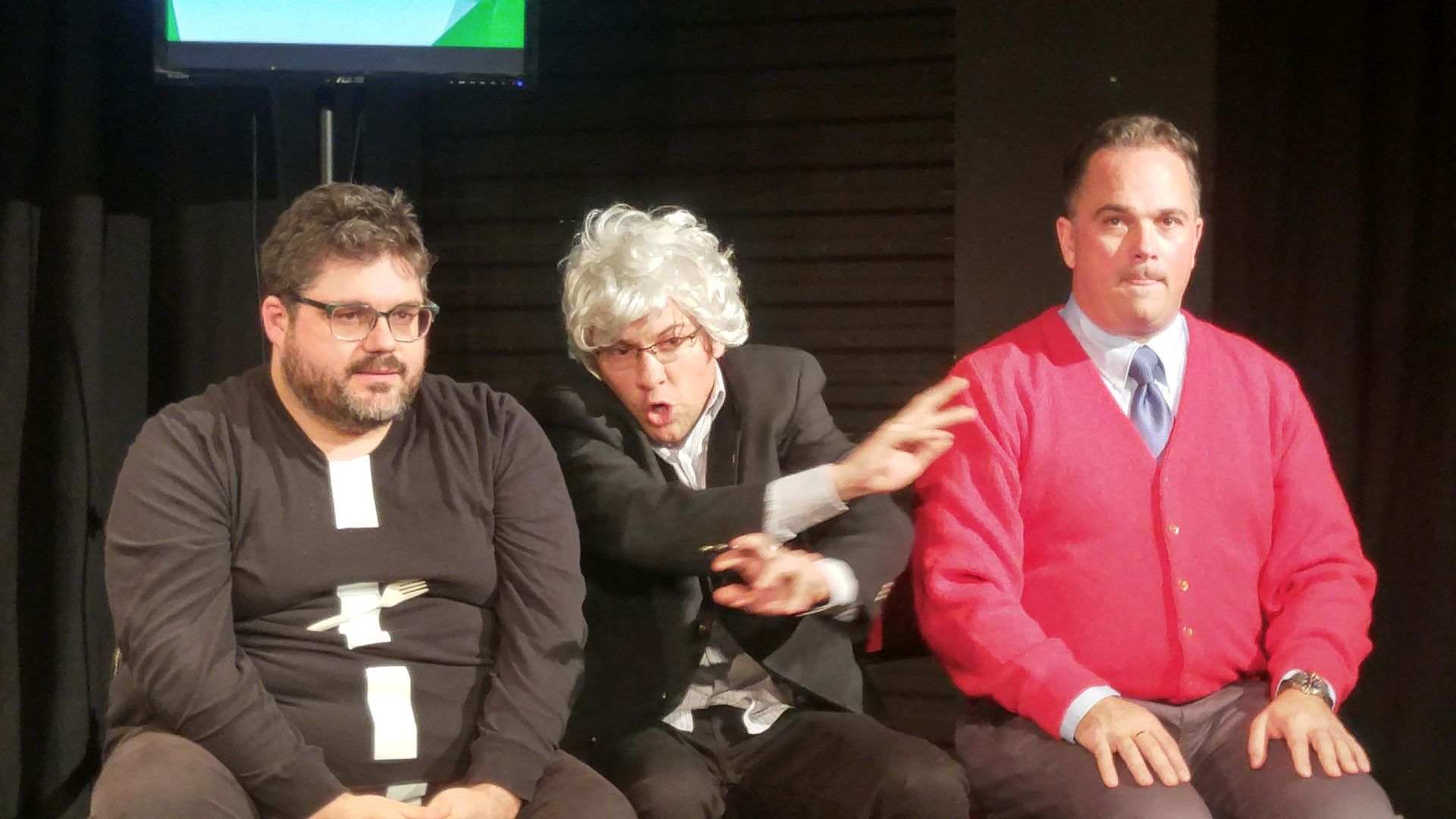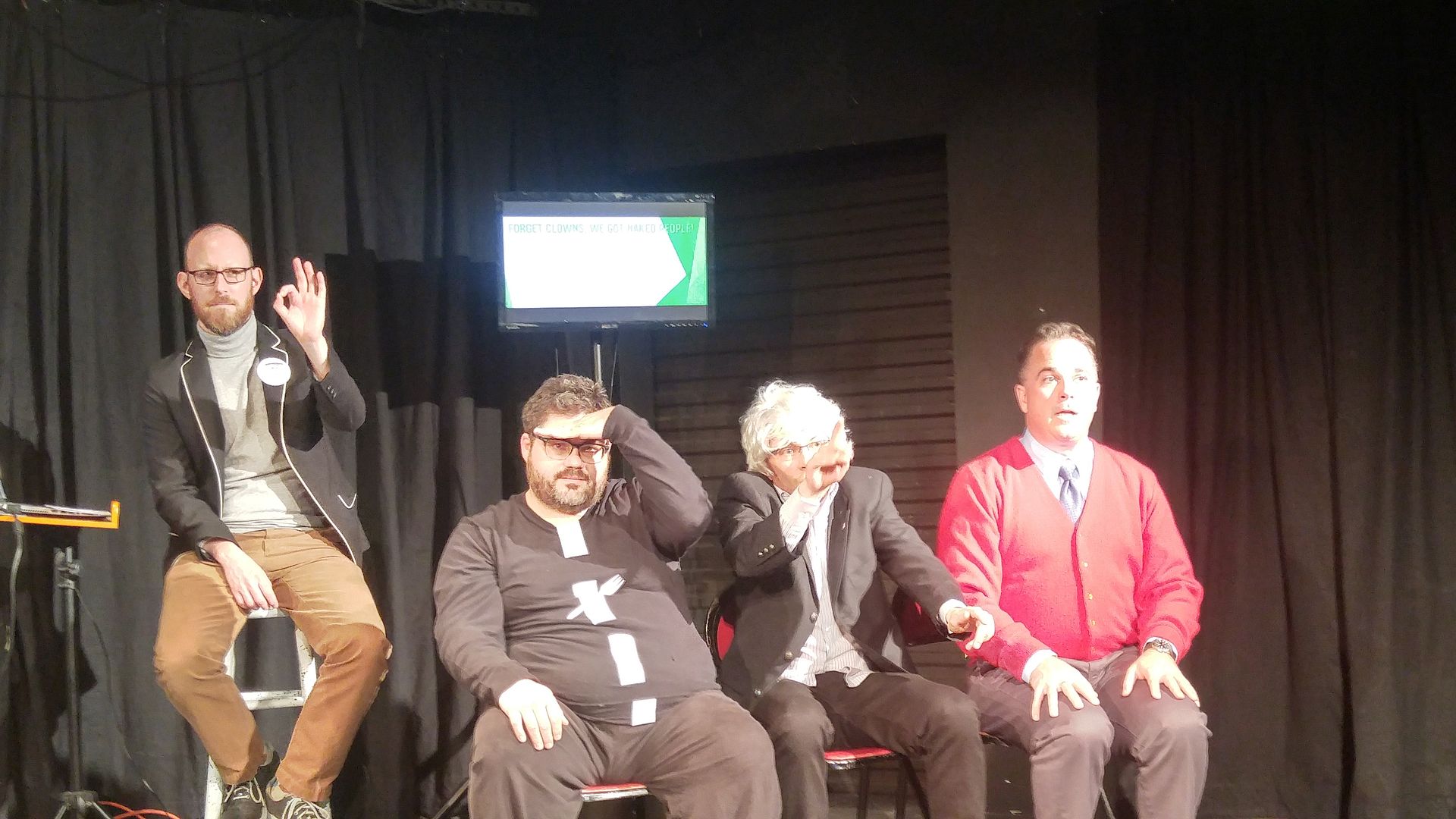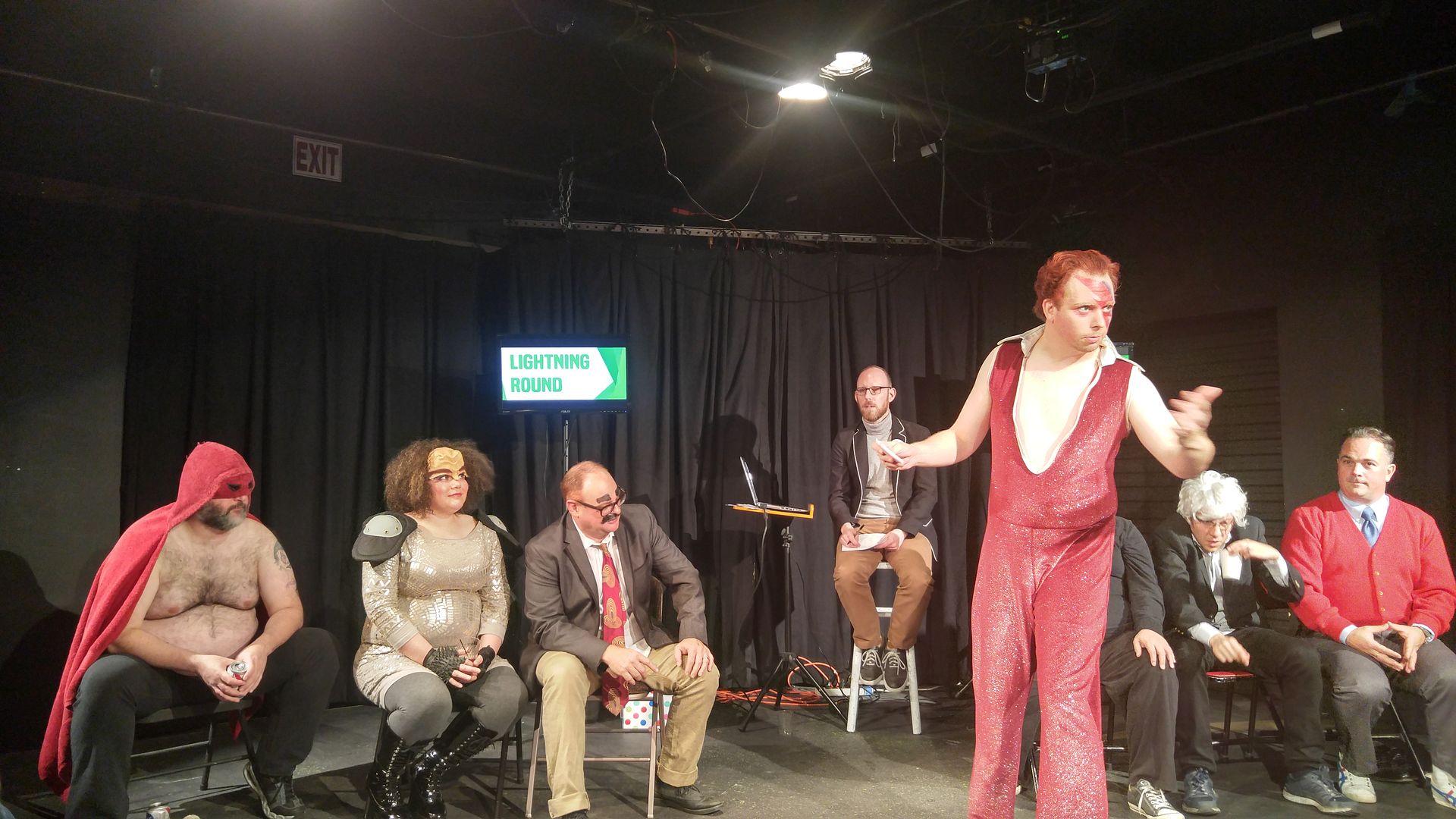 It's too bad that we didn't get to properly record this month's show. There just wasn't time. I knew there was going to be certain things that were good and The Red Sun doing Precious Things was one of them.
Saturday
When I was on the bus to the theatre Phill informed me that there was an emergency and he wouldn't be able to make the show. We asked Sarah, who was coming to see the show anyway, agreed to fill in, or should I say Phill in. :P It worked out, as it was the costume show she dressed up as Phill, with a blazer and a tie, and we didn't change the slides or anything and it was it's own kind of joke.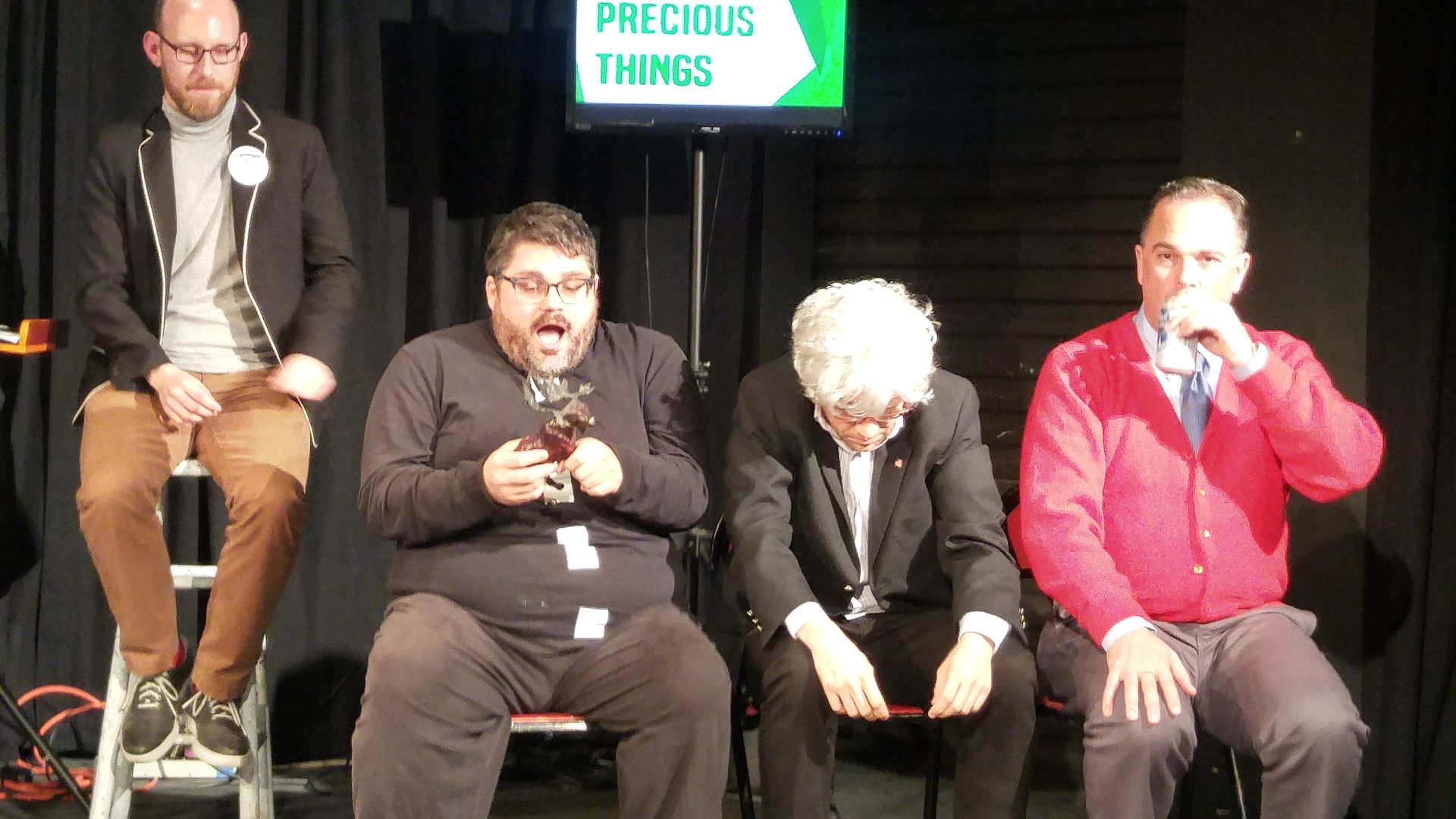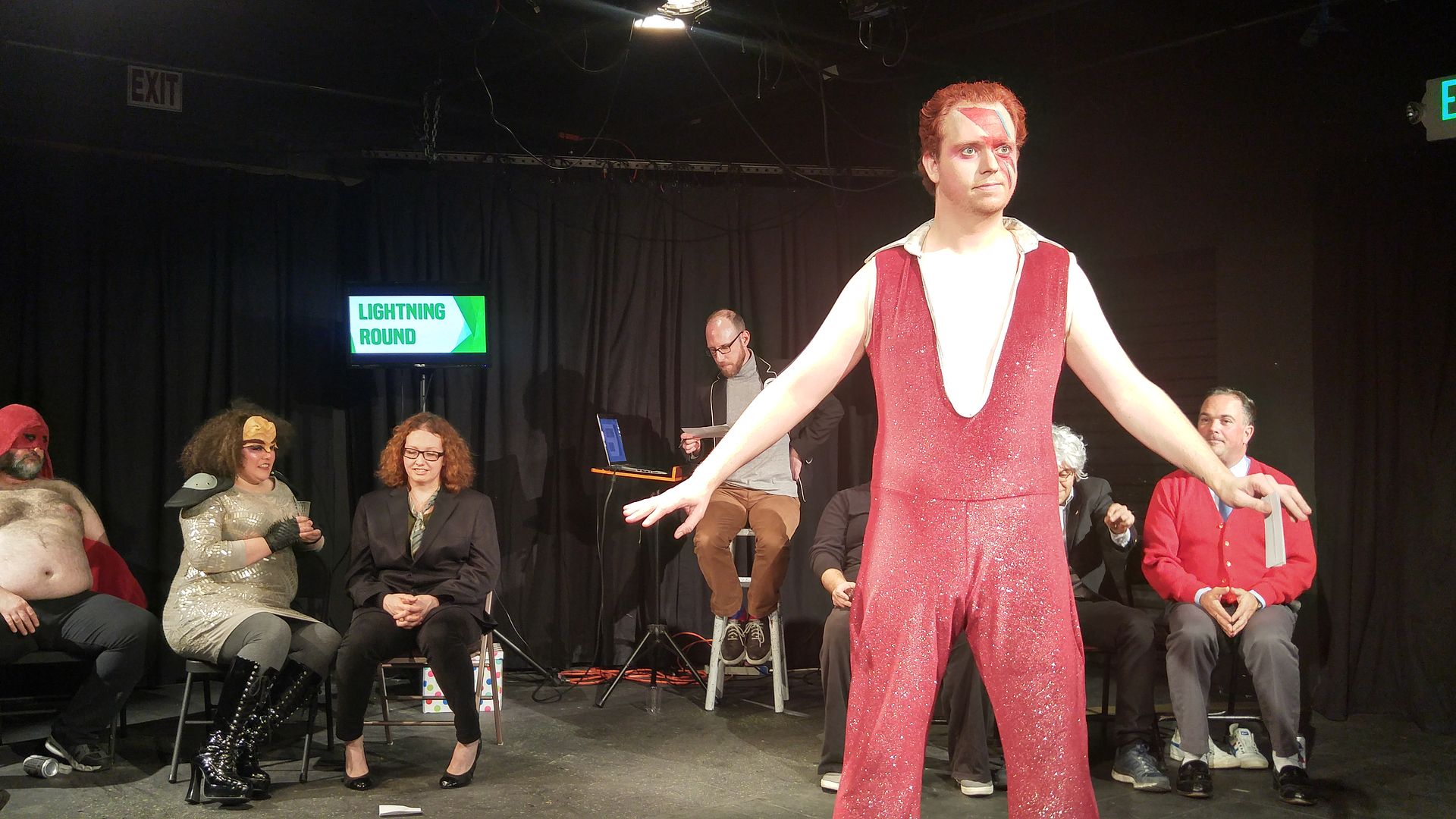 I also had a surprise in store for Saturday night show. We had a surprise game about the Victorian couple from Port Townsend. This has been a subject that has got David and Ray riled up on Facebook and it's always great when Ray goes off on a rant on stage so this surprise was going to be promising. Now, I don't bemoan people for living how they want to live. You want to dress in Victorian clothes and whatever, that's fine.You be you. However, what is so irksome about this couple is their smugness about their lifestyle choice. They act so superior and as the person who had to do the research for this game and read their blog for material I can tell you that they have a certain holier than thou attitude and despicable white privilege that I feel opens them up to ridicule.
It was another segment I knew I wanted video of but it's a bit long, I'm having difficulty uploading it. Maybe later.
Both nights were good houses although Saturday was actually a bigger house. According to the rough numbers, this was our most profitable show. We've had larger houses but I think due to very few comps this month made it more profitable. Also a lot of new faces in the theatre as well, which is great.
So the shows were absolutely hilarious. The Red Sun was amazing, Dach'Yan (pronounced Dianne, LOL) was a funny and unique character, Bernie Sanders was spot-on and freaking hilarious and Mr. Rogers was not only on point but actually kind of warmed my heart while also making me laugh. If you're in the area check these guys out. They are amazing. Two really great shows. A good turn out. The theatre made money. And despite a couple of hiccups, it all went well. So yeah. What a great way to have a second anniversary!
This was a QC weekend. As our October show, this marks our 2nd anniversary. (Woot!) Also as the October installment, we decided to do the panel a little different and have comedians on who do character work. So our eclectic panel included a superhero, a Klingon lounge singer, Senator Bernie Sanders, and Mister Rogers (from your childhood).