So Thursday the big storm came in when we were to scheduled to go to Chopsitx for mir weekend but we weren't gonna let a little wind and rain stop us from getting our drink/piano on! It might have stopped some so I'd like to say thank you to
perkyevil
for braving the wind and rain for mur...and buying me nachos. We had a great time Cathy, Christine, Raye dr kate and I. I didn't get up on the piano but I was called to the stage for dancing a couple of times. :) Came home to fall asleep to the big windstorm...then woke on on my b-day to see this
that's our apartment building that tree just missed. We were so lucky. This guy however, not so much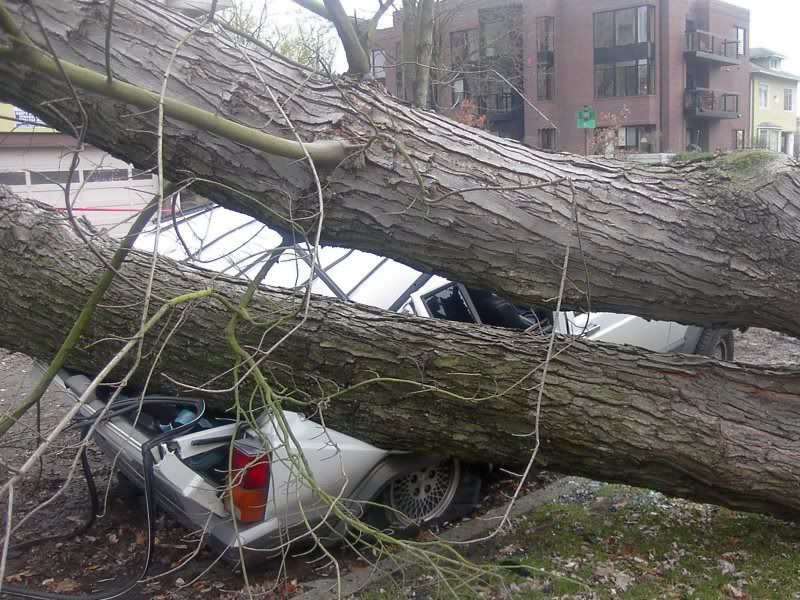 Yeah we lost two trees on our block. One of them blocks the stair to the alley to get to our door :( I'm just surprised that Raye and I didn't hear it fall. It uprooted and did this to the sidewalk
Yeah. So we went to the Rendezvous for happy hour hummous, Christine and Cathy gave me oh so many fabuouls presents for my b-day including a fabulous framed card (our apartment needs art, still) that says "Don't poision your body with food!" it's over the sink. I heart it. Those three girls really took care of the birthday shit. Christine and Cathy came with a tiara for me and pink party hats for people to wear at the dunnes (and kudos to them and Raye for walking from the Rendezvous to the Dunnes in them too). YOU LADIES ROCK! SO many hearts and stuff to you.
We walked to the Dunnes and I was afraid people weren't going to show up.but strangers were buying me drinks and then presto! my peeps showed up around nineish. I can't say too much about the night becasue it was obviously a good birthday becasue I really don't remember but the last thing I do remember I was having fun. Also. when I heard about the night before I didn't get any terribly embarassing reports...oh yeah except almost going pee in my friends refrigerator. That's one that will follow me for years. But I'm not too embarassed about it becasue that's too great a story. :)
THANK YOU THANK YOU THANK YOU to everyone who came out., bought me a drink, and to those that babysat the drunk birthday girl at the end of the night (didn't get sick but I've got bruises all over from falling on my ass a bunch of times.). I do have excellent friends. You all rock and gave me quite seriously one of the best birthdays of my life most definitly the most bitchin' birthday since my 21st. I had SO MUCH FUN!
Today I felt less than fabulous, as expected.. I seriously didn't want to take the tiara off. But I ate some Pho, baked snickerdoodles at Christines house and gradually recovered. There's still one more day of Mir weekend and it's one that I really look forward to.I get my tattooo! And update will follow. With pictures. (!!!) Ryan gave me art, too and Jordan's gonna hook me up with a photo as well. This apartment will be art filled, man.
Thanks again to all my beautiful and wonderful friends who gave me such a great birthday.
Current Location:

Christine's

Current Mood:

loved

Current Music:

pirates 2 on telly