So Thursday was our annual auction, the one fundraising event of the year, at work. Last year was smaller and although I worked at the center when it happened I just helped out and didn't attend. This year the committee of parents coordinating the event were really into it at we had the event at the newly improves SAM (Seattle Art Museum) I got to wear my black dress but I was a little over dressed for the event. In any case I went with my boss and three of the teachers, drank a few glasses of red wine, ate some yummy hors d'oeurves and lasagna and got to see the parents throw money at us, which is fun. Auctions seem kinda neat if you have money I bet. I'm just crossing my fingers that Admin gets enough money for me to get a more ergonomic desk that fits my height.
After the auction, I had an hour to check out the museum before it closed. I didn't get to see all of it but I just focused on the modern art because, ya know that's my favorite. The new SAM feels much more like a proper museum…much more world-class than it used to be. Still, it's hard to be too impressed when I've been to The Louvre, The Orsay Museum, the Pompidou, the Monet, Rodin and Picasso museums and both MoMAs in New York and San Francisco. I know, poor lil me huh. Anyway I still saw stuff I liked and I just love art museums (especially with modern art) so I was really happy. I also loved that it wasn't crowded. Plus, in my high heeled shoes and black dress I felt cultured, sexy and powerful as I walked around a practically empty museum, my heels clicking loudly against the shiny new wood flooring. The only thing that sucked was walking home in my strappy shoes. My feet were not happy.
Friday afternoon, Raye and I totally christened summer by reviving last year's tradition—drinking whiskey & coke slurpees on the deck. Summer slurpee cocktails are a beautiful, beautiful thing and far superior to the manhatan in a can, that was given to me earlier in the day for my work at the auction. (Yes, that's right a manhattan in a can, I saved the can because, it's too adorable and funny.) Andrew came over and joined in on some of the slurpee pre-funking on the deck and eventually the two of us headed down to the Dunnes. We were there for a drink and were joined by Raye and Christine, and later on Chris and Christian (and briefly the fiancée). It was kinda a crazy night, with some parts that have no place to be shared on a public LJ. Christine, Raye, Andrew and Christian beggared off to the Cresent to Kareoke for about an hour but luckily Chris was there to keep me company as I am strictly anit-karoke. Raye and I watched as some drunk guy walked off from the hot dog stand w/out paying because Raye had to ask the hot dog guy to go to his car and get non-latex gloves because Raye's allergic. Jo, the Welshman's fiancé didn't seem to catch how
adorable
and funny we all are.
J
Oh, I also, embarrassingly told Jason, one of the Dunnes' bartenders, that he needs to whip Jamie, another of the Dunnes bartenders, into shape. She's slackin' on the Dunnes pour. I was surprised that he seemed surprised that I found that. He thought Dan was did the weak pour, but Dan's always taken care of me. Probably because I'm a girl. Anway at least Jason was trashed too, but still, not a very smart thing to do, to be rustlin' competition or whatever between my bartenders. Whoops.
Surprisingly, Saturday morning I didn't feel bad at all. I got up, took my time getting out of the house and eventually took about a seven or so mile walk around Seattle. I south from my house and hit up the International district, Pioneer Square, The Waterfront, Myrtle Edwards (and I finally got to see the finished product of the Sculpture Park, it's very nice) then up Denny, cross through Cal Anderson and up home. It was lovely. It was such a beautiful day that by the time I went to the very crowded Myrtle Edwards/Sculpture park and I watched people having picnics, playing with their dogs, hugging their significant others, I got a little teary-eyed with happiness. It was just one of those days where everything seemed so beautiful, so perfect, you're just happy to be alive and exactly where you're at at that particular moment. Afterward I was rather hungry and made a salad that was so magnificent, I took a picture…
Saturday evening Andrew and I had tickets to the Mariner's game with…(insert dramatic music here) the parents. I like baseball, I don't follow it or anything but I enjoy going to games at least once a year so I told my parents to buy be one and Andrew said he would go too. So yeah. He picked me up, we got rockstar parking down on Occidental then hit up a bar for overpriced beer, but whatever, I was in the spirit of things. The cosmos is against me because right went I stepped out of the bar to smoke I was just about to light up a cigarette when who walk by but my parents and Regan. I pulled the cigarette from my lips and said, hello, introduced Andrew briefly then they went to Safeco. Awkward. I waited till they were halfway down the street before I lit up. I'm still paranoid, even though they know I smoke. When we got to the stadium and got to our seats, my dad pulled kindof a dickhead move and put Andrew and I in the seats below my rents, ya know, looking down on us and alienating us from the group, which sucked and made everything awkward as hell. We mostly just sat quietly and watched the game. So that was rude, but I guess I've made my dad wait 24 years to intimidate a suitor, he's going to have his fun. After the game (the M's won but with through like two or three relief pitchers and almost lost the lead as tends to happen with them) we went to a bar afterward everything went much more smoothly. Except my 'rent's weren't digging the loud music and such so there were just two drinks and we bounced. It went all right and once we got out of the game was not as much hell. I got home to find Christine and Raye having another round of slurpees at the apartment and Andrew and I joined.
Sunday Raye and I only had plans to go to Bimbo's and get a bitchen burrito, but we later decided to go to the beach. The beach worked out but Bimbo's fell through as they were closed due to the move. We were really pissed that we had to settle for taco time but Bimbos and the Cha Cha are moving closer to our apartment so there will be more opportunities for bitchin burritos in the future.
J
It was such a lovely day Raye had the awesome idea of going to the beach. We invited Cathy and Christine, Cathy declined but Christine came with Michael, her son who's b-day it was. Alki was crowded but not too bad. We found a nice spot by the water and set up for sun bathing and feet dipping. Surprisingly we just happened to pick a spot right in front of Dan and Jayson, my bartenders from the Dunnes who had the same beach idea as well. Goddamn Seattle is a small city. I exchanged pleasantries with both Dan and Jason, hopefully my sins of talkin' shit on Friday night are absolved (though I was complementing both of them, it's only Jamie I have a problem with). Anyway. We took some pictures (which, again, I will have to post once I get around to uploading them) read books, sun bathed and dipped our feet in the Sound. My sandals that I haven't worn for two years were killing my feet so I was all about just sitting on my towel and absorbing the sun. When the tide was coming in I wanted a margarita but the little Mexican place that I remembered being nice when Sam and David and I went there two years ago really sucked and had shitty service. So after my one crappy margaritas, we headed over to Dukes where we got a discount because Raye works at their chowder bar. Well my margaritas weren't discounted but it was still worth it for me. When we left Dukes it started raining, like a proper summer thunderstorm with lighting over the sound. Cleared out the beach pretty quickly but it was still very summer-like and generally neat.
My Jenny Craig or Waitwatchers cliche shot. :P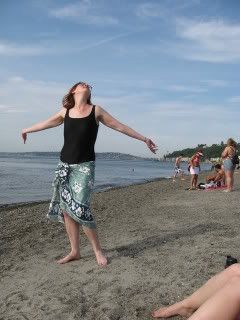 Raye in this huge hole some kids dug up.


All in all I had a pretty bitchin' weekend, art, special slurpees, Dunnes drama, walks in the park, baseball game and the beach, seriously. Summer's looking pretty sweet so far. Pictures of an awesome salad and the beach coming as soon as possible. (I thought is was funny I didn't take a picture of the awesome view of the city at sundown from Safeco but that salad, I was totally taking a picture). In the meantime, there's still this insanely long blog.