The smoke detecter in the hall way started beeping this morning at about 6:30. Not going off just giving the occasional, high-pitched "beep" in intervals long enought that you start to anticipate...thhen hear nothing...then think maybe it stopped then BEEP! I got on a stool and tried to deal with it this morning. It's wired into the ceeling and yet is probabably beeping at me to replace the battery. WHY DOES IT NEED A BATTERY IF IT'S WIRED WITH ELECTRICITY?!?!?! It took forever to just get the battery out becasue the attatchment to the wireing blocked the battery flap so it wont open all the way. we get the battery out..and it still beeps becasue it's wired in. Ahhh! I left the house with it beeping. Don't really want to go home to it either. grr.
Also we're on the look out for my Glinda the good whitch costume. All the ones at costume shops are CRAP! if any one has something of the likes let me know. I gotta be Glinda. Cathy's being Dorthy, Christine's being the Wicked Witch of the West and Somebody's gotta represent the North, yo!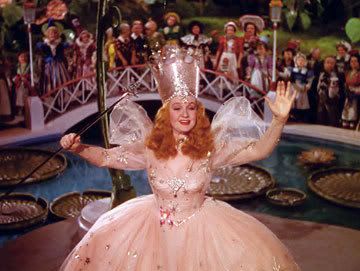 Last night I was a girl in a time and was in a lot of pain but I can say HORAY for viccodin. They should give that to all girls to use. That stuff is so groovy. Good for crams and hangovers. Horay for viccodin!
Current Mood:

annoyed