Anywhoo...where was I, Oh yes. So yesterday was fun. We woke up and wandered to find a nearby beach. We were looking for Qeens Bath but went too far and ended up at the Princeville hotel where we saw there was a nearby beach, Hideaway beach. It had rained all night and there was 120 ft trail to get to the beach, with all the mud going down the sharp bluff was rather trecherous....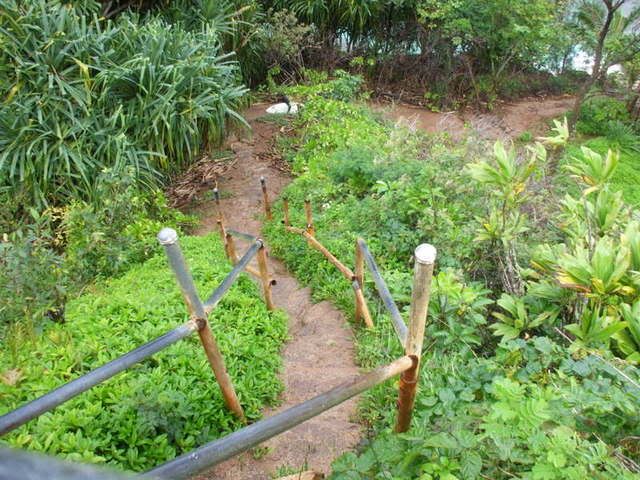 So holding on to rails, and then string, and taking a spill (Raye) we made it down to the teeny tiny Haideaway Beach
It was georgous. To show you how wee it was I took one shot to my right and one to my left, without moving.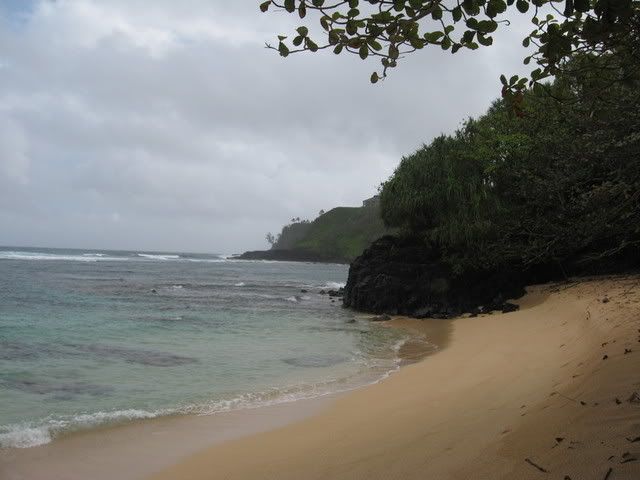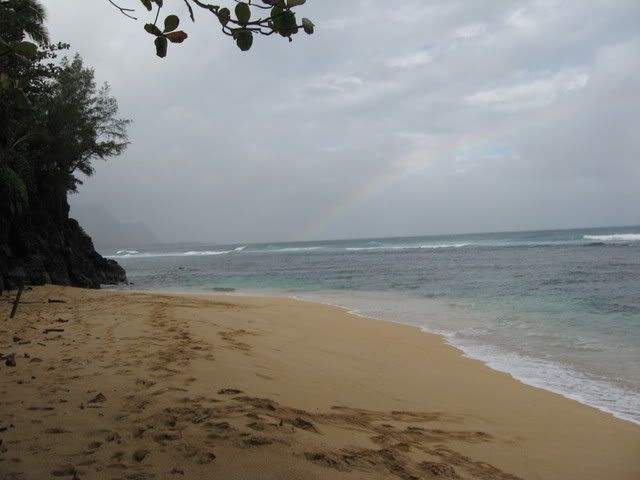 We made a shout out to our girls...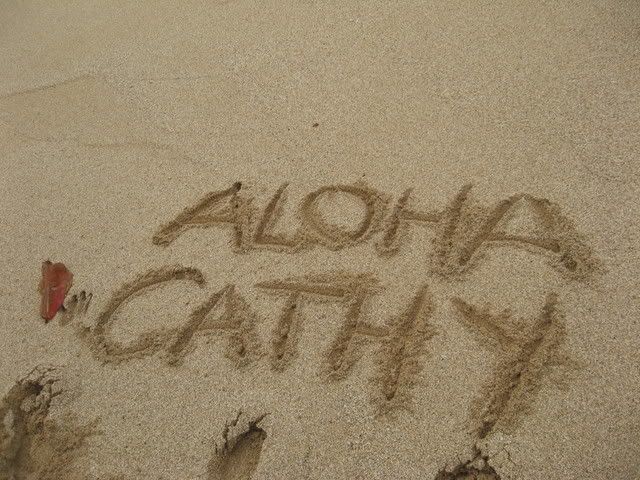 Then we went back up the bluff when the tide started coming in FAST. We started back and took the proper turn to find Queens Bath, which is not so much a beach as it is lava rocks that makes a little pool...in the summer. We didn't know that there wasn't too much to see and in fact it's very dangerous to venture down there in the winter. We ventured as far as we could, I fell on my ass that time, and we took picture of what we saw.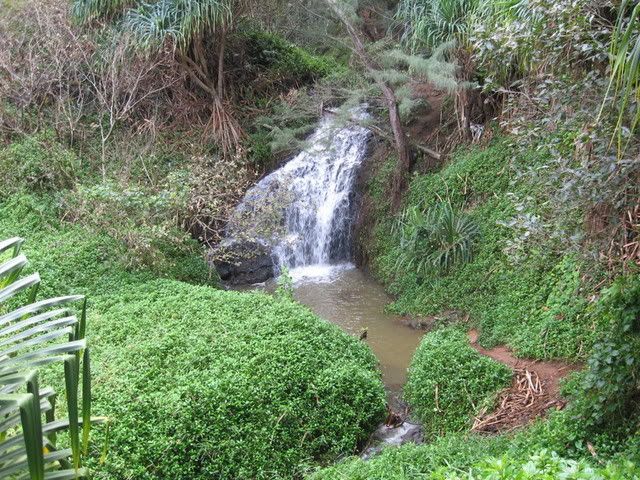 We came acorss a little waterfall. An then took a pic of the bath as close as we could get before the trail ran out.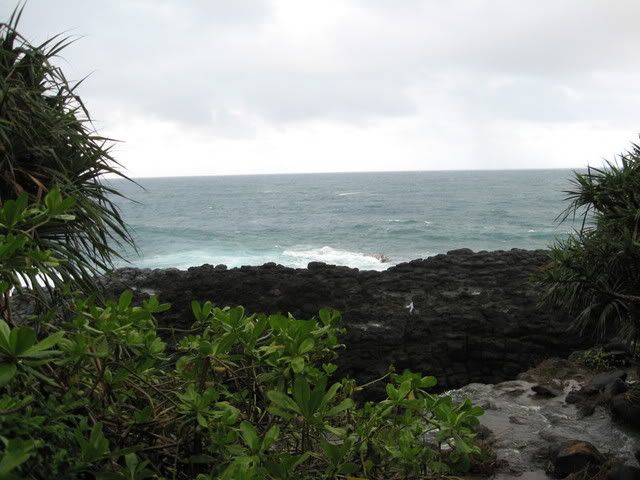 After that we wen home, got pretty and found the bus stop to go to Kapa'a where our Luau was. We got there as soon as we could (the busses do not come by very often at all.) We got our ticket then found an adorible littl bar for a drink before the Luau.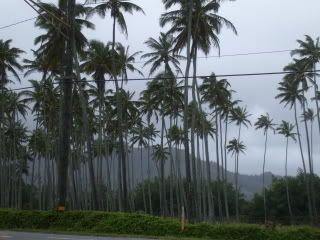 (Oh so many coconut trees in Kapa'a)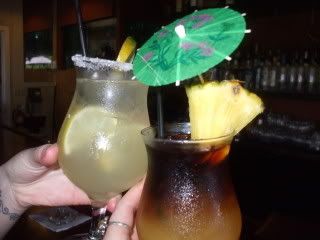 Girlie drinks!! (my margarets and Raye's Mai thai)
Then we went to the Luau. They gave us a cheesy photo opportunity and we actually bought it becaseu it was a good pic with half namked pic (the quality of this is bad becasue I took a picture of the picture.)
The luau was full of old people, as to be expected. However Raye and I took full advantage of the endless free mai thais and I ate pig until my belly was about tu burst. (The beef was really amazing too, surprisingly)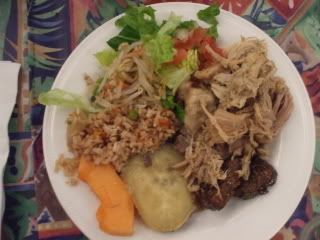 Even though the show we went to wasn't reviewed very well, Raye and I enjoyed it. Between the free drinks and the pretty ladies that could do amazing things with their hips...what's not to like?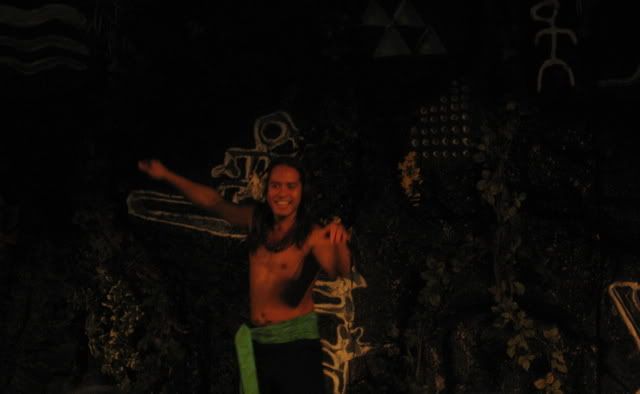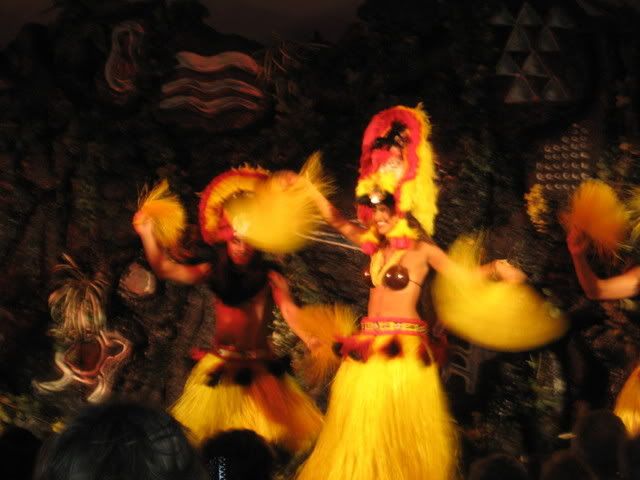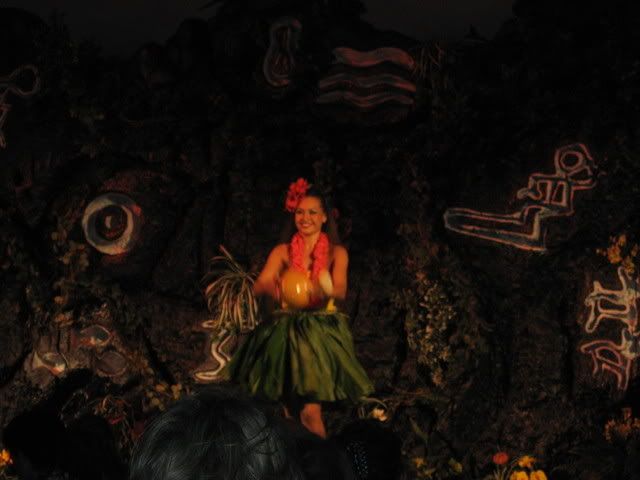 huh huh... she had a big jug.
Yeah so after the Luau we had a very expensive cab ride home and made more fruity drinks, which I learned (or rather relearned because I already knew this but did it any way just to keep with the theme of the night) that fruity fru fru drinks are NOT for me. Any whoo...That is all. I would say more to come but after today things are going to get rather busy as soon as this lazy storm day is over.
All my love.
OMIGOD. So I was going to blog about last night's luau while Raye watched the Super Bowl. We didn't have anything planned for today since Raye wanted to watch football. it turned out to be a damn good thing we didn't plan anything for today because it's been raining heavily all day. Then this morning the thunder started in the distance and got closer and closer. Then right before kick-off, as I was moving into my room to blog and Raye was moving into hers to watch the game. Everything shut off!!! The power went out and the lightening got closer and closer. The chickens went CRAZY, the thunder shook the condo. It got so close that at one point I squeeked, ran across the room and grabbed on to Raye like she was my mum or something. Thank god we didn't drink all the vodka in the freezer last night. We took a couple of shots to take the edge off. It came on then went off a couple of times but it finally stayed on (thus far) really with about a minute left in the first quarter. I'm still coming down from the excitement and can get back to relaxing blogging and watching crap cable telle. Perhpas it's just scary becuse, ya know, we're in Kauai and it's when the power goes off that the Dinosaurs start attacking!!! (Jurassic Park was shot on this island.) Whooo. Still coming down from the excitement of this "flash flood" storm. It's starting to go away. The thunder is in the distance and the rain has slowed down in the last half hour or so. There's still a flood warning (there's a bloody stream or river in the landscaping below our deck.