This weekend the girls had our road trip weekend in Portland to celebrate Christine's birthday. Portland is like our Las Vegas in a way. We could smoke, drink booze and have a naked lady dance for us (because WA stat laws on that are SO uptight). However this will be our last year visiting for Christine weekend as their smoking ban passes as well. Luckily, we went out and had a GREAT Time!
We left on Friday night and nit I-5 a bit before seven, I think. The Mix CDs Christine made apparently works as we made it down to Portland by like 9 30 or something like that. We smoked, rocked out. I even got to rock out to Bohemian Rhapsody in the back seat of a car all Wayne's World style for the first time since high school. We checked into the Shilo Inn by the convention center. We got pretty and hit up the strip clubs. We went to Magic Gardens, where we were poured strong drinks and I took advantage of my last opportunity to enjoy a steak, booze, a cigarette and boobies all at one time. We got a seat and all three of us (apart from the vegetarian) enjoyed a steak with our boobies and booze and smokes.
We stayed at Magic Garden for a while. Later in the night, we eneded back at the Cabaret and it was so hard to find a seat it wasn't as enjoyable as it was last year. Still we partied like rock stars and magically made it back to our hotel.
Saturday, we lost Cathy and Christine to hangovers for a while. Raye and I got up, got some anti-hangover breakfast at the Denny's, then wandered around the convention center before breaking down and heading into downtown to try another doughnut at Voodoo Doughnuts.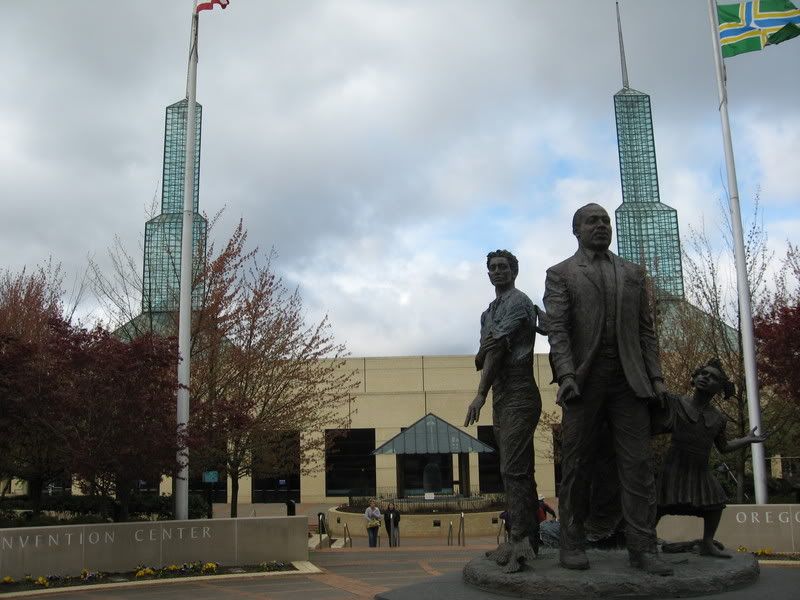 The Convention Center. The Statue of the little girl with MLK had a creepy face. It bothered me.
Voodoo:
I got a doughnut covered in M&M's pretty awesome, no?
Afterward, we went to the Saturday market and did some shopping. I was so tempted by so many things. Eventually I bought an awesome black pinstriped hat for $20. When we got too cold,it was on an off hailing, we went and found Kell's to have a couple of Pints and wait for the other Girls to wake up and join us so we could all go to Powell's. I love teh smoking room under Kell's it's quiet, dim (just perfect for hangovers) and old-timey. Though there's no point once They go non-smoking. Here I am showing off my awesome new hat in Kells.
The girls did the Saturday Market and bought some stuff, then we headed up to Powell's. I was a good girl and spent under $10 and got two authors I hadn't read before DH Lawrence and Henry Miller (I apparently want more sex in my reading, I suppose.) I'm pretty sure I'll like the Miller. We also did some research in the self help/dating section to see what the competition or well, what the market is like for that book we're going to write.
On the way to Powells we Dorked it t-u-f-f being tourists next to the statue inot Chinatown.
There was some confusion after Powell's as to where to go for dinner. The sushi place was closed. We ended up Downtown and had Mediterranean It was delicious and cheap. The starter we had was cheese they set on fire that had a musky and tart at the same time. Amazing. The desert with the strawberries was pretty fantastic as well. While we were out and about looking for food we found a gay bar with a Drag show on the weekends. Suddenly, our night was planned.
We went home, relaxed, got pretty and came about out for the drag show.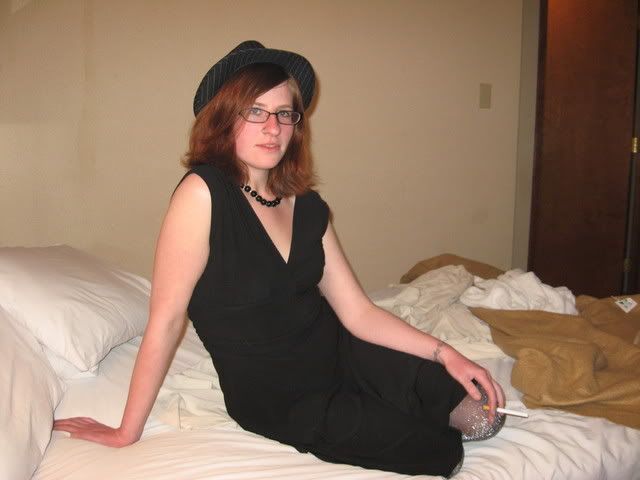 As we stopped to use an ATM under the bridge by the Max stop, we got the best quote of the night when Christine asked:
-Cathy, do you have your whistle?
-Why? Are we being raped?
Cathy's been full of the good quotes, lately.
Dag Queens!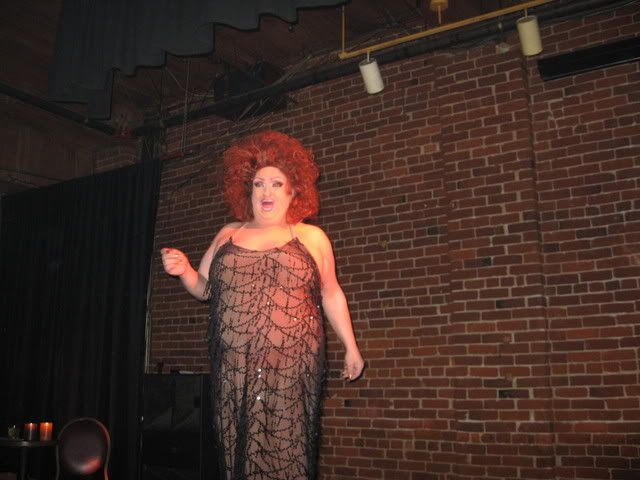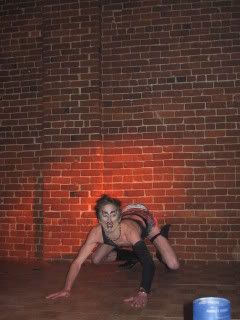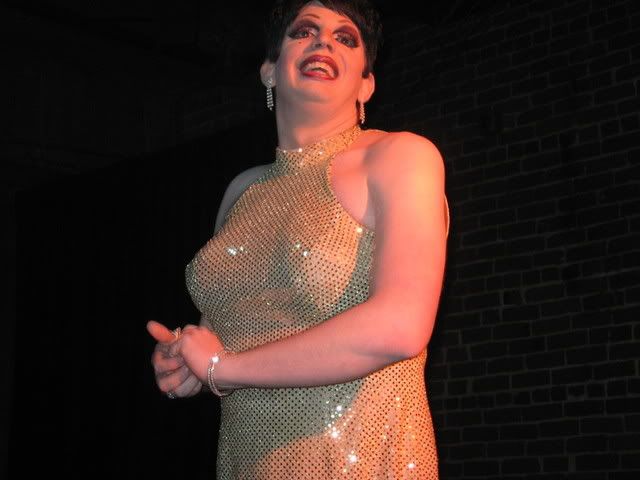 We had the most ADORIBLE gay boy server, Tyrell.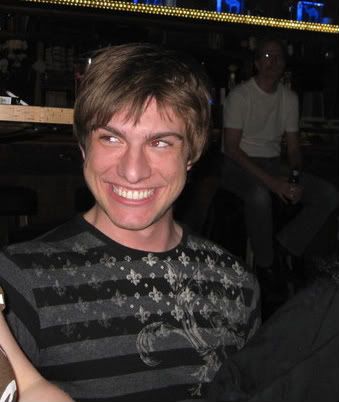 Don't you just want to eat him up?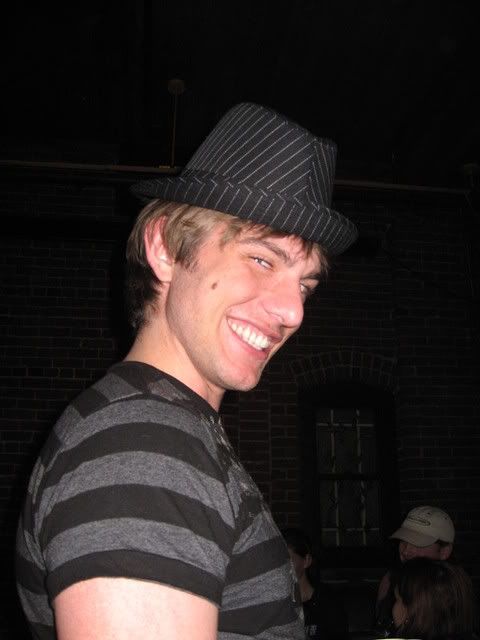 My hat is kind of a slut.
Want to know what Ryae and Mir think about Abba?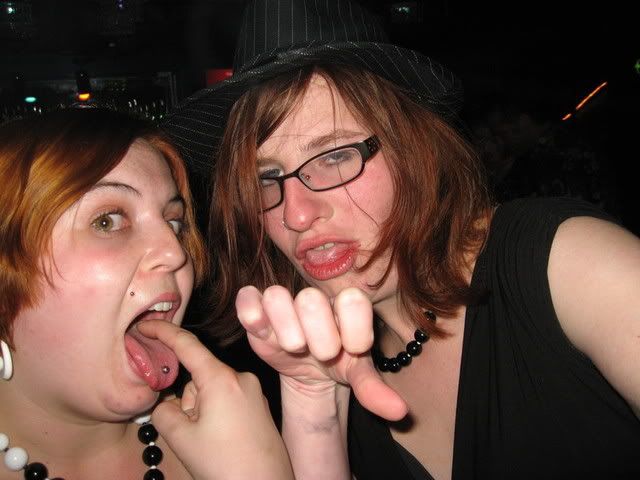 After we were kind of done with the drag show (longest ever!) we went to the back room for dancing. It's Monday afternoon and my ass STILL hurts for getting my groove on Saturday. We had a lot of fun. On our way out I had to pose on the big gay bench.
In the morning we got up to hit the road. On the way out, however, we drove somewhat out of our way to get one last strip club and smoke in. The girls ate breakfast, I had some sausage and a milkshake (an odd hangover craving) and we watched more ladies until it was one and it was high time we head home.
Well that's it. I'm cool like raye and I'm out.
Current Mood:

pleased