Saturday Night, Anthony Bourdain was at the Moore. I don't know what exactly he was doing, but the cheap seats were $100 bucks. It was $600 to stay for the after party meet and greet. Raye and I just don't have that kind of money. Instead, I had another plan. We headed down to Belltwon, passing by the Moore on the way as they were opening the doors. We had dinner at Mama's Kitchen (Delish!) and then back over to the Moore. I'm kinda glad I didn't pay that huge amount of money, because the show was getting out just as we got there at 9:30. Perhaps people were just watching Tony eat and bitch about Seattle. We went to the Whiskey Bar next door and kept our eyes on the building. Raye was getting really down about not just sucking it up and going to this show. We both adore the guy. I still had plans to meet him. When we saw the car pull up in the back we crossed the street and waited with about5 other people (one lady had flowers and shit for him which is sweet but creepy and lame because he's not really a flower kinda guy). I felt dirty waiting there, especially since we didn't go to the show and had no idea what the hell he was doing but still, I wanted to meet one of my heroes, and I can't afford $600! We kept getting told that the party would go on and on and we would be in for the long haul, possibly until 1 in the morning or so waiting. However, before 11:30 it all paid off and he came out.
He seemed a little perturbed but there were only 7 of us. I was speechless and shaking uncontrollably so Raye immediately had to take the helm of this endeavor. She was polite and respectful, she got his signature on my Kitchen Confidential copy (which is now hers, of course) and got a picture. I got an autograph on the Cooks Tour book and got a picture. It worked out well because Raye got the book about the cooking world and I got the travel writing book, so fitting. We were quick about it, then let him go his way and we went ours, shaking and squealing with excitement.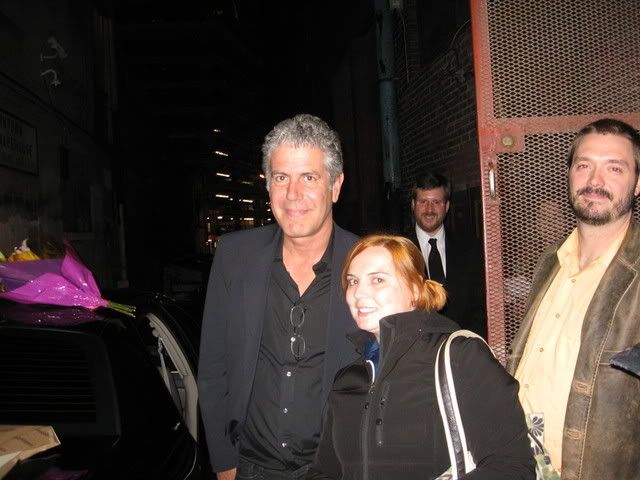 Raye got a good shot with Mr. Bourdain. :)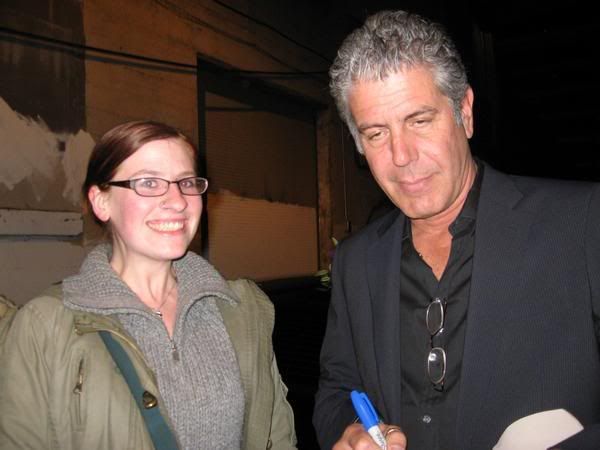 I am beaming and he looks trollied. He's signing while the picture is being taken and was just about to look up.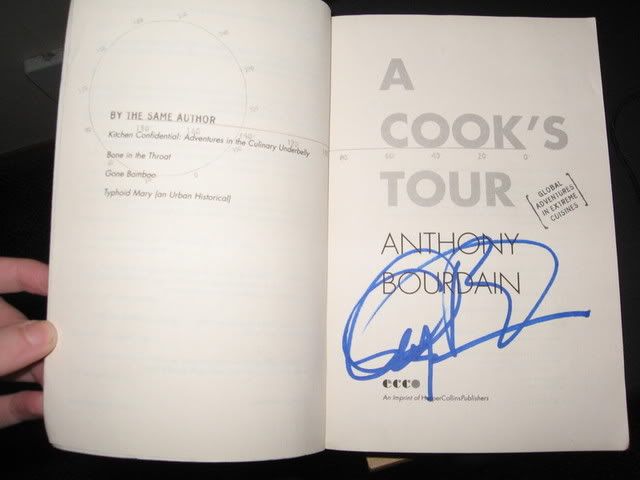 My book!
We went back up the Hill, I stopped at the theatre to tell my dad, whose response was "holly SHIT!" Then we calmed ourelves down a bit with a drink and the Rosebud.
And to think there were times where I didn't feel like going out at all that Saturday night.
Saturday Raye and I had plans to go on a long walk around Seattle. I'd done the walk before but was particularly proud of myself for doing it as hungover as I was after a trip to the Dunnes the night before. We started at our place (obviously) at the top of the hill, walked down Pike, through the pike place market to the waterfront. We then went north on the waterfront through Mertyl Edwards park up by the train tracks through Interbay/Magnolia and across the Ballard Bridge. Then, we followed Leary all the way through Freemont and eventually over to Gas Works, where I took a dorky I *heart* Seattle picture.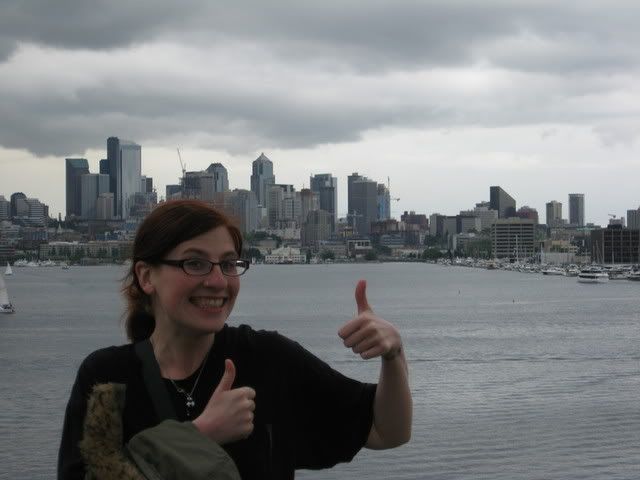 (Dorkin' it t-u-f-f!)
Then we moved on, got to the U-District, walked across the Roosevelt Bridge, up to 10th up to Volunteer Park and back home. When we got back home at 6:30ish I was so beat. I didn't feel like taking a shower and going out again, but really the thought of meeting Anthony Bourdain was the main thing that got my hungover ass out of bed and keeping my word about that walk. I had to go. And I'm so glad I did. It's not every day you get to meet one of your heroes. YEAY!
Current Mood:

accomplished