So for the girls Pride weekend has started early (on Wed) even though it's been rough treating the last two nights like they're Friday but we still have to wake up and go to work the next morning. Christine's gay boy Brandon is in Seattle visiting for the first time ever so we've got to show him a good time and go go go.
Wednesday, after work Raye and I went to happy hour at McCormick's for oyster shooters. God they were so good. Samuel showed up after work and joined us for another round of drinks and oysters. We headed back up the hill to our apartment, had more drinks on the patio and eventually Cathy came over and we went down to the Rendezvous where we met up with Christine and Brandon. Having been drinking since 4 in the afternoon I left early and walked home and gave everyone a bit of a fright. I got home safely though.
Thursday morning was no fun for Mir. It's a tough realization finding out how lame mornings are when you treat the night before like a Friday. The plan for Thursday was hitting up the Rosebud and then going dancing at Neighbors. I took it a bit more easily this night though some other folks got pretty trollied at the dance club. Oh look here's us on the roof of the War Room.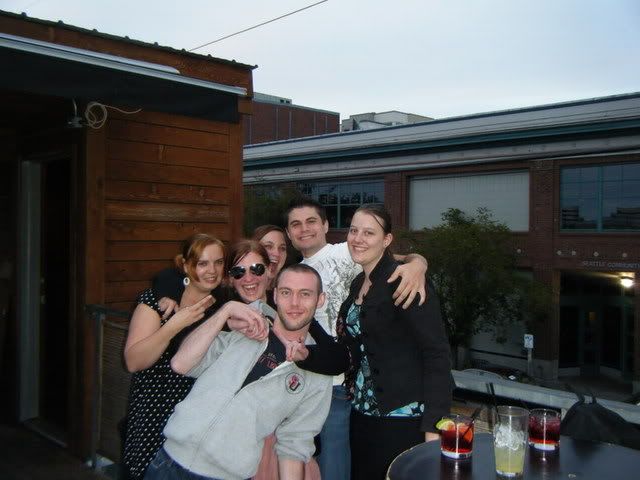 We are dorks.

Tonight I'm joining late in the festivities (The Crescent, though I'll hit up the Dunnes as well) as I have to bartend at the theatre. Work, work out at gym, work the bar and THEN go out and play. Ugh. I'm looking forward to going out and partying again, but honestly I'm REALLY looking forward to sleeping in tomorrow. Lots of bug gay fun ahead. This is only the beginning. More to come in our big gay weekend!
Current Mood:

busy