Last Saturday we threw our dear friend, Cathy, a "Sweet 16 (at 26)" fancy dress party. Cathy came over to Raye and my apartment and we all got pretty and pre-funked a little...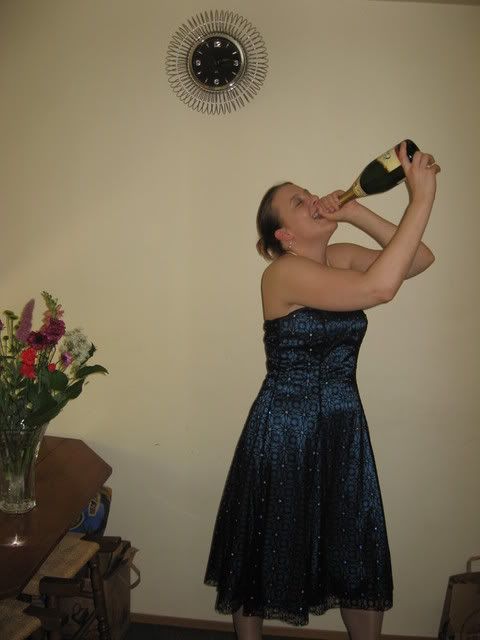 Cathy's worried about turning into a pumpkin at midnight so she gets her drink on early
Ryan and Christine showed up and Cathy opened her gifts. She made out pretty well with a new iPod nano, a plane ticket to vegas, a CD and $15 dollar iTunes gift certificate. Then we blind folded Cathy and revealed the theme of her party when the limo arrived. Everyone was disappointed that it was one of those terrible hummer limos but, whatevs it was still roomy and fun. Imagine the fun of rolling through the CD in this thing...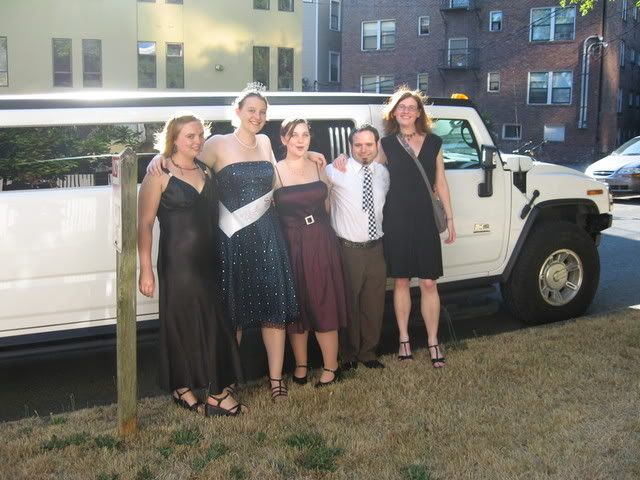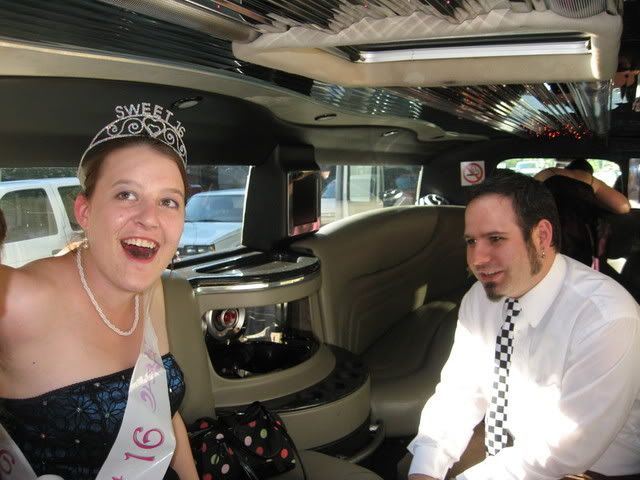 Big pimpin' spendin' G's and what not...
Not Crystal but not Cooks either. :D
Our destination was Bush Gardens in the ID We reserved one of those cute little rooms where you eat on the floor (I've always wanted to do that). We plowed through two huge platters of sushi and drank tea and sake.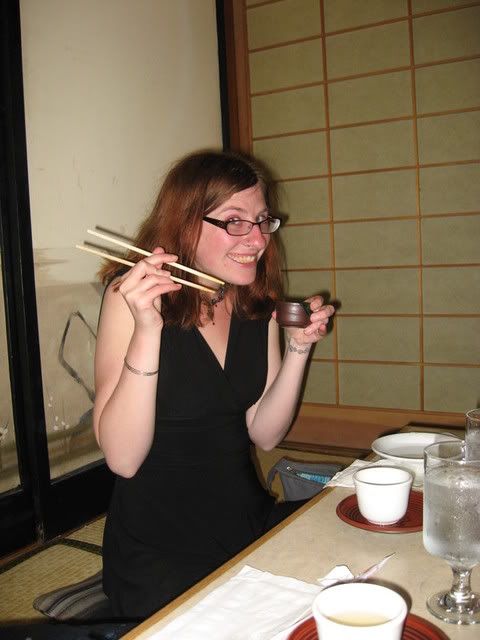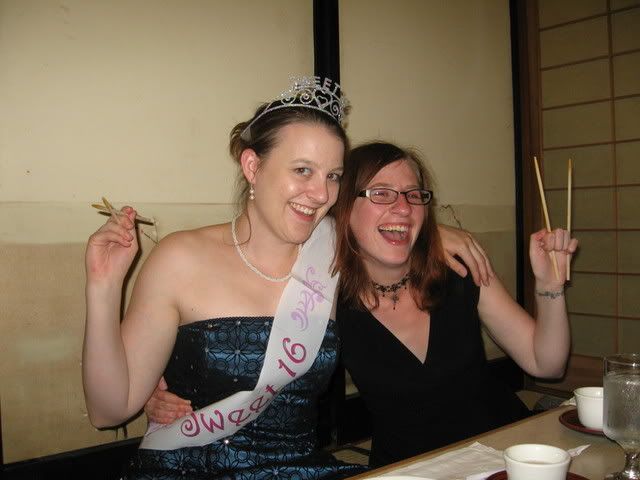 And what goes with sushi? Why German Chocolate cake, of course!
After a scrumptious dinner we moved the party to the bar for booze and karaoke.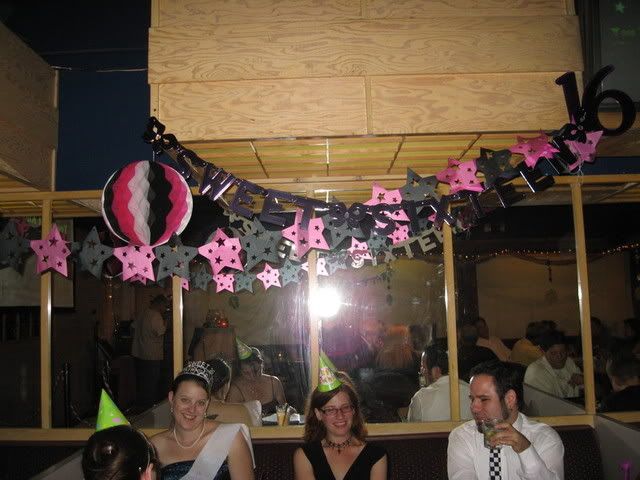 Check out my mad decorating skilz yo! Actually pointy party hats and dangly paper banner things don't mix, kids.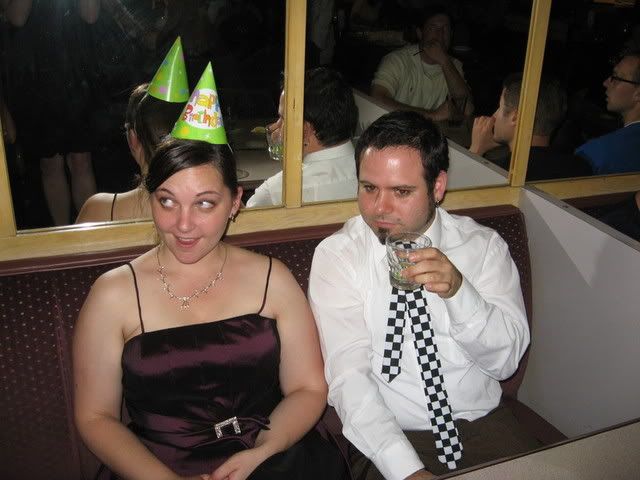 I love this pic I think it's so precious. It's so highschool prom.

Later on Sam and David showed up and rocked out with us.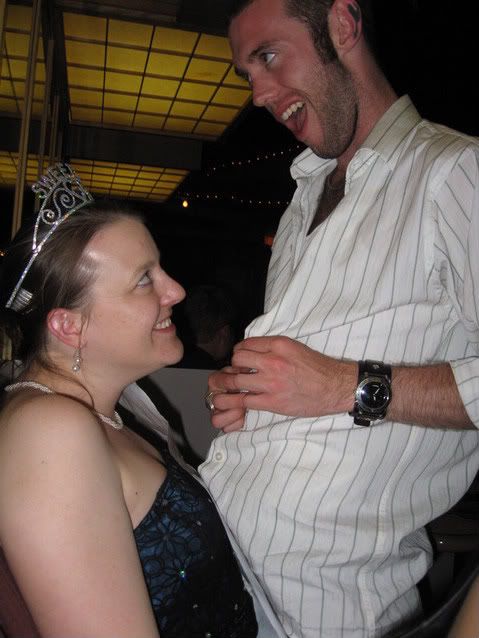 You know Samuel was checking himself out in the mirror the whole time he was giving lap dances.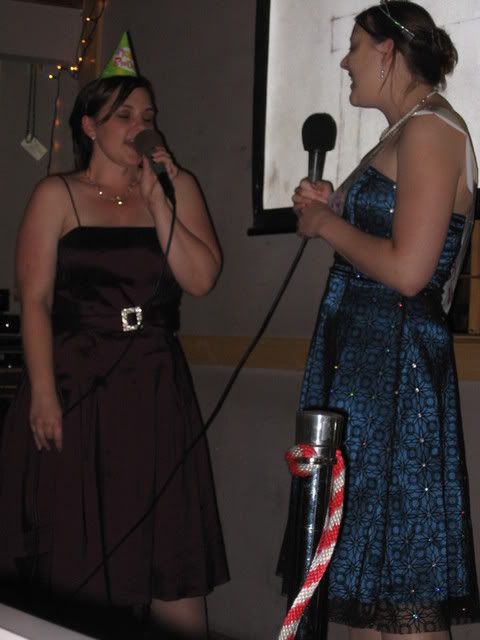 Cathy & Christine did some Madonna and some "I Touch Myself"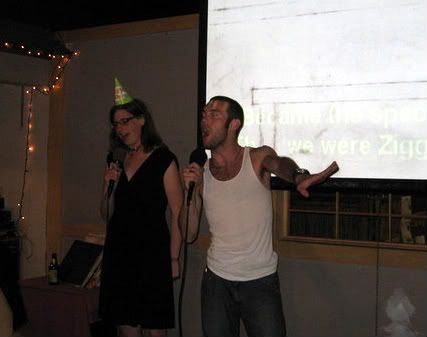 Sharing a mutual Bowie boner, Samuel & I sang some Ziggy Stardust.
And then when the night really started getting crazy the camera was thankfully safely stowed away so there is no photographic evidence of the cake I threw in the street and the people making out.

Thus ends the photo blog of Cathy's sweet 16 extravaganza and Birthday Season 2008. I hope Raye and Cathy enjoyed their birthdays as much as I did.
In other news, on Tuesday I went up to Edmonds to visit my old friend Adam. I hadn't seen him in two years and I was pretty determined to visit him again. It's weird going back to the place I grew up. It's weird to be in teh suburbs in general. It's so depressing to me. But seeing my freind again and catching up, showing pictures of our travels and such, was lovely. He roasted some coffee for me that was super strong and we sat in the kitched and caught up. Afterward, I needed a ride to Aurora Villiage to catch the 358 (worst bus ever!). So to get there I rode on a motorcycle for the first time in my life! It was so much fun. I know joyriding around Edmonds sound pretty lame but we went down some windy streets and he fuckin' gunned it a coupple of times (probably to scare me) and it was an absolute thrill. Good times.
Current Mood:

peaceful

Current Music:

The Modern Lovers "Roadrunner"