Once at the venue Christine and I parted ways with our new carpool acquaintances who had better seats than us and we headed up to the lawn. I was worried a bit about the rain and dressed relatively accordingly with my red leather jacket and a hat. Christine, not so much, but when we first got there it wasn't bad. Christine and I had a picnic in the grass with so many munchies. We were pretty quiet and surveyed the crowd. We were both on the lookout for cute nerd boys (and in my case hipster boys as well) and we were quite lustrous as we sat around waiting for the band to come on.
Eventually, after long awaited and tedious anticipation, the band went on stage. They were ity-bity but there they were. The stage set up was actually really cool. There was this serried and dangly lead things that caught the light and had all sorts of cool effects. I could try to flex my writer muscles to explain it but I'm lazy and this is just a blog so I just googled examples from other people's pictures...
The stage...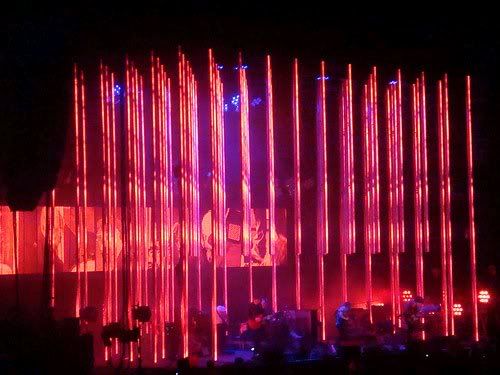 One effect that totally "blew my mind, man" was when the lights were all green and it looked like the band was in a giant sound wave, or analogue representation of sound...you know what I mean...hold on...like these things...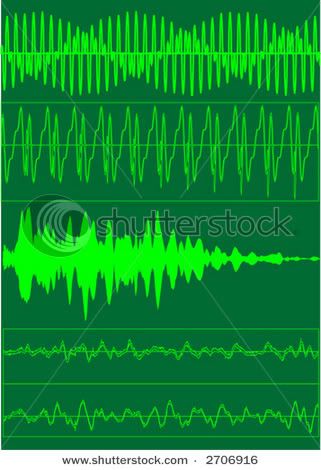 So all that kept me all like "hey, cool, man" if you know what I mean. *wink wink*
I've never been good at remembering set list of shows I go to. I can say that I was disappointed not to get any "Paranoid Android" but I was giddy to get "No Surprises" Christine got "Lucky" which is the song she really, really wanted to hear. I was also surprised that they did "Talkshow Host" and it was pretty awesome. There was also a song, I don't remember which, where Thom kept fucking up and tried and tried like three or four times to get it started and eventually went "Aww, Fuckit!" and laughed, which was adorable.
I was so into the show, I didn't even notice that it had started raining at first. I was all confused why the whole crowd on the lawn seemed to be bending down and getting their coats. I looked over at Christine with a "WTF?" look on my face and she told me it was raining. I still didn't really notice it for a long time. I was just really into the show and after a handful of songs I noticed that the jacket of the guy in front of me was all shiney and I looked around and realized that we poor sons of bitches on the lawn were soaked, myself included. Once I was aware of that, I was hyper aware of it and I was cold. Though I can't complain too much because I had a hat on to keep it off my face and I was in a leather jacket while Chistine was is something that fell slightly short of a hoodie. By the last song of the second encore I was done. I was by that time dreamily envisioning the warm, dry car ride back to Seattle. However once the band was done, there was still getting to the car to deal with.
This is why the White River sucks ass. First off, from the lawn the crowd totally bottle-necks down to the stairs. I've never felt so much like a penguin before. I couldn't see where I was going I just took little steps as the crowd shoved, which usually doesn't bother me so much I was just afraid because I knew a set of stairs were coming up but I didn't know and couldn't see where to expect them. I flowed with the crowd trying to make sure not to loose Christine and the corwd went for the exit we came in through, which was blocked off and it was really hard to get that crowd to turn around and go out the long way. It took a while but we eventually just out and then met with the line for the shuttle. Apparently Radiohead fans are too Green for their own good. That line was fucking massive it seemed like a majority of the crowed actually did the same thing as us and so the benefits were not really apparent. There we were in this massive fucking line, still being rained on, mind you, moving ever so slowly and Christine and I were well in the back of it. Harry and Brian were separate but well ahead of us. Harry got on the bus and Brian waited up for us and got on the same bus as us. I didn't look at the clock too much (as I thought being aware of the time world make it feel even worse) but from what I heard the show ended before midnight. We got to Chirstine's car a around a quarter after one in the morning. Kermit was right, "it's not easy being green."
I got home at a quarter after 2, peeled off my soaking clothes and went to bed. I was really pissed off when my alarm went off this morning. I was having none of it. Luckily, I'm doing much better now. I've had a shit ton of caffeine and I think the lack of sleep has given me some manic energy. Finally (to end on a happy sentiment rather than fuck lines of people) I told John how exhausted I was when I came in this morning (I'm sure I looked it as well) I went to post the schedule downstairs and when I returned I just heard John leaving the office behind him and there was a little cup of coffee with a post-it note on it that said "If you'd like." Sweet.
Last night was the much anticipated Radiohead show for Christine and me. Unfortunately it was at the goddamned White River Amphitheatre, which sucks ass. I'd only been once before, for Endfest years ago, where it seemed more tolerable probably because it was a festival instead of a show so everything was looser. Anyway, being very green Radiohead fans Christine put two more in our car this kid Harry, a student from Seattle on holiday from school in Brooklyn (a fellow Creative Writing major I might add) from some Radiohead forum or something and this guy Brian, a drummer guy, from the rideshare on Craigslist. Traffic down there was terrible. We parked at the Supermall and took the Shuttles, which Christine was informed on-line was the quickest way to get out (the shuttles have priority and so while the cars are stuck and wait, the shuttles go right on through) Apart from the shitty traffic coming in and the one time getting lost, we got there relatively easily.
Current Mood:

caffinated

Current Music:

Radiohead "Sit Down, Stand Up"