Friday night I had to bartend at the Theatre. After workin' out I went up the hill and got my little bar together and got to listen to the debate on the radio before the crowd started showing up. I had to stay and watch the door throughout the show but went out for a couple of drinks afterward at the Rosebud. When I got home, Raye was home and Cathy was over so I made a cocktail and we talked about the debate and what not.
Raye and I had a lot of work ahead of us on Saturday. We were hosting game night so we had a bunch of shopping and cleaning to do. We shopped. We cleaned. We prepared a ridiculous amount of food. Our spread was pretty awesome. We made tapenade, brochetta, a cream cheese & fetta dip that was much like "home made boursin," we also had Boursin proper, and I baked white chocolate chip cookies. Christine added to the collection with a bunch of quiche muffins that were delicious. (I'm going back on a diet after everything I ate this weekend)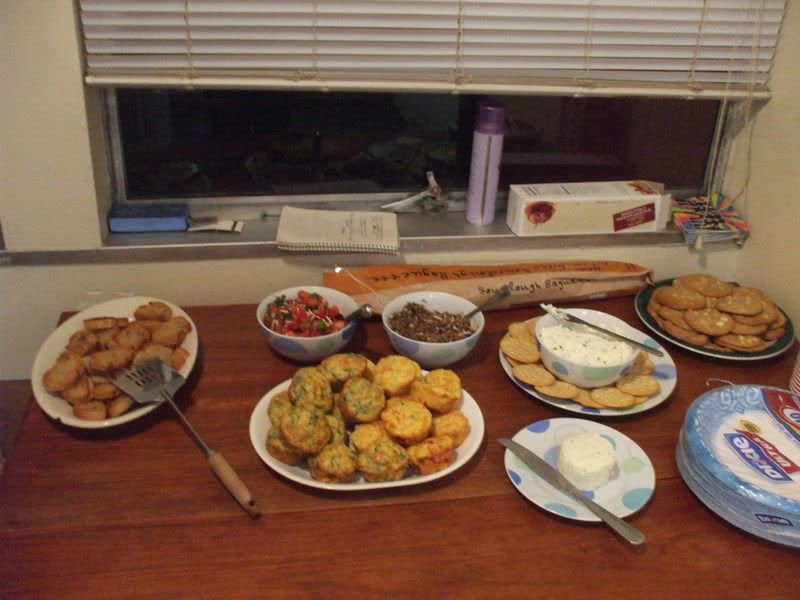 The Game Night turnout didn't seem as small as we thought, the Girls were there, Ryan, Dorothy and Samuel. Then there was this new dude, a stranger pretty much to everyone, who pretty much broke the only rules of game night 1) he didn't bring his own booze and asked other for shots of their booze (the biggest faux pas, and one already addressed, it doesn't go over well at all) and 2) he was a bigot. I was inside getting food on to platters but I guess outside on the deck he old a racist Obama joke to the wrong fucking people. Not cool. Not fucking cool, and how embarrassing that he had to say it on my deck where my neighbors can hear. So embarrassing, but I'll never see him again and that's fine with me. Apart from the racist twat, everyone seemed to have a really good time. We all drank ourselves silly and ate 'till we exploded and laughed and laughed and laughed. There were some good quotes that night too:
Dorothy: "I could do it on your face for about an hour"
Samuel: "Ew, I would never marry Amy Winehouse, I'd have to bury that some day."
Also there was the most ridiculous Polygraph card in which we all had a good laugh. "True or false: cavemen had dinosaurs as pets." We all laughed, thinking this was the stupidest question ever, and anyone with half a brain would know the answer. The answer side of the card stated "Contrary to popular belief..." WTF? I didn't think the "popular belief" was based on the Flinstones. Actually Sarah Palin belives that Dinosaurs and humans walked the earth at the same time. http://www.huffingtonpost.com/2008/09/28 /palin-claimed-dinosaurs-a_n_130012.html
So apparently I'm naïve as to how stupid people really are and how this ridiculously stupid people can get into power. It's like the society of Idocracy has come a little bit early.
Sunday, I was invited to go to the last Mariners game of the season at Safeco w/ Jaden & Arch. Christine went with me and strangely enough Samuel and David were at that game too and we met up with them in the beer garden at one point. I like going to baseball games, and Sunday was the perfect day to go, despite my overwhelming hangonver from the night before. I spent too much money on beverages, and after the M's won, Christine and I waied forever for the 18 or 15 to get to Ballard/Magnolia. While we were waiting for the bus there was this group of kids (18 year olds, college Freshman new to town, or the city, from what I got from their conversation later) that were looking at the bus schedule and the route map. This dumb bitch was looking at the map for a really long time and getting really frustraited. "Guys, it doesn't have a 'You Are Here' point on it." I overheard that and, being a helpful Seattleite, told her that she was on First and Jackson, figuring that with that information she could figure out where she was on the map. She thanked me then looked at the map again and couldn't figure it out and walked away in a huff. She didn't know how to use a map.
I tried to be helpful, but if she's too dumb, I reserve the right to tease her.
"This map is broken. I couldn't possibly use this map without it telling me exactly where I am!" I teased while she was still in earshot.
"Give her a break," Arch said, "She's never used a map outside of a mall before." (Zing!)
Current Mood:

pessimistic