So Friday night was Beth, from Tablet's, 40th birthday party in the grotto at the Rendezvous. There was to be drinks and food and a reunion performance of her & Cari's band Vandimonium (sp?). I had a jolly good time. I got to see Sarah, Cari, Beth, Cheryl, Dan & Amy, Karla. Lots of the Tablet peeps I haven't seen many of them in AGES so there was a lot of catching up to do. I really enjoyed the band as well...and the artichoke dip. I'm a sucker for punk rock and artichoke dip.:)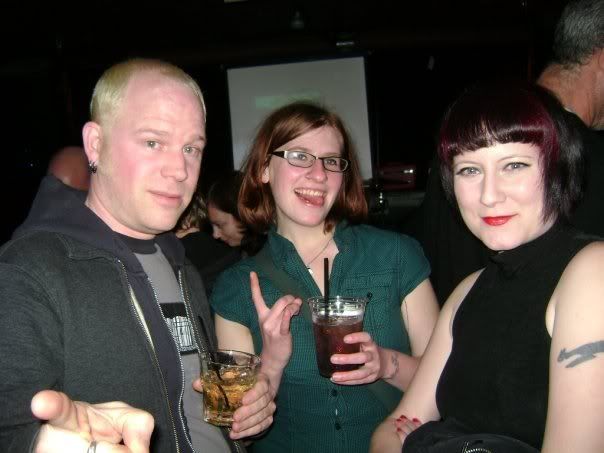 A bit trollied, and after the weeks of being stuck in with the snow and everything I wanted to go out trolling and, like flirt with boys. I don't know. So, I ended up walking back up to the hill and hitting up the Dunnes, where I haven't been since my B-Day adventure. It was crazy crowded in there, and I think my favorite little Irsih pub has been taken over by douchebags. I blame the shuffleboard. There was nowhere to sit and after Jason poured me a lovely strong drink, I ended up just standing by the jukebox looking around like a dufus. Luckily I ran into a familiar face, and like the last one I would have ever expected to run into, statuesque-red-head-Samantha Motley from Edmonds, walked by. The background story on that is far too long to get into but we haven't seen each other in years and years and so there was a lot more catching up to do once we found a seat. I got increasingly more trollied and animated, Ryan ended up showing up at the Dunnes. Suddenly next thing I know, it was last call and I ran down to City Market and bought a ridiculous amount of alcohol (a 12 pack of Henry's and like 2 huge jugs of wine) because I thought some kind of after party was ending up at my house. But Samantha followed her friends to Neighbors and although Ryan came over and hung out with me and Raye, they ended up talking about Vegas and I just hit the hey.
Saturday, I got to talk about my night with Raye and she told me about her and Cathy's adventures at the Merc the night before. I called and checked up on Cathy to see how she was fairing that morning. Cathy came over the night before, and brought with her her external hard drive, so I could give her the pics from New Years eve. She left the hard drive at my place and said it was okay for me to copy whatever I wanted from her. So Saturday afternoon, hungoever and in no hurry to do anything that required moving, I spent all day looking through her music and comedy and what not, picking out what I wanted. I couldn't believe how quickly time flew as I played guilty pleasure songs and songs I hadn't heard since high school probably. When I finally got to the comedy section I got caught up listening to/watching George Carlin stuff for a while. Now I totally want an external hard drive myself. Oh well.
Raye and I had plans for Christine to come over but by the time she did, Raye and I were just tired and lazy not the best hostesses in the world. We perked up a bit however, when Ryan and Corey ended up coming over (I had more than enough beer and wine to offer my guests from the night before, ha ha) and we played a game of Cranium.
Sunday was the usual lazy day hanging out with the rents and watching telly, as per usual. I brought over my Netflix of Ewan & Charlie's Long Way Down (where they're motorcycling down through Africa) which is perhaps even better than Long Way Round. It's really compelling telly and I can't wait for the next disk. However, it's making that traveling itch of mine even stronger. Ack!
Current Mood:

okay