"Where's Mir?" I'm in there. Can you find me?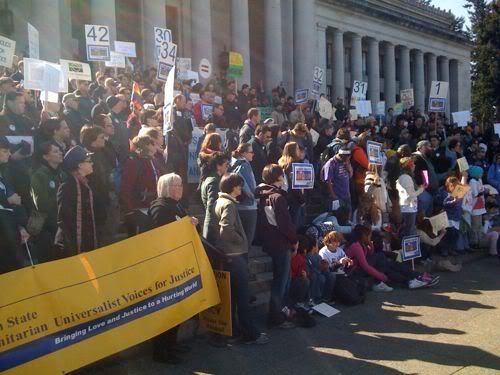 Yesterday Cathy, Raye, Ryan & I went to the Equal Right's WA Equality Day in Olympia. Well, we showed up for the rally, at least, and represented Capitol Hill (woot) but we didn't really stick around to talk to our legislators or anything. I think I'd like to do something like that again some time and actually do the whole process of talking to my representatives and learn first-hand more about how government works. Yesterday however, we were far too hungover to be good citizens. We showed up as planned and showed our support but when it came down to talking to people we just said. "ehhhh, that's what e-mail is for" and headed back to Cathy's car.
The night before, we went out and painted Olympia red with some bar hopping. I had a good time until I eventually turned into sad girl for a while but I perked up later on. Towards the ned of the night I think I was happy. I look pretty gone in the photos though.



The next morning I fought off the feeling of death from an evening of double whiskey and diet cokes (Old Crow being the universal well whiskey of Olympia it seemed) and we went to meet up with Stephanie for breakfast. I was so happy to see her. All and all a good visit.

Getting out of Seattle for a little bit was necessary. Sometimes I get annoyed with my city's politics and attitude and bored of the Hill need to get out for a little while even if only for less than 24 hours as was the case this week. Then, coming home makes me so happy to be back in my city, my hill and "civilization."
Current Mood:

full