This weekend two of Cathy's siblings were in town, her brother John & her sister Ann. You know how it is when family comes to visit, you go out and do stuff in the city that you don't normally do. On Saturday the Zeglins, Raye and I went to the Woodland Park Zoo. I've got a membership this year as part of my Birthday present from The Girls™ when they adopted the Snow Leopard in my name. So I had a my Snow Leopard to go visit. My membership is awesome I get free admission, ½ off the ticket price to up to 5 guests and free parking. So if anyone wants to go to the Zoo in 2009, I'm the girl to call!
It was a really wet and blustery day to be at the zoo but I still enjoyed myself. There were baby Ocelots. I kind of freaked out in the tropical bird room. I don't like birds flying and swooping around me. A lot of the animals were sleeping and inside since it was so nasty out, as is usually the case at the zoo.
The highlight was definitely the transvestite Orangutan that was tripping...or so it seemed. This Orangutan had a blanket over his head (which reminded me of a friend while on ecstasy), a blue piece of chalk in its mouth, (making its lips all blue, like lipstick) and it was writing these little dots on the glass. Then this other Orangutan came up and stole his blanket, and the first Orangutan, moved out of his spot, and slouched over in a corner with a piece of cardboard, took the chalk out of it's mouth, drew on the cardboard and pouted. ("Dear diary, my roommate is a douchebag. He stole my blanket.") It was very entertaining.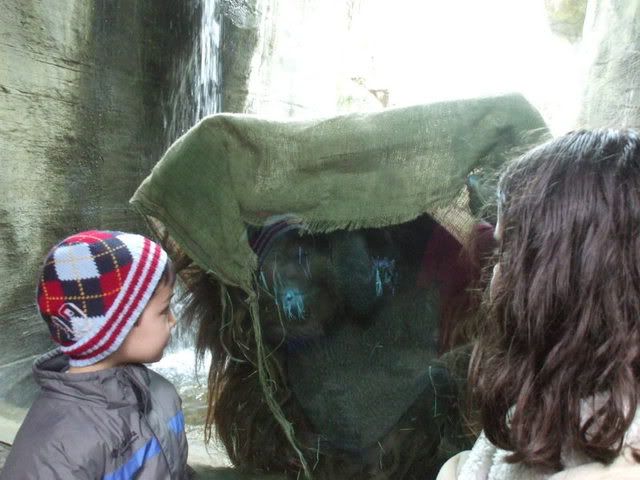 Naturally, my Snow Leopard was one of the last animals we found. He (or she, I'm not sure) was being elusive and hiding in the corner. Actually (s)he was pacing back ad forth in front of a gate, which looked like kitty talk for feeding time. Luckily (s)he did me the pleasure of walking by the window one time. She was a little more quick walking by than I was able to pose and Raye to have her camera ready but I sorta got a picture of me and my Snow Leopard, me and the back & tail anyway.
After the zoo, we went to Charlie's for happy hour and then I had to go back to the theatre to bartend. After that, I met up with the Zegs again at the Dunnes and hung out there for a few hours. Speaking of the Dunnes, this is the one day I absolutely avoid that place. I'm a big fan of St. Patti's day, a holiday about drinkin', but it's the last day I would ever go to an Irish Pub. I'm too busy to really celebrate this wonderful holiday this year, sadly, but whatever I got to go to my pub around the holiday, I'll consider Saturday night my St. Patti's day. I'll pick up a little bottle of Jameson between the gym and the book meeting, I got my green on and I'm quietly playing the Pogues at my desk. I'm as festive as I can be under the circumstances. :P
Current Mood:

good

Current Music:

The Pogues