-I have a problem with German Chocolate cake. I don't care for the frosting at all, however that's not my only issue with the confection. Last year at Cathy's b-day, I ended up throwing her German Chocolate cake across the street in a drunken rage, pissed off about boys. This year wasn't as dramatic, but it was almost as frustrating. I agreed to make a German chocolate cake for Jay's birthday which we would celebrate that night. I woke up (hungover) Saturday morning and got a head start on the cake mix. However, I fucked up and accidently put the amount of oil that should have been water and vise versa. Whoops. I realized what I had done and popped them in the oven whilst I walked to Safeway and bought another thing of cake mix. I didn't want to be wasteful and was curious to see what would happen, maybe they'd just be super moist, but no they were pretty inedible. Attempt
#2
! This time, slightly flustered, I forgot to pam the fucking cake pan and the cake fucking fell and when I went to get them out of the pan, it just crumbled to pieces. I had a temper-tantrum, cigarette, and when Raye and I went to the liquor store for our provisions for the evening, I bought cake mix
#3
. Luckily the old saying third times a charm was indeed the case and my cake finally came out okay. I made damn sure that people appreciated the cake since I spent half the day on that shit.
-I'm surrounded by grumpy pants today. Both Terry and John are in a mood. And here I damn near was late to work this morning to get John a card for his b-day tomorrow. Lighten-up boys, jeeze!
- I splurged today and totally bought a neardy t-shirt with a Mighty Boosh reference/joke. Check it it's a Pocket Cup Tee. Love it!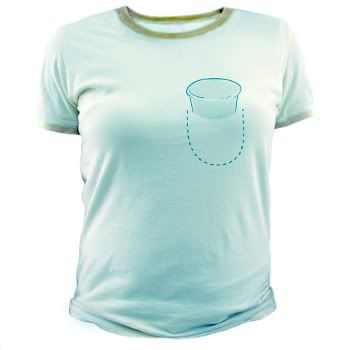 -This weekend we had a Game Night hosted at our place. So many people were invited (a portion of which were Raye's co-workers who didn't end up showing up after all) so we figured we had to feed a lot of people with not a lot of money. The solution? 5 pounds of mac'n'cheese. So much mac'n'cheese we could only cook ½ of it in the oven at a time. We ended up with possibly over 20 peeps at one point, when our friends and the neighbors were all there. Our apartment was crazy hot for that number of people to be in at one time, I tell ya. All in all though it was a successful party. It seemed like for the most part people had fun and a game was even finished, though I was pretty indifferent about the game. At a point I could give fuck all and just want to enjoy the conversation and give up on the structure and focus needed to play cranium.
Current Mood:

naughty

Current Music:

Terry's internet classical station playings songs anyone would recognize