...instead of borrowing Raye's all the time. It takes me far too long to get around to posting photos from various events. So here's a big photoblog. First of all on Monday, cathy came home from her three weeks in Europe and she brought me back a sundress from Athens! The next day, I went over to Christines and got my hair did. I accidently got the wrong color. So it's not as natural looking as it usually is, it's much darker. I'm not sure how I feel about it as a whole, but I really do like the fact that it's something different. Mix it up a little. New hair and new dress!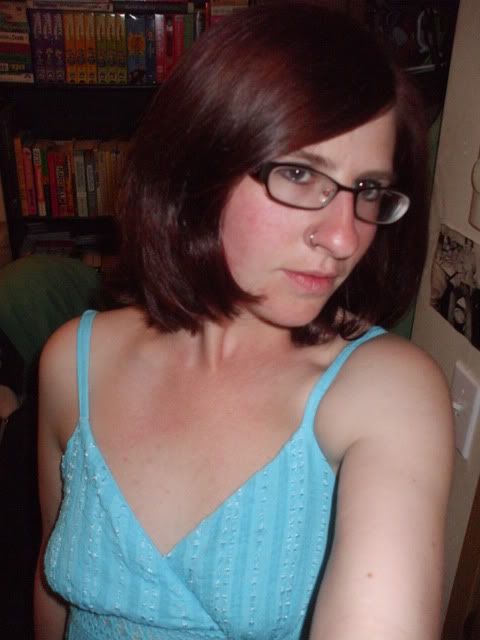 New dress (cliche mirror camera shot. I'm a little embarassed I'm usually not a fan of these but whatevs.)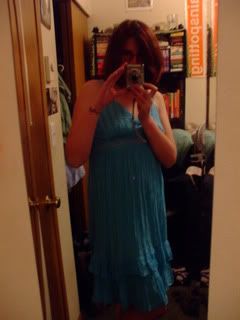 See it looks much better than my hair looks here. This picure is from the
Tablet reunion Last Tuesday.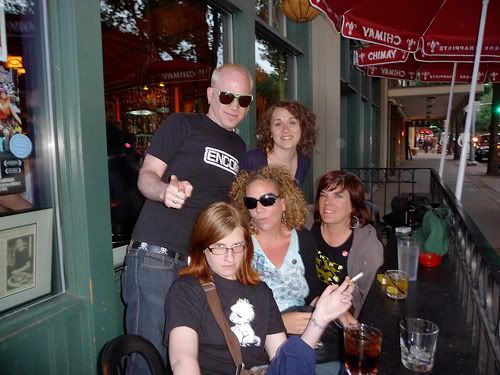 Thank you
dan10things
for the picture.
I've also got some going all the way back to
Bat 'n Rouge
, the Dykes vs. Drag Queens baseball game.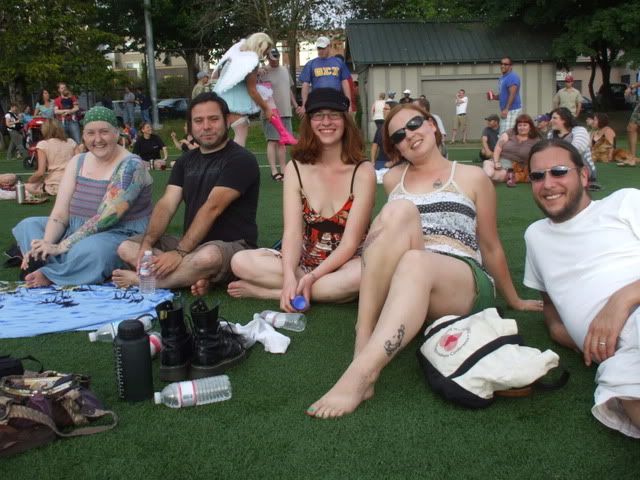 Meegan, Ryan, Mir, Raye and (our neighbor Jeff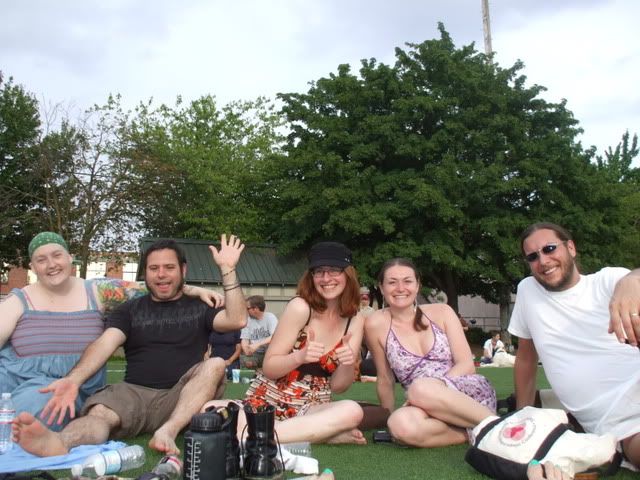 Meegan, Ryan, Mir, Lisa & Jeff (neighbors)
Then we had a party for Samuel & Sheana's birthdays. We bought a beautiful cake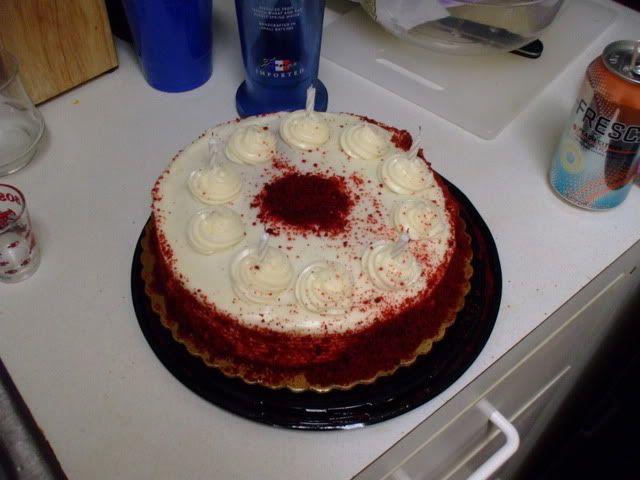 I wish I could say I made that, but I cant. Raye, however did a lovely job making the cheese and fruit platter. Isn't this a beatiful summer plate?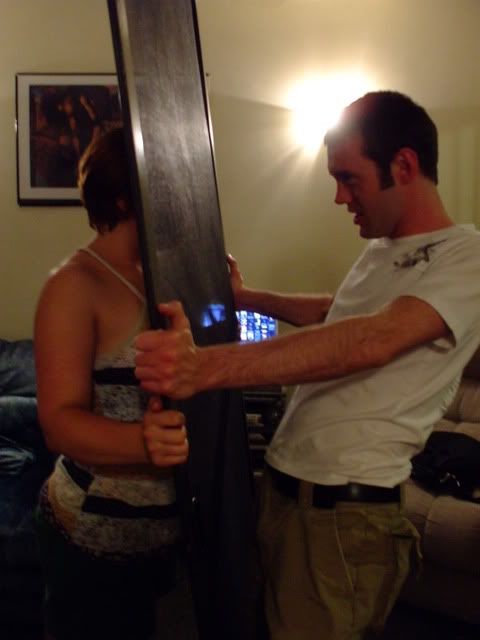 Playing with the screen that doesn't fit our door, Raye and Samuel. I have a bunch of these pictures it was late in the night and I aparently fancied myself as an arty photographer. I tried earlier in the night to try and do something like out of the "take on me video. Didn't pull it off. Good times though.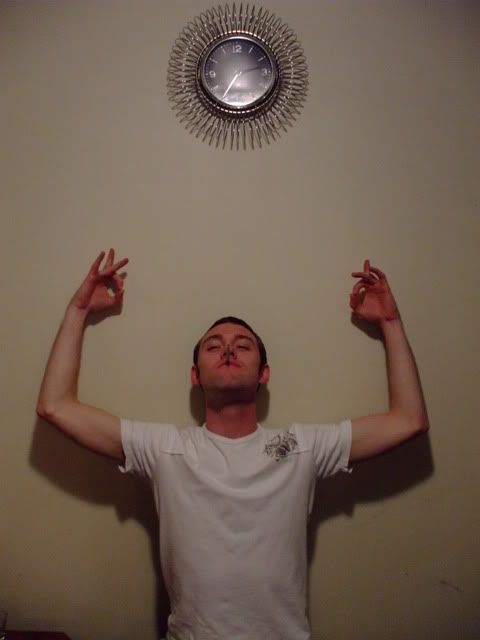 THe birthday boy. Good times.
Finally, I have picts from
last Friday
when everyone was prefunking at the apartment before heading off to the merc. I took a pic of everyone before they headed out.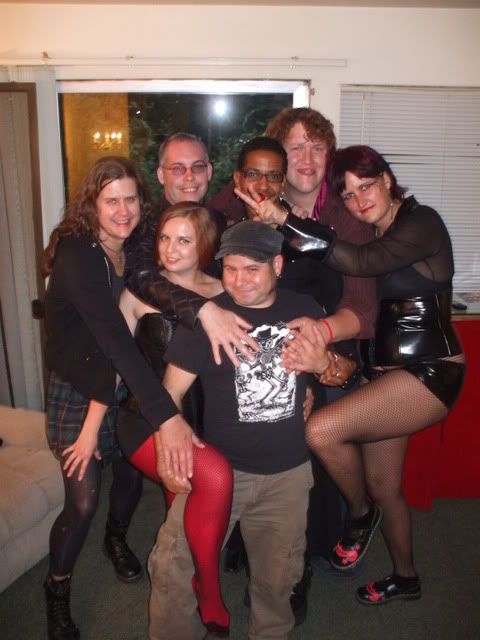 Sheana, Raye, Aaron, Astro, Ryan, Aubrey, Dorothy)
I'm thinking I should be more conservitive with money and get a camera. This is rediculous and I'm going to need one before I go to London anyway and would also like to have one when I go back to Colorado in early September. It'll be hard though, what with this being pride weekend and all. Eek. It'll be hard not to paint the town red, especially since I've been itching to go out, but this no camera thing is silly. Arg! Decisions, decisions.
Current Mood:

torn

Current Music:

"My Life is a Liquid" Tubaway Army