To add insult to injury I got the first disk of the new Torchwood (more miniseries than season, really, like hte old dr whos) from netflix. My mum pre-ordered it from amazon (it came out on Tuesday) and when they weren't home to recieve it, Amazon just took it back!!!! I wateched the first three and REALLY wanted to see the rest of it here tonight but NO!! and of course Blockbuster and Hollywood don't have it. AAARRRGG!!! I'll probably buy it with the money I'm not spendig on that camera. FUCK now I have no camera for Colorado & London. PISSED. Oh I want to yell at some customer service sperson so. fucking. badly.
*EDIT*
In retrospect, I'm reminded of this pic. It cracks me up, had to post it to this blog.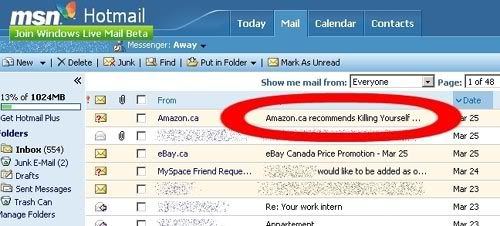 I used to swear by them now I'm swearing at them. No camera. They oversold. But they sent me the assessories. GREAT now I got a 4 gig mem stick and a camera case FOR A CAMERA I DON'T HAVE AAARRRRGGG!!!!
Current Location:

the rents

Current Mood:

pissed off