Wow, I havent' posted (for me anyway) in a long time! Things have been crazy lately but there's not point in going into it now.
I'm in Colorado at the moment, Ft. Collins. I got into town yesterday. I flew out of Seattle early as hell yesterday (man, the city is kinda creapy at a quarter to five in the morning.) I was excited about flying again, it's been too long. The Cascades were breathtaking from the plane and then there was a whole lot of nothin' for miles and miles, and it got a bit more pretty once we got over the rockies. Now here I am in the fort, sitting a a cute little coffee shop by the college. It's been pretty chill so far. It's been five years since I've been here and so there was an initial schock of how much older everyone looks. Kent, my cusin, showed me around Old Town (downtowm) Ft. Collins. We stopped at a couple of bars and picked up a beer at each. I foreget what it was called but the oldest bar in town had something I haden't seen before which Kent ordered and I thought it was pretty cool, actually. Everclear soaked cherries, three for a buck.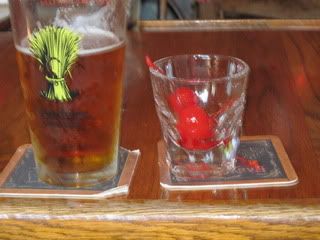 Kent and I went to the grocery store and got makings for dinner. The two of us made a chicken alfredo with greek salad for my grandma, aunt & uncle, dad and Kent's girlfriend. I got to feel like Raye doing the cooking, while Kent got to play Mir by doing all the cutting and prep. Nice. The dinner went over well and even now, Go team whatever our generation is called.
Samuel wasn't able to come out at the same time as me, so no going out to Denver to party in the proper city with my gay boy and go to the amazing amusement park of my childhood. Oh well, I try to think that with the money I save by not doing that I could go shopping in some of the boutiques around here or something, Get something cute. Think that's my plan today, if I don't go see the Terrintino movie, depends on the heat I guess. Finally, I booked a tour of the New Belgum Brewery (aka Fat Tire) for this afternoon. Pretty excited. Go sample all the various flavors of the best thing to come out of Ft. Collins since, well...me.