Thursday- Andy and I went to Smith for diner. I tried bone marrow. It's a favorite of Anthony Bourdain and Raye highly suggests it so I've long wanted to give it a try. I wasn't sure with the first bite, but "got it" with the next few bites when I used the sea salt and the pesto stuff they provided. However it's so very rich I couldn't eat all of it. They give you 3 bones at Smith, I gave Andy one ate the big one myself and couldn't bring myself to eat the third little one. So my official stance on marrow is I like it in small doses. Afterward we just hung out and Andy got me addicted to The United States of Tara
Friday – It was opening night for the current show at the theatre and I worked the bar. This show is a one act so there's no intermission so it's a short gig. The set for this show is amazing one of the best ones yet. The after party was good. The Rosebud provided some delicious nibblies. It was really nice to see the Schmee peeps again after the holidays.
Saturday & Sunday – I spent a large portion of the weekend with Andy. He picked me up on Saturday and we went bowling. I sucked. Every frame I had at least one gutterball. I haven't sucked that badly at bowling in a while. Me thinks I need to work on my arms at the gym again when the 12 lb ball was too heavy for me. He made me dinner we drank wine, watched movies and silly videos on the internet. I was challenged to mini golf by Andy in his sleep. We looked it up the next morning the closest place to where we were with mini golf was Funtasia in Edmonds. So it was a trip down memory lane for Mir on Sunday. We played mini golf and I lost by one damn stroke! I challenged him again to more air hockey...lost again. I did well on SkeeBall but, alas, I don't think it counts as one of the "best two of three" game his machine broke. Having admitted defeat we left and I went on a memory lane trip around the old stomping grounds of Edmonds. It's always weird going back there but on that particular day, it was actually kind of pleasant perhaps because I was sharing old stories and with someone new to the area. His roommate Kim made dinner that evening and we had another lovely evening together.
Monday – I went over to the rents. I fell kind of bad for ignoring them with the exception of going out to dinner with them and watching a bit of Anthony Bourdain with my mum, but I really needed to focus on my application and make use of their printer. The time had come to pull my grad school applications together. I heard back from McDowell on Friday and he has already sent off my letter to Goldsmiths. So I need to send my application Priority mail and hope it beats his. Aberdeen wants me to send in the letter with my application so I'll need to get that from him before I send that one off (and apparently I only need 1 letter of Rec so once I get his I'm done done done). So after all that moaning, groaning, temper tantrums and bouts of utter despair I've finally got them pulled together and ready to go...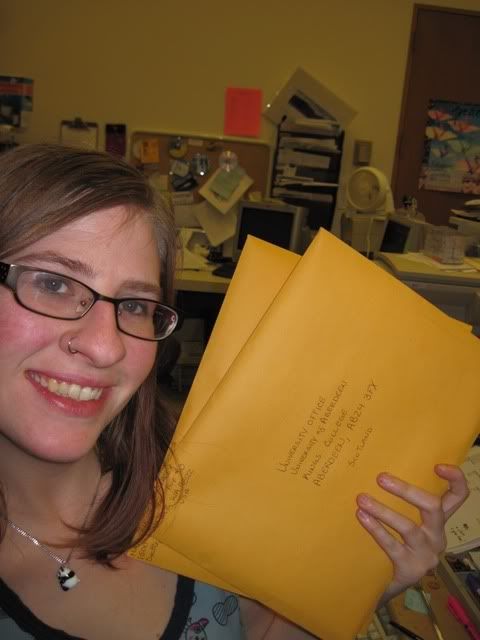 Current Mood:

accomplished

Current Music:

The Jam "That's Entertainment"