Valentine's day has not always been my favorite holiday. While single it was a holiday that only seemed to rub in that fact (so single friends I'm sorry for this and feel free to skip past this post). Then, the one time I was in a relationship during the holiday, my ex thought it was stupid so didn't bother to do anything for me didn't even give me a damn phone call (we were on the outs anyway at the time in hindsight). Up to last week the best one I've had was the year that The Girls™ went out for a fancy pants dinner together at Café Flora in 2007. I'm happy to report that all those years were made up for and more this weekend.

Friday Andy came over and we exchanged our gifts. I got him tickets to Alkaline Trio (and was pleased that the physical tickets made it in the mail just on time!), a DVD of MXC (because people falling down makes us laugh), a pirate lunch box, bread rolls from Ezelle's and little Dubliner cheese hearts. I was pretty proud of my gift spread but Andy's gifts to me blew mine gift out of the water. He got me like every traditional V-Day gift that I've missed out on all these years, roses, chocolates, a plush animal (panda of course) heart candies, and a mix CD of songs that remind him of me. I also got the DVD of Drop Dead Gorgeous because it came up on conversation like the week before and I was all "why don't I have that move" so now I do. Finally I got the sweetest gift I've ever been given, a song written for/to/about me. He printed and framed the lyrics for me. I got a bit wispy and latterly weak in the knees when I got it.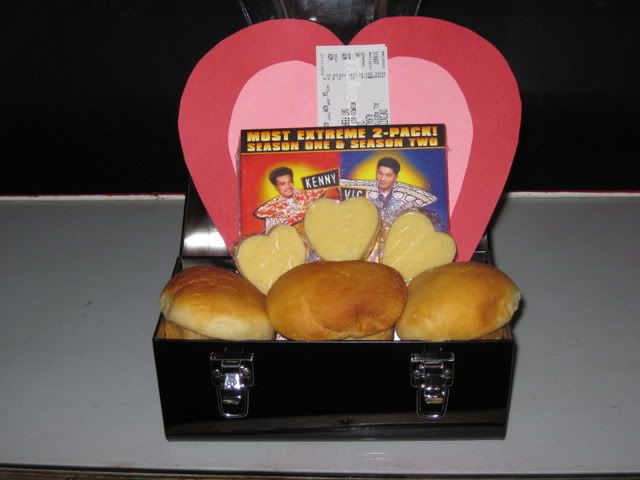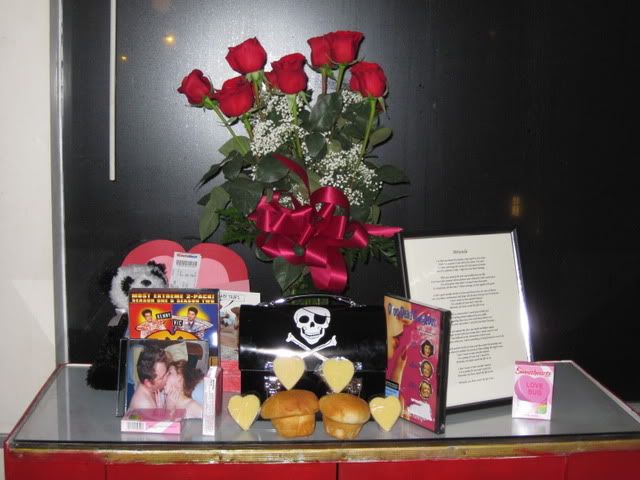 That night we drank wine, watched Drop Dead Gorgeous, hung out with Raye & watched Zombieland.
Saturday, Andy planned a romantic weekend getaway in Westport (beach town on the coast). We were out of the city by around ten thirty and headed to the coast while listening to my new mix CD. We had lunch as soon as we hit up Westport at a little place called The One Eyed Crab thus beginning our ongoing seafood binge. Afterward we checked in to our room at the hotel on the beach. I was once again surprised to find more flowers and chocolates waiting for me in the room (Squee!). The weather was wet and grey but we couldn't resist a walk on the beach where we took some pictures and checked out the view from the little observation tower.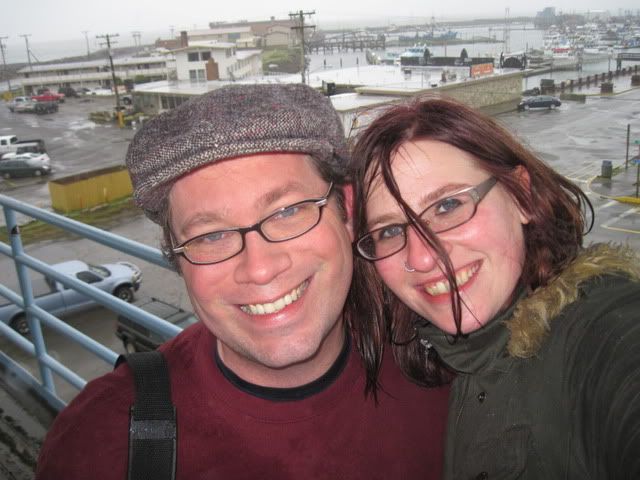 We hung out in the room, relaxed, watched some telly until it was time to go to dinner. Dinner was excellent, more seafood: bacon wrapped scallops, crab cakes for appetizers and I had a seafood alfrado & Andy had some salmon. We tried the local wine and it was good. Really good. So good we asked about it and found out that they do wine tasting and made plans to go there on our way out of town the next day. The weather got pretty stormy that night and we spent the evening in the hotel room, drinking wine, eating chocolate, and talking the night away.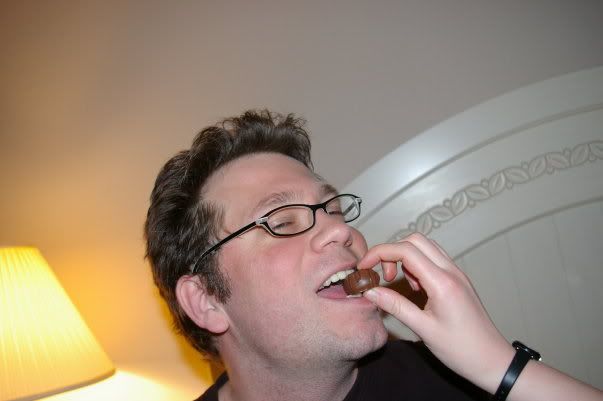 The next morning, Valentine's day proper, we checked out and hit up the winery for some wine tasting. (Nothing like trying wine at 11am.) The staff were very nice and the wine was good. We tried a blush that I actually liked (I usually think blush wines are gross) so much I bought a bottle, and I naturally bought another bottle of the kind we liked so much at the restaurant/hotel. Andy bought a tin of cheese so after we returned to Seattle/Bothell I encouraged him to find a hill and do the chasing the cheese down a hill thing because he's always wanted to do this event someday, check it out. http://www.youtube.com/watch?v=KOyQBSMeIhM
We kicked it at his place for the evening and he made "Heavenly Spaghetti" which was amazing! It's a layered spaghetti with red sauce, ricotta, cream cheese and meatballs. Yum! Drank wine, watched a couple movies and chatted. Monday was much the same, hung out, watched some Anthony Bourdain together. When the time came for me to go have dinner with the rents, Andy dropped me off and sort briefly met my mum and dad (& Regan) That went quite smoothly and my rents liked him and are happy that he makes me happy.
All in all it was a perfect weekend. To say that "Andy did good" would be the biggest of understatements but I don't know if I can rightly express how happy he made me this weekend. I've always been a romantic but have spent much of my life wishing for such treatment but not receiving or at worst thinking myself unworthy of such happiness. Andy makes me feel worthy, special and beautiful and oh so loved. That's not only a V-Day thing, flowers and chocolates not necessary, he makes me feel that way every time we spend time together and it makes me so ridiculously happy. Little hearts and stuff.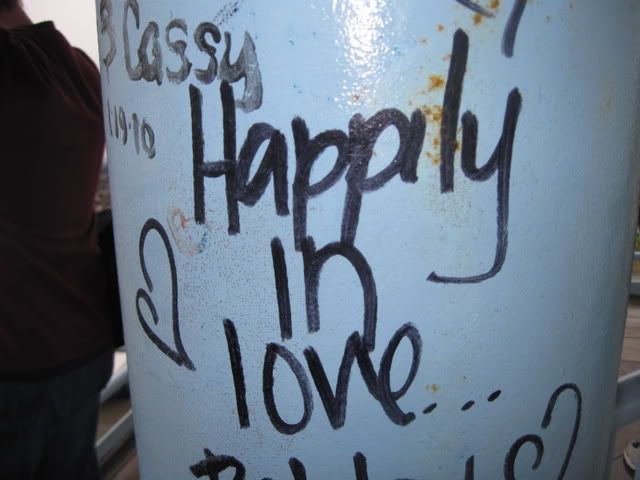 Okay, end mushiness. Just have to add, finally, getting back to weekend events, when I got home from the rents on Monday night I ran into Sarah and Raye and we all went out to have a drink (at The Men's Room because it's the closest bar) and ended up hanging out with gay boys watching figure skating. Awesome.
Current Mood:

loved