Last five days have been rather busy. Thursday was the night of the annual auction for my work. It was on the top floor of the Hilton downtown. I enjoyed the part where I got enjoy the beautiful view, eat free food and drink free wine. However I was completely out of conversations as I don't have kids. Even the teachers were just talking about their kids. It bored and alienated me, so I just went back for more wine. On the other hand, I found that some co-workers are actually a lot more palatable when I've had five glasses of wine. There's this one lady who at work drives me nuts in that all her conversations are circular and she manages to say the same thing three or four times again in a conversation. This didn't bother me as we were talking at the end of the even while collecting checks, paddles and nametags from the parents. That's actually how many people talk when they're drunk, she just happens to do it all the time and when I was a little tipsy, I thought nothing of it. After the auction I booked it up the hill to hit up Brendan's birthday gathering at Café Metropolitan. It was a good gathering. I made up for the lack of conversation at the previous event, though I think I might have talked Anna's ear off by the end of the night.
Friday after work, Andy picked me up and we shared his last evening in the north end having dinner, drinking wine and watching a movie. It was a mellow night as we had to get up at seven on Saturday to start the move. The move on Saturday went really smoothly. Getting stuff from the storage space into the u-haul took very little time. Dan & Kim helped move and Raye showed up at the place in Queen Anne to help as well. The only problem was Sparky who ran out at one point when we were about to leave Bothell and the fact that he seriously scratched up Andy's driver's seat window while we loaded up the U-haul. Really though there were five of us two help move, there was really only four who could work at a time because somebody was on Sparky duty. Once it was all loaded up, Dan & Kim took off and Raye helped with the unpacking and re-arranging. His new place is in a cool location, with a view of the Ballard marina, and on a clear day you can see as far as the sound and the Olympics. There's the comforting sound of the boats and the trains, as well. We ran a lot of errands, (more than one trip to the Ballard Fred Myer), unpacked for a couple more hours then chilled out with wine and a movie after a very long and busy day.
Sunday, after the cable guy came by and did his thing, Andy and I took my parents out to lunch for Mother's Day. I was thinking McCormicks on Lake Union but when we got there they were only doing a stupid buffet so we went to Duke's in South lake Union instead. It was such a lovely day we sat outside on the water and had a delicious meal and cocktails. It was a pricy expenditure but my mum really enjoyed it and Andy helped. Besides, I'm going to miss every holiday with friends and the fam next year so better do a doubly good job while I can, right? After the meal we walked around the marina a little and watched the boats and seaplanes on Lake Union. You've gotta love Seattle on a sunny Sunday afternoon.
Anyway, here are some pictures of my lovely city on my lovely weekend...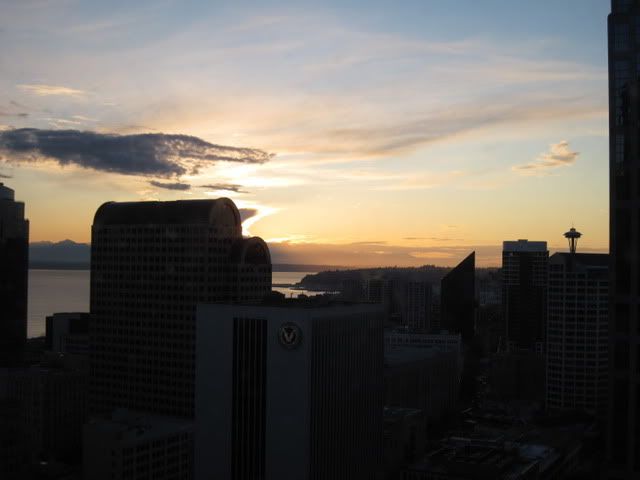 Sunset from the top of the Hilton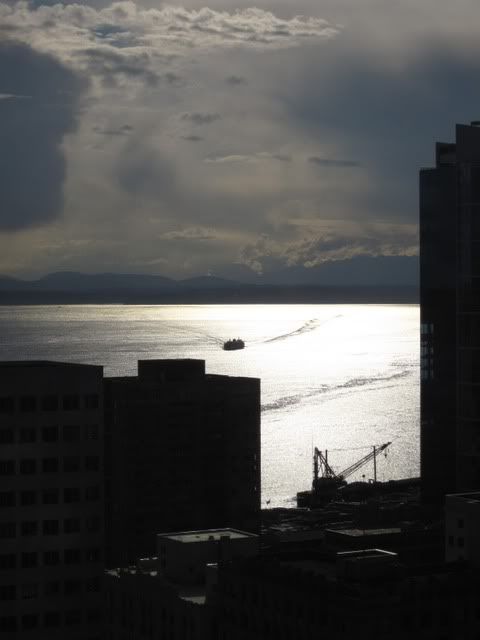 Ferry on the Sound from the top of the Hilton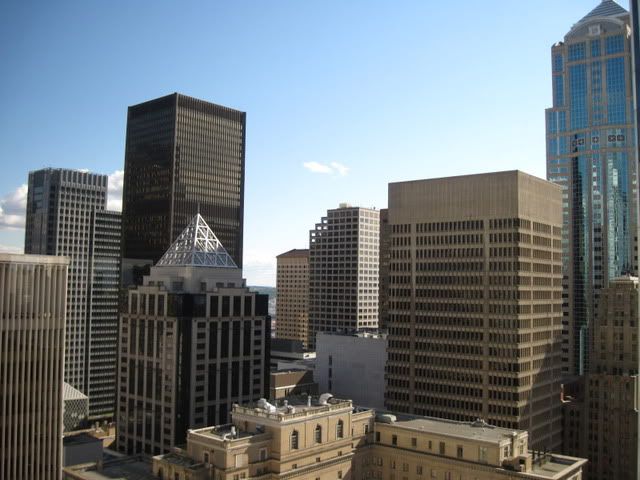 Downtown from the top of the Hilton
Andy's new view!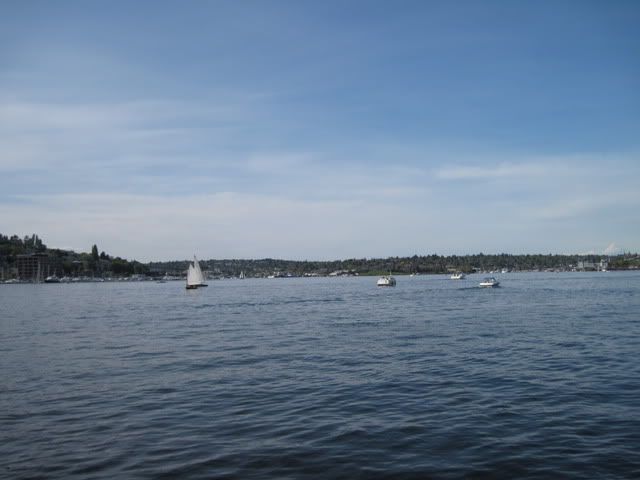 Boats on Lake Union Mother's Day

Current Mood:

peaceful

Current Music:

ELO "Mr. Blue Sky"