I'm dead tired, bruised, scraped and bumpy but despite all that I had a lovely weekend. Friday I worked the bar at the theatre then afterward met up with Raye, Astro and James at CC's for James' birthday celebration. Afterward, Raye and I went back to the apartment and stayed up all too late talking. Saturday, Andy came over with Sparky and we hit up Kristin's birthday picnic at Volunteer Park. I was a little worried about the weather but it turned out to be really nice while we were there. It was a nice time to see some peeps I haven't seen in a while, have some BBQ and such. I am kinda glad that we ducked out early before the rain came, though. Took some pictures because the goths, they love a picnic.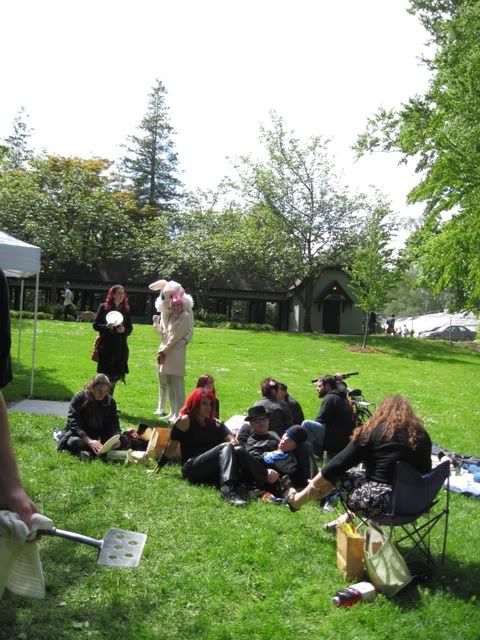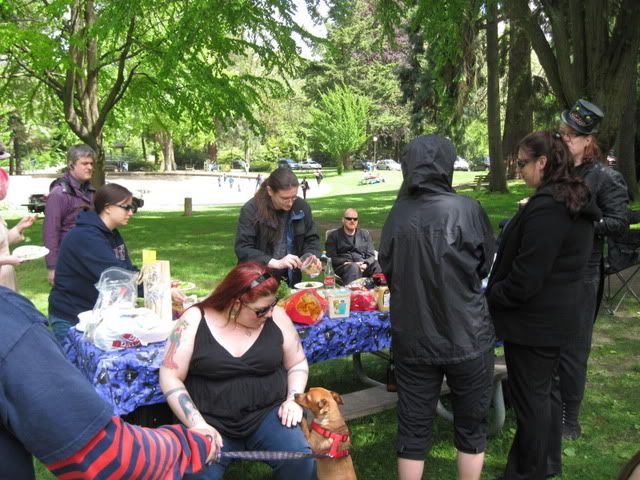 Food!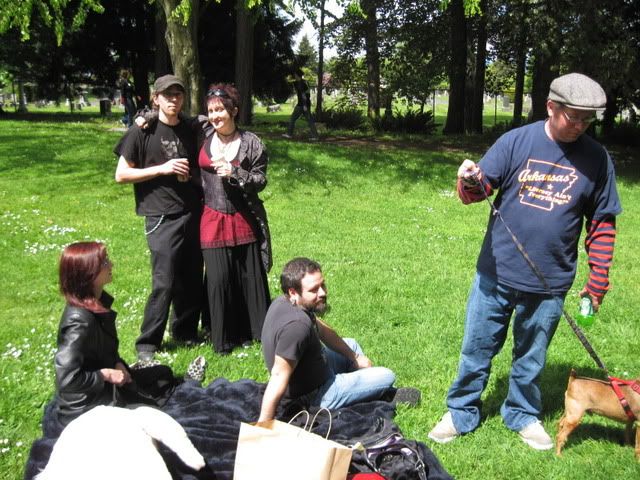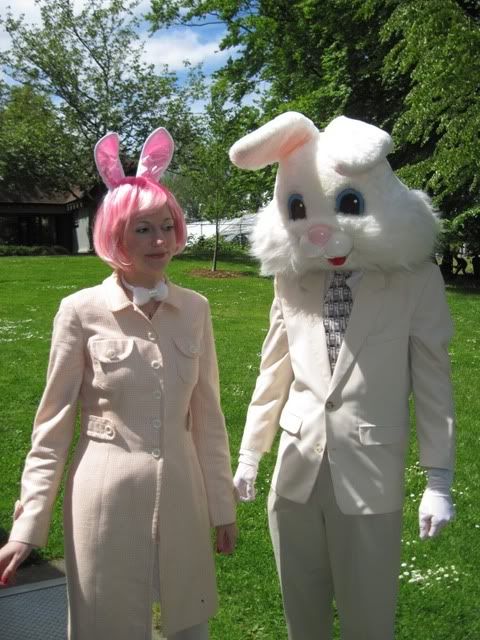 I don't know what posessed 'em to dress upbut I like it!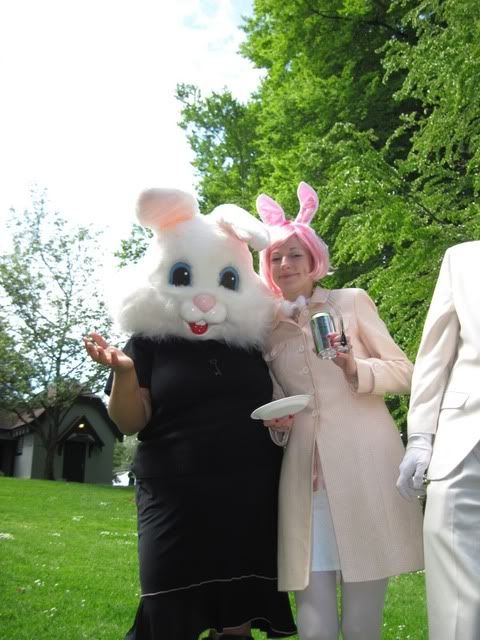 Tara tries the head on. :)
After the picnic, Raye went to go bartend and Andy and I went to take Sparky home before going out to Ballard to meet up with Christine and Cory. We went to Peoples Pub for some sausages and cocktails, played a Battle of the Sexes board game for a while (I dare not say which sex won.) Afterward, we all went over to their place to enjoy their new hot tub. It was so pleasant, wine, friends, smokes, hot tub and apparently a fireworks display in the distance for some reason. Cory and I jumped on the tramp for a short while, but being in a swimsuit and all I was timid, figuring if I fell I would be really fucking painful so I only stayed on for a couple of minutes. Not that it mattered. After a while of being back in the tub and drinking some wine I waited for a lull in the conversation to go inside to pee. I got out of the tub, my glasses were off (as it was too steamy to wear them in the tub) so I had no depth perception and it was dark outside, so I didn't see the step that went down to the basement and down I went. I slipped, fell and was slowly slid down the concrete stairs, desperately trying to grasp on to something but only ended up pulling up mud and dirt. I ended up with a huge scrape on my ass and thigh, two huge bumps on my left shin and scrapes on my ankle and the top of my foot. I'm a mess. To think, I was worried about getting hurt on the trampoline, when really I should be more concerned with my ability to simply walk forward. And for the record, I was not trollied. I washed myself off and was able to put my feet back in the tub for a little while with everyone (I'm no party pooper). When the wine was gone Andy tended to my wounds. You know someone loves you when they're willing to rub Neosporin on your ass. We made a move shortly afterwards.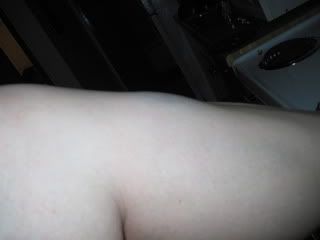 Big fuck off bump on my leg.
My dad had tickets for the Mariner's game for Sunday and he expressed earlier in the weekend that he would like to take Andy to the game. Guess you can call that the official father bonding with the boyfriend time. Meanwhile I had mummy daughter time with my mum doing some shopping downtown and going out for lunch and Margaritas. I picked up some Mary Janes, much needed new shoes to go with the little black dress. I also did a major splurge and ran into a little blue leather jacket I fell in love with but was only fifty bucks. I tried it on and suddenly had to buy it. There was even a second discount so it was only forty bucks, I'd be a fool NOT to get it. Right? Not the biggest shoppers in the world, we hit up the margarita place and had many drinks while we waited for the embarrassment of the game to end and the guys to come back. Apparently they had a good bonding time which makes me happy. It's not like the game was all that riveting so they had ample time to talk.
All right, I'm totally distracted by Spaced. I turned it on as what was supposed to be background noise but I keep ending up actually watching it. So, I might as well sign off.

Current Location:

bedroom

Current Mood:

sore

Current Music:

TV: Spaced