It was a busy & exhausting weekend.

Thursday I went to First Thursday at the Seattle Art Museum for the Andy Warhol & the Kurt Exhibits. I was disappointed in both and glad I didn't pay for them. The Kurt thing was just photographs and fan art. Though there were a few nifty pieces. I liked the Andy Warhol exhibit but it was only four rooms, not much of an exhibit. I must say though I could have easily sat in the Screen Test rooms for hours that part I really liked, they were hypnotic. I also ran into a couple of peeps from the Edmonds Crew Jon and I ran into Heather (antigrl17) outside.
Friday, I walked over to Andy's after work and had a leisurely night of dinner and movies. Saturday Cathy had a BBQ while her little brother was in town from San Jose. It started out as a laid back barbeque, we made hamburgers and hot dogs, sipped drinks, talked and smoked. However her brother, who she thought was just allergic to something up here went from not feeling well to not being able to breathe and Cathy and Doug had to take him to the emergency room. Dorothy and Seanna cleaned up the after the BBQ and we moved the party over to Raye & my apartment.
So Raye's birthday is the 13th and I put out a facebook message to peeps trying to schedule a date to throw her a party. She has busted ass on everyone else's birthday, she really deserves a good one herself. Unfortunately birthday season is just a busy time for everyone and on top of that Cathy's b-day is near and Raye and Christine are going to Cheese Days the week before. I got frustrated but luckily Christine took over and found out that the Forth of July was really the only day that a bunch of our friends didn't have any plans. (Apparently we are not a patriotic group.) So in just a couple of days Christine, Cory, Anna and Andy & myself threw together a last minute surprise party. Christine took care of the venue, the theme the decorations and spreading the word. Andy and I were in charge of being sneaky, lieing our faces off and getting Raye to the Central Saloon in Pioneer Square at the designated time and not getting wise (not an easy task). To do this Andy made up an imaginary friend from Vegas that was visiting Seattle and we would meet for drinks. To make Raye want to meet this Frank character he made up some shit about this person working with a lot of bands in Vegas in the 90's. He talked this person up at the BBQ on Saturday and I was doing everything in my power to hold it together when Dorothy expressed "This person sounds fascinating, I would love to meet this friend." So we had the rouse we had to hold up for over 24 hours. Get Raye from my place to Andy's place (mostly to drop off Sparky) and then Pioneer Square all the while Andy and my cell phone are receiving text message updates about every 20 minutes from Christine. Luckily it worked and we got Raye into the bar to see a table of friends in our trademark party hats, pie, centerpieces and presents for her. We actually DID completely surprise her.
After the bar portion of her party we headed up to our apartment for some more drinking and lighting off the fireworks Christine brought over. I was certain Christine was itchin' to see me piss my pants as I almost did at Raye's b-day in '07 when I freaked out about lighting off illegal fireworks in Queen Anne. However, I really got into it this year. I was wanted to light off more. I was mostly just concerned about hitting the trees, power lines or my neighbors' Jag in the parking lot. Good times,
Sunday, went over with Andy & Raye and spent time with the rents, sitting on the porch, drinking margaritas. Anyway need to get movin' on so here are some pics from Raye's bday...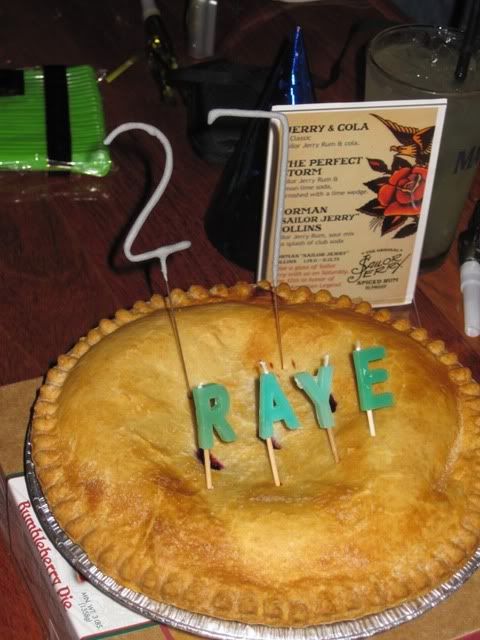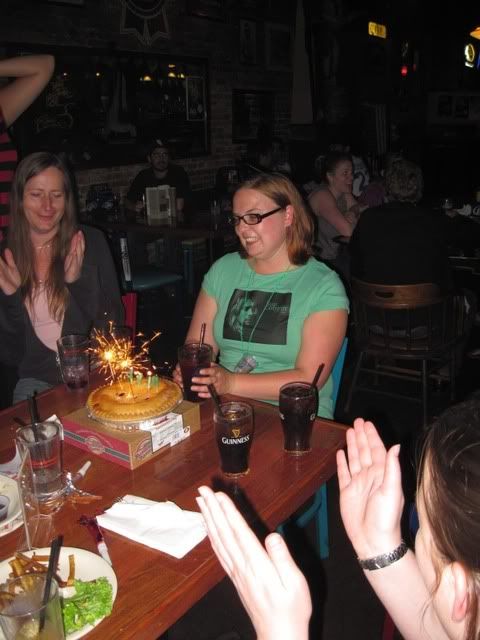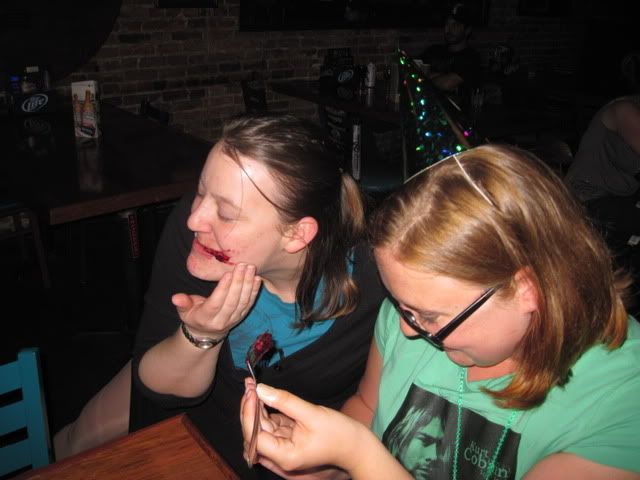 Smearing Pie on Cathy's face.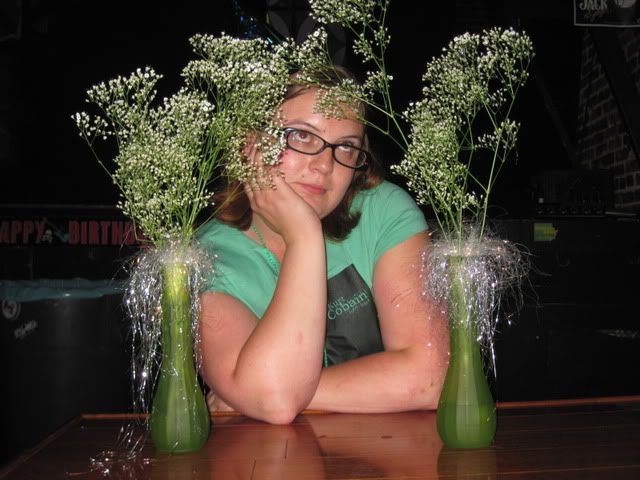 Raye & Baby's Breath flowers :)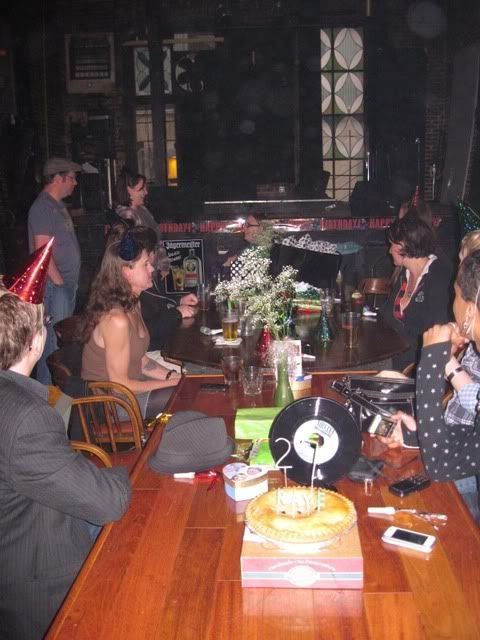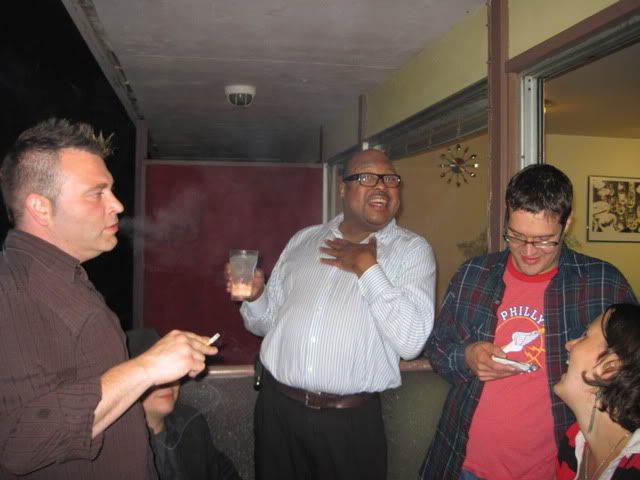 Movin' the party to my place.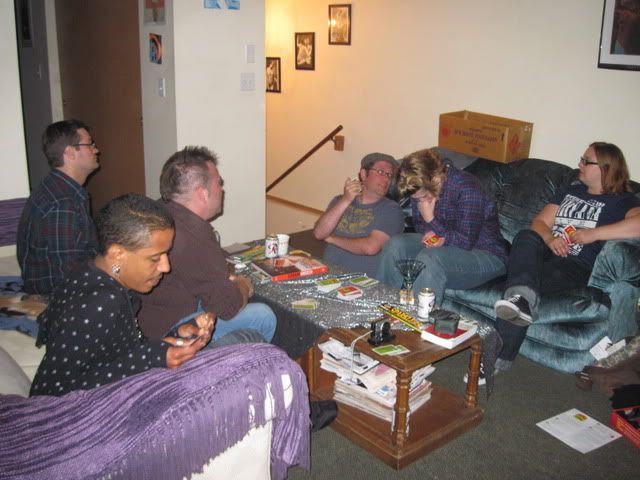 Playing Apples to Apples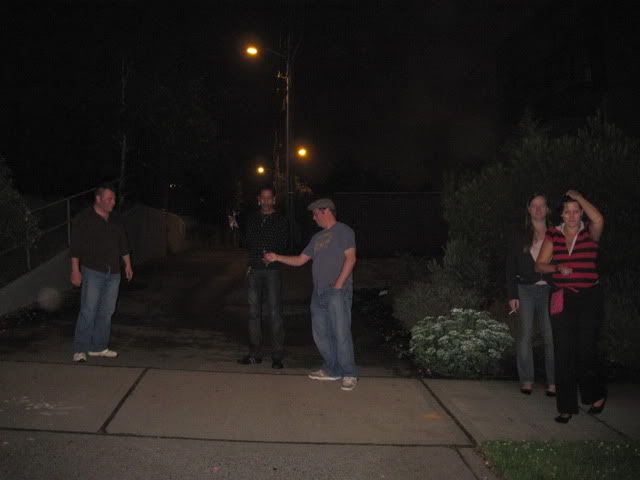 Lighting Fireworks in the Alley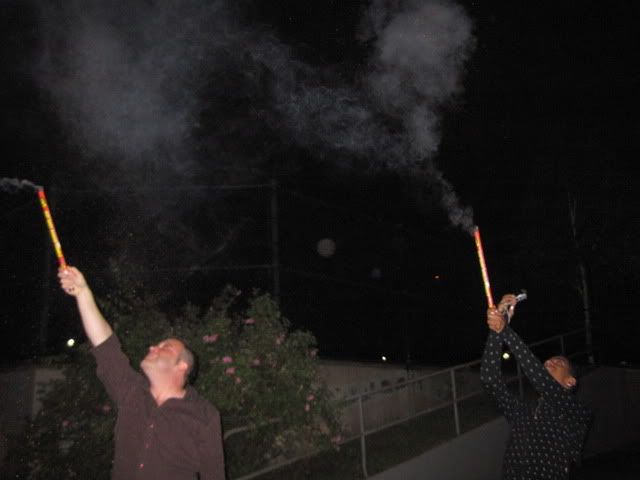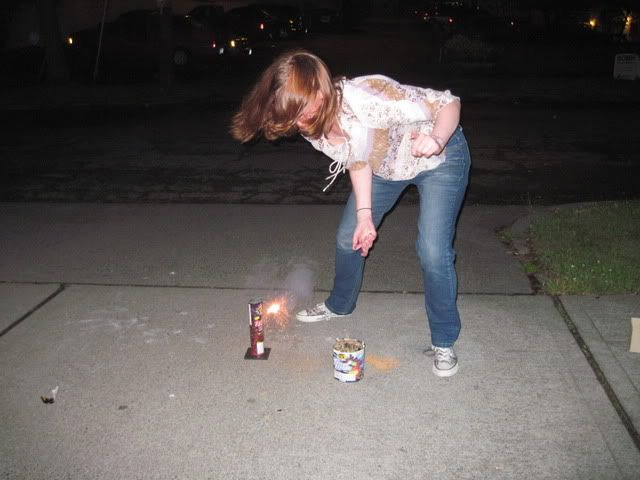 Even I can't resist!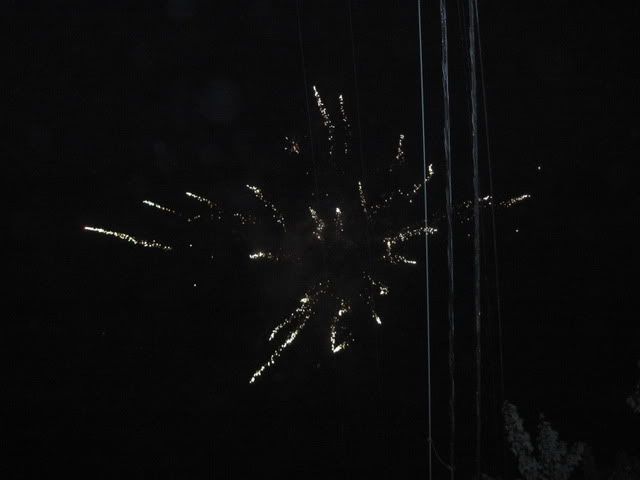 Happy 4th & Happy Birthday Raye! :)
Current Music:

Velvet Underground "I Found a Reason"