Saturday Andy's neighbor was having a little yard sale at the apartment and wanted people in the building to join in. Andy was the only one who took him up on that offer. So we got up early put some stuff out on the sidewalk and sold some shit. Andy sold about half of what he put out there. When foot traffic was slow we nailed up the dartboard he was selling to a lamp post and played darts for a while. That got people coming over and a guy quickly bought the dartboard set, thus robbing me of my entertainment. We stood with our backs to the morning sun from 8 in the morning to about 12:30 in the afternoon. After we pulled the unsold stuff into the apartment we were burned up. So naturally the rest of the afternoon was spent watching movies enjoying cold beverages, nursing our burns as best as we could.
Sunday was the Theater Schmeater vs. Annex Theater softball game at Cal Anderson Park. It was a blast! The Schmee had more people sow up on time than the Annex folks so anybody who had done any work for Annex played on their team so at first ½ their team were also Schmee folks until some more Annex folks sauntered to the game (hungover possibly?) My dad pitched, I played catcher and Andy played first base. Even though last weeks practice playing catcher hurt me I'm glad I played that position in the game proper. It kept me really involved in the game (and I didn't bother kneeling so it didn't hurt as bad.) Heaven knows my hitting didn't contribute all that much. I got two RBIs and two strike outs. Not that my two strikeouts at bat hurt us, really. The Schmee was triumphant 24-4! Yeah, we kicked some serious ass! Okay well, really we got by because the other team didn't have their outfield together and was making error after error, but hey I'll take it. Also our outfield was awesome and really on the ball, with the exception of the one time I had to yell at Julia G to stop doing cartwheels in center field and put her glove back on. He he. Andy did particularly well he got a single, a double, I think a triple and what would have been a home run if it weren't for the fact that Miranda P was on base in front of him and she can't run fast if her life depended on it. I mean he knocked that ball all the way to the other diamond and could only run to second, sadly or was it third? Again, when you win by 20 runs I guess it doesn't matter too much.
Raye was there too to cheer for us and took pictures. I'm glad she could come and I think the other Schmee folks were glad she came out, as the other bartender she's part of the Schmee family as well. I haven't uploaded her pictures yet but I found some pics from the game that someone (apparently from the Annex team) took and posted on Facebook.

Mir Hitting the ball


Mir Catching the ball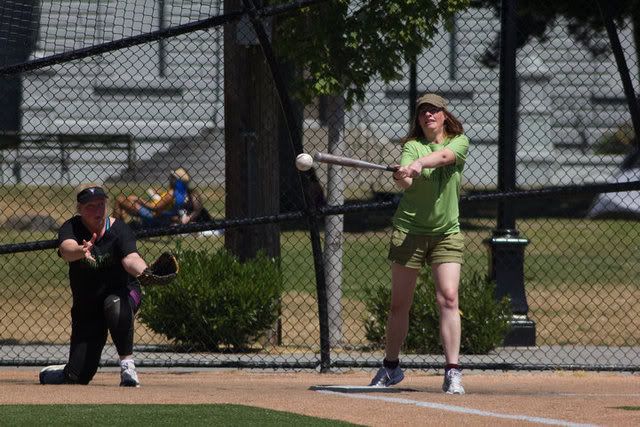 Mir Striking Out. :(


Papa Staley throwing the ball to Andy(not pictured) at first as the batter makes a run for it.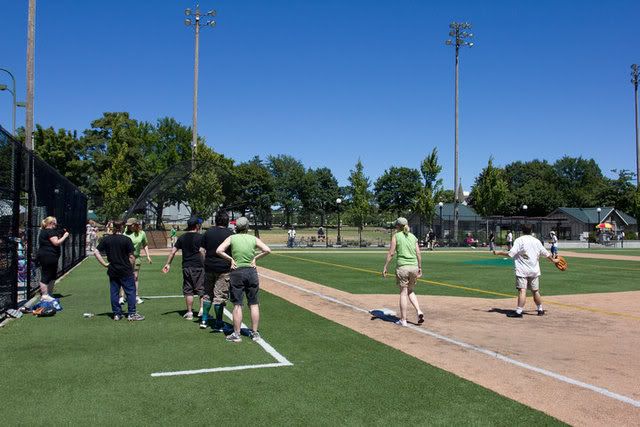 The Smee (sorta) in the dugout cheering on Papa Staley at bat with Julia G on first.

I'll probably come back and post more after I get Raye's pics off her camera.
*EDIT*


The Schmee Group Shot :) (compliments of Raye's camera.


After the game Andy & I cleaned up then went over and had dinner with the 'rents & Regan. T-bone steaks on the grill. Yum!
Oh yeah, and good news on the Grad School/London front. This morning I checked my e-mail and got the letter I needed from Goldsmiths that has my CAS! I can start my Visa application now! Weeeee!
Current Mood:

nauseated

Current Music:

Madness "Lovestruck"