Friday I walked over to Andy's after a very long work day. He made dinner and we had a relaxing evening of wine, dinner and a movie.
Saturday morning I checked my e-mail and saw a letter from the UK border agency saying that I didn't include proof of my degree with my visa application. I know I did but I must have included my non-official transcripts, which apparently wasn't good enough, and I had four working days to produce the proper documentation or else my visa would be denied. Of course they send this on a Saturday morning before a three day weekend when I can do nothing about it but stress the fuck out. It should be worked out now. I overnighted my official transcripts along with my actual diploma yesterday and they should have them by now. I'm still paranoid and stressed in the back of my mind and I'll feel a lot better when I get a confirmation e-mail that they got it, or better yet that they got it and my visa is on its way. Oh yeah and I best get my original documents as well. That diploma is a 100K piece of paper, I'd really like to have it back.
Anyway enough about those woes, Saturday evening Andy and I went back to my apartment and Samuel came over for drinky-poos and face time. A bit later Raye came home and joined the party and I got a little warm and fuzzy inside to be spending time with some of my favorite people, my boyfriend, my best friend and my fabulous gay boy...not to mention my favorite dog, Sparky. The night got a bit silly as drinking progressed and Raye and I ended up playing dress up and dancing around to music foolishly.
Sunday Raye and I had tickets to Bumbershoot, my b-day present for Raye, to see Billy Bragg. I've got to say I quite like the new ticket pricing where you can get cheaper tickets if you don't intend to see the main stage acts. (I wanted to see Weezer but ya know, they'll be around again.) It was actually really nice to not have to loose and hour or two of you life waiting in line to get into the stadium. But I'm getting ahead of myself. Raye and I got there around 11 and got some Lebanese food and ShishkaBerries (wherein I had a mouth orgasm). We ran into an actress we know from the Schmee who gave us a heads up on an act to check out later in the afternoon then we met up with Dorothy and briefly Aaron. Dorothy, Raye and I killed some time at the beer garden were we found this ridiculous set up of a full on bar—barstools, TVs ceiling fans and all—set up outside. Unfortunately it was the Budweiser bar so the options were limited but it was too ridiculous to ignore and made for good photo opportunities. We went and checked out the act Teri told us about(a ninja & juggling act), The Bouncing Souls, and Motion City Soundtrack, and an awesome motorcycle-tightrope-acrobat act —all of which were a lot of fun. Dorothy took her leave of us for the main stage while Raye and I went to go see who we bought the tickets for Billy Bragg. We got a pretty good vantage point and it was a blast! His between song banter was pretty hilarious, making fun of Starbucks whilst on the "Starbucks Stage" pointing out he was drinking tea not coffee, pulling out the tea bag to prove it and saying something along the lines of, "in my country this is just a tea bag not a political affiliation." With the exception of one really dorky audience participation arm gesture bit, which Raye and I refused to take part of, the set was awesome and of course he finished off with New England leaving us walking away with big foolish grins on our face. We caught a little bit of the Dandy Warhols then headed over to 7-11 for much needed cigarettes and to have Andy come to collect us (where we could still hear the rest of the Dandy Warhols' set, actually). When Andy was just two blocks away from us, some drunk girl got in his car saying "Louis! Louis! I love you!" then she turned and looked at him (looking startled) and realized "You're not Louis!" and probably mortified flew out of the truck. HA!
Monday, Andy and I had a delicious and hearty breakfast and then headed back over to my place where we met up with my dad and Raye who all helped me move boxes out of my room and over to my parents storage room. I'm super grateful for all their help in this whole moving process, having four people moving stuff made the process quick and easy. Afterwards, we stuck around at the 'rents for diner and a movie. After the film, Andy headed to the restroom and accidently stepped on a plastic cat toy and for some reason thought he had stepped on Lenny (the kitty) and he did this hilarious jump and let out a girly squeal in front of all of us and we all had a good laugh (and Raye and I had a good point and laugh!). It was a good weekend, though even with the extra day it went far, far, far too quickly.
Anyway, I will finish with a selection of pictures from the weekend.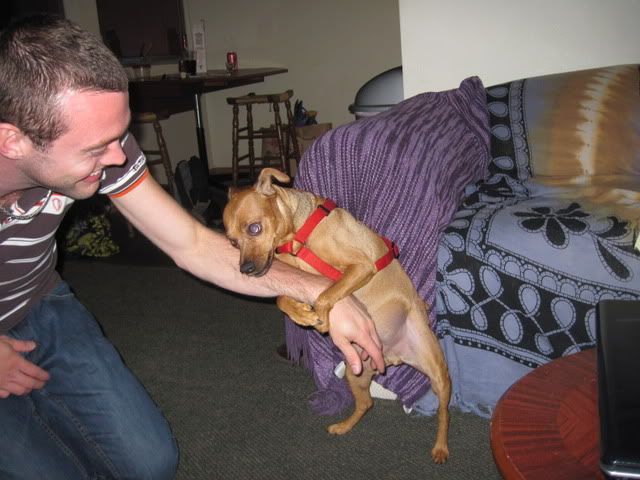 Sparky humping Samuel's arm. He LOVES Sam!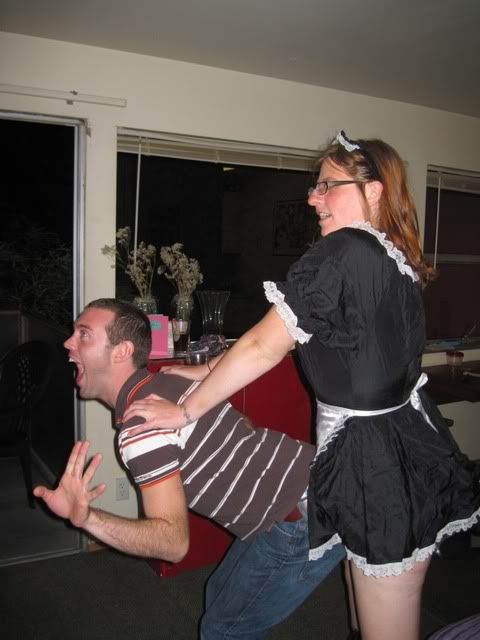 AHH! Sam's a bottom all around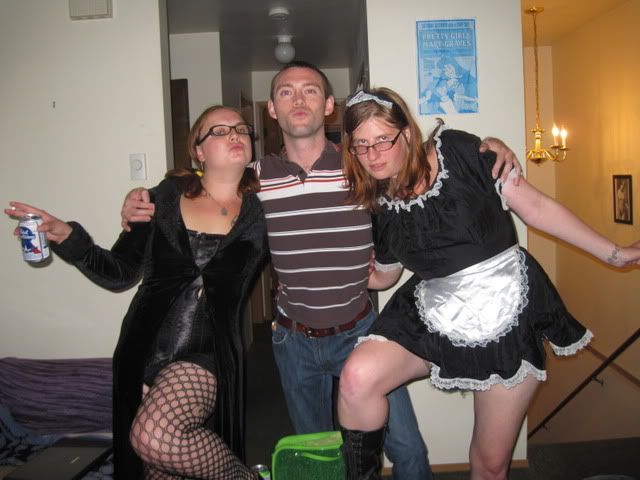 Drunks!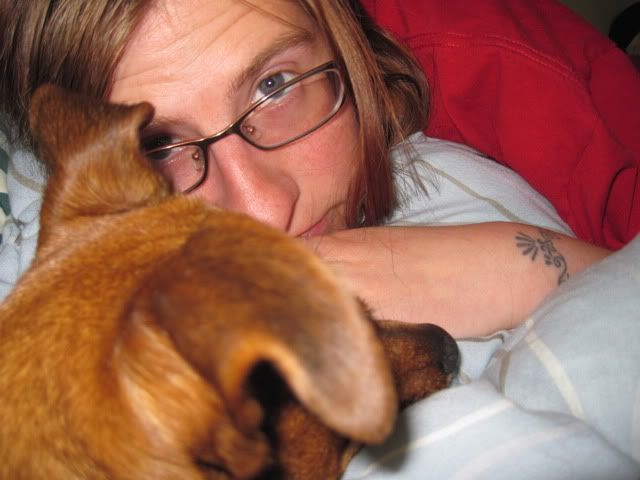 Me & Sparky Sunday morning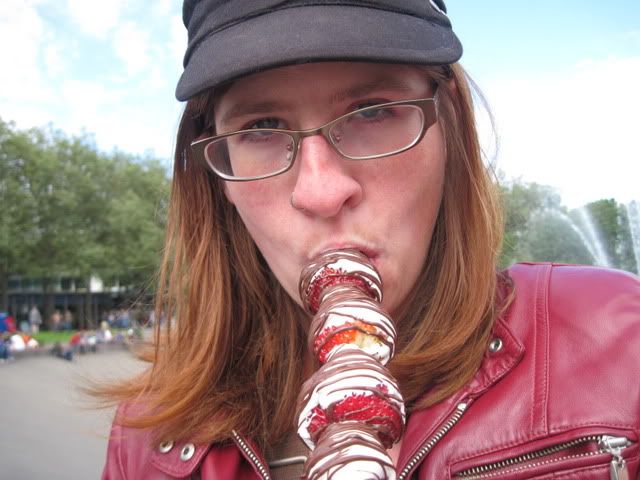 Chocolate covered strawberries on a stick, is there anything better in the world? In my book I can think of maybe three or four things better.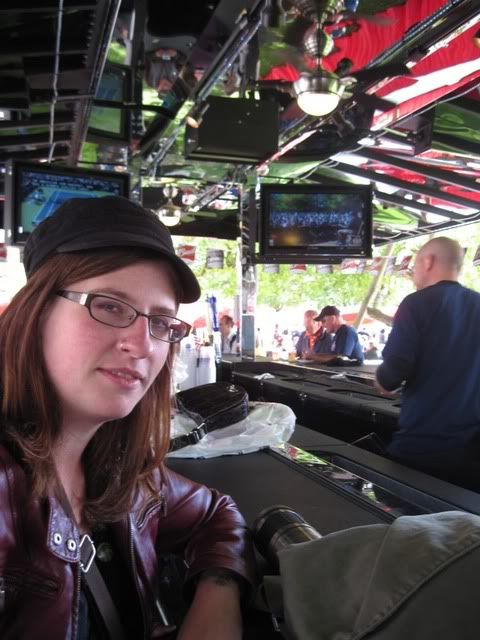 At the ridiculous bar in the beer garden.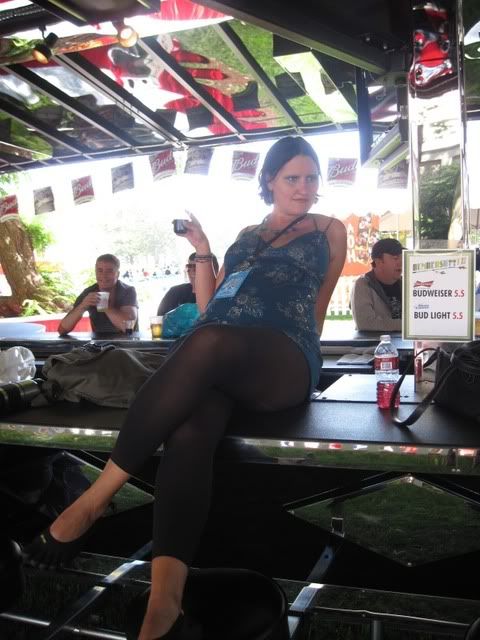 Dorothy posing at the bar.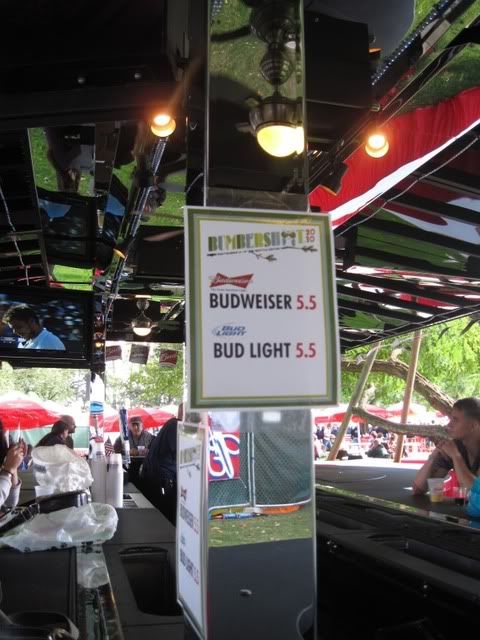 Such variety!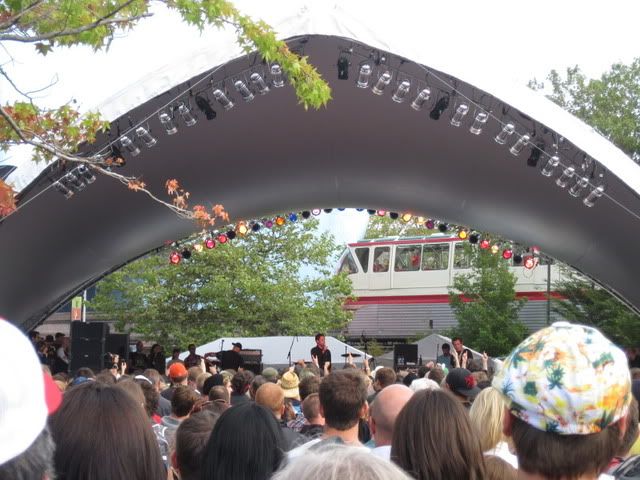 Bouncing Souls & the monorail in the background (so Seattle)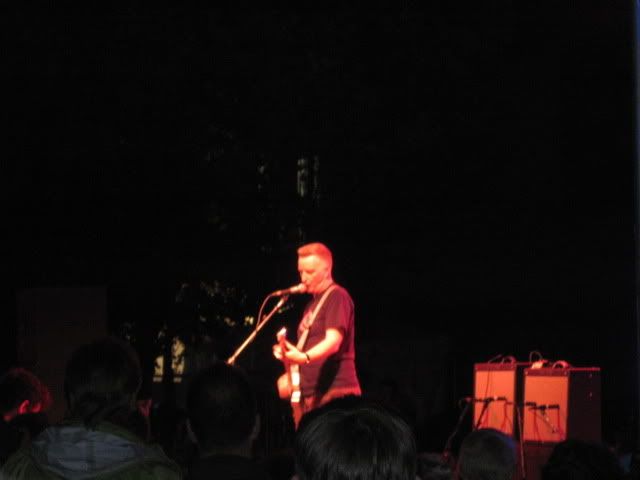 Billy Bragg!!!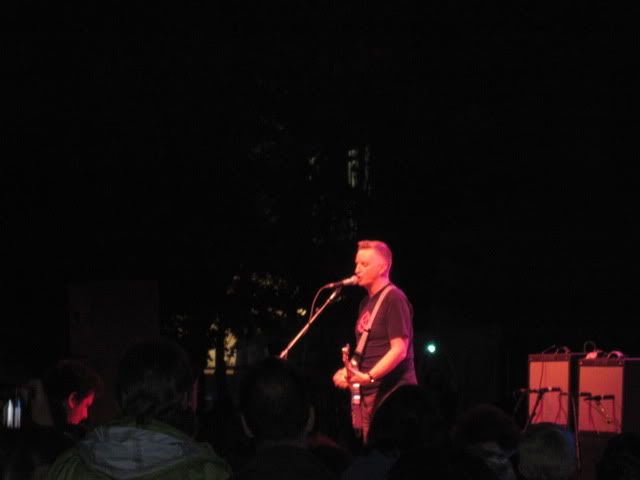 Current Mood:

bouncy & caffinated