The Scare Upon Arrival
Andy arrived on the 28th and I went to Gatwick Airport to collect him. He almost wasn't let into the country at all, apparently. As I waited at the international arrivals area I saw loads of people with American accents gleefully come out of border control but no familiar face. Then my phone rang. I answered expecting to hear Andy but was surprised to hear a woman's voice on the other end from boarder control. She was calling me to chack to make sure Andy's story checked out. She didn't like that he was unemployed and didn't buy his story about visiting to see me. I only spoke on the phone with the woman and she intimidated the hell out of me. She even accused me of not being at the airport becasue it was "too quiet" but it was 7 in the morning for crying out loud! She asked why I was only flying him out for a week--which I think was a trick question. I said it was 'adiquite time" just as I didn't know what to say then had to fess up that I couldn't afford much more on a hotel and so on and so forth. I gave her loads of information about my/our situation and that was nothing compared to how she was grilling Andy. It's a good thing that the whole proposal thing wasn't going to be a surprise becasue she would have either given the game away or sent Andy back stateside with the ring in hand. Luckily she let him pass though she said that she still didn't believe him. That scare behind us, we headed into London.
The Proposal
So Andy and I have been quietly unofficially engaged for a bit which is why I said it wasn't a surprise in the above bit. It was a private thing between us that we for the most part kept to ourselves. Then at my goodbye party Andy did the old fashioned thing of asking my dad for my hand. That kind of spiraled out of control as that party got more inebriated and more people caught wind of it but it was all still somewhat on the DL (unless you were someone who stuck around that party till late). So I did see the ring and I knew it was coming with his visit. I still didn't know when or where he would do it--that was still a surprise.
On the 29th (incidentally and totally unknown to Andy, my rent's wedding anniversary) we were in the city sightseeing. We took some pics at the London Eye and got Big Ben shots. I honestly thought it was coming at the London Eye so color me surprised. Then we walked across the bridge and I showed him Trafalgar Square. Unfortunately there was some refurbishment or something going on at the time so the fountains were off and the Lions were behind fencing...boo. Anyway we spotted a bit of working fountain and Andy seemed nervous to find someone trustworthy looking to take our picture. After a bit of awkward gawking Andy approached this family walking by and asked them to take a picture then he proceeded to take the ring from his pocket and got on one knee. *squee!*
We got some pictures but they're all on his camera (sadly not one on his knee though, ah well) so those are forth coming. The family shook our hands and wished us luck and we t
Meeting my Mates
Andy got to meet James and Charlotte. We met up with James at his flat in Camden the day of the proposal. James was sweet and after entertaiing us at his place with squash and tea and grapes for a little then took us out at his local pub for a celebratory drink. Very sweet. The next day we met up with Charlotte for drinks again in Camden. I would've liked him to meet some more folks but James and Charlotte were the two he really wanted to meet as they've got my back.
New Years Eve
On New Years Eve we did some sight seeing during the day, went and saw a film at Lestier Square and then went and saw the fireworks on the Thames. There was over a quarter of million people for the display and we got there well early, about three hours early, and found a spot with a good view. It was a good jovial atmosphere. People were drunk and hugging, dancing on top of the port-a-potties and climbing trees. We had some beers and some whiskey cokes while we waited. When the countdown finished and Big Ben tolled I got to kiss my fiance at midnight to ring in the new year. Without a doubt it has to be the Best.NewYears,Eve,Ever.
Other stuff
Unfortunately Andy's flight into London was full of sickies and he caught a nasty cold which I in turn caught as well. It slowed us down but it didn't stop us. I didn't get to show Andy all the stuff I had thought I would before hand. Though he said that I was what he really wanted to see in London (awww). This hindered drinking a bit as well though I did get to take him to my haunts in New Cross and we spent two nights drinkin' in Camden.
Pictures
Again I don't have very many so I'll just have to wait on that but the few I DO have...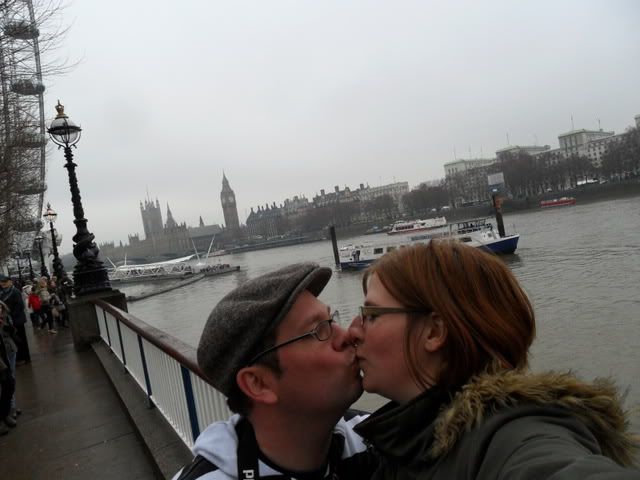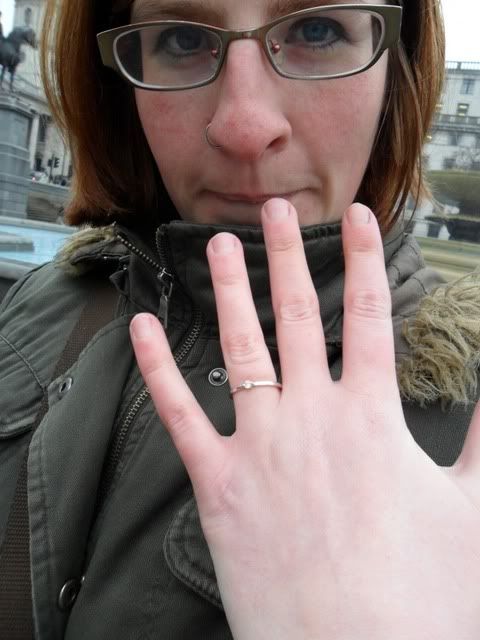 Bling!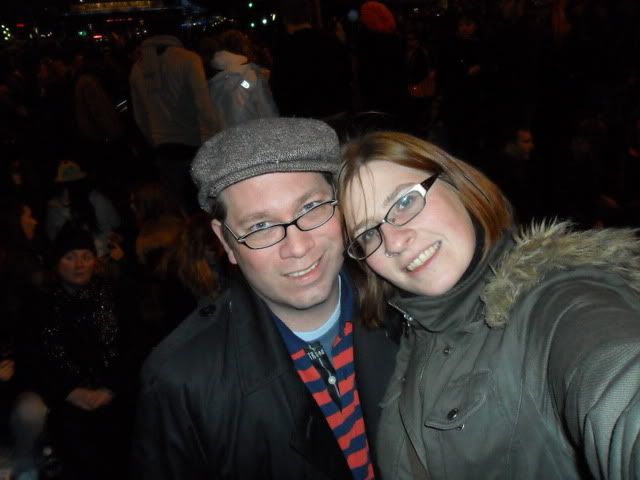 Waiting for fireworks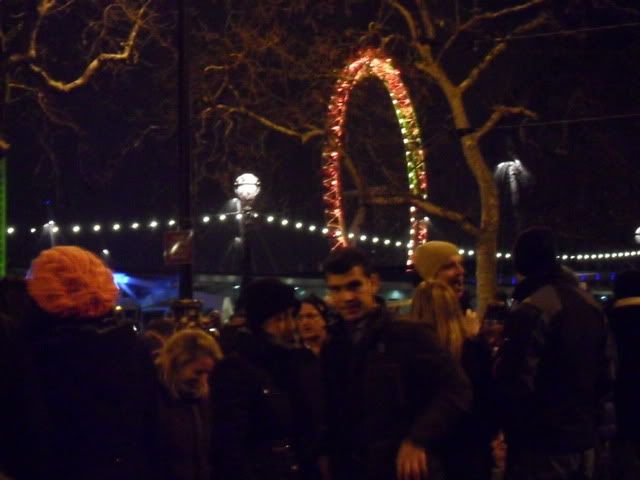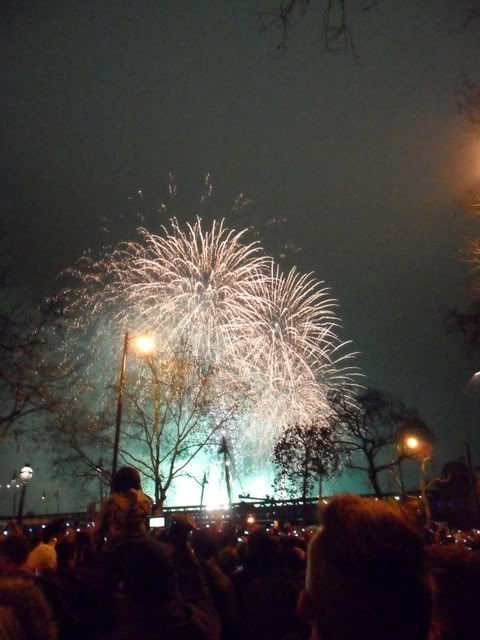 Happy New Year (I like how everyones cameras and phones taking pictures in the crowd is a whole other light show HA!)
Andy is in flight headed back to Seattle. His visit went by far too quickly and it was sad to see him go this morning. Now it's just me again and holiday is over (tomorrow I get focused on that essay I need to write because, oh yeah, I'm here for school, huh?). As I was majorly preoccupied with human contact that didn't require my laptop I was mostly away from the computer short of making the big announcement and looking stuff up. Now that I'm wired back in, and before I need to ignore this contraption to focus on school work, I'll take this opportunity to elaborate on the details of the visit and such. Unfortunitly, though I did take a few photos, Andy has the better camera and the major pictures of so I'll have to wait for him to get home, recover from jet lag and upload those. Anywhoo..