I went up Regent street and saw the new BBC building (I prefer the classic one). Went up to Regent's Park. The sun was shining and people were out. So I stopped for a light lunch and to do some work for school on a bench for a bit. Eventually I got a bit chilly and continued on. I moved up the park and then hit the north part of the park where I hadn't been before, by the zoo. (20 quid to get in the zoo, don't think I'll be going. I've seen lions and tigers and bears before, thank you.) I walked along the Regent's Canal for a while, It was so lovely. Then I went up and checked out Primrose Hill. I know where i would want to live if I was a multi millionare and wanted a fancy London home. It's a really nice area, nice colorful houses and a high street with little fancy tapas restaurants, boutiques and a couple of pubs. I went to the park and climbed the hill for some pictures. Too bad it wasn't a clearer day. Then I carried on and walked over to Chalk Farm Road and into Camden. It was crazy busy in Camden so I just manovered through the crowd and carried on. I found a quiet pub with some outdoor seating before I got to Euston station where I stopped in for a few drinks and happy hour and got a couple of hours of homework and editing done. After a few glasses of wine, I moved on west and then south on Tottenham court road. Eventually I got to Leister Square where I stopped and got some dinner. Did a bit more work. Then carried on back to Waterloo.
A good day. A lovely day. I got to check out some new bits of the city, walk new earth (Primrose hill & Regent's canal). More of those to come. There's still a lot of city left to see. You'll also notice I'm blogging a bit more. I'll try to do that to document my remaining time more here. It should be a bit easier when classes end and I won't have the homework load, just my own writing to worry about. Anyway, it's gone back to being grey but I still need to get my day started and take my walk around Greenwich and back. So without further adu, here's some pics from Sundays walk.
**EDIT:**
The map of my walk!
Regent's Park
Regent's Canal
(A church by the canal)
Pimrose Hill
Finally, the London Eye & Big Ben at night. I know I take a lot of pics of it. But it's on my way back to the station and sometimes that view from the bridge is just so stricking I can't help but take a photo. It's also a reminder of OMG I live in London, that's Big Ben right over there!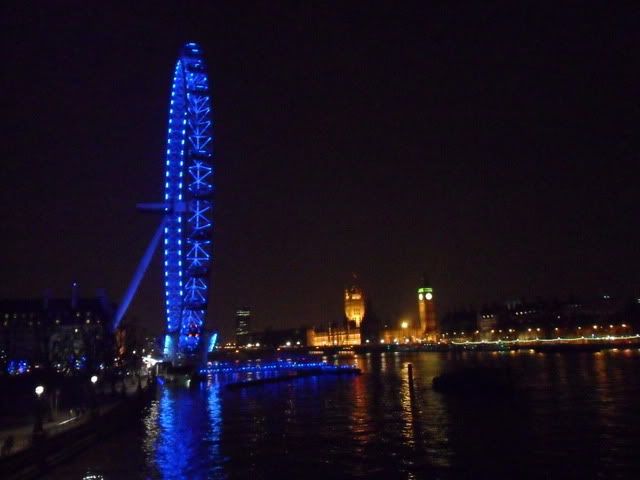 On Sunday I took about almost a 10 mile walk (nine and some change), though mind you with a lot of stops to do homework and such. I got off at Waterloo and walked across the bridge and into Trafalgar Square. The day before was the big anti-cuts protest in London wich was largely peacefull but naturally, some hooligans and anarchists caused trouble and smashed stuff up, lit fires etc around Picadilly, Oxford Street and later Trafalgar Square. I was kind of curious to see how bad the damage was on my walk so I went that way. At Trafalgar Square it was business as usual, tourists and with the exception of some paint on the Olympics Clock, you never would have known what had gone down the night before. There was some beer cans strewn about but that was likely from the footballers milling about. (There was some big match with Scottland I would deduct by all the Scottland flags and blokes in Kilts.) I went up to Picadilly and Regent Street. With the exeption of some boardered up store fronts with Anarchy symbols spray painted on them, there wasn't much evidence of the skirmish day before. I was really impressed. Nothing like that in Seattle. I remember how disgusting Capitol Hill is for a week after the block party. One year I had to step over the same pile of human poo on Pike three days in a row on my walks to work. Gross. I did however get to see a girl dressed as a princess outside the Toy Shop (FAO Swartz equivalent) on Regents street say "Oh good the sun's coming out, that'll dry up the vomit." Not everyday you hear that from a lady dressed as a princess.