This is the park used a lot in films where someone is at a park and the London skyline is behind them. i totally wanted to see that so I went. It was a clear (though a bit smoggy) day. But I found a couple of good vantage points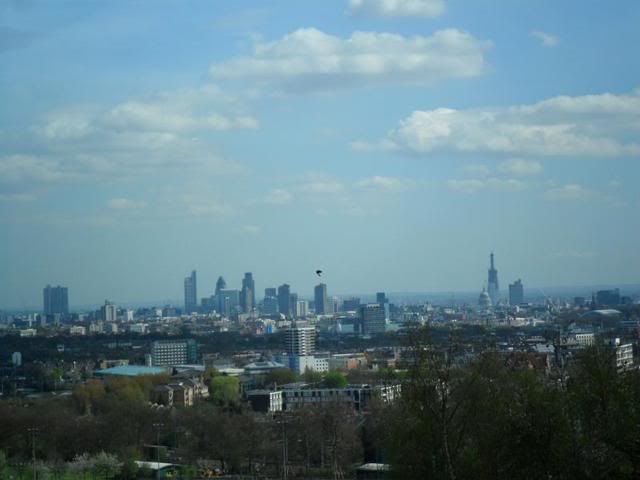 And here's one a bit further south. i took a lot more but Photobucket is being a little bitch right now and I have got too much to do to bother with it. These were the best two skyline shots anyway. The first shot was taken at about the 5 point on the map and the second around the 6 point on Parliment Hill. Lovely no?
I sat for a while and wrote a bit and read at the park with this view ahead of me. There were clouds that were moving somewhat quickly and I watched the shadows roll across the London citycape (as seen in the pic) Can't complain, really.
Today's adventure was to Hampstead Heath, the big park in North London. I took the Overground as far as I could then decided to walk and find my way there. You can see on the map where I realized I was going the wrong way and turned around. The bit in the park is more of a guesstimate as I just kinda wandered whereever. Sorry I'm really into this map walking thing right now. Plus, it makes me feel like the family circus kid.