After the auditions James and I went out for a drink at Amersham and a few other folks from the course came in later as well. It turned into a kind of drunken Wednesday as one round followed another and then another. Thursday I was rather slow in my step and had another Thursday hangover day (though i did send out 70 invites to the event so I felt semi-productive).
I was supposed to go to the gym today but the sun came out so I decided to do another walk and explore a bit more. I did an East London walk. I got off on the other side of the river at Wapping, then over to Shadwell and Whitechappel, then eventually stumbled onto Brick Lake and Bethnal Green, then back over to Shoreditch and then all the way up to Dalston.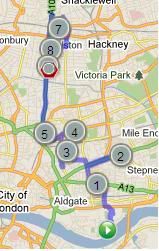 It being a Saturday, there were loads of street markets going on. One in Shadwell, one in Whitechapel and one in Dalston. So it wasn't a fast walk with all the pedestrians around. I also can't believe this was the first time I've been to Brick Lane, after 6 months of being here. Anyway I've been around some of East London, I've been to Shorditch a handful of times and Dalston one other time. I haven't really, until today really wandered around on foot, got lost a little, and got a feel for it. It' was good fun walking the streets and markets of East London, with my headphone playing The Specials and The Streets with the sun shining. The sun was going away and these gray clouds were looming closer and closer around the time I was walking away from Shorditch, though, so after wandering Dalston for awhile, I headed back to a station in Haggerston to come home. The sky is really gray now, threatening rain but not delivering. Now that I'm safe at home I don't mind if it rains. Suppose I should get to work.
So to follow up on my last update. I was not chosen to read for the Goldfish launch event in May. :( I'm kinda bummed. It would be a great opportunity for some exposure. However, on the plus side I'm kind of relieved that I don't have that added pressure of getting up in front of an audience. Plus it wouldn't be good exposure if I were to read and fucked it up or even more likely inbibe in too much liquid courage to get in front of people only to make an ass of myself. Ah well. At least I tried.