So today I wanted to make a change, get out and see a bit of new earth. I took the overground to the end of my line got off and Highburry and Islington then walked over to Finsbury Park. The Park was all right. Just a nice neighborhood park, not much to write home about
...except for the adorable little baby geese!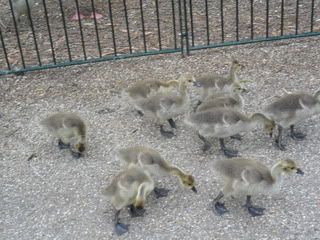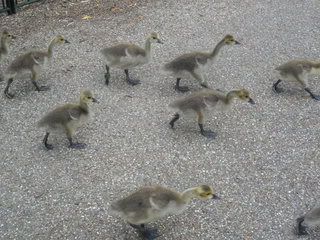 After the park I looked at my map and decided to wander to Kentish town, where I hadn't been. I got doused in another spring downpour between the park to about Tuffnell Park Road. Serious proper rain that reminds you how little tread you have left on your shoes. Kentish town road leads to Camden where I stopped, got Strawberries dipped in Chocolate on a stick (yum!) and stopped at a pub for a bit of writing time. I stayed for only one drink because Margaretas were calling to me and I was still feeling very cold and wet and now that the sunshine was out, wanted to walk around in it and warm up a bit. Walked to the TexMex place in Trafalgar square (the one I should hate but actually really like) in time for happy hour and had many margaretas and a productive bout of writing.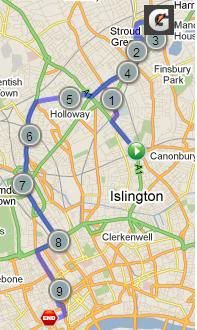 Not a bad day, Came home and made a burrito (which the margaretas were supposed to be a lead up to.) Yummy but ugh I'm still full. bleh.
Havent' updated as there hasn't been much to update. I've been spending the last five some odd days researching and writing mostly. Outside of my writing life has been pretty uneventful. Thursday I spent the day in researching for a story. There was a big spring time thunderstrom that afternoon which was neat. Something about sitting and reading with the sound of heavy rain on the windows and thunder in the distance is really pleasant to me. Friday walked as far as Bank then hopped on the Central line to the Senate House Library to research and write. Saturday walked around Greenwich and stayed in and wrote Sunday did the same, same on Monday. In fact, yeah the whole three day weekend I didn't even leave the New Cross/Deptford/Greenwich area.