In other news...
SUNDAY: Walk to the Museum of London Docklands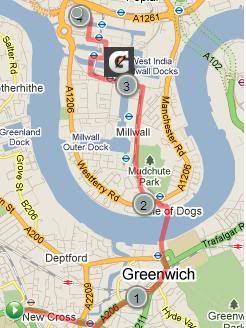 Sunday it was rainy and icky but I had a nice walk to Canary Warf and checked out the Museum of London: Docklands. It was a good museum. It was so much better than the Maritime Museum, I should have taken Andy there when he was visiting, if I had known at the time. Filled up on about two hours of history. There was a special pirate exhibit but I figured that's where all the obnoxious children had congregated, so I passed on that. Still, I enjoyed all the history. It is weird that this area of London where actual goods were once traded in a has died out and it's now a corporate exchange where invisible numbers are traded.
After that I came home and did some much needed cleaning and domestic chores done, as that's kind of what Sundays are for are they not? This little room had gotten pretty disgusting, escpecially that stupid bathroom that floods all the time. Plus I swear they made that bathroom out of materials that don't like to be cleaned. I'm SO DONE with dorm living. Ugh!
Mondays walk: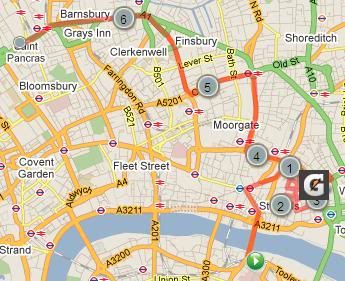 Monday I took a walk and really meandered, like literally walked around in a bunch of circles a few times, in a bit of the city I hadn't really explored. It was that bit of the city with the skyscrapers and the gherkin are. (I guess I'm just checking out where the suits spend their days). I was just in a need to wander new earth. I'm glad I did because I stumbled across some things i had read about but haven't yet seen. Places like
Leadenhall Market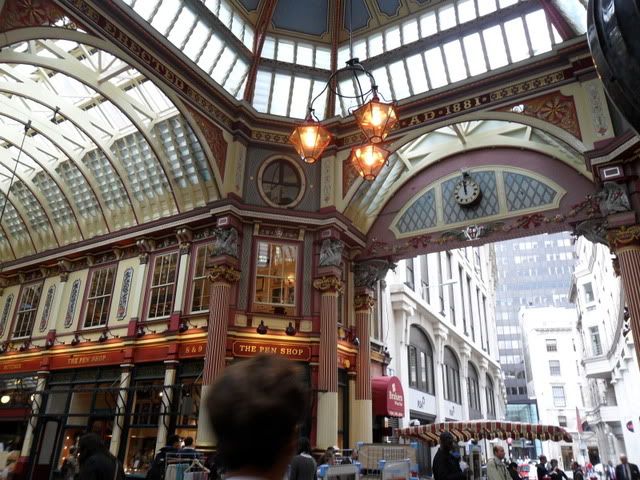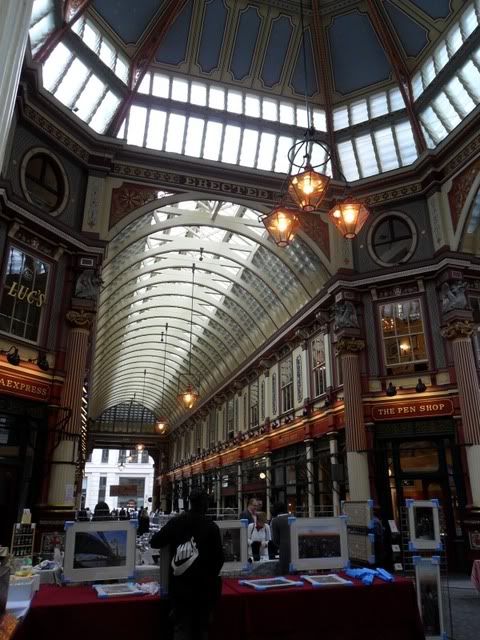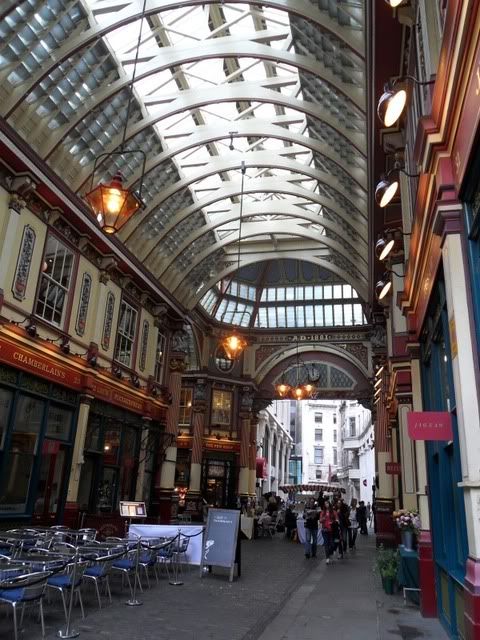 And the "inside out building"
Lloyd's Bulding
, as seen in many films!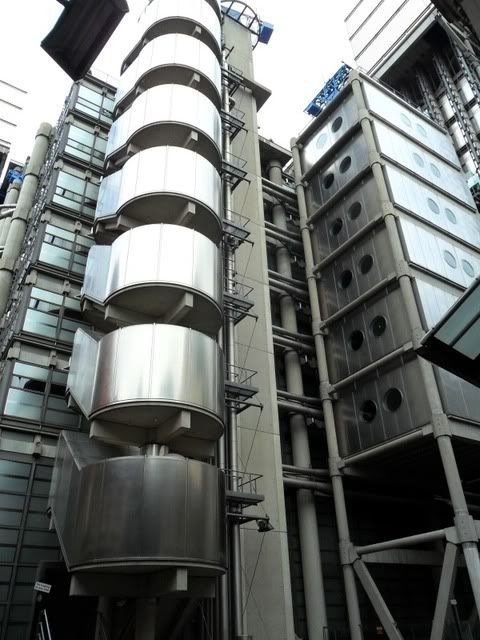 And from a corner at Lloyd's Building, you get a nice contrasting view of a church with the gherkin.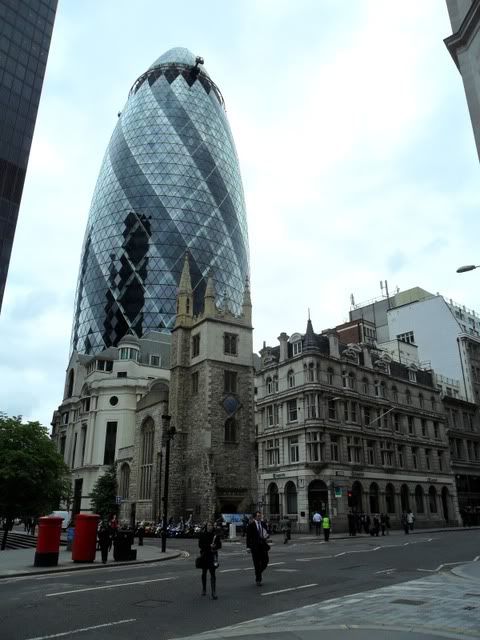 I also stumbled across a cemetery that is where William Blake is burried and I saw his grave. I really wanted to take a picture but I was camera shy with all the suits there, eating their lunches in the cemetary park. Boo. Guess i'll have to go back for that picture then. it was a cool old cemetary though, older than the Highgate one, but as it's in the middle of the city it's not all overgrown.
Eventually I realized I had been wandering for a while and it was high time I actually head in the direction of somewhere I needed to go, a library. I was going to go to Senate house Library but I realized it was easier and quicker to just go to the British Library in Kings Cross. So I went there. Did an hour and a half of editing or so. Then I checked out the special exhibition they had in the basement on Science Fiction. I broke the rules and took a picture when I saw that The Doctor was seeing the same exhibit. :)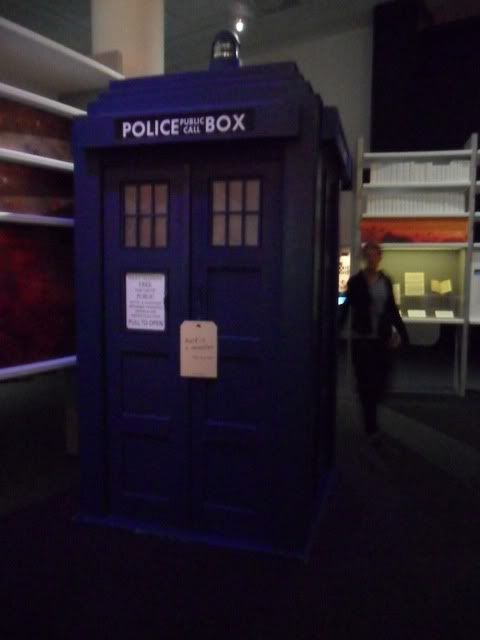 :) he he he :)
that's about it. Except that I made the most AMAZING salad after my body said "no more student and pub food" and I craved fresh fruit and veg...and seafood. (I pretty much always want seafood, though) I made this amazing salad with bell peppers, tomato, fetta, jumbo shrimp and carwfish! YUM! Oh and strawberries for desert.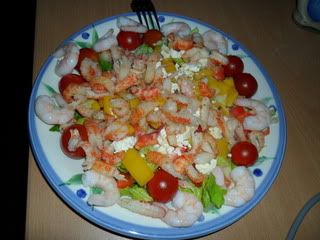 YUM!
*Edit**
Today's walk.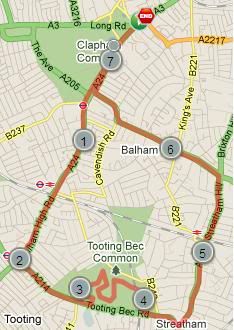 Went down to Clapham on the train, then walked around Tooting a little bit. Kinda subburban. Nice park though.
So the big news is ANDY GOT A FULL TIME JOB!! The company he's been working for part time for a while have offered him a full time, salaried position in a different department. He got the offer on Friday and he starts next Monday. This is a huge weight off his shoulders and mine. It's a relief that he doesn't have to struggle any longer and that there's a bit of security for me when I go home and have to hit the job hunt myself. It's coming together! This will make him less stressed, give him more feeling of self worth as well in addition to the monetary benefits. We won't be able to chat as often on skype, of course but that'll make the weekends and my return more special, I suppose. So yeay! Big important news!