In other news. Before my 4th went to shit , I had a great holiday for the holiday not existing here. My peer workshop group of Paula, Rob & Allister were scheduled to meet that day and Alister was kind enough to offer his home as a venue and have a BBQ in the back garden. I brought the food, as it's my holiday. The hospitality though to offer me the venue to eat meat cooked over a fire on the 4th was amazing though. I really really appreciated it. Though the three of them got to see how sloppily I eat burgers on account of my overgenerous use of condiments. After that Rob and I had a couple of pints at Amersham and he flirted with Olivia, which went very well for him.
Tuesday, I had an appointment at the optometrist. I don't know how long it'll be before I can find a job and get benefits when I get home so it makes more sense to get them here where it's more commercial and you don't need insurance. I meant to get new specs before I left but I just couldn't spend the money at the time. I've had these glasses since December of '07 and my eyesight deteriates pretty steadily, not to mention these frames have gotten kind of bent and don't sit right on me anymore. They had a two for one deal so I got new specs and my first pair of prescription sunglasses! I've never sprung for prescription sunglasses before which means I usually either squint all the time or wear sunglasses but am essentially blind. I so look forward to be able to sit in the sunshine and read comfortably! The specs will be ready on Monday, I'll show 'em off then.
Wednesday I had loads on my mind and needed a walk near water to calm me down. Sadly the tide was crazy low but it still did the trick. I walked along the Thames, then crossed Tower bridge and into Wapping.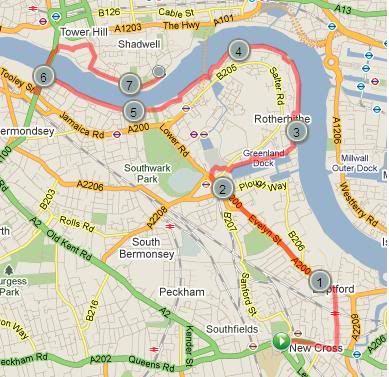 I stopped at a pub suggested to me, The Captian Kidd then I crossed the river on the train and hit up a historic 17th century pub, The Mayflower., so called because the Mayflower ship was docked there before setting sail for America. It was a cool pub, still feels old. I've been on a historic pub kick lately before I go home.
Yesterday was Paula's birthday and Charlotte and I went up to her flat for cake, doughnuts and more cake. In the evening Charlotte and I had tickets to see the Government Inspector with Jullian Barret from the Mighty Boosh! It was fab! Plus, during the intermission Charlotte and I were standing around, sharing crisps and Michael Fielding (Naboo from the Mighty Boosh) came by and sat next to us. I got all excited but darn it, it was the wrong Fielding, I fancy Noel (Vince). Good times. Also neat, was as this production was a new translation of the Russian satire, the programs weren't just programs it was the script as well. I think my dad will enjoy looking at that when I get home.
Right, I really need to head off. I hate waking up late, I feel like I've missed much of the day when I don't get out of the dorm by noon. I think I need to walk and hang out in bits of "London from a film" parts of town to cheer me up but the English weather (Rain!) is really holding me back. Seattle gets shit about being rainy all the time but at least we had a summer. It feels like summer came and gone in March/April/May. Boo!