Guildford
in Surrey.
It was pissing rain when we got there, which we waited out for a bit at a pub that James used to work at. That seemed to work and we did a little walking tour around. We walked along the river there, the River Wey. Then went back into town and James gave me the walking tour. He showed me some old churches, the high street, the castle, old buildings, I even got to see a local eccentric the bearded lady, walking down the high street. (Guildford equivalent to Slats or Screaming Guy in Seattle.) After the tour around, we went back to him mum's house and had tea and lunch. His brother, sister-in-law and their daughters came round as well. The weather finally got rather nice so we got in his car and did the driving tour around the countryside. It was lovely. He took me to a few great high look out spots, though I'm going to be bad with remembering the names of them all. We went through this little village that was soo cute and tiny. there were little cottages that were crazy old,reminded me of something you see in the background if you're watching the Tour de France or something. The village was tiny it had like a post office a couple little shops (one was an ironworks shop how old timey and random) and a pub. Classic. We stopped at a pub while we were out that boasted that Iit had the best view in Surrey but really after the views I had already seen it was nothing. Would have been a great place for a wedding though. It was nice. Our last stop was a point on the downs (these hills that go along south England) where you can see London far off in the distance.
James was pretty exhausted when we finished our tour and we went back to his mums and ordered a big chinese take away feast. After that we headed out to a pub to meet up with a firend of his at a pub. The pubs name was The White House, How appropriate. After a couple of beers, we headed off to a house party. Apparently Guildford has one festival in their park a year, not so creatively named "Guildfest" James says the festival is pretty lame but every year this guy who has this huge house puts on an after party every year, as he lives across the street from the park where the fest is held. The party was massive, the kitchen was about the size of Andy's apartment. The booze was free the food plentiful (though I was still stuffed with beer and chinese). The host was super duper nice. He'd been to Seattle we talked a lot. I didn't get trollied but I got to a tipsy enough point that I was able to chat with folks and not have to crowd James. Though he was very good at introducing me around. It was quite funny all night. "This is Miranda. She's
American
. She's from
Seattle
." Then eventually the other person would ask how I knew James and I'd have to say we're doing the MA at Goldsmiths together. ha. Yeah good times. Great party. Stayed until, like five or six in the morning before wakling back to his mums to sleep.
His mum gave me the guest room so I got to sleep in a big, fluffy, comfy bed. So between the late night out and the lovely change from my shit dorm room bed to sleeping on a cloud I didn't get up until half past two in the afternoon. I was glad that we got everything in on Saturday because I slept Sunday away. James actually had to knock and wake me up. He made a breakfast and gave me a ride to the station, cause I didn't want to stay in his hair too long. Now I've seen where James came from and we talked about how it's easier to see a places charm once you're an adult who got the hell out. I said I owe him for his hospitality, but he said 'give me a tour of Seattle.' Which when he makes it over there goes without saying. But Just special add to his tour I'll take him up to where I grew up, take him to Edmonds beach and he can see the prettiness of my hometown that I totally took for granted. James is absolutely stellar. I made such a good friend in him. I hope he can make it out to the wedding or out to Seattle at some point. I must return this favor of amazing generosity.
Anyway so that was my weekend in Guildford. Now to the pictures.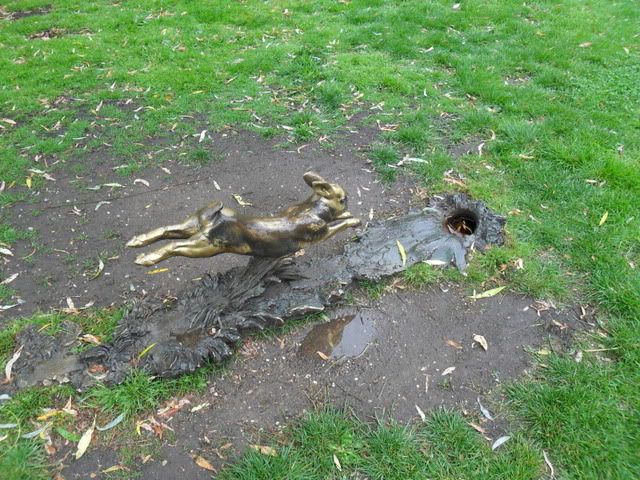 Apparently Lewis Carrol was born in Guildford and so there are a few "Through the Looking Glass" statues around the town.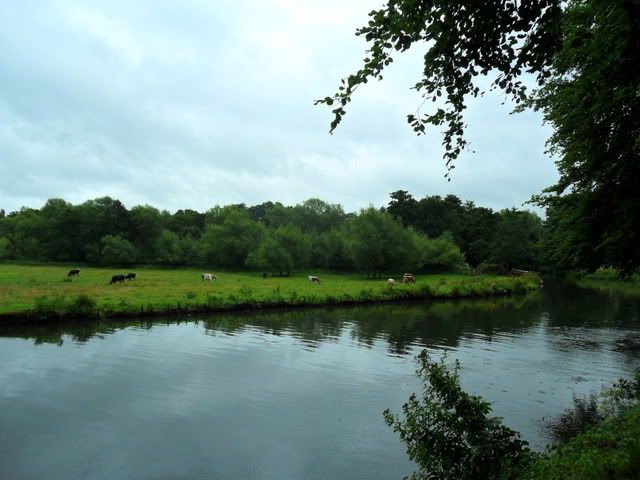 They've got cows & the River Wey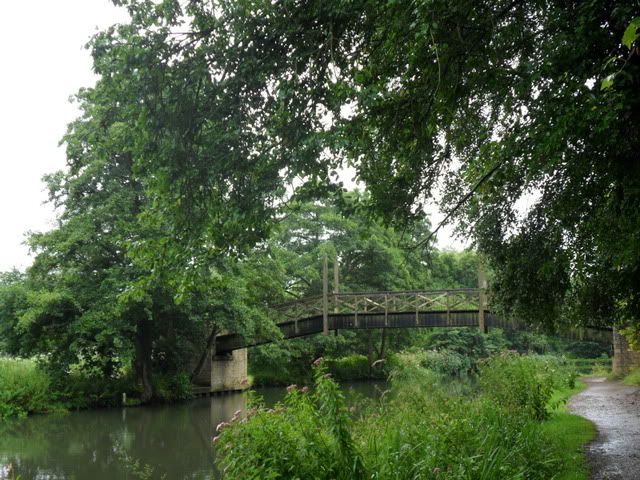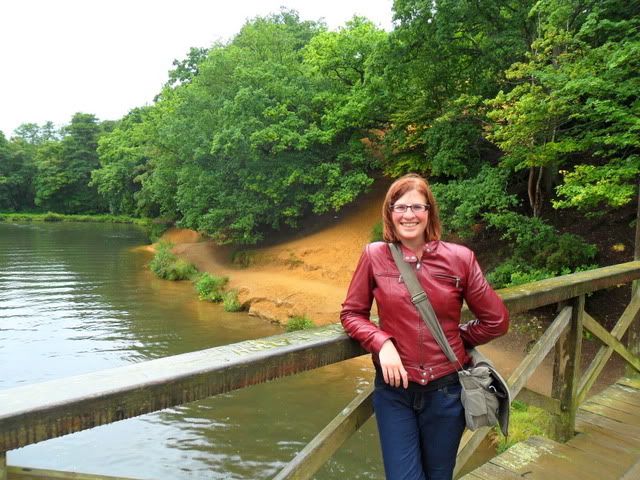 Loads of gold mud, where the name came from.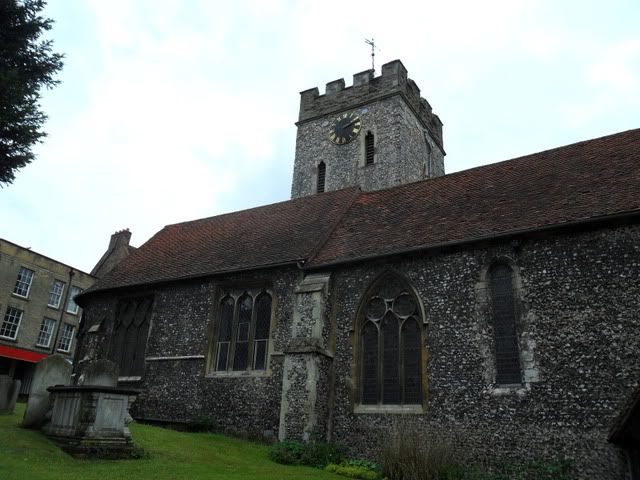 St Mary's Church Guildford's oldest church, bits of it date back to 950!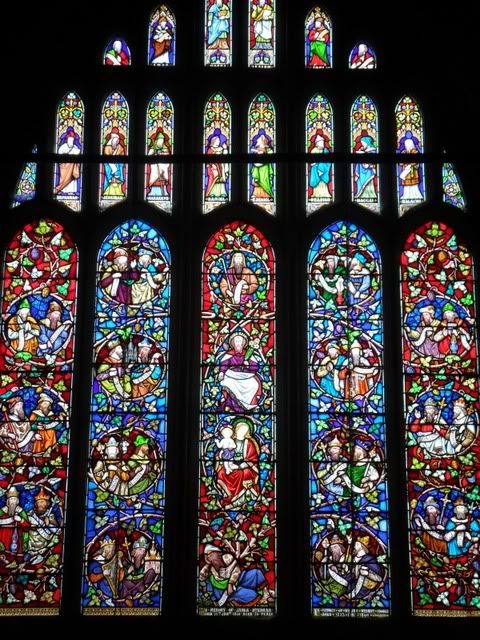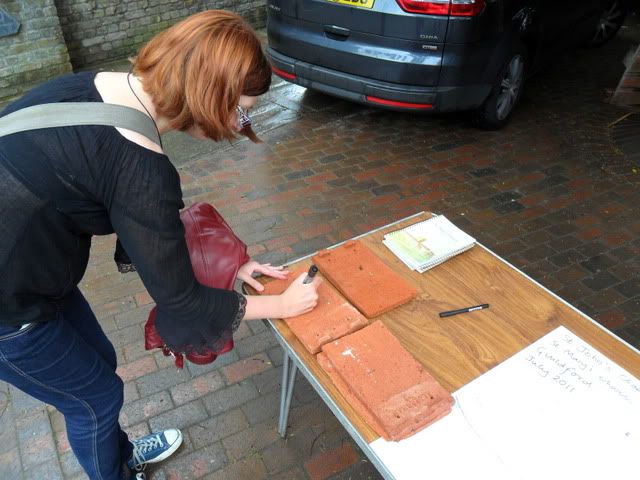 When we saw the old church they were doing a lot of work on it. They were raising money to replace the roof and if you donated you put your name on a tile. We donated and I wrote my name on a tile. Kinda funny that this atheist from Seattle will have her name on an thousand year old church in Surrey.
It does need a new roof, I must say. That's where my name will be :)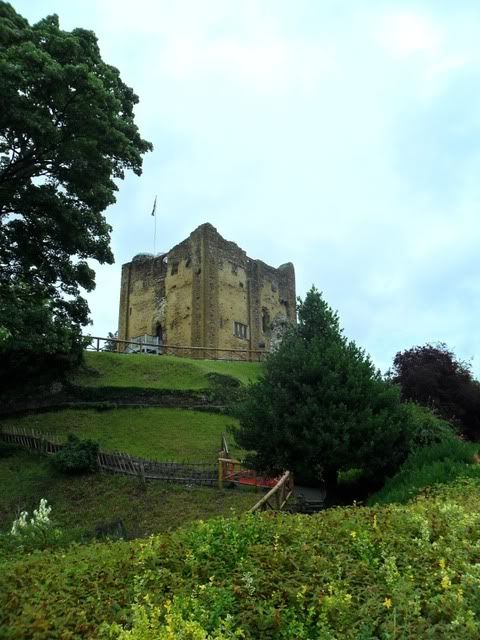 Guildford Castle
Castle wall
Castle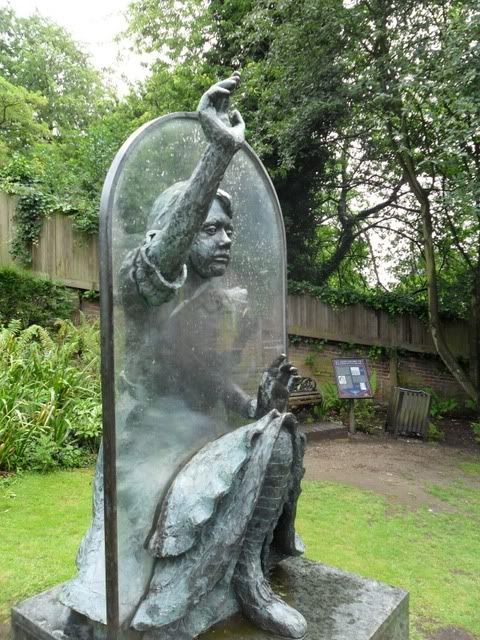 Another Through the Looking Glass Statue by the castle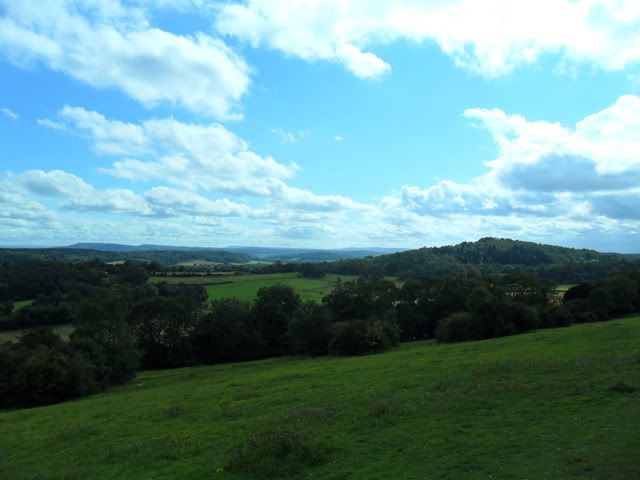 The Surrey countryside (I'm going to be crap with where the views were taken from)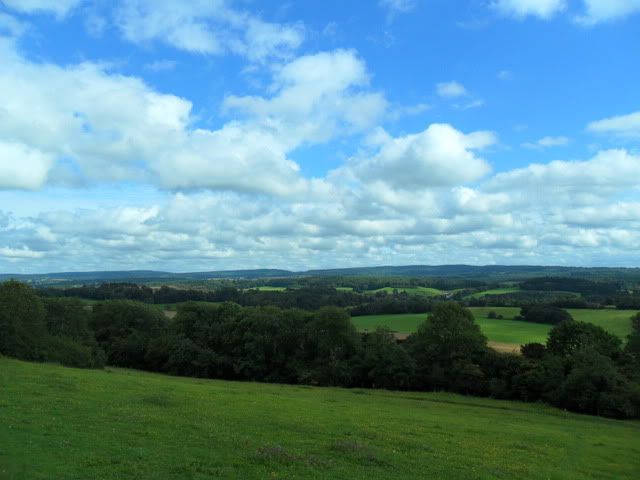 A Pill box, a place they put soldiers during WWII incase the Nazis invaded.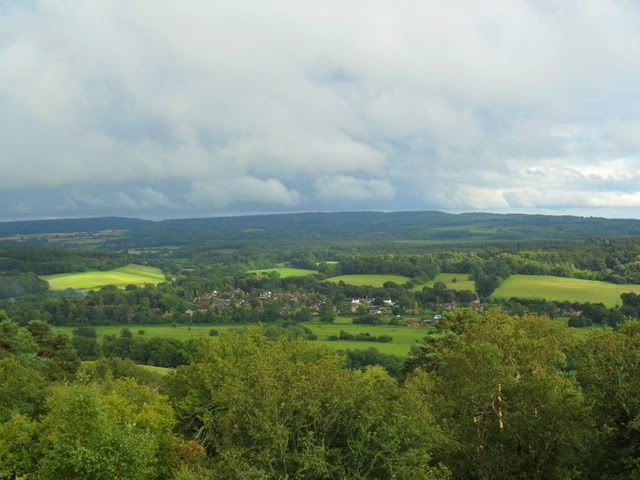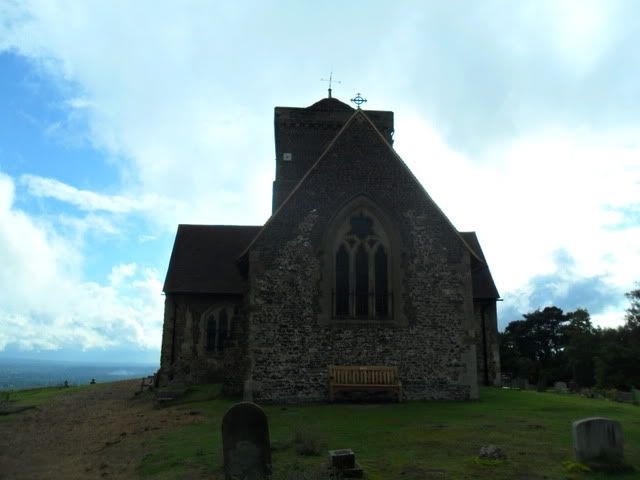 An old church at the top of the hill.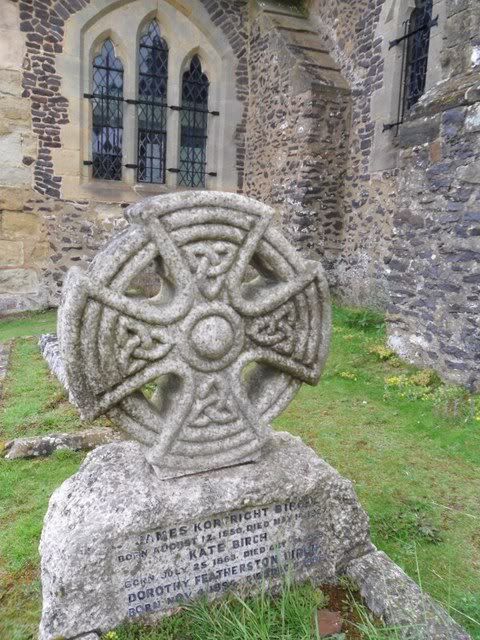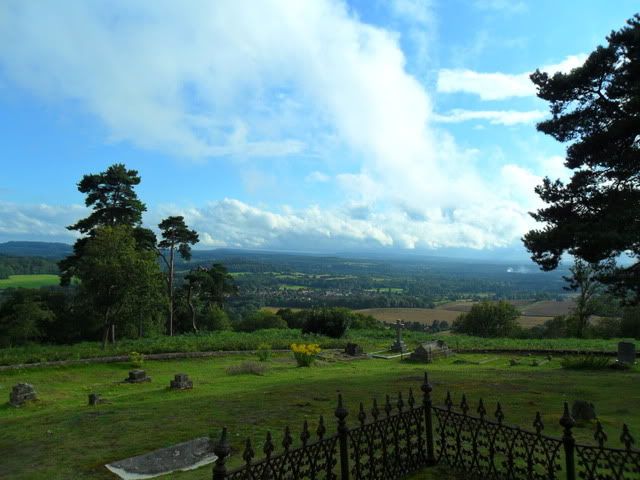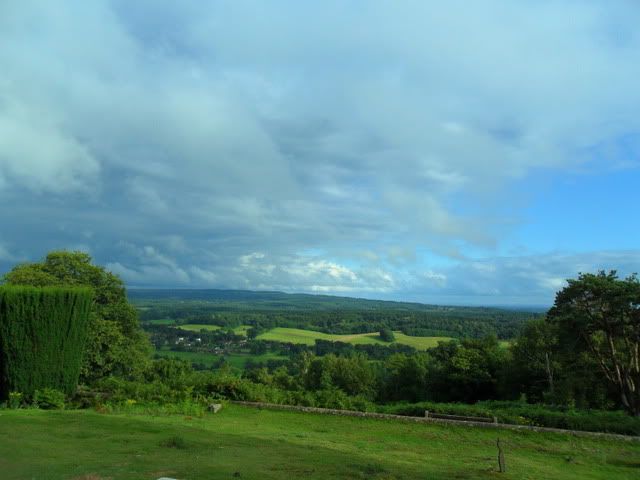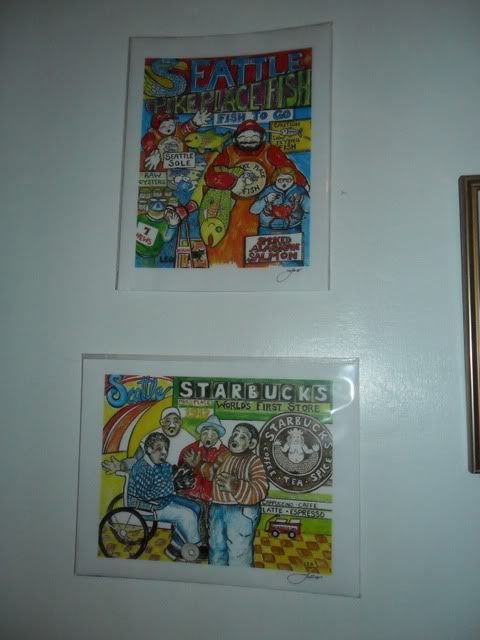 At the party, the hosts had a couple of Seattle souvenirs in the bathroom. Awww.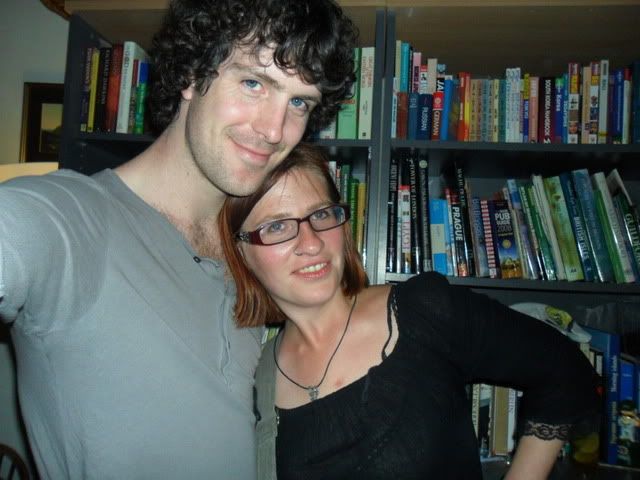 James and me at an all together too late hour in the morning.
So I can confirm that my mate James is in fact from Guildford and not from some planet somewhere in vicinity of Beatlejuice. (Hitchhikers guide reference) On Saturday I went down with him to his home town