I've been on a kick of taking the train as far west as I can go in zone two and walking from there.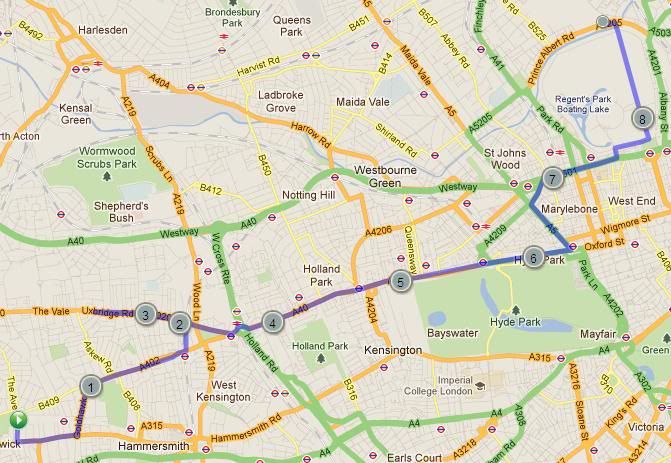 Wednesday I got off at Turnham Green and walked to Shepherd's Bush (where apart from my visit to BBC Television Centre during my first London visit, I hadn't really been to before). While I was going through the market there I got a text from Charlotte asking if I wanted to go with her to Primrose Hill. I told her I was out and I'd meet her there. So after a short detour on Uxbridge Street and back, I headed towards her. I was surprised that as soon as I got past the roundabout in Shepherd's Bush I was all the sudden in familiar territory in Notting Hill. I'll be damned it's all connected! Walking through Regent's Park, I saw a FAMILY of midgets! WIN! I wanted to add that to the count but I remembered, I haven't really been counting since I got here. Damnit! I found Charlotte at the park sitting in the sun on the hill. We sat in the sun, I did some work, we got ice cream and sat in the sun some more until it was time to go home and make dinner. It was nice though.
Today I got off at Turnham Green again, but this time headed west and south to check out the
Chiswick House & Gardens
.
The park was lovely. I took a bunch of pictures. Then I walked back up to Chiswick High Street and did a similar walk through Shepherd's Bush (at the market bought a new purse because, sadly, my Beatles bag I got in Liverpool is on it's last leg and the strap is ripped 3 quarters of the way. I'm afraid it will snap any moment at an inconvenient time. Also the lining is all ripped up inside and it's no longer two different compartments it's a big black hole with all these strings my stuff gets caught on. I know I said I wasn't going to buy anything else but this is a necessity. I might take the patches off the Liverpool bag as my liverpool momento and toss the rest.) I also stopped at a Morrison's at Shepherd's Bush and got some cheese, a wee baguette, some strawberries and lemonade to take to Hyde park for a picnic at the end of my walk. It was lovely. After my picnic, I decided to beat the rush hour and took the central line to Bank then the DLR to Cutty Sark (Greenwich riverside). Wasn't quite ready to go home. the sun was still shining, so I got some coffee and did some work on my critical commentary for portfolio at the Royal Naval College lawn with a view of the Thames. Got a couple of hours of work in...finally. :)
Anyway, on to photos...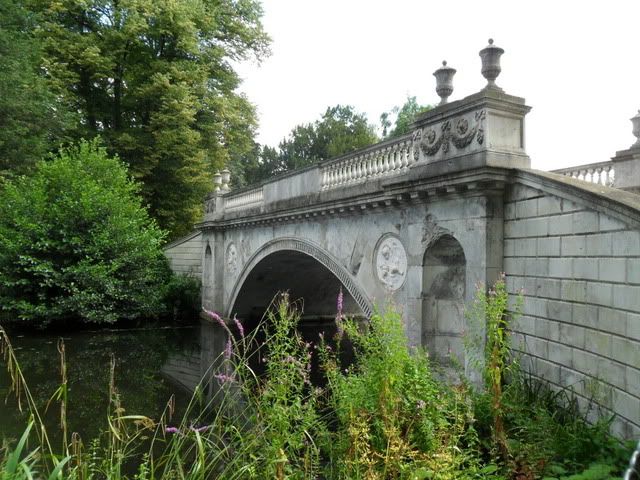 "Old Bridge"
View from "Old Bridge"
"Old Bridge" again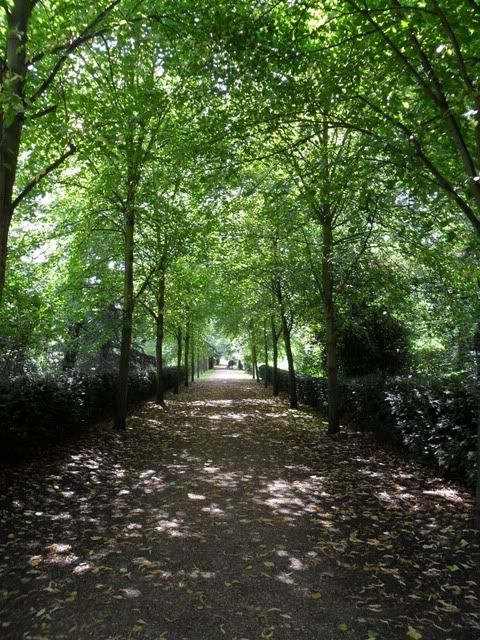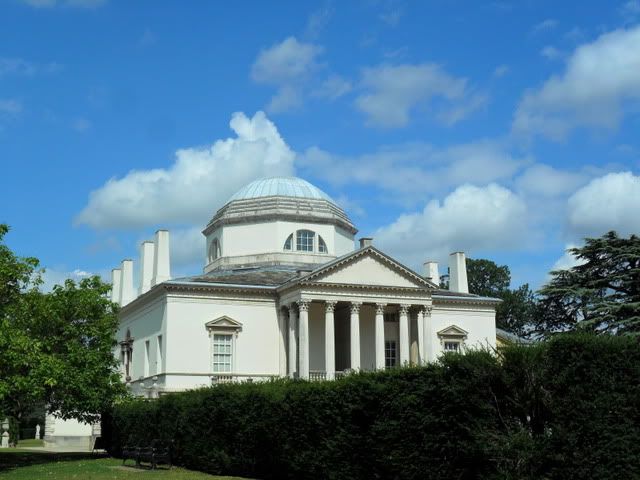 Chiswick House
Conservatory
Gardens behind the house
At first I this was one of those hedge mazes and I got all excited.
That's me being excited about going into a hedge maze....
...but it wasn't one. It was just a couple of pathways with hedges on the side. :( Boo. Oh well. I know there's a hedge maze in Crystal Palace, I could go there if I want to get my Sinning impression on.
Venus
Venus
Temple & reflection pool.
More maps of walks and pictures along the way...