All right, so yesterday I went to Brighton for their gay pride, which is supposedly the biggest Pride in the UK! Brighton is the beach holiday spot for Londoners. It's like London's neighbor down the street who has a nice pool, basically. It's also the gayest city in England which makes it the SF equivalent so the Pride was going to be good.
My train was very early in the morning. I got in at like 8:30 with hours to spare before the parade at 11 so I walked around in the rainy morning, headed for the sea and walked around to get my bearings on the city. It was nice to smell the sea air, that made me excited about coming home. I love being next to the water, even if it was misty as hell. Saw the apartment building from Mirrormask too, which was neat. The Pavillion, this building in an Indian style was amazing.
Eventually, the weather cleared up and after wandering around, snapping pictures, I found a spot on the parade route. I had to wait a long while as I was toward the end of the route. The crowd was much bigger and much more pridefull than in London. There were loads of people dressed up there were flags being sold a much more excited vibe. The parade itself, once it eventually got to us, wasn't much longer than the London one but there were PROPER FLOATS! Also there were no barriers so people just kinda walked up to fabulously dressed drag queens or whoever and had their photos taken with them (which slowed the whole parade down). There were these two Asian girls who wanted their picture next to every fucking fancy-dressed fag in the parade (sorry I don't use that word but I saw the potential alliteration and had to). Some busses & groups I recognized from the London parade, but that makes scene. The parade on the whole was SO much better. I'm a lucky girl not only did I get to go to Britain's SF equivalent pride but I got two Prides in one year. Pity, it's still just not quite the same without my wonderful friends with me.
After the Parade I wandered around some more. Checked out the gay neighborhood where stuff hadn't quite set off yet, they were still preparing. So I then moved on to the beach and the pier now that the sun was out. After that I went on the hunt to find the pub that James suggested for food. I'm glad he suggested it because there was no way I would have just walked by it on the street it was on and the food was amazing! I decided to be adventurous and tried rabbit for the first time. I got a rabbit pie with potatoes peas and gravy and omigosh it was the most delicious plate of brown food I've ever had. (Not much to look at but damn it was tasty!) It even had cabbage in it, which worried me at first but upon first bite, I was in savory but with a hint of sweet heaven! I must thank James for the suggestion.
After that I went back down to the beach to walk off my lunch. Walked east to the Marina but it was lame, it seemed like just a shopping & entertainment center. I didn't see any boats. So I turned back to where the party was at.
On the beach, I finally found what I've been looking for and have had bad luck finding in this country, simple seafood. There was a stand at the beach where you could buy little bowls of fresh lobster, crawfish, mussles, and hell yeah oysters on the half shell. Despite my big lunch I had to get some oysters. That was so satisfying, especially after the disappointment of not finding proper fresh (i.e. not fried pub food) seafood in Cardiff.
There were pubs along the beach as well so I got a drink and sat around and people watched. I really missed Andy. I wish he could have been with me I think he would have really enjoyed it there. Being on the Pier they had rides and arcades and it reminded me of when he and I played air hockey at the Seattle waterfront arcade. There was a lot of things that reminded me of him. I just missed him a lot. We would have had a blast there together. But I'll be coming home soon.
Eventually it got too cold on the beach and I went back into the city for a couple more drinks before it was time to catch my train back to London Town. I sat outside a pub with my double vodka tonic and actually got involved in conversation for a little while with a couple sitting next to me, which was nice. When I got back to the station, there was a weird vibe. People all over were already off their faces, there was part of the gay crowd, football crowd, and a handful of hen parties around. Yeah it's the place people just get shitfaced at apparently, so the station was crowded with police and security checks to make sure you don't bring more alcohol in. My train left at 8:34 and I was back in new cross by 9:30. Amazing!
How lucky Londoners are to have a playground an hour away to go to the beach, have a gay love affair, or just get embarrassingly hammered until you wake up in the morning while a seagull nicking your wallet!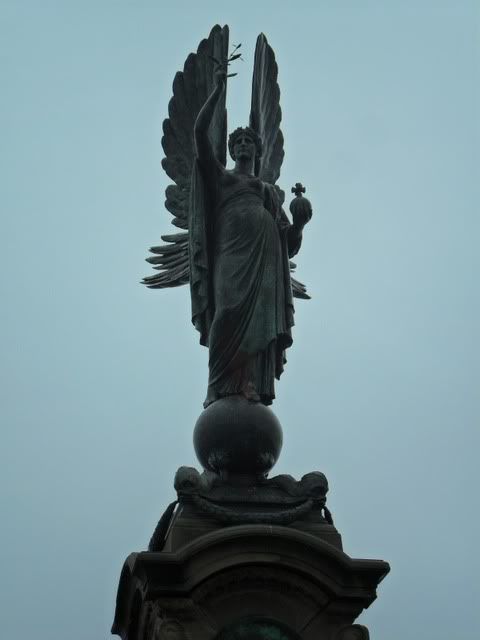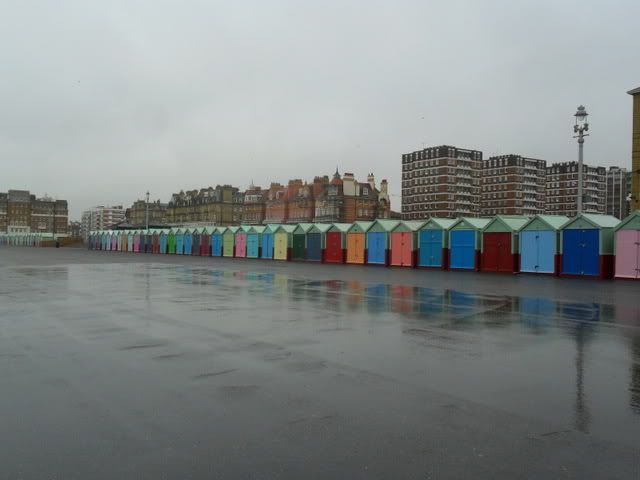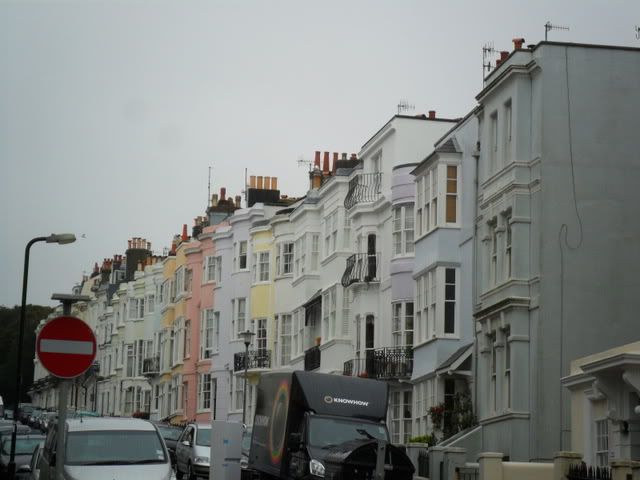 It looks like SF doesn't it?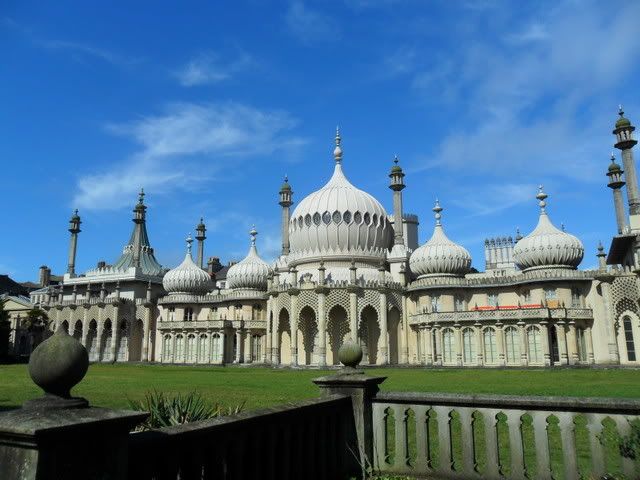 The Pavillion