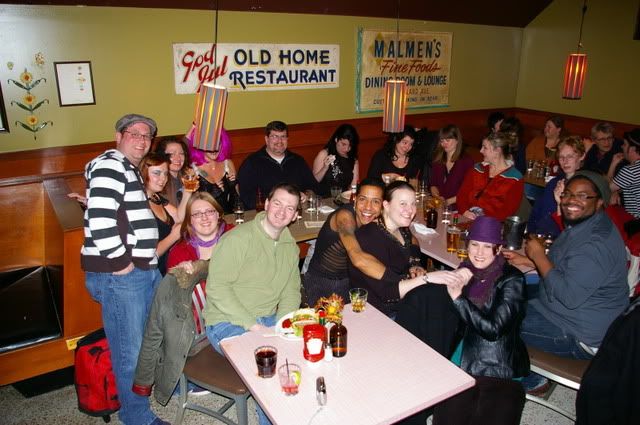 For a good bye present I/we put together a video with pictures and clips of us sharing memories, advice and letting them know how much they will be missed. It was slightly rough to get the videos together, well trying to corral people together to make the video proved a bit of a pain but the editing itself was quite fun for me. In high school in video production class I loved to edit our videos so it was fun to revisit that again. I got a little teary making the video towards the end. There have been years of so many good memories with Cathy it's sad to see that end, but maybe it wont end. I've said to Cathy before when she left for Sydney and that was not the end at all. Following that there were "Cathy Weekends" and eventually she came back to Seattle. Doug's family still lives here and Cathy's still going to be in my wedding so there will no doubt be "Cathy Weekends" once again. Plus I would love to visit them and see Washington DC some day. Not to mention we can still Skype each other every so often to keep in touch. Still, it's hard to have one of your best friends leave the city.
It was a kind of fake out good bye. Due to schedules last week was the best time to do it but we still went out with cathy and Doug last night to DragonFish one last time. I'm meeting her and Raye and Doug this afternoon for lunch at Tats in Pioneer Square and they can make it to Andy & Dani's birthday on Saturday after Thanksgiving.
Yes we are reaching that busy time of year. Thanksgiving will be at ours with my rents and Dani as our guests. It will be my first Thanksgiving with Andy and my first Thanksgiving outside of my family's house wherein we'll be hosting. I'm looking forward to it though. I didn't realize how much I liked Thanksgiving untill missed it last year. After that it'll be Andy & Dani's birthday, as I mentioned. Due to circumstances this will be the first of Andy's birthday that I get to share with him, too. I intend to make him feel extra special that day. The week after that will be the "Vag Sag" Party--a joint b-day for Sarah, Lindsay and myself. So many Sagittariuses, people much get very cold in March.
Busy, busy, busy.
Saturday was Cathy and Doug's good-bye party in Ballard. We started at Hattie's Hat and then moved on to People's Pub. (With a breif stop at some new place with ice cream and pinball until some of us realized that there wasn't any booze there and that simply would not do.) Our party got quite large between our peeps and some of Doug's friends and some peeps from Cathy's Library program at UW. We put some waitresses through hell but all had a good time.
Current Mood:

okay