Friday
Friday Andy had bro-time plans with Dan to go have sushi so I made bff time with Raye, even though she had a theatre shift that night. I took a walk along the waterfront after work, and soaked in the loveliness that is Seattle in the spring. Stopped at one of my favorite views of the city at pier 66, through the Pike Place Market as it was closing shop and just breathed Seattle in before walking up Pike to the Schmee. I only had $14 in my account and the tip money from the night before so it was to my benefit that my hang out time with Raye was at the theatre so I could get staff discount drinks. While the show was going on we got a text from Anna who was in the neighborhood and so she ended up dropping by in the second half as well. It was good to catch up with her (with the exception of maybe Raye, Dani, Sam and Dorothy I feel like I haven't seen a lot of my friends in a long time) and having come by after a date that went well she was very happy, which makes me happy. Got a text from Andy at one point asking my bra and panty size and answered without much question and carried on. After a while Raye, Anna and I met up with Dan & Andy and had drinks at the 6 Arms. Apparently the boys stopped at the Love Zone and Andy bought me(us) a present of sexy bra and panties, oh la la! Finally, to cap our night, while Andy and I were at one point out smoking in front of the bar we saw a middle aged lady hit a cop car right in front of us. He was turning left and she was behind him and didn't stop in time and BAM! The look on the cop's face was pretty priceless when he got out of the vehicle. More cops showed up, they had her do the whole intoxication test (right in front of a bar, which seems so cruel because everyone inside was enjoying their drinks and laughing in her direction.) I'm sure that really spoiled the end of her night but in the end they let her go. It was an entertaining cap to our evening.
Saturday
Saturday we had tickets to go to the Morning Glory Drag Brunch in West Seattle. I was excited because, like I said I feel I haven't seen a lot of people since the no-pants light rail ride, or in some cases December at the triple birthday party, and a bunch of people were going to this. Sarah, Anna, Dorothy, Astro, Aaron, all came with Christine & Cory and Raye came with a bunch of the Melrose crew, Arik, Jeff & Lisa, Lindsay and me Dani and Andy came. It's also been a really long time since I'd seen a drag show. I want to say either Portland or that one at Cathy's birthday that wasn't good. I can't remember but years anyway, which is pretty unacceptable. I felt bad I didn't have more cash to offer up, I had spent all mine at the theatre the night before, and what Andy had went pretty quick between the both of us. Andy got some love from a couple of drag queens, calling him handsome and sitting on his lap. Arik, Dorthy and Aaron got some attention too. It was a great time. I had a blast.

My Camera was kind of rubbish for this kinf of event. The flas takes ages to charge and so movement indoors don't work too well. I got some shots though.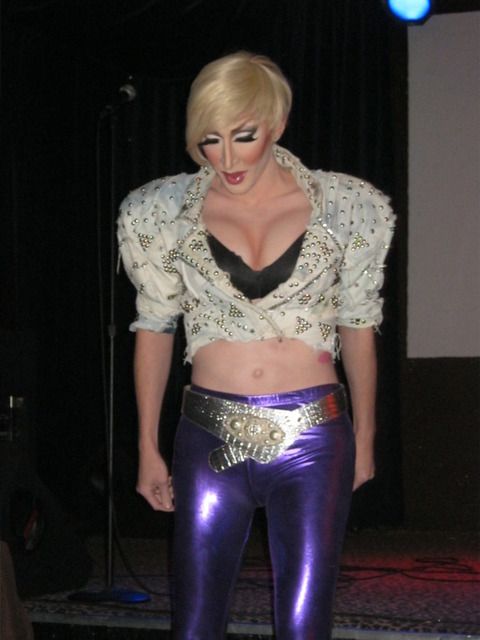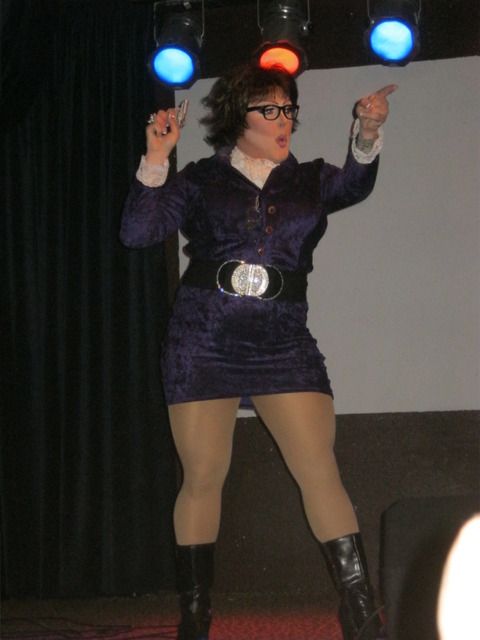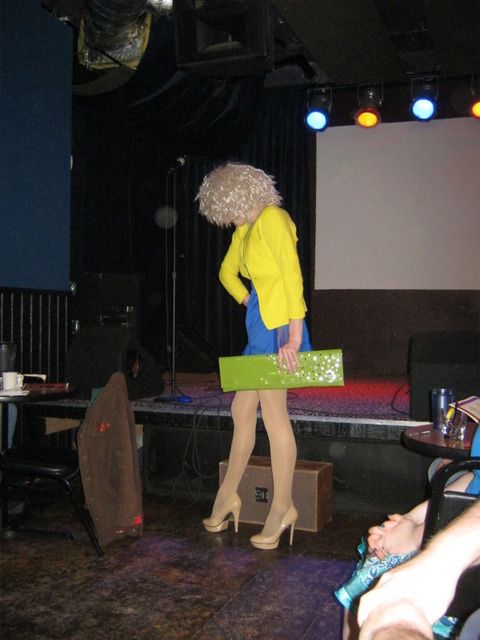 This was my favorite bit to the Manequin song. She stood there posing for a long tiem before singing. Anyone born after probably 1989 didn't get the joke.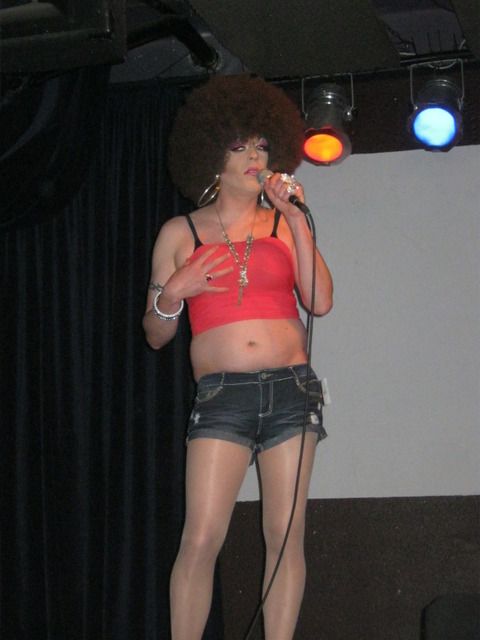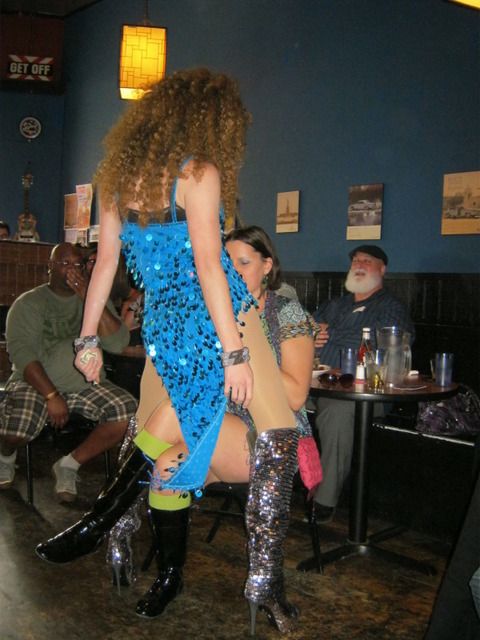 Dorothy getting some luvin!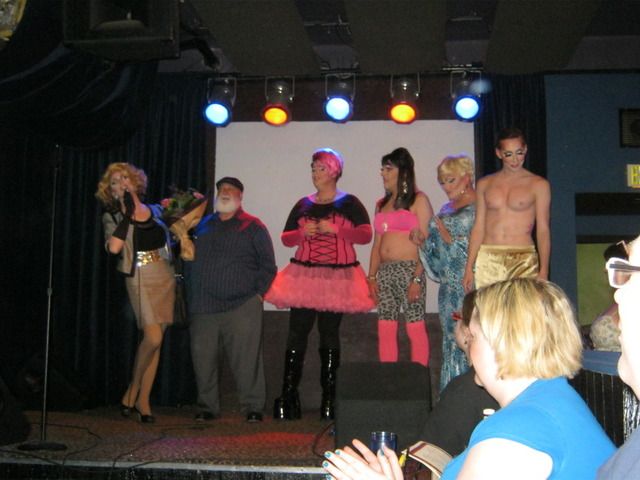 After a couple hours of down time at home with a book beside the window, I had a bartending shift for closing night at the schmee. This play, Lark Eden, was really good. It's a pity that more people didn't show early on in the run but it got better. It's a beautiful play and good cast it is sad to see this one go, however, I'm glad I don't have to put myself through crying every night I have to bartend. The whole last ten minutes or so just emotionally put me through the wringers. I have to thank patrons on the way out with mascara all over my cheeks but to be fair, the audience is coming out wiping their eyes as well. After all the mimosas at brunch I wasn't feeling having drinks after the show. I was pretty exhausted but stuck around for little while with everyone backstage for the after party.
Sunday
Sunday morning I checked my e-mail and Charlotte, my best friend from London, had returned the e-mail that I had sent her the day before. I had told her about how the job hunt was going, how the play reminded me of her because it's about friends writing letters to each other over their life time and how Andy and I are going on holiday in LA/San Diago in May. After I read her letter I moved on and was checking Facebook when Andy woke up. As I was sitting there I logged out as me and logged in as him to "check his hit" and saw he had a message and he asked me to click on it. It was Charlotte messaging him about coming to LA and surprising me. D'oah! I saw it. Surprise fail. Andy replied, letting her know that I saw the message right off the bat but they coordinated and in a couple of hours BOOM Charlotte had a ticket booked to land in LA the day before us and we're going to hang out. I get to see lovely little Charlotte in LA! There's a few things that we had planned like the road trip to San Diago and go to SeaWorld and see a Dodgers game that will just be couple time and she probably won't be interested in Alpine Village but the first few days Thursday, Friday and part of Saturday we can all run around LA together. I'm kinda bummed that she can't come to Seattle (until the wedding, of course, she's one of my bridesmaids…whenever the hell that ends up happening) because I would love to show her my beautiful city. However she's been to LA before and she knows she likes it, so if she came into some money for a holiday she should go where she likes. (The Brits I've noticed really like places like California and Florida, it's the sun I think.) I'm just glad I'll get to see her.
After all that quickly arranged itself we went out to pick up my rents and go to Safeco for the Mariners game. Andy bought tickets for us all a while ago, it was the first day game of the season and it was a beautiful day for it. We were in section 151 in the outfield right by the third base foul line. They were playing the A's so I had already checked with Jaden to see if he was going. Turned out he was in section 152 in the same damn row as us! So we saw him before the game and shot the shit for a little bit then watched the game. In the bottom of the 2nd inning Brendan Ryan hit the first homerun of the game for the M's and it went straight to Jaden who caught it in his A's hat. People sitting around us were all huffy puffy "wasn't that that A's fan guy? He should give to a Mariners fan." Jaden said he thought about throwing it back, as is done in other cities when the opposing team hits a home run and a fan catches it, but it's a good thing he didn't because apparently in up-tight Seattle you get thrown out of the stadium for that. Also, it was Jackie Robinson day so all the players commemorated him by wearing jerseys with his number, which by coincidence was 42! I was greatly amused by this and even kinda saw it as a sign for good luck. I got my shishkaberries in the inning, the sun was shining but my beers were staying surprisingly cold, I was quite happy. In the end the Mariners won 5 to 3 and we met up with Jaden and Arch after the game and had a few beers over at Pyrimd Ale. Jaden's caught baseball got passed around and catching up and stories were had. It was great to see him. The only bad part of the day was that I didn't think to put sunscreen on before leaving the house (I'm obviously not in nice weather mode) so after three hours in the direct sun my arms are like lobsters right now and were burning all night long.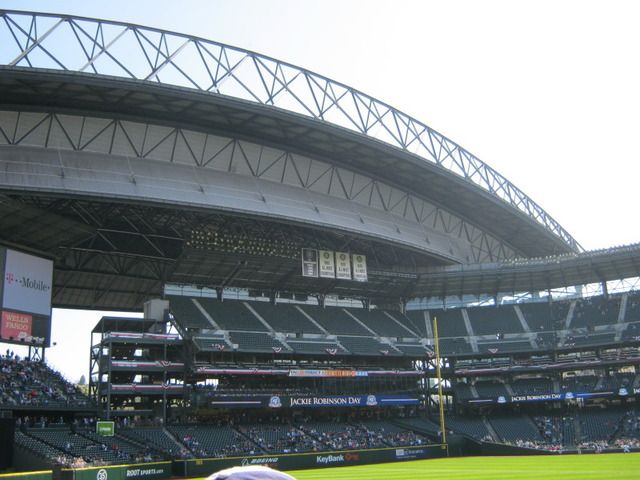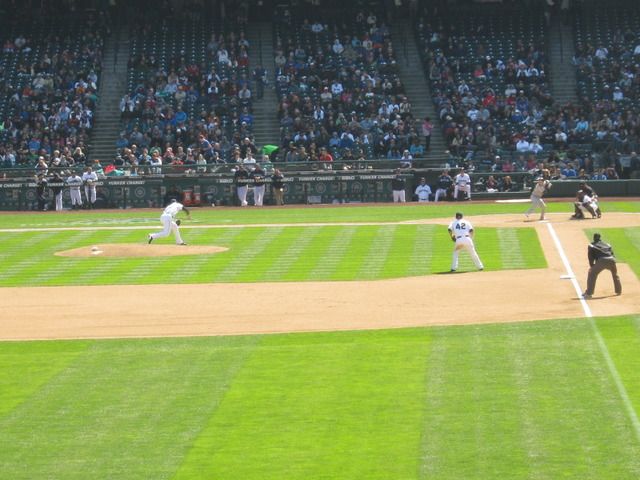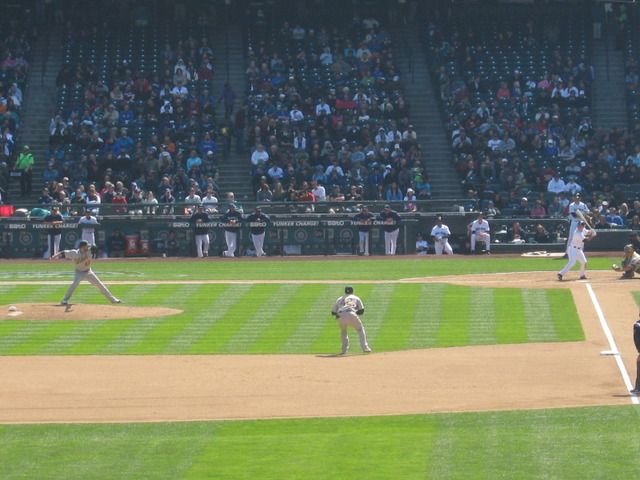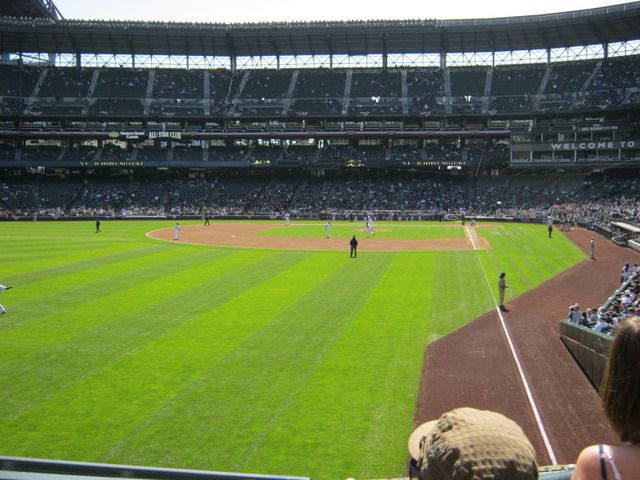 Though I took a pic of Jaden and the ball he caught I'll refrain from posting it as I didn't ask for permission first.
So yeah, what a fantastic weekend. I saw loads and loads of friends I hadn't seen in a while. I even found I'll see my good friend from London Town in just a few short weeks. Plus I go to do fun stuff. What more could a girl ask for?
Current Mood:

burnt