Saturday I was hungonver and we had to go back to the pub because I had left my debit card there (like old times). We picked that up and went to check out a place for breakfast that Dani suggested to us in Ballard, a crepe place on 65th by the Tin Hat. The place was fantastic! The crepe was better than the last crepe I had in Paris. I don't get crepes very often but when I do and it's really good I have to wonder why I just don't eat the things all the time. We had a little bit of down time at home before we got a call and headed downtown to meet up at the Market.
People watching at Pike Place Market on a sunny Saturday afternoon is pretty great, especially while we were waiting for Carin & Amy by the pig. We watched a young Japanese couple try to take proper engagement photos at the pig and the photographer was getting frustraited with all the clueless tourists walking into the shot. You really need to do that kind of thing at like 7 or 8 am if you don't want that kind of thing to happen. Carin and Amy showed up, who brought in tote Amy's mom (who lives in Everett) and Amy's three daughters. Now I'm not a kid person but those girls were pretty darn cute and funny, though trying to keep track of three of them in a busy place like the market would be too much for me. We showed Carin the throwing fish place, the first Starbucks, the beautiful view from the park at the end of the market, the inside market and the gum wall, which ultimately took probably two to three hours, what with the kids and the long lines. It seemed a pity to have eaten before going to the market. Everything there looks and smells so damn good. I would have had to have piked up Pirosky if the line weren't so damn long (benfit of being a local who can do there if I fancy in the week or something when I please). Andy bought me a book I've wanted to read for a while at the used bookstore in the downstairs bit of the market Carin, Amy and them ended up buying a salmon at the fish throwing stand, something locals never do at $30 a pound. But the girls were amused and after that Andy and I parted ways.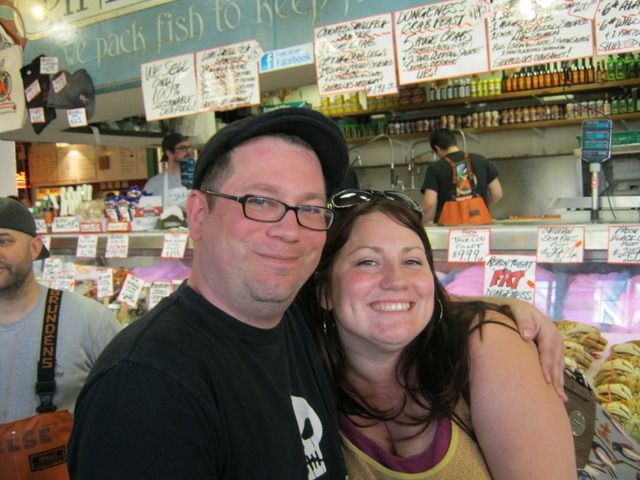 Andy & Carin
Sunday we were having my rents over for diner to celebrate my dad's birthday. Andy was going to make seafood stuffed portabellos, (peppers for me and my mum who don't like mushrooms). So before they came over I had a lot of cleaning to do. While I was cleaning I was also doing laundry and I was just to the end of my cleaning when I got the last load of laundry from the dryer and brought it up. Andy helped me fold and put the clothes away. Then I wanted to wind down for a little bit and relax before I intended to take Sparky for a long walk. Andy took a bath, I relaxed and played some games and watched one of my british pannel shows I like on You Tube. When Andy got out of the bath we heard a scratching on our front door. Andy opened it and Sparky came running in. Sparky had apparently, some time around my getting the laundry, gotten out of the apartment and neither Andy or I noticed. I thought he was sleeping in his bed or on the couch. but no, he was out running a muck somewhere. It really freaked us out that he wasn't here but we were so greatfull that he was okay and came home to us. He must have been gone for forty-five minutes to an hour. Had we noticed that he was missing it would have severely spoiled our afternoon, running around looking for him but he was a good boy and came home. We feel like bad parents for not noticing. I wonder what adventures Sparky got into in his hour of freedom? He seems all right, I hate to think of what could have happened to him out there.
My parent came over at about 4 and Andy started making the amazing dinner. The stuffed mushrooms had scallops, shrimp and (fake) crab, and a lemon/dill/white wine sauce and he also served ti with fillet minion and broccolini. It was delicious. Plus it worked with the peppers for mum & I. It was so pretty I had to take a picture.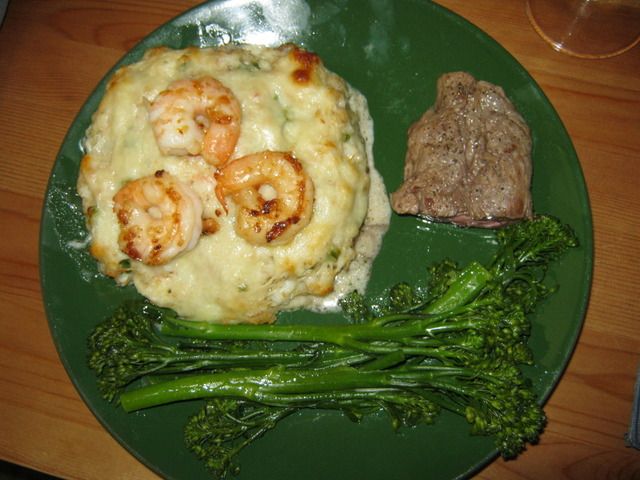 This is the mushroom one, the pepper one looked much smaller.
My dad really enjoyed the meal and we watched a movie and eventually had cake.
So, yeah all in all it was a good weekend. And a beautiful one at that.
Now, I've got a mountain of dishes to clean before I can enjoy this lovely day so I should get off the internet and get to it.
So after the busy 3 job interview day, Andy and I went to the George & Dragon Pub in Fremont. Now I thought I had taken Andy there before I went to England but apparently I just dreamt that or took someone else there so it was a first for Andy. I also hadn't been there since coming home from living in the UK and it's refreshing how authentic of a English pub it is. (Though I really wish they had a steak & ale pie on the menu). We had dinner and many many drinks, had a good chat about my novel and sorted some stuff out. Then, after Andy had closed out at the bar he got a call from his friend, Carin, from Vegas who was in town visiting Seattle for the first time and she and her friend, Amy, came and joined us. I opened a tab and we drank with them for a while. We made plans to hang out with them and go to Pike Place Market the next day.
Current Mood:

busy