Thursday
Our flight was at six so we had to get up a a quarter to four. Ugh. But the flight was fine, the baby in front of us didn't even cry. We got into LAX, got our car and headed to Redondo Beach to enjoy the ocean while we waited for it to be time to meet Charlotte and see if we could check into our hotel. We found Charlotte where we agreed to meet, chilling by the pool. After getting settled into our room, the three of us went in search of lunch and got Mexican food at a little mom and pop place that was pretty good, though our eyes were bigger than our stomach. After that we headed over to Venice Beach. We wandered around, looked at shops, took pics of the murals, played on the beach a little bit, and hit up a vintage clothing shop. On the beach, Charlotte saw her first sand dollar and Andy was messing with her, telling her if she took it to any shop they'd give her fifty dollars. I wish I had recorded the conversation before I cut in saying "it's just a crustation, don't listen to him." We hit up a Saloon on the way home that was full of geriatrics. The bartender pointed out that there was a man who was 94 who came in for happy hour every day. Pretty awesome, I hope if I make it that long I'm still makin' it out regularly. For dinner Andy took us to Alpine Village in Torrance, a big cheezy German restaurant that Andy had wanted to take me to for a long time. Like the haufbrauhouse in Vegas, it's got sausages, a big room that has an oompa band and such. However, as it was Cinco de Mayo weekend, they were doing a salsa night. That was my first surreal LA moment, a German aesthetic with salsa music in the background. The food was really good. Andy and I stuffed ourselves with beer and sausages. Andy and I were really beat after that and called it an early night after our very long day.
With Harry Perry, the Venice busker who has been dubbed Venice's Jimi Hendrix and has been doing his thang since 1972. He was really nice and sang us a song about eating too much steak & cake.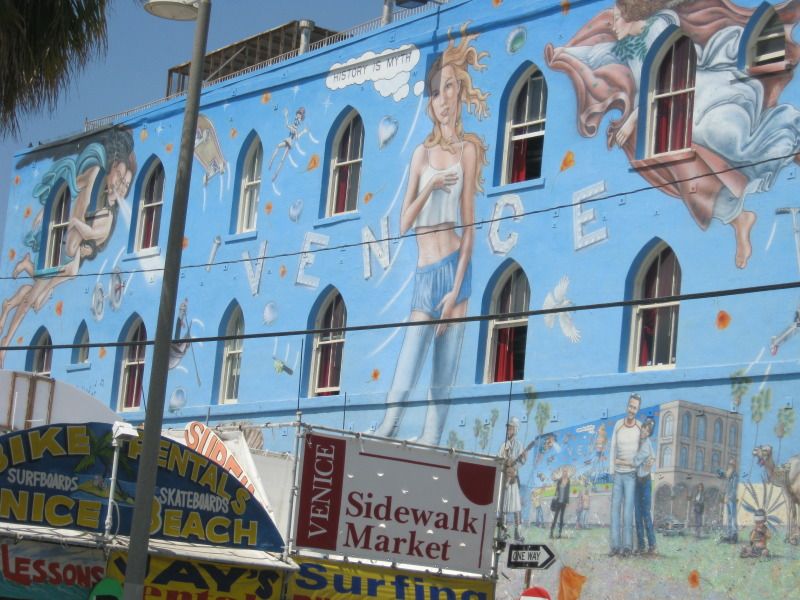 I recall this mural from LA Story!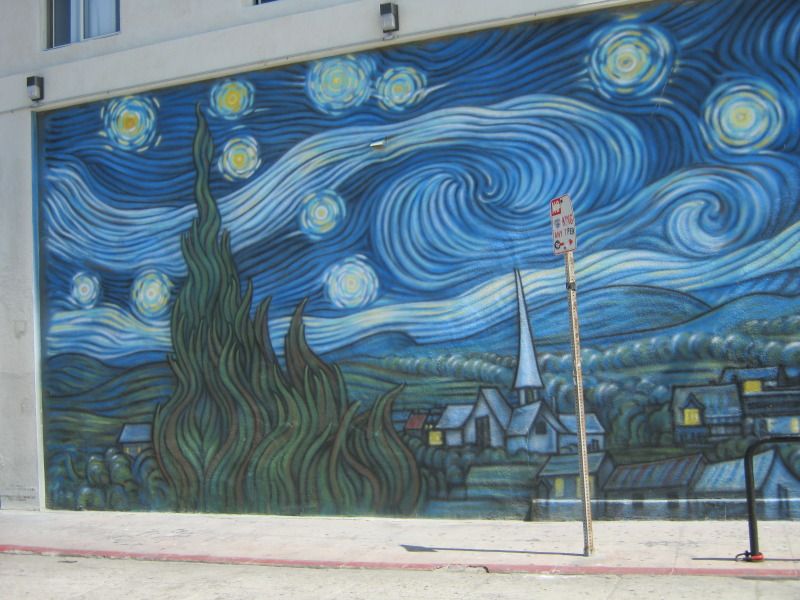 Another awesome mural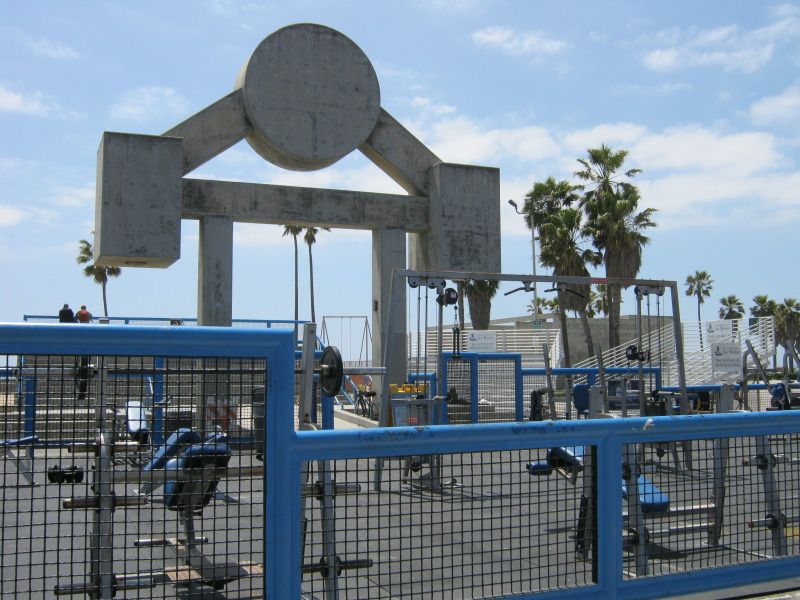 Muscle beach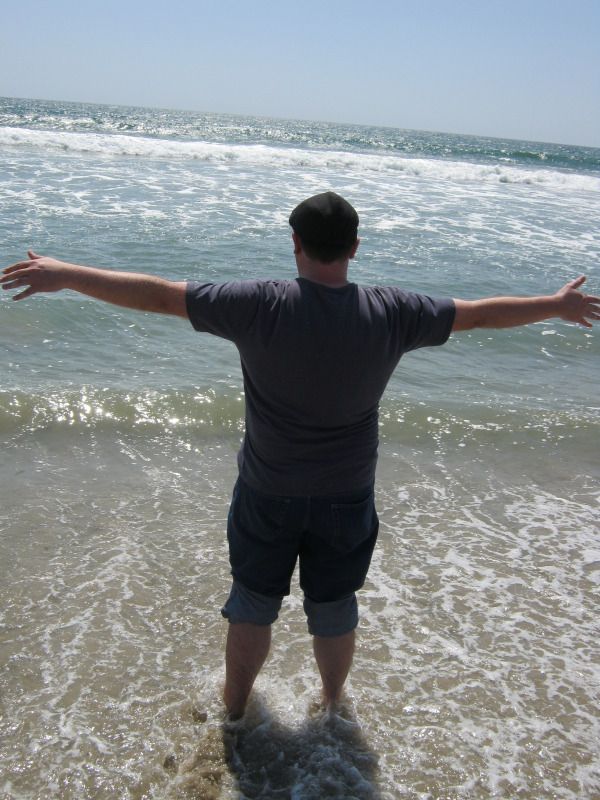 OCEAN!!!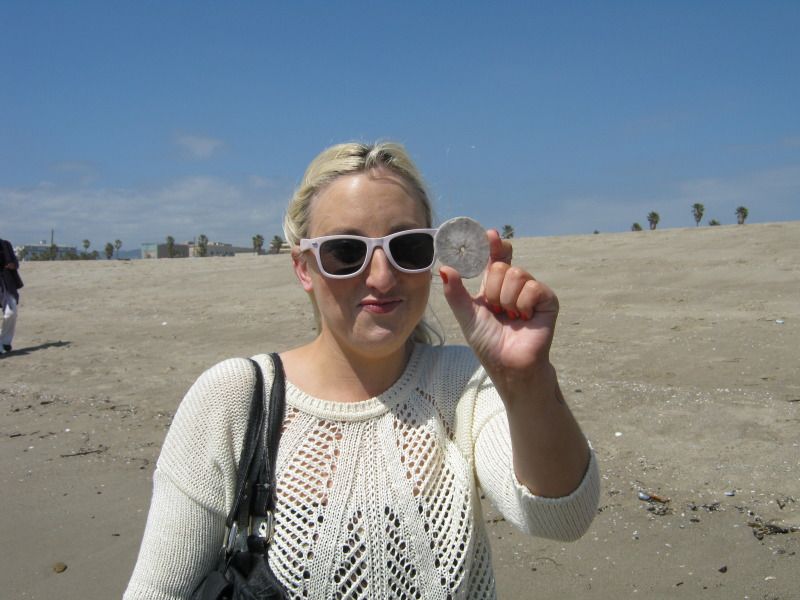 Charlotte finds a "sea dollar" :)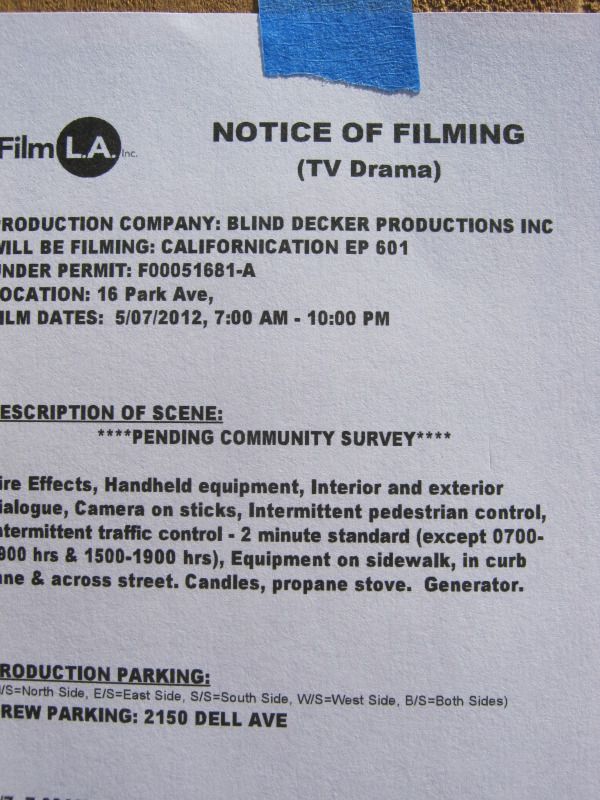 A filmng notice in Venice for Californication!
In case you forgot where you were.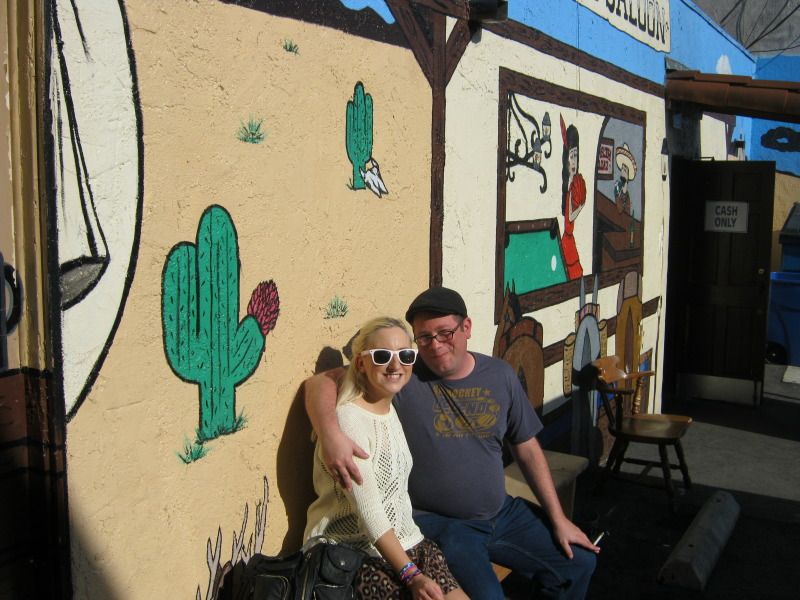 Charlotte & Andy outside the Saloon.
Friday
Friday Andy and I had a reservation for a couples massage down the street from our hotel. It was my first ever massage, which is kind of a big deal for someone as ticklish, high strung, and weird about people touching my neck as me. Having Andy there made me feel more comfortable and I took it really well and was only weird with her touching my feet because, even though by that time I was very relaxed my feet are just way too ticklish. It felt great, I thought of all the stresses I had pent up in me that she was working out--all the stresses of my adult life, maybe before, maybe there were knots that got started back when taking the SATs. After our massage we met up with Charlotte and headed out to Hollywood. When we stopped for lunch at Pink's hot dogs we returned to the car to find a parking enforcement calling a tow truck. We were 18 minutes late and didn't see the no parking after 4pm sign. The parking ticket fine $158!!! Don't get a parking violation in Hollywood. Sheesh. So that sucked, but at least we didn't get towed, that would have really spoiled the whole day. We moved on, stopped at the collectables shop featured on Storage Wars (yes we are nerds, shut up) but everything there was well out of our price range. Then we headed up to the Griffith Observatory for a view of the city and the Hollywood sign. Unfortunately at that time in the evening it was pretty hazy and difficult to see the sign, and it didn't come out very well in photos--try though we might multiple times from various angles. We walked around, went on the roof of the observatory and inside I got to see a big Tesla coil in action. The drive up and down through the park was really fun with a windy road. After that we found Garage(!) parking and went to Graumans Chinese Theatre and got our tourist on. After that we hit up The Dresden (as seen in Swingers) for dinner, drinks and watched Marty and Elayne play. The people watching was really priceless there was well, saw this unfortunate guy in a suit with two bottles of champagne, three glasses, and two empty seats beside him. Poor guy. Then there was the guy trying to chat up his date by talking about existential fiction but she misunderstood and thought Sartre was someone from a reality show or something, that was priceless. The Dresden was awesome! It feels old-timey hip, it's everything I wanted Vegas to be more like.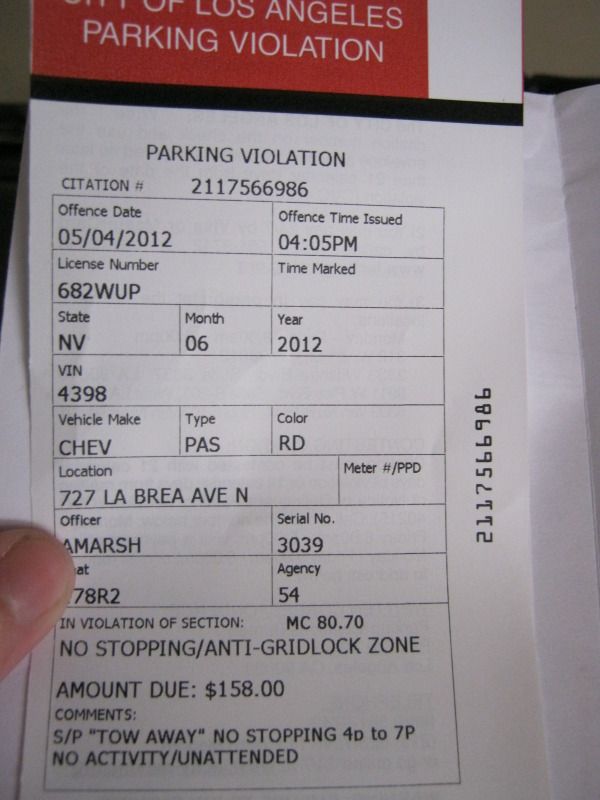 The shocking parking ticket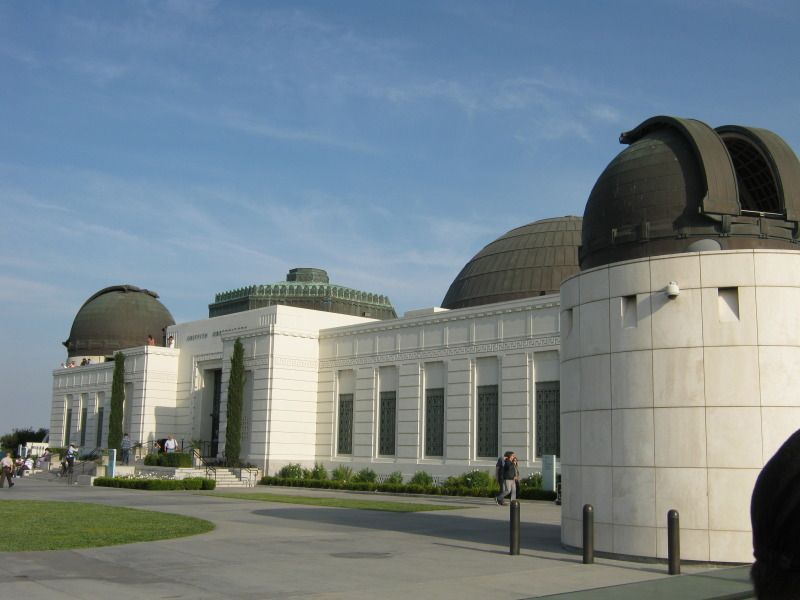 The observitory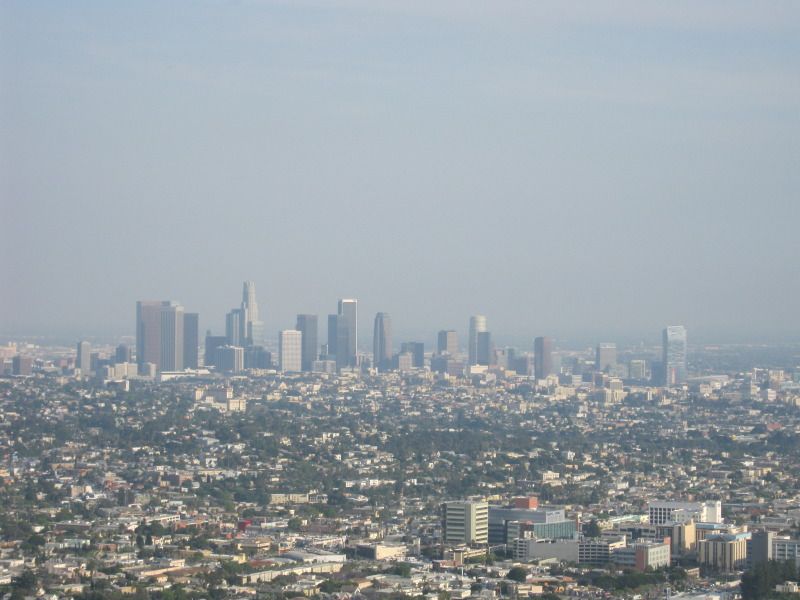 "They say the fucking smog is the fucking reasons you got such beautiful fucking sunset" - LA from the observitory.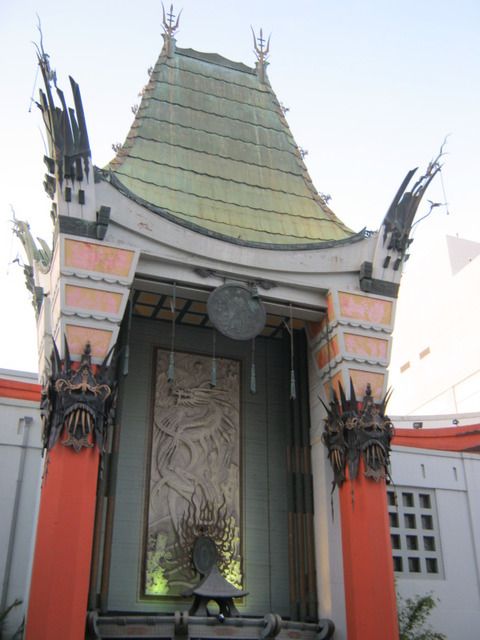 Chinese Theatre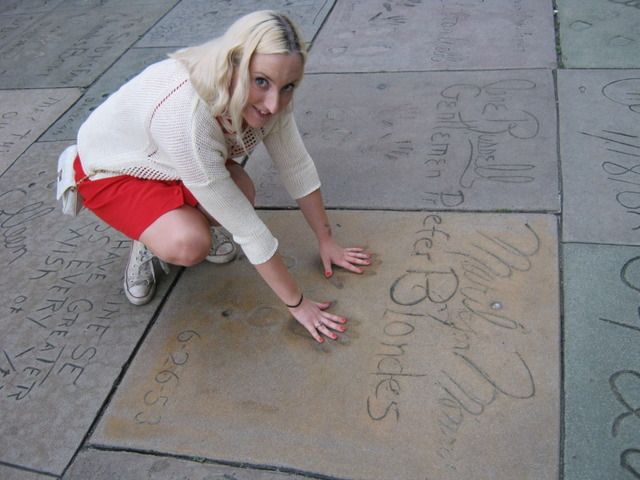 Charlotte's hands are smaller than Marlyn Monroe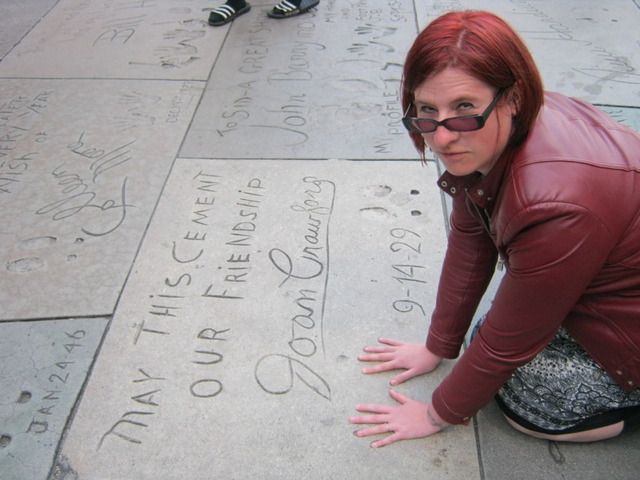 I didn't find anyone who really jumped out of me till this one made me think of Samuel (who has the catchphrase of "No Joan Crawfords Alowed!"). My hands are the same size, and I look pretty pissed off. Does that mean sam can't be my friend anymore?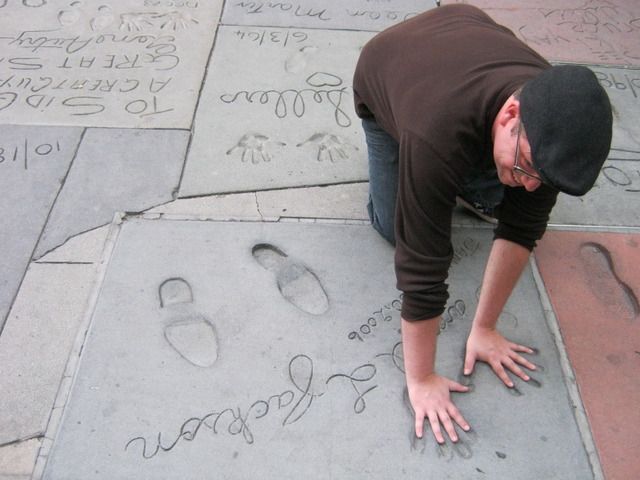 Andy's are smaller than Samuel L.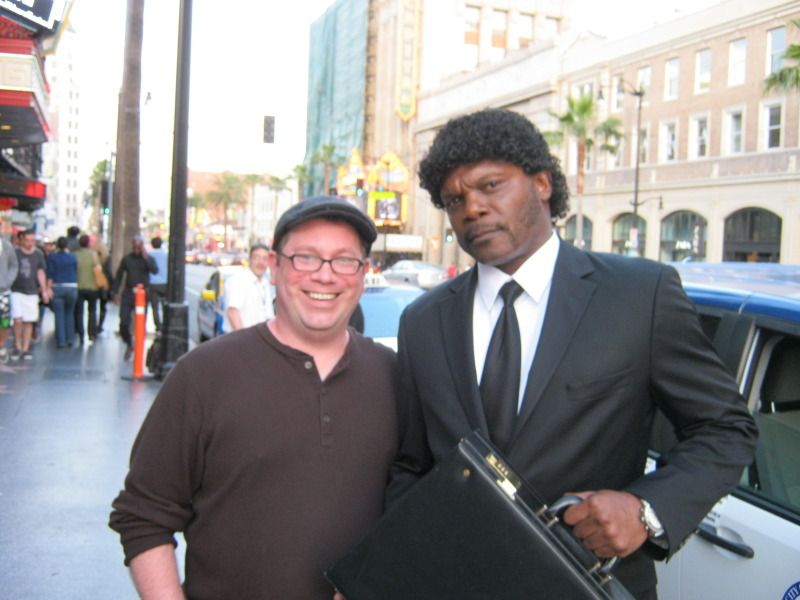 ...speaking off Samuel L.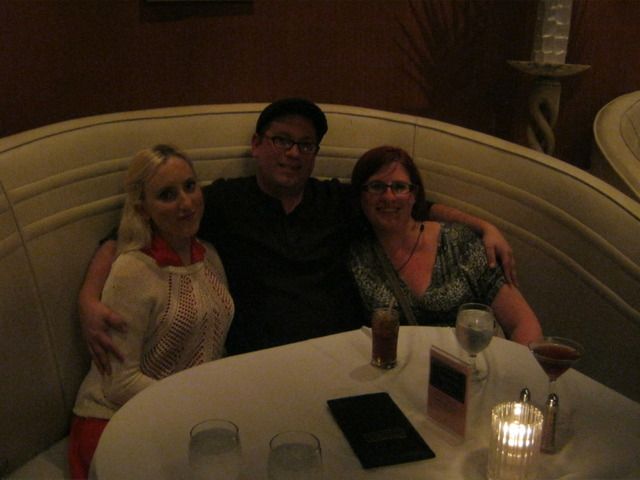 Andy's pimpin' with two ladies at the Dresden.
Saturday
Saturday we drove down to Orange County and hit up Newport Beach. Charlotte was really excited to be going to the O.C. as she's a big fan and get her American references from those crappy California teen soaps like the OC and Laguna Beach and stuff. So she was quite giddy. We got lunch, picked up towels and hit up the beach. Technically this trip was my first time to really play in the Pacific Ocean. You know, even in the summer I think it's too cold to play fully in the ocean in Washington State and when I went to Manly Beach in Australia, it was autumn there and a bit chilly plus I was kinda afraid of the poisonous jellyfish once I started seeing them on the beach. This time I had a suit and could go play in the waves. It was something that I was really enjoying until I decided to be impulsive and go fully underwater, forgetting that I was wearing sunglasses and in an instant my prescription sunglasses were swept away into the sea. That bummed me out. Andy had his parking ticket fail, I had my sunglasses fail. We eventually went a bit further south to Laguna Beach and turned around back up to Redondo Beach. We walked down to the Redondo Pier for dinner and Cinco de Mayo drinks (so Andy didn't have to be the DD). We went to Tony's for seafood dinner (felt bad that we were having a hard time accommodating for Charlotte vegetarianism, but she was astounded by the huge size of American portions, so what she could get was plentiful and I got to be the American to introduce her to the awesomeness of fried cheese.) We hit up another bar on the pier and watched a band that was playing covers. I had another surreal moment as ESPN was on one of the screens doing a show (on mute) about Magic Johnson, so while I was watching this band doing covers of feel good tunes by Tom Petty and such, but I couldn't take my eyes off the screen that was, for a while anyway, bumming me out with b-roll of '80's aids victims. It was fun though, and people watching was good too. Charlotte says drunk Americans are much funnier than drunk Brits. I guess I could see that, I only wish I could have gotten a recording of the one guy, towards the end of the night who just didn't give a shit about the dancefloor having cleared out and just danced away. He was quite entertaining.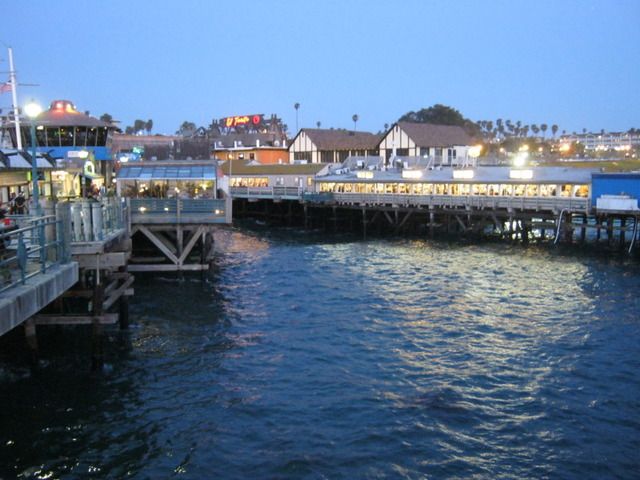 Redondo Pier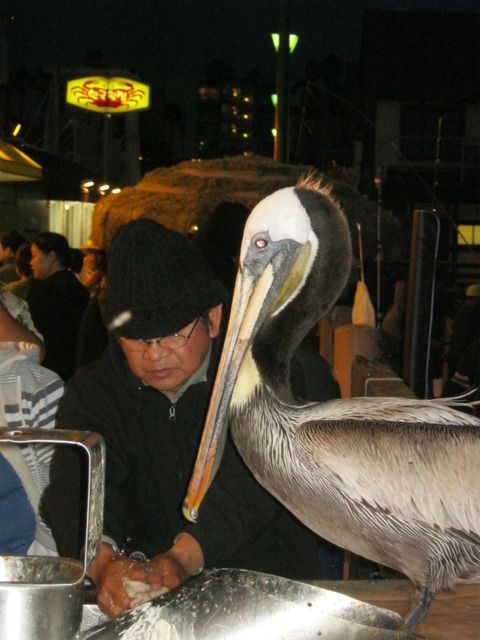 A pelican had perched himself at the fish washing station. Smart but he was a bit of a pest to the fishermen. Though that's a big freaking bird, I wouldn't mess with him.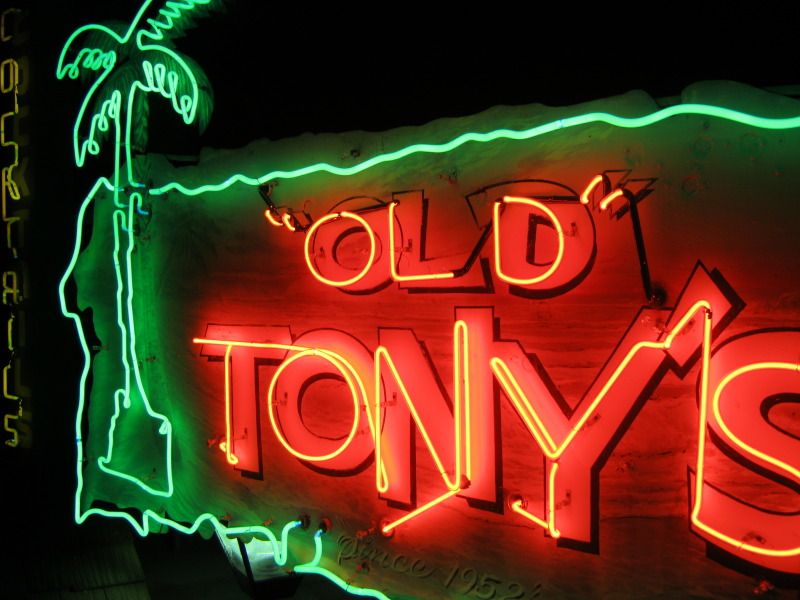 Our dinner spot.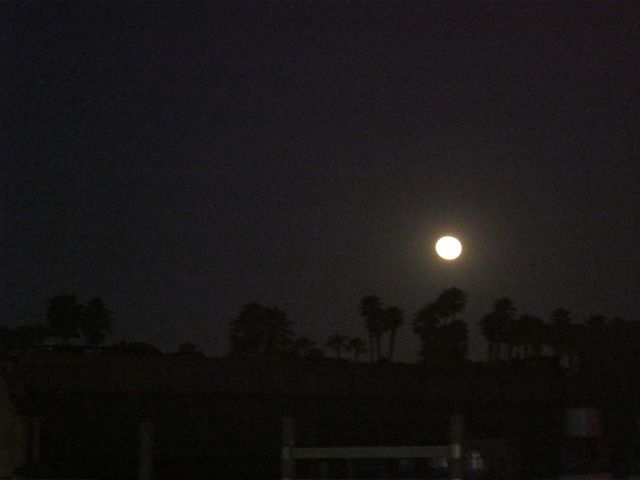 Cinco de Mayo supermoon!!
Sunday
Sunday Andy and I had our couple day and took a trip down to San Diego and Sea World. Between the Zoo or Sea World I easily chose Sea World because, although the San Diego zoo is the biggest in the world and they have Pandas, I've seen zoo animals, I haven't seen wales. It helps too that from age 5 to about age 9 I wanted to be a marine biologist. When I was a little girl, how some girls are about horses I was about wales. So it meant the world to me to satisfy that child-Mir. I even got a little verklempt at a couple of points. We sat in the "soak zone" for the show and got a little wet when the orcas splashed us but we didn't didn't get as soaked as those around us. But hey, you don't go to a place called Sea World to stay dry, do you? We saw the Shamu show then went to go see the dolphins. ("So long and thanks for all the fish.") Andy's wonderful and sprung for the extra Dolphin experience, where you get to pet and play with the dolphins in small groups. I TOUCHED A DOLPHIN!! It seemed to go by really quick but it was an awesome experience. We got video but I can't get it to upload to photobucket. After that we hit up the penguin enclosure--Andy's favorite animal. Given more time I would have done the log ride, and the tower but I was more than pleased with my Sea World experience. Dorky as it sounds, it was the highlight of the trip. After Sea World, we went into the Gas Lamp district of downtown San Diego for a lovely posh dinner at a jazz bar & restaurant. Nothing like enjoying a lovely sea bass after a day at Sea World. heh heh.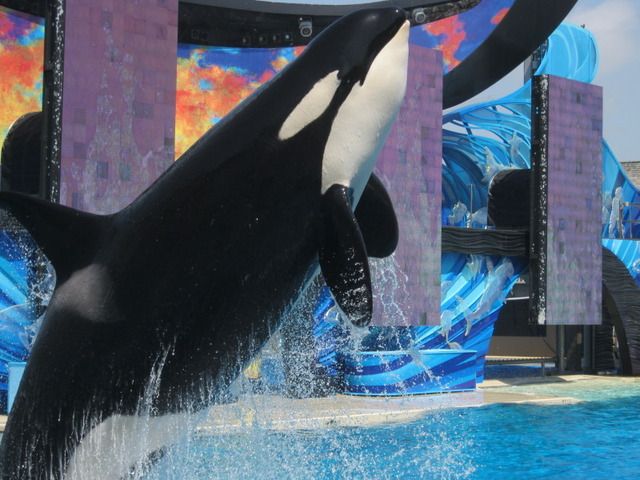 This is my favorite shot from the whole trip!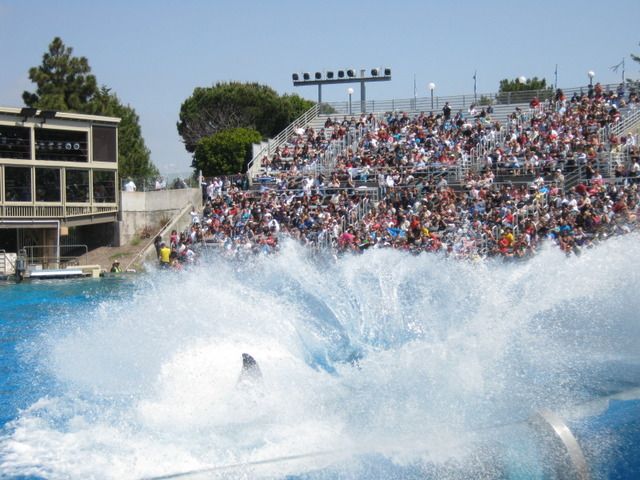 Big splash!!!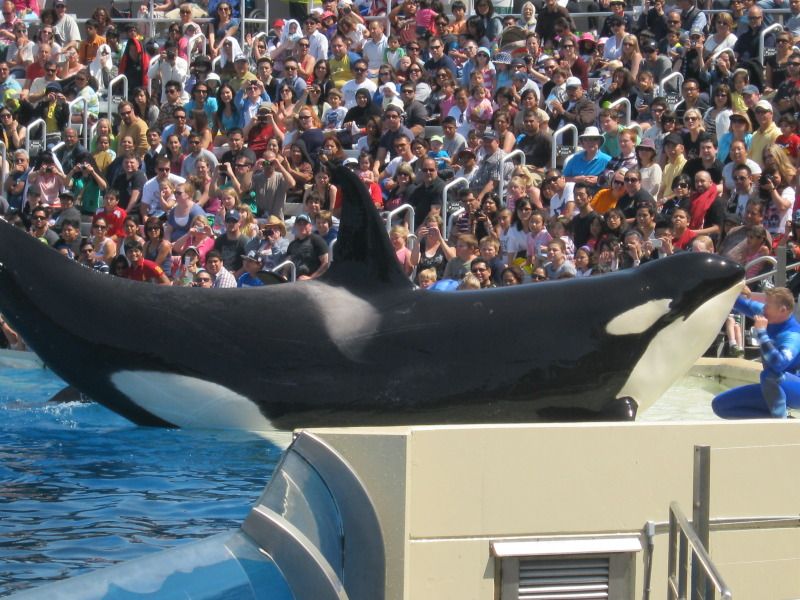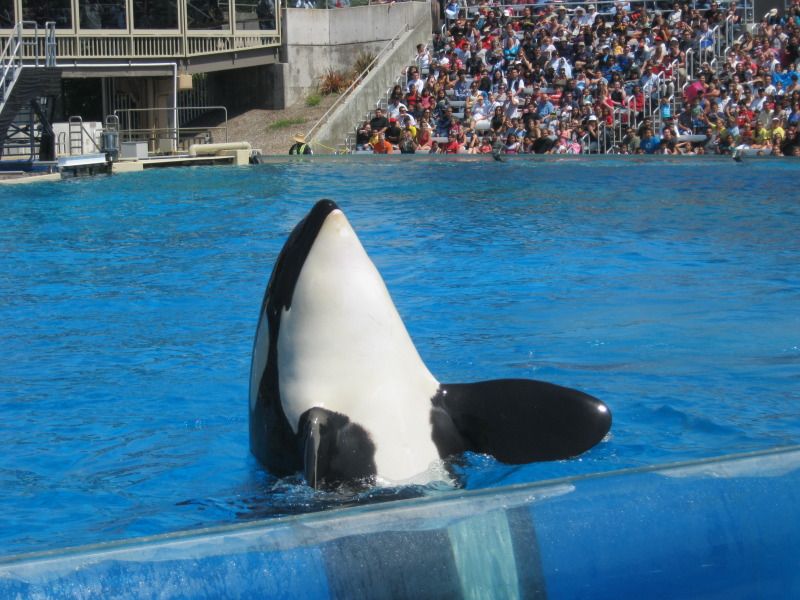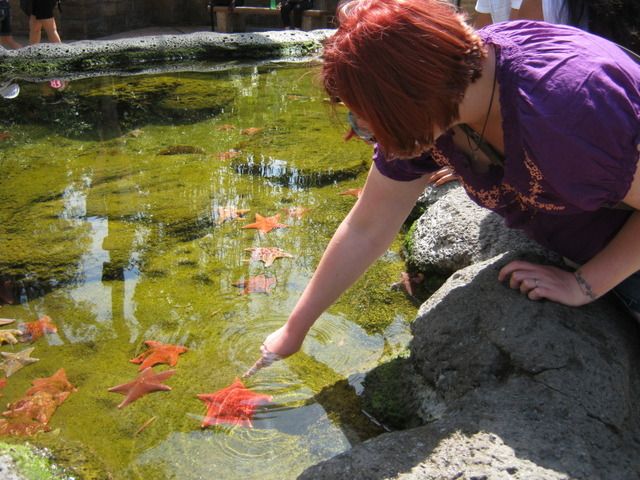 My first time touching a starfish, for some reason I was scared. I think I"m afraid the whole staying still thing is just a front.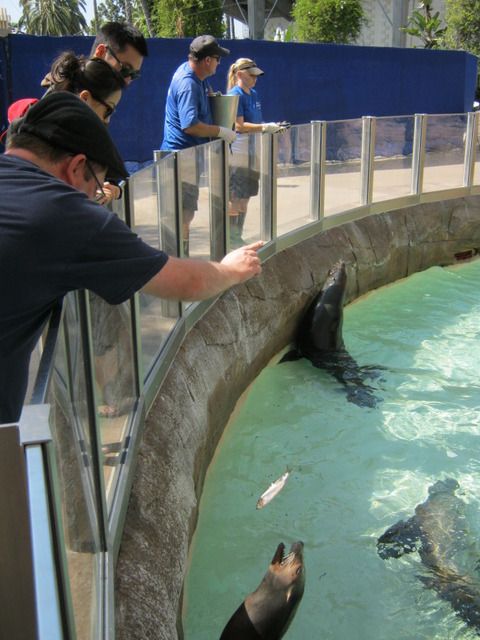 Andy feeding a seal. I fed one too.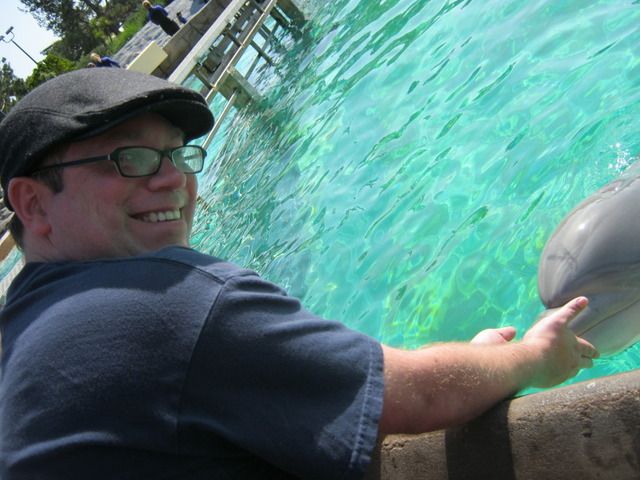 Andy touching a douphin!
Me petting a dolphin! His name was Cortez. Aint he cute? I should have said "you're welcome for all the fish". I sadly didn't feed him fish.)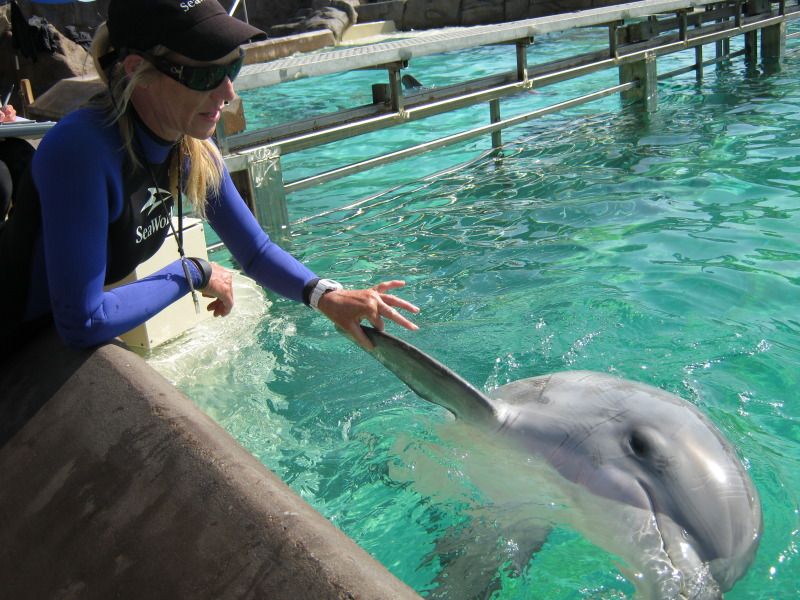 Cortez and the trainer. To think that could have been me if I didn't decide I wanted to be a writer (partially Douglas Adams fault).
Sleepy penguin!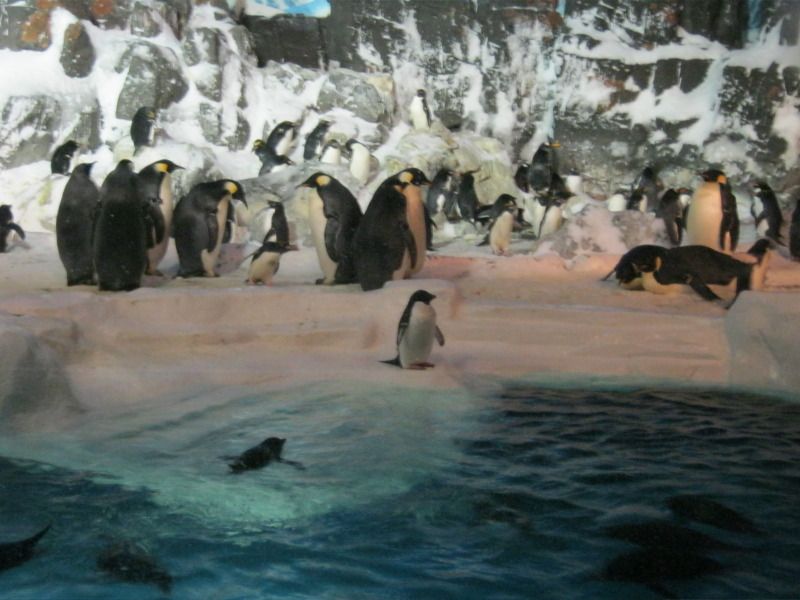 A Plentiful amount of Penguins!!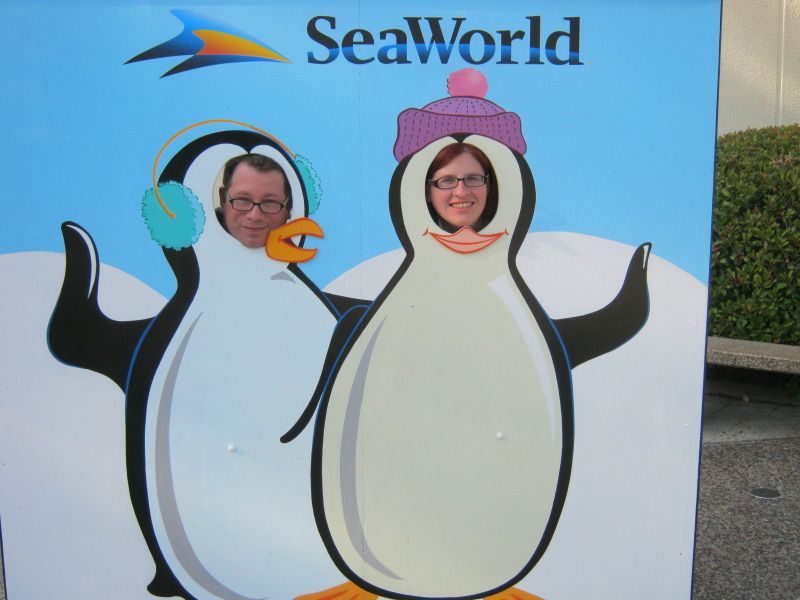 Monday
Monday we met up with Charlotte and drove around for some more sights. We went to Beverly Hills, drove by the Roxy, Viper Room and Whiskey for photos. We got lunch and then hit up the La Breia Tar Pit (smaller than I expected from seeing it in films) and went to the LA County Art Museum. I love going to art museums in new cities, it just adds to the amount of art new to me. Plus, I have a special place in my heart for the movie LA Story and that's the museum Steve Martin roller skates around at. The museum is huge with 6 buildings. We didn't have time to see all of it, but modern art was the bit I was most interested in. There was a good a number of Picasso's, two of Warhol's Campbels Soup cans, Margarette's "This is not a pipe" (my laptops desktop for years), and Andy's favorite painting was there. There were also a number of Rodin's outside. The only bummer was that the shop was under renovation so I couldn't get postcards of the pieces I liked (as I am strictly against taking pictures in museums--it would only be okay if I was recording Andy on roller skates.) After that we utilized the hotel's pool for a while before we had to leave Charlotte again and took the two hour rush hour LA traffic trip to Dodger Stadium for their game against the SF Giants. I've only ever been to Safeco and Coors Field (Rockies--my family lives in Colorado) so I wanted to see a new stadium and watch different team. I think I want to do this more often when I travel domestically too--and even though it's only 50 years old it's one of the oldest staduims left in the country. Magic Johnson (again) was there as the new owner of the team. The game was good, with some great plays, though it was rather embarassing for the SF fans when the Dodgers got five runs in the 8th inning. The fact that there's a big rivalry between the two teams made it even more fun in the stands. The fans, on both sides, seemed way more enthusiastic than Mariners fans, there was less stuff going on on the big screen to keep folks "entertained" I felt. The people were much more into the game and talkin' trash. They did however have a mass exit after the 7th inning stretch of people trying to beat the traffic. All those folks missed the biggest inning of the game. There was even one family, near us, who left in the 3rd inning to avoid the traffic. that's just silly why bother going at all? Oh yeah and it was free cooler night so I went home with a hat Andy bought me (very useful after loosing my sunglasses) and two free Dodgers coolers. We picked up some booze when we got back to Redondo and drank brandy and packed our bags for checking out the next day.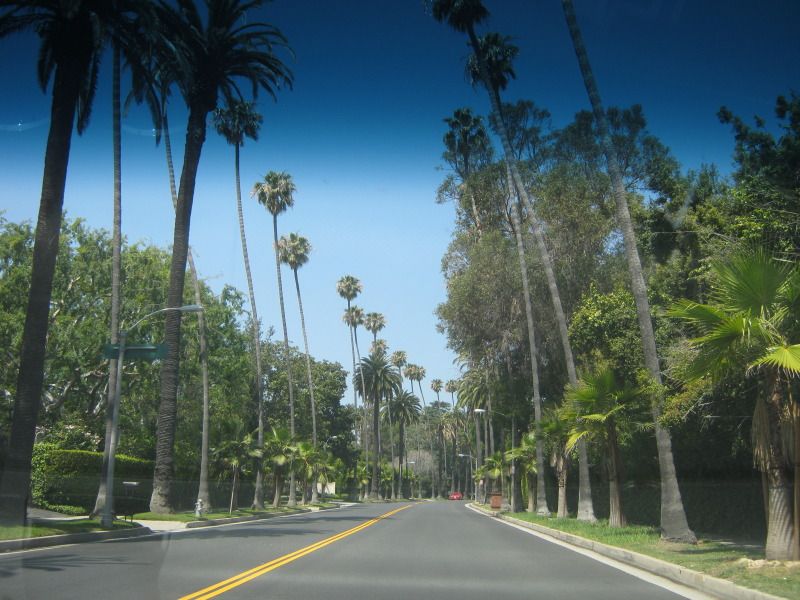 Beverly Hills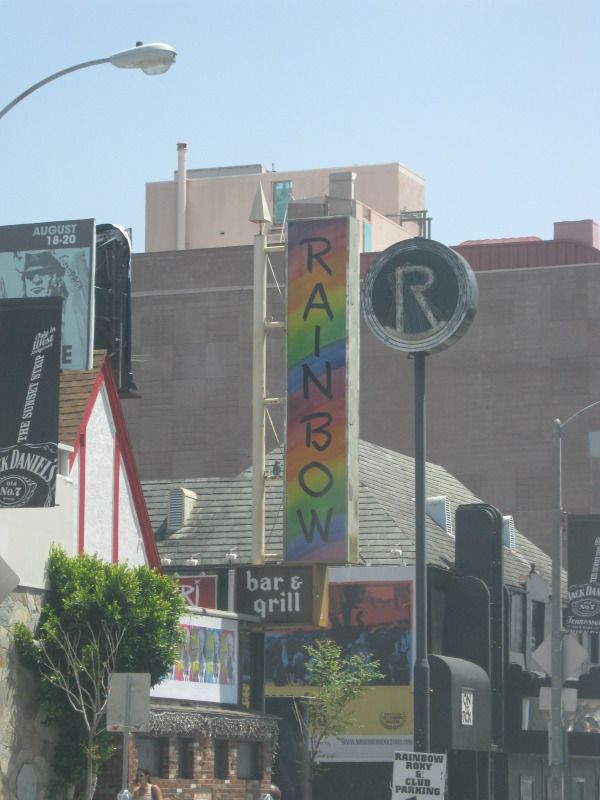 The Roxy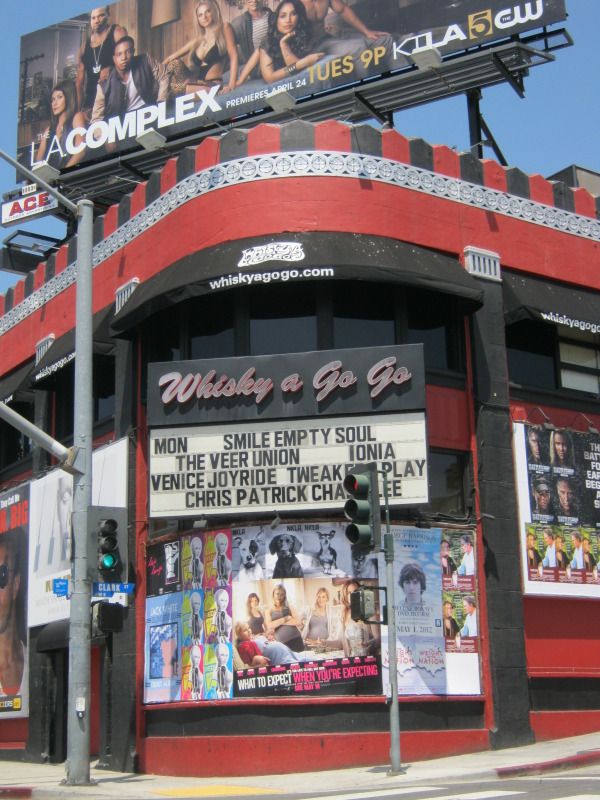 THe Whiskey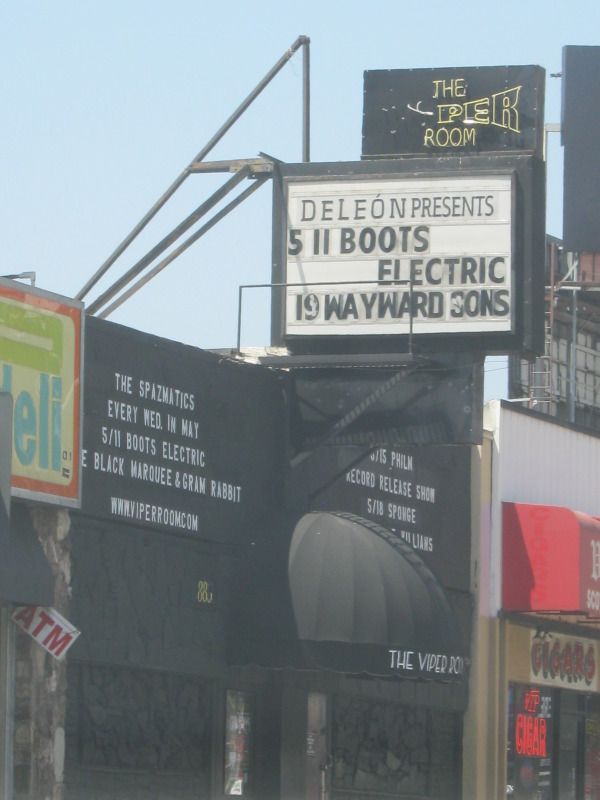 The Viper Room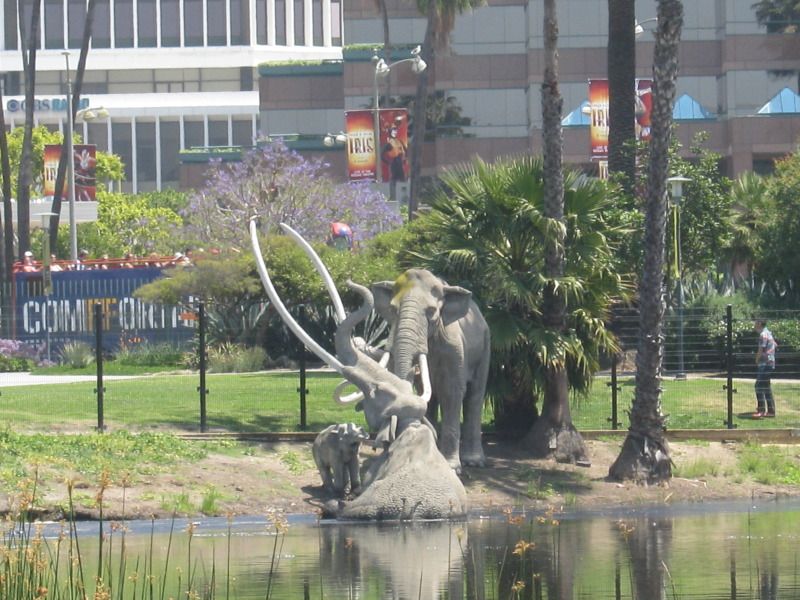 Tar pits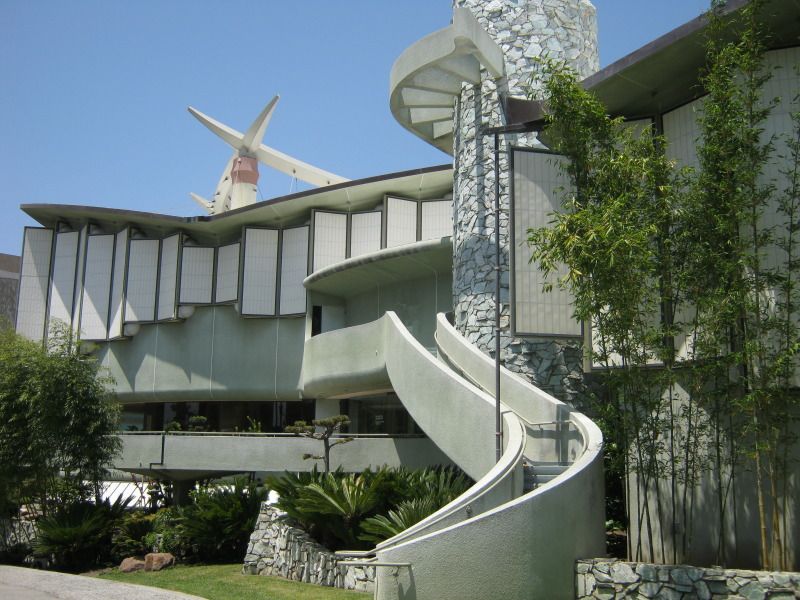 Part of LACMA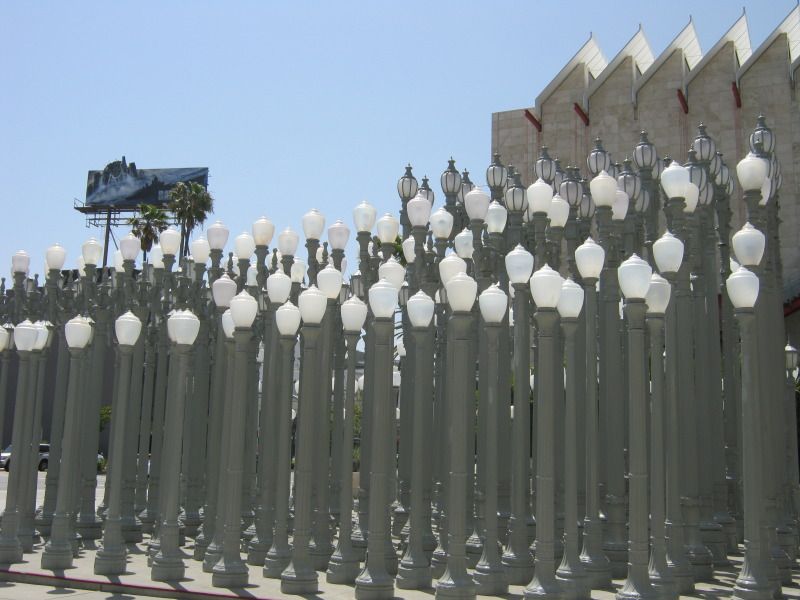 Outside LACMA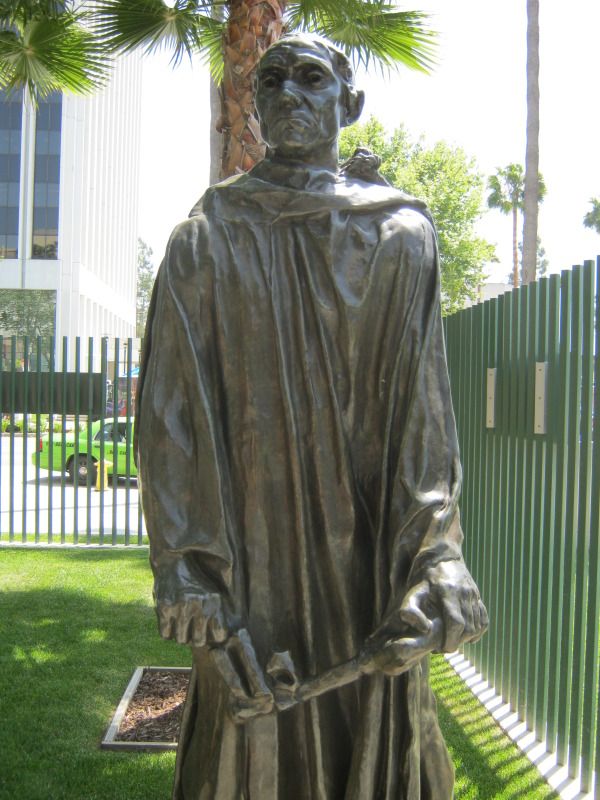 Part of the Burgers of Calais, the Rodin I wrote my paper on for the Paris class back on 2004. Seen it in Paris, London and not part of it in LA.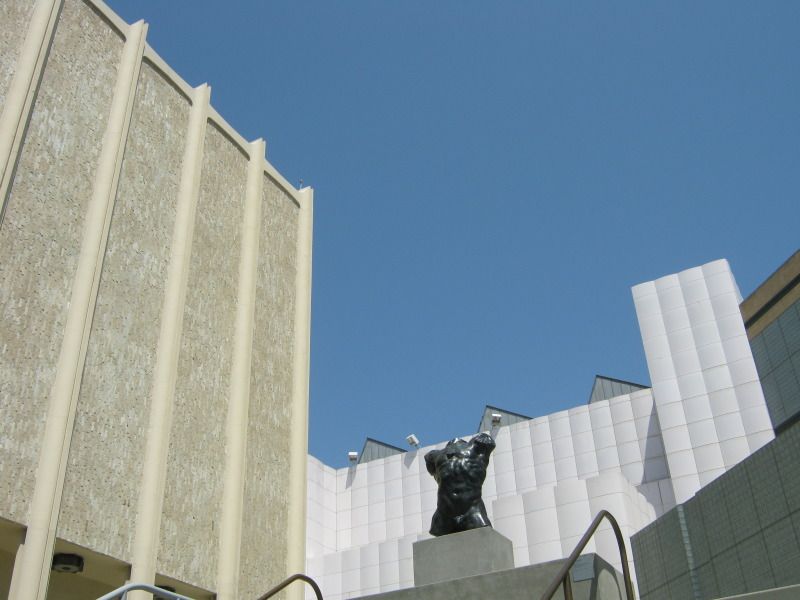 LACMA & Rodin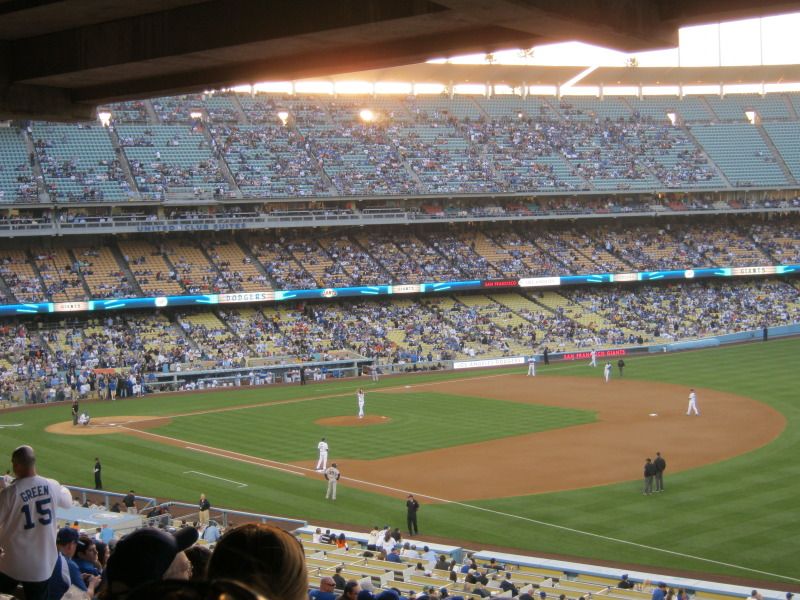 Dodger Staduim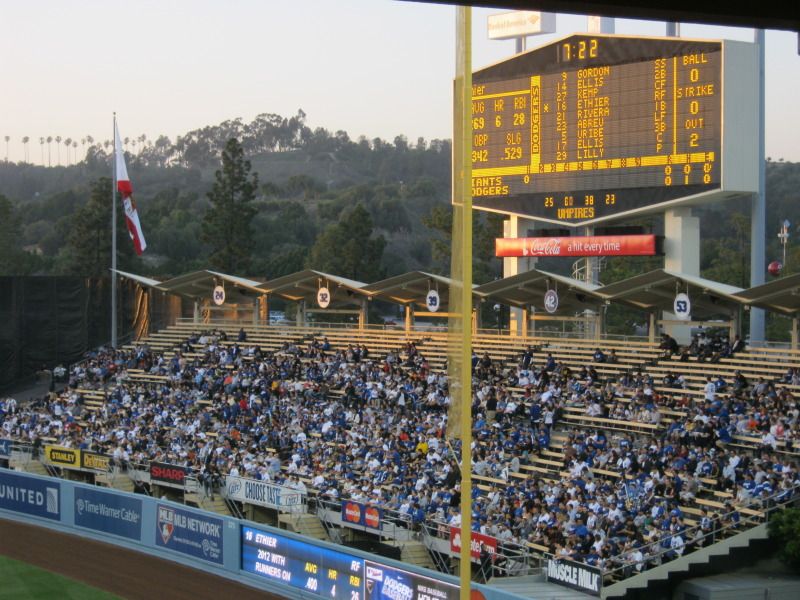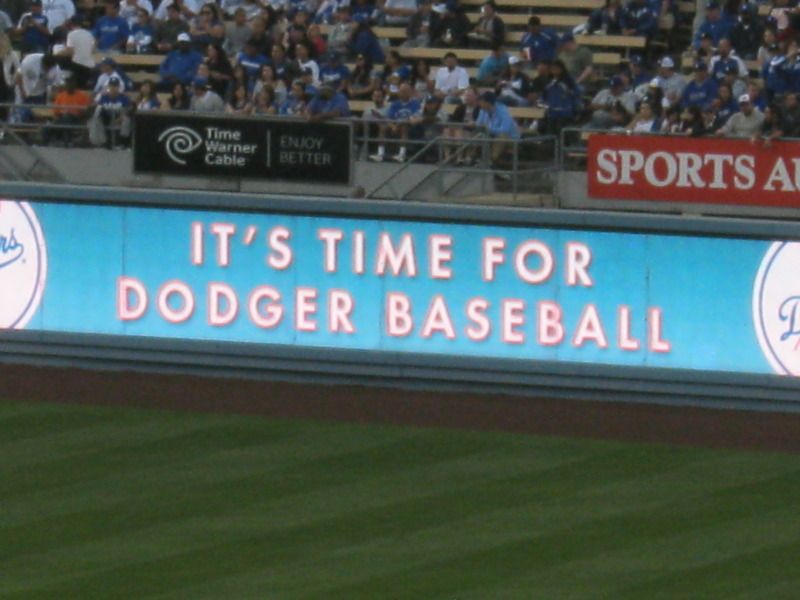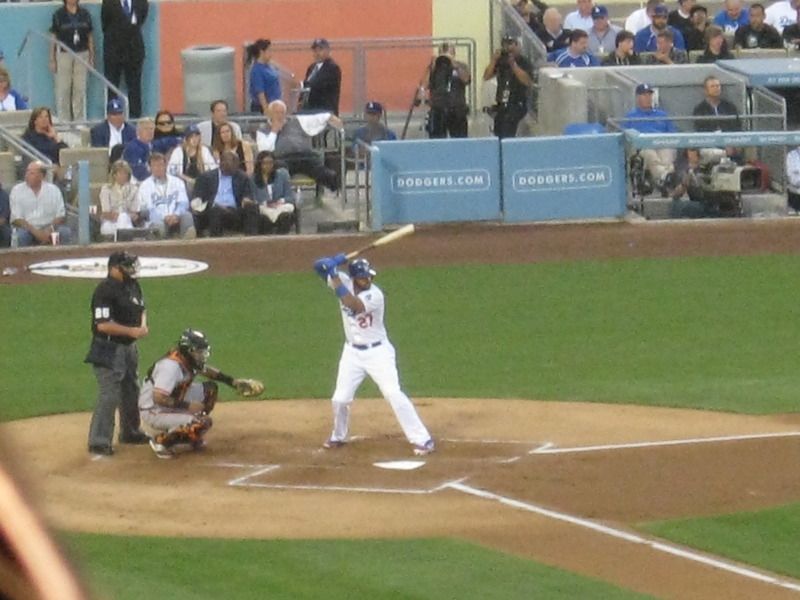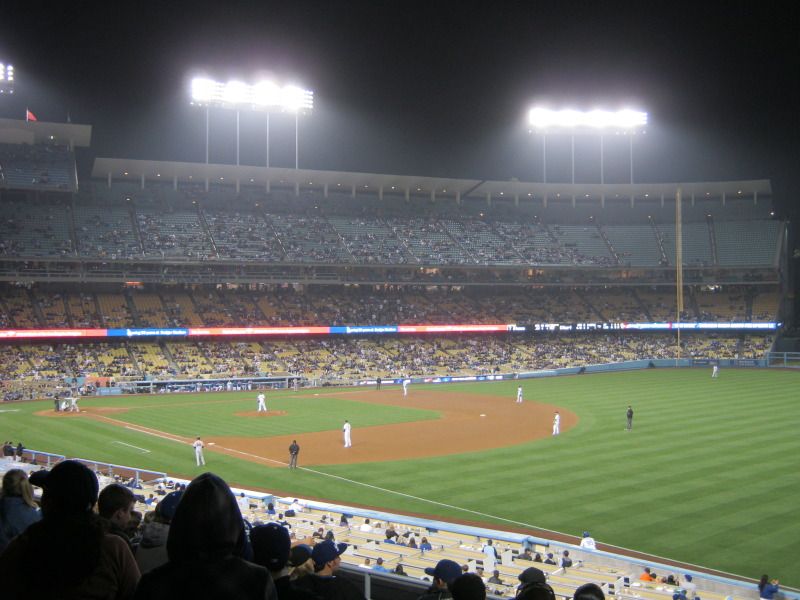 View of LA from Dodgers Stadium
Tuesday
We had to check out before 11 but our plane wasn't leaving until 7:30. Charlotte wasn't heading back to London until the next day. So we had the morning and afternoon to kill. We got lunch then went to a family fun center in Torrence, and introduced Charlotte to miniature golf and skee ball. We also went on go carts, played air hockey (Charlotte actually beat both Andy and me, which is doubly impressive as she's so little she had to really run around from side to side because her arms are too short to hit the puck in the middle of the table) and won enough tickets to get a set of cheap handcuffs. We dropped Charlotte off back at the hotel and hung out for a little bit there before saying our good-byes. I'm really glad I got to see Charlotte. It dawned on me that I last said good-bye to her on a disgustingly rainy day on New Cross Road on my way to the airport to come back home. This time I got to say goodbye to her, newly sunburned under the afternoon LA haze with plans to see her again when she comes to visit us in Seattle over thanksgiving. I'm looking forward to that, and shoing off my city (even though the weather wont be nice). Both she and Andy had been to LA before so the city was all new to only me but at the same time, this was my chance to be an embassador for my country to my friend who I spent a year doing a bit of cultural exchange with on her side. Anyway, on the flight home Andy and I got to enjoy a lovely sunset and even got home a bit early. My pops picked me up and I was able to give him and my mum their swag and come home to a Sparky who I really missed while we were away (though he had a good time at the neighbors and finally made friends with our neighbors new-ish dog).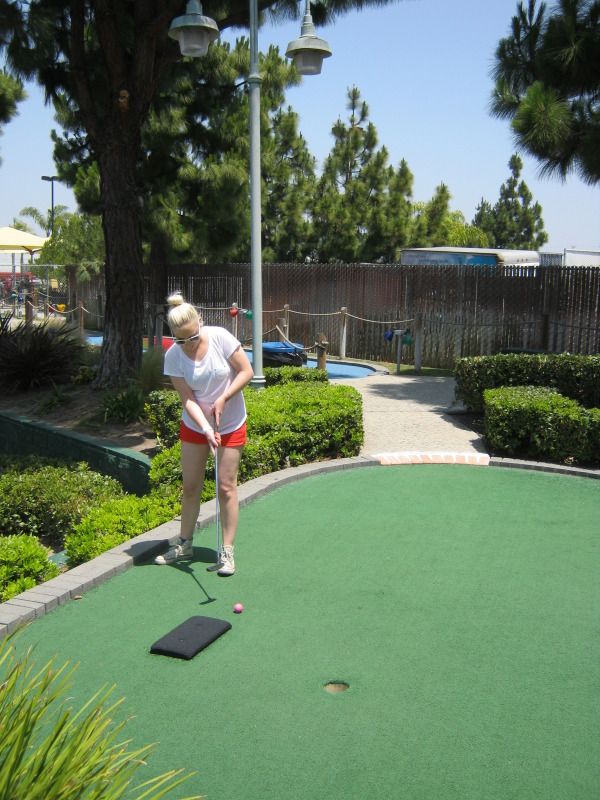 Charlotte's first game of mini golf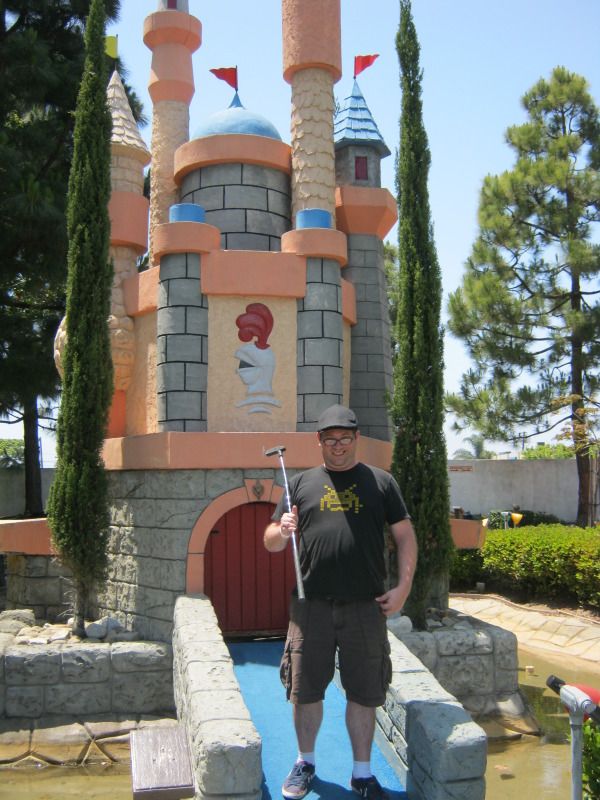 ...where the castles are made of fiberglass and paper mache.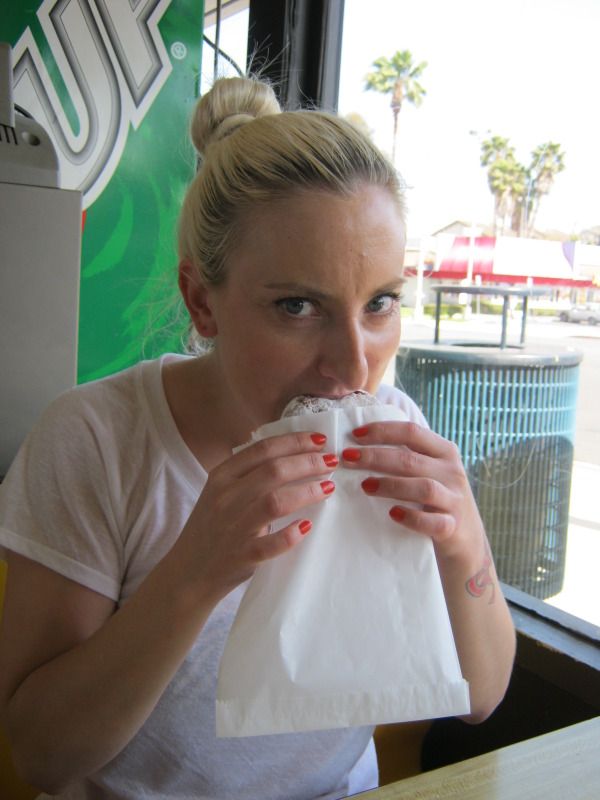 She aslo tried her first powdered doughnut.(and she doesn't look happy about me documenting it)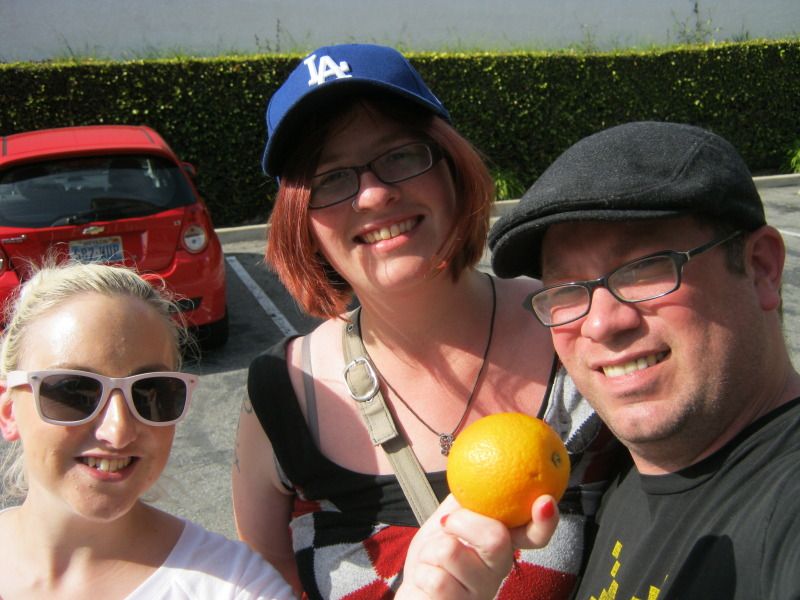 Last groupp shot (with even our little rental car in the back ground) With an orange.
It was a really good trip. It was good to get away for a little bit. I got to travel new earth and do loads of new things. I will say I felt like I spent a lot of time in traffic (but that's just LA for ya) and eating (and that's just vacation for ya). I'd like to spend more time in San Diego someday but I loved my Sea World trip. LA wasn't high on my list of places to go but I'm really gald I went there. I had some surreal experiences (I almost forgot to mention the "Doggie Disco and Social Club" we saw across the streat from where we got that parking ticket), some good sight seeing and the feal of new earth under my feet, or, since it's LA, under the tires of our rental car. I enjoyed LA, I could never ever live there, but I had a great time!
We're back from vacation in SoCal. Now it's back to the grind. *sigh* But it was really good to get out of town for a while. And part from a couple of shitty hiccups in our luck, we had a great holiday.
Current Mood:

tired