After going home to dry off and relax a bit Andy and I took Sparky over to Raye's for her Pride Party. It was a pretty low-key party for the most part (which is why we could bring the pup) although some of Lindsey's friends were having a bachelor party and they came over. It seemed weird at first to have all this gaggle of early 20's straight boys walk in to the pride party but they were actually all really cool and nice guys. I also got to see Derek and Ryan who I don't get to see very often so it was good to catch up with them. Sparky got lots of love from random folks and we took off about a quarter to one or so when Sparky looked really tired.
Sunday was a first. It was the first time I went to the Pride Parade (in Seattle) and I wasn't hungover. Raye said the same, somehow despite the mass amount of jelloshots she made for the party....
Even though last year I got to go to two pride parades, in London and Brighton, it wasn't the same because I ended up going to both of them by myself. Though I had fun it's a completely different experience and didn't really feel like pride because I wasn't sharing it with my friends. I remember feeling really homesick when I saw my Seattle firnds posting about Pride Weekend, I felt so far away. Even though this year Pride kind of snuck up on me and I don't think I made as big a focus on it all weekend as I usually do, due to other commitments, it still felt right to be celebrating Pride with the people I care about. I welled up a little during the parade just to be back at our usual spot with Raye and Andy, waiting to see our friends (Dorothy, Astro, Dani, Anna) pass by in the parade while my tummy grumbled in anticipation of the traditional post parade lunch at honey hole. I didn't go with the others, after lunch, to the Seattle Center but I was very pleased to participate in our traditions and feel at home again.
Waiting for the parade to start.
Dorothy walking with the Sisters
Raye is fruity!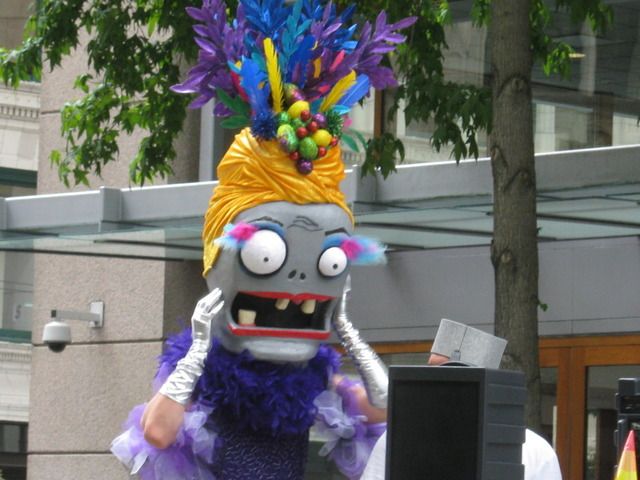 What the?
The single float, that I saw anyway.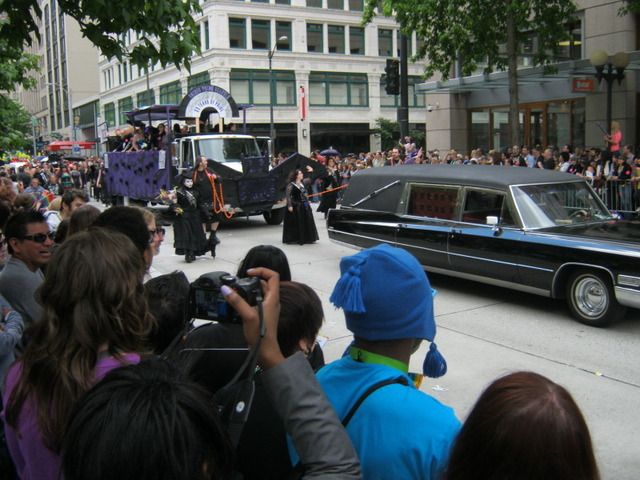 The goths come riding in. This is where Astro was but I couldn't get a shot of him.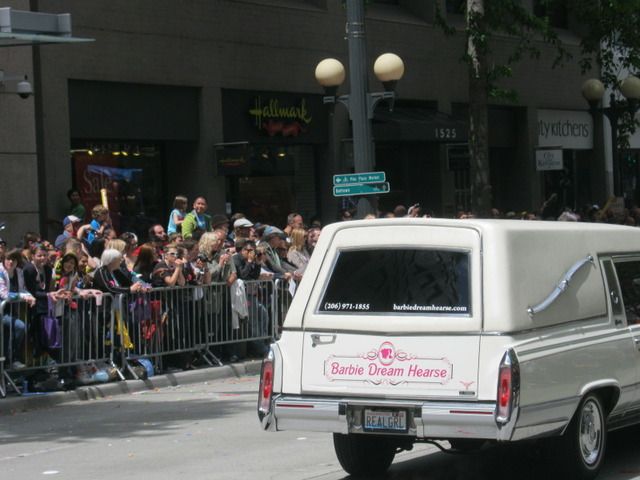 Ha the barbie dream hearse. Clever.
Finally, Monday night the Staley family went for a Mariners game with Jaden and Arch. We were near the same section we were at last time, the same one Jaden was in when he caught the ball last time, which are really good seats, and right next to the bullpin (of the opposing team anyway) The M's lost to the A's and there weren't a lot of hits in the game at all and only one run but it was good times. Andy got to see the stadium roof close for the first time and I got my shishkaberries so all was right with the world. .
A's bullpin right by my seat!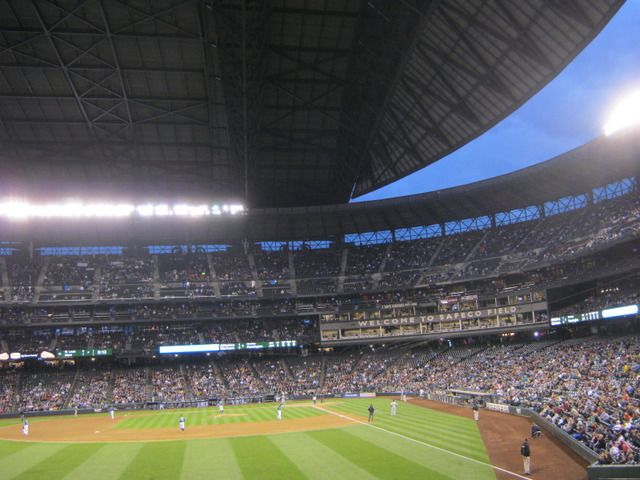 It was a very busy Pride weekend but a very good one. Saturday was the annual softball game of Theater Schmeater vs. Annex. We were to play rain or shine and although it was not raining at our place when we left it sure was by the time we got to Garfield. Also it had rained all night before hand so the softball field was a dangerously slippery, sinking mud. Luckily as it was still raining, no one else was using the professional field that was all AstroTurf so we used that field and played for hours in the ongoing rain. I'm really proud of us for staying the course and playing in the inclimate weather, especially since Andy and I only brought one hoodie and we traded it back and forth. Playing paid off for the Schmee because we got to keep our undefeated title and clobbered Annex to the tune of a final score of 36-0. Yeah, that's right 36-nothing. We even handed over a couple of our batting innings before they got 3 outs, and still whooped ass. I wanted to post photos but the photographer hasn't put them on FB yet so, I suppose I'll have to edit them in later.