Monday we waited on pins and needles, not expecting to hear anything although the guy called Andy and asked when we could hypothetically move in. We said Nov 1st. He said we'd know "early in the week." So when we didn't hear anything on Tuesday, we were disappointed. Andy had a really bad day but we went over to Raye's and Raye, Lindsey & I carved pumpkins. I still had hope for Wednesday but again...nothing. We were both pretty bummed out about it and Andy treated us to a fatty french dinner at Bastille in Ballard to lift our spirits over the ship that we figured had sailed. Then this morning (of course the morning I left my phone on the charger at home) Andy got a call and WE GOT IT!!!!!
WE'RE MOVING INTO A HOUSE!!!!
I've got pics that the landlord sent us, which actually make it look a bit nicer than the state it was in when Andy looked at it and took his own pictures but it's not much different.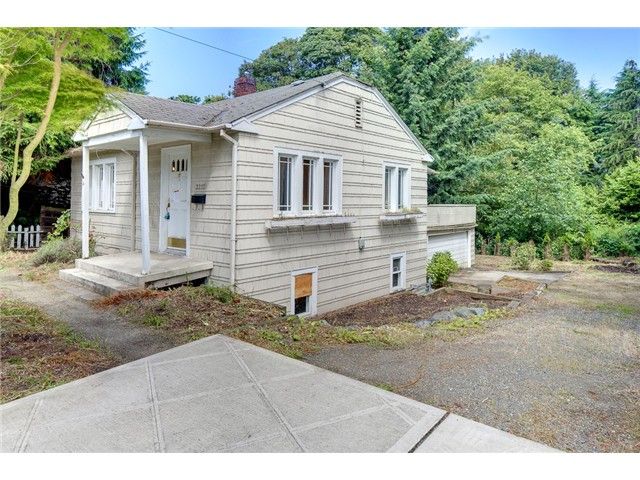 This is 1/2 of the front room. It has a mirrored room to the back from where this picture was taken
THe upstairs bedroom, most likely office
Kitchen, I haven't had a dish washer since 2002 and I've always wanted a double sink. I've never had a gas stove. Andy will have to teach me how to use that so I don't burn the place down.
THe dinning room!!
Huge deck over the 2 car garage!
Downstairs bedroom.
Upstairs bath
Downstairs bath
The basement. According to Andy this is about the size of our current appartment (sans bedroom)
Okay Andy's just about finished with dinner I should stop there but OMG OMG OMG!
**EDIT**
Almost forgot to mention that it's on a bus line (an absolute must for me) and it's walking distance to both Discovery Park and the Ballard Locks (through a fun super secret way I found last year). As long as the gates are open, Downtown Ballard is actually an easeier walk during the day than our old place. Lame bit is that, becasue it's sleepy Magnolia, the bus service stops at like 10. I'll have to take the D line to Dravus and have ANdy pick my ass up at the QFC methinks if I'm out late. Or just catch a cab I suppose. Good news though commuting to work no longer have to put up with the D line. BAM!
So Andy found this house on craigslist in Magnolia for 1400 a month 1752 square ft. with a two car garage. Andy jumped on it, took an afternoon off work to go look at it and talk to the land lords, gave them the application fee and on Saturday we sent in our applications. If you saw us at all this weekend, we talked about the house at length, sorry about that. Andy swung by for me (and Dani who was with us) to look at it from the outside. It's huge. It's got a big deck, back yard, depending how you look at it a huge long or two front rooms, a basement and downstairs bedroom, washer and dryer, fair sized kitchen big dining room with a fireplace. We wanted it so bad.
Current Mood:

ecstatic

Current Music:

Madness- Our House