Saturday was my 30th birthday and I'm happy to say that I had a really great birthday!

The original surprise for my birthday was to go to a gun range--something I've never done before. I've wanted to do it for a while. I'm not partial to guns but I'd be lying if I said I wasn't curious and I feel I should try something in order to argue about it. However, on Friday after the shooting at the elementary school, there was no way that was going to happen. I'll take a rain check on
that one and I'm really glad my friends and Andy decided to come clean about the surprise and ask how I would feel about it because, yeah, I couldn't enjoy that right then. I'll take a raincheck. So they had to scramble and come up with a new surprise. They instead took me to the Tacoma Art Museum to go see the Andy Warhol exhibit! Yay!

By happenstance, there was a woman with two camels offering rides outside the art museum (Tacoma...strange place) so I still crossed something off my bucket list that morning.
After the exhibit (which was nice, btw I had no idea Warhol had a bid in to decorate the Tacoma Dome with a big flower, kinda sad that never happened) we went to the waterfront and had a nice seafood lunch and drinks at Shennanagins.

Thant night I had my party at Chez Raye & Lindsey. I went for a "dress as your favorite alcoholic writer" theme. I went as Raymond Carver (I bought a flannel!) Andy was Bukowski and I was excited to see who other folks dressed as. When we got all our stuff together and eventually found parking we headed to the stairs to find that Raye had dressed as Mir. awwwww.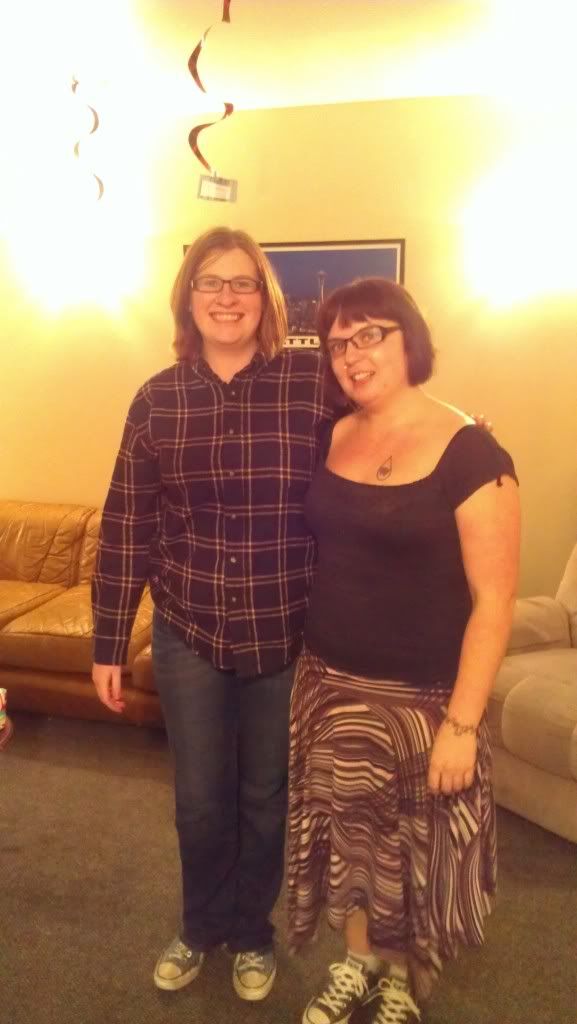 There were also all these quotes dangling from the ceiling, and Andy got me a 1960s typewriter that was placed in Raye's room for folks to write messages on for me, which reading later was hilarious.Typing on a mechanical typewriter is difficult enough, I've learned after being accustomed to keyboards, but add some booze to the equation and it's ridiculous! Friends showed up — some in costume some not so much. Dani and Sarah were looking hot as Dorothy Parker. Dorothy was Poe and was in character all night and cracked me up so much, it was fantastic. I was very happy with the turnout of friends. Lots of good friends, old friends and new ones as well. I got spanked heavily. I got great gifts, lots of Tardis stuff, yay! I was handed Absinthe and tequila on top of my usual drink. There was a beautiful cake with a typewriter on it. Thing is for this post, I'm missing pictures because my phone stopped taking them that night so most of them are on Andy's phone. So you'll just have to take my word on it. :)

At one point, we headed over to Ryan's party for a little bit down the alley (too many December birthdays). On the way out, I was trying to close the door behind me and the door out of the hallway to outside was opened and the suction of the wind slammed the door shut on my ring finger. My finger exploded (okay the padding of my finger burst open but I think exploded sounds better). I naturally exploded into loud expletives in the hallway at one in the morning. Oops. My finger is still wrapped up today. I guess it aint a party unless Mir gets hurt. Doesn't change the fact that I had an awesome birthday.

I was going to post this all reflective coming to terms with my 20s ending and facing 30 but what really is there to say? I've done pretty well in the first decade of adulthood. I've learned a whole lot over the years and accomplished goals I had. Toward the autumn of my 20s I fell in love with the person I want to spend the rest of my life with and things were just starting to go right for
us and we're finally at the place where we needed to be for me stepping naturally into 30. That doesn't mean I'm done learning. It certainly doesn't mean I'm done having fun (and probably hurting myself in the process) so, what else is there to say, really? Just that there is plenty to look forward to.
Current Mood:

accomplished