I'm rather sad that the holiday is over and now it's back to work. The four days went by way too fast. I had a very nice x-mas, though. Friday we went to an ugly sweater party at Andy's co-worker's huge house. The party was good, great food, open bar, ugly sweaters. It was at that party though that I learned something new about myself. Maybe it's a post turning thirty thing but I've completely lost my taste for Jack Daniels. Just doesn't taste good to me at all anymore. It's very strange. Guess that makes me a Jameson girl now.
Saturday we had to take Vyvyan to the vet and do last minute xmas shopping. Sunday I did the traditional baking xmas cookies with my mum. The is the second year we tried the sugar cookies with splenda and the dough just isn't the same, it's so much more difficult to work with. I made one batch with the regular recipe and it was actually a delight to work with after struggling with the flakey, annoying splenda kind. Frosted the many cookies while watching the Seahawks kill the 49ers with my dad and Andy. Xmas Eve, went back to the folks for the evening. We opened our stocking gifts, ate roast beef sandwiches and snacks, watched A Christmas Story and Andy & I enjoyed many white Russians.
The thing about this xmas was transitioning into new traditions. For me xmas growing up was always the same, xmas eve was presents under the tree and drinking and snacking xmas morning was Santa's under the free gifts and stalking (and after Santa of course simply stocking gifts.) This year, with Andy and my life together finally moving forward, it's time we start our own traditions.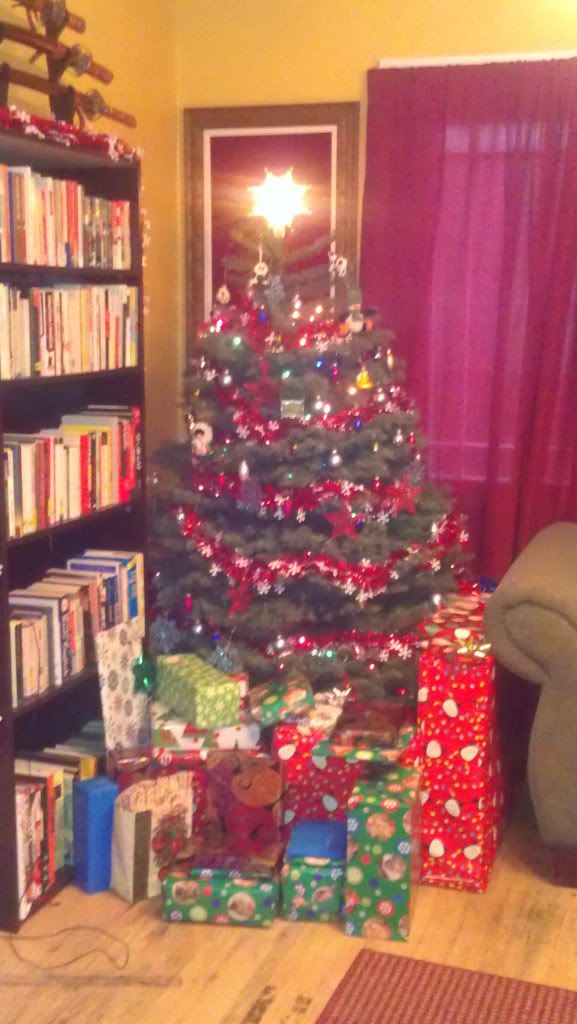 We hosted xmas morning and presents exchange at ours this year. My folks came over and we exchanged gifts. I didn't have a lot of money for presents this year so I focused on my rents and Andy. I wish I could have gotten Andy more, but I think he's happy with his new pots and pans set. It's been a rough year for my folks, especially recently so I had the idea that we get them something they need but wouldn't get for themselves. Andy and I went in on getting them a flat screen television. They were overdue. The TV they had I think they got when I was in middle school, though I'll still gladly take the hand-me-down to put in the basement to get a start on making that room into an entertainment room or Andy's man cave. They were delighted and that really made me happy!
I made out really well gift-wise. I got a some british comedy, a Noel Fielding book, Dalek socks, a new purse, a panda sweatshirt, an autographed photo of Jon Stewart and one of those shirt folding things that Sheldon uses!


After presents, Raye came over and we all had a roast beef lunch together before heading out to the movie theater to go see Django Unchained (well my mum saw the Hobbit instead). It was good and great fun to have a Terrintino Xmas. Afterwards, we all came back to our place for a drink. I discovered the bourbon my folks gave me for xmas was quite good indeed. My folks took Raye home and Andy and I had dinner as I watched the new Doctor Who xmas episode after much anticipation. Then we finished off the night by playing the board game I got him. All in all it was a very, very lovely xmas.