After dinner we had tickets to the Music Man at the 5th Avenue. For once this was my treat. Andy has been so awesome the past Valentine's day and paying for everything. This year, when I saw that the 5th ave was doing The Music Man in February, Andy's favorite musical, I was all over that shit. There's plenty of jokes too about role reversal where I'm the one buying tickets to a musical. I have been looking forward to it too for weeks (I also grew up with and love the music man). So after dinner, we took the short walk over to the theatre and outside, across the street there was a high school marching band playing. It took me a second before I realized that it was a brilliant promotional device. We enjoyed the band while we waited for the house to open.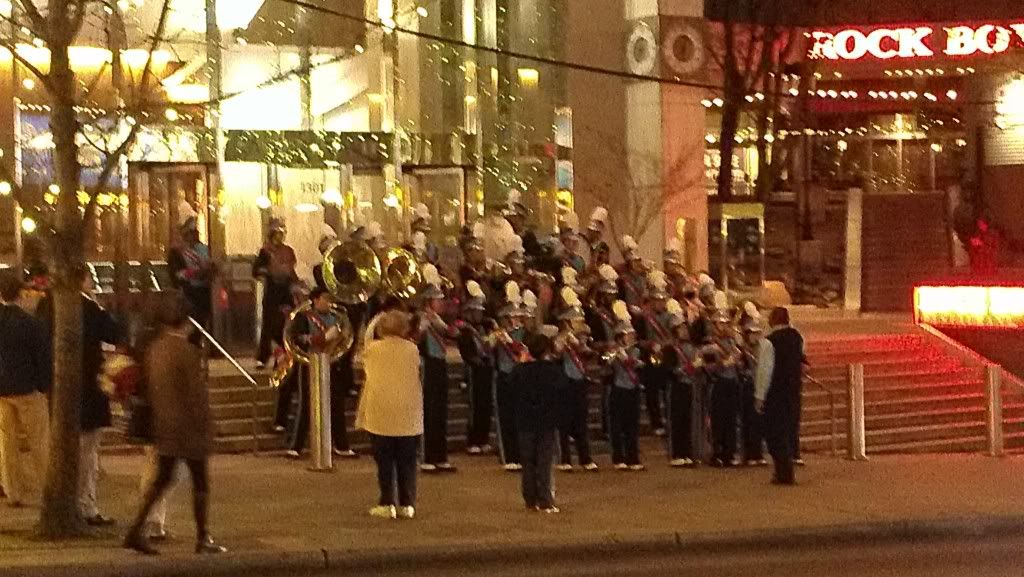 Andy hadn't been to the 5th Avenue before so he got to see one of Seattle's great old theatres. I realized that I hadn't seen a big production since I was in London, and let me tell you it was nice to actually see a big show with a date to talk to and share with. With the exception of the one show I went to see with Charlotte, I saw every show in London by myself and drank a LOT of wine and embarrassed myself in front of the theatre bartenders...because I had their job and fond a friend in them.
So as for the show, we both really enjoyed it. I have one major complaint which was that the lead was more of a dancer than he was a singer. He sane some song, the ballad in particular and a couple of others well. But his voice was exceptionally weak on two song. the Marion Librarian song, which is my favorite, and 76 Trombones which is the MAJOR song of the show, He was also a little bit weak in the 'Trouble" song. However, he was still quite charming and an EXCELLENT dancer. I can't fault him there at all. Where he lacked in voice (which bothered me) he WOWed me in how light on his feet he was and what an amazing dancer he was. Andy was also annoyed by one set thing was that the Paroo house looked, to Andy almost Indain, in style. It didn't bother me, I think it matched the time period, but I would agree that it was far too ornate for the family's income.
But enough aboutl the faults because they were way out-weighed by great things about the production. The first thing I noticed while reading the program was that only the two leads were from New York. The whole rest of the ensemble were all local equity actors and that makes me very happy. The costumes were fantastic, the set was great (short for the one thing though I loved the art neauveau trees.) The mayor and his wife were hilarious. The barbershop quartet were great as well. Andy got all giddy when Shipoopi came. Even the goddamn kid made me go 'aww'. Apart from my one major complaint I had about the guys voice, it was all and all a fantastic production which we both enjoyed.Though most importantly Andy enjoyed it because it was my first V-Day gift to him so I hoped it would go well.
In other, bridal-type news,
On Saturday I had an appointment in Edmonds (my home town) for finding a dress. I fell for an a-line satin dress that looked really good on me.
Today I went to a bridal shop in Wallingford and found a similar, but yet very different (corset back and chiffon) dress, that I also fell in love with. Now I don't know what to do. I'm torn between two dresses. I still have an appointment at another independent bridal shop on Thursday in North Seattle and the David's bridal appointment I made at the wedding expo --which they have been turbo e-mailing me, sold my information, and have be robo-calling Andy for Men's Warehouse. So I don't actually want to give them my money and I don't want a cheap looking dress after having tried on really nice dresses.
I've given my bridal party an e-mail (since Cathy is in DC and Charlotte is in London.) Lets see what they say. I'm also going to give it a night to sleep on it. Maybe I should go to at least the one appointment at the other independent place. Now I've also got Andy telling me if I really like this dress at the Wallingford shop (which is the one I"m leaning toward) how I should haggle with them. I know, I've gone 200 over my budget but I really don't know if I can haggle. I mean, I personally don't think I can haggle, but even if I send in my troops of self-assured women, *cough* Dani and Raye are they really going to come down all that much? I mean, they gotta make theirs, right? Ack, I'm rubbish with this shit.
We had a lovely Valentine's Day. After work we met up for dinner at Benehanna. I'd never been before for dinner (went to the sushi lunch once with Christine but that's it...even though I worked on the same block for over four years). Andy showed up with a dozen roses for me because he's wonderful. He didn't find me outside right away because I was hiding behind a bush to smoke because, yeah, my old boss could possibly see me smoking and I didn't want that. We went in and were seated across from a couple and next to us was a couple with their daughter of somewhere between seven and eleven years old (yeah I'm not a great judge of that). I really enjoyed Benehanna. I thought it was fun and tasty. However I've decided, at least based on the people we were seated with, that it is a thing wasted on Seattlites. The food and the amount you get for what you pay is not worth it. You're paying for the experience of being entertained by your grill man. So why would you ignore him? Seriously, we were the only people at our table giving Miguel (not Japanese authentic but good at what he did) our attention. Seriously they were often on their phones or staring off into the distance and not giving the poor man the time of day. Andy and I enjoyed ourselves, we engaged with him and had a good time. I really wouldn't say it was worth it otherwise, because it didn't seam like we got a lot of food and yet at the same time I was really full when we left So yeah...and the one sushi roll we couldn't help but order was also really damn good.