some 12 year old kid burned down the car port at my folks' triplex
. Luckily the fire didn't get to the building but there were three cars under it, including my dad's van. My dad says that at least he doesn't have to decide about whether or not to fix the van now, at least. However, it sucks because not only were all of his tools in there, but it would appear that he has to pay to get the thing taken away which blows. At least no one (including pets) were hurt and the damage was confined to the carport only.
Andy's been out of town since Friday. He's down in San Diego until Wednesday. I don't know if I've optimized my bachelorette time, thus far. On Friday all I did was clean the house and set up my laptop to display on the big telly on Friday not much to report there.
Saturday I had a scare with the pets in the morning. I popped out to have a ciggy with my coffee and call Raye I went out to the deck on the side of the house by the kitchen. My hands were full so I didn't let Sparky come out with me. I got off the phone and came back in a realized that I'd left my coffee outside on the railing. I walked out to get it and Sparky bolted out the door, ran down the stairs off the deck and into the back yard (which is not fenced). I took off after hime and grabbed him but came back to see that the door was not closed all the way. Vyvyan was in the kitchen when I was on the phone...I didn't see him now. Vyvyan's been getting a bit more bold about wanting to go out. I find him hanging out by the door when he know's it time for me to take Sparky out and I have to shoo him away. I thought for sure he took his chance and made a run for it. I looked all over the house for him. Then went outside and walked around the house a couple of times, then back inside again and stopmed around the house, angry at Sparky and worried about the kitty when i finally found Vyvyan, sticking his head out of the downstairs bedroom closet, looking a mommy like she was the craziest bitch he ever saw--back arched and everything. I was so relieved.
Raye came over a little after that and we made sandwiches and took Sparky with us to Discovery park and had a picnic. It was lovely. We had a nice walk, talked, hung out and had sandwiches and doctored beverages with a view of the Puget Sound while we picniced. Afterwards went home, got some beer and discovered that the 5th season of Mad Men was netflix and we could catch up, hooray for setting up my leptop to the telly the night before! Anyway all in all it was a great BFF day.
Sunday was a practice game of Theater Schmeater soft ball. However I woke up with my back hurting and I was thinking of backing out becasue of it. (It was actually hurting a bit when I was walking Raye to the bus stop the night before but a night on our rubbish bed didn't really help any). I have a project to work on while Andy is out I hadn't gotten around to--replacing our desktop computer with one Andy got at his work's computer auction. I thought I'd be good for me to stay home and get that done and just take it easy but my dad talked me into going to softball. (It doesn't take too much, I love Ttheater Schmeater softball, it's one of my favorite things about summer!) When we got to the park, I started throwing to JD to warm up. I was throwing really poorly with my back so tight but I was catching all right. Then Dan joined us and when I went from catching and throwing in front of me to turning to my right to throw to Dan I felt and ping and my whole back froze. I was done for the day and in so much pain. No softball for Mir. :( I enjoyed watching the game and the silly banter but I ultimtely felt more left out than if I hadn't showed up all and really wished I hand't come to hurt myself. Needless to say I didn't get around to setting up the new computer when I got home and accomplished nothing, except for a little bit of picking up the house to get my back working on occasion (and dropping things, why do you drop things so much when your back hurts?) My pops called and offered to help with the computer but I was feeling too independant and stubborn to take him up on the offer. So I instead kind of pouted alone and watched Dr Who till it was time for bed.
The back is still tender today, but thus far managable. Got another date with Raye at her place to catch up on more Mad Men tonight.
EDIT**
Pictures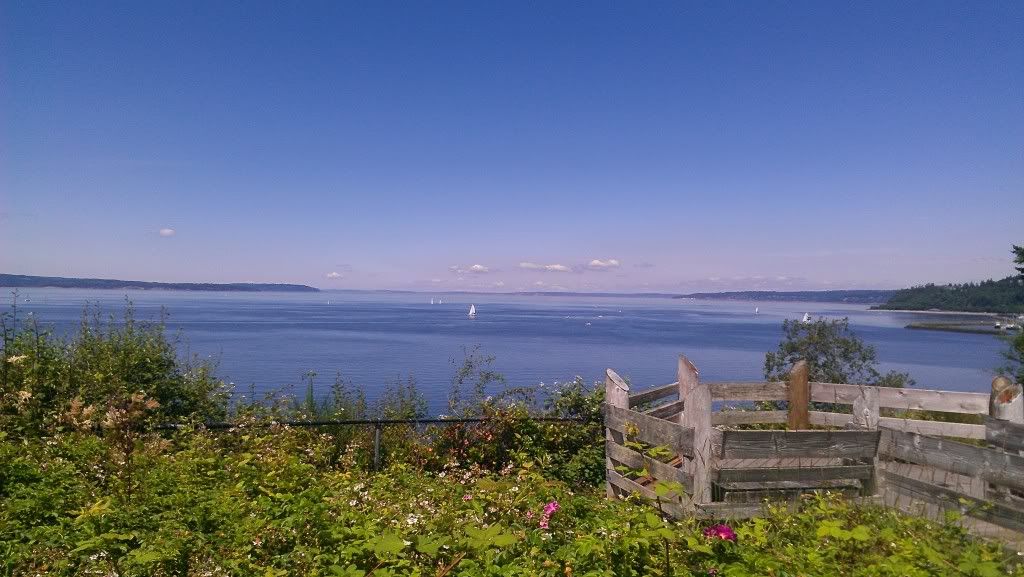 Beautiful view at Discovery Park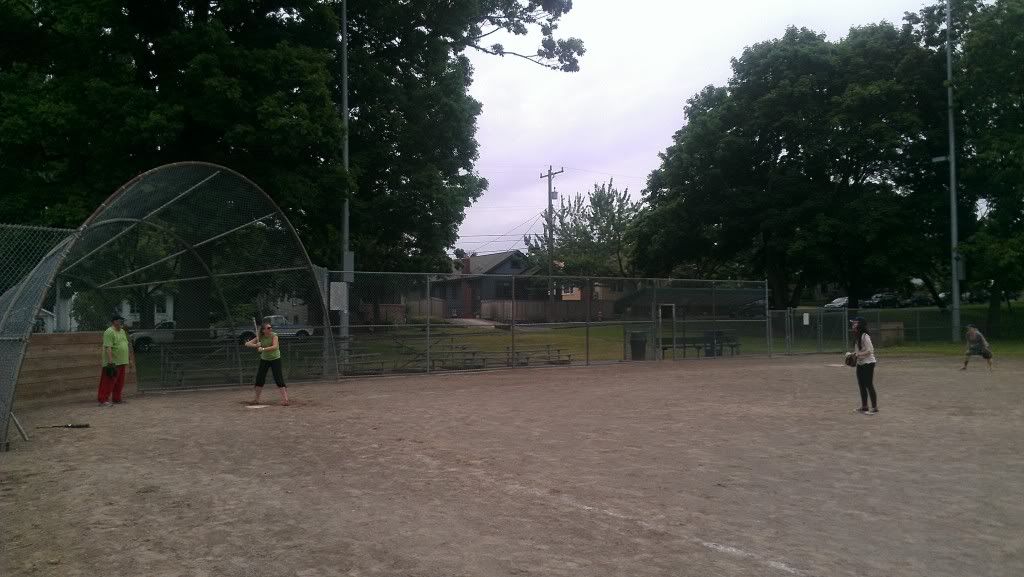 Softball!
So Thursday