Friday we had tickets to see Dylan Moran at the Neptune! It was my third time seeing him, my first time ever seeing him in the states and with company (went with Andy and my folks). He doesn't tour the US very much becasue he's not all that well known here, most proabaly only know his as "that prat from Shawn of the Dead." It's different him being here, or at least in the first half when he seemed to be taken kind of aback/annoyed by the boistruousness of the crowd. I think what I was most interested in--as this is the same show as the last one I saw in London--was the differences in talking to Americans over a UK audience and there is deffinly a difference, at least there was in the first half. I'd say it's about 60/40 split of material I had heard and new material. We all had a very good laugh and enjoyed the show. I wanted to get a pic of the marquee at the neptune, but I'll be damned they change it while the show's going on so that didn't happen but Andy took a couple shots during the show but our camera phones don't work well in that kind of light.
Three rows back, not too shabby.
Saturday I did nothing but skype Charlotte, clean the house and tried to stay cool by staying downstairs.
Sunday, like I said, feeling 100% apart from the general stickyness of the heat, we went to Westlake Park and watched the parade. This is a big pride, the first since marriage equality passed in Washington state and just after the DOMA/Prop 8 rulings from the supreme court. Raye, Lindsey and Sarah we already there when we got there and later Laurel and Chelsea, who have just moved here from San Antonio, TX joined us a little later. The parade was the usual fare, though the boyscouts lead the march after dykes on bikes. Of my friends Dorothy was the only one we saw march this year. Dani and Anna were marching as well but at the very end of the parade, and we left early for sandwiches. (We also missed them on the mainstage at the Seattle Center becaue thier thing came up later than scheduled and the heat was getting to Andy and we had to go.) We did the usual post-parade lunch at the Honey Hole, Andy, Raye, Laurel, Chelsea and myself (Sarah and Linsdey stayed at the parade). Then we moved on to Pridefest at the Seattle Center with a slight detour...around Lake Union. After sitting in trafic forever on Denny we turned on 6th avenue, which now apparently now just takes you to Mercer, where we got stuck in traffic again and had to get on i-5. SO we went around the lake and over Queen Ann to get to the Seattle Center, ha! Once there and parks and re-sunscreened up we went into the park and saw the most people in the fountain I've ever seen. I mean I know I say this other years but again, this was the most people I've seen at Pride. However, we were hot and just kinda wandering around, killing time for Dani and Anna's thing and ultimately even the icecream Andy and I got didn't cool us down enough and we took off.
I have mixed feelings about this weather. I love the sunshine but the heat is rough. It peirces through the skin, and here I'm trying to keep my skin as alabaster as possible for the wedding. No tan for this girl. Also our house gots HOT in the evening and doesn't cool down until very early in the morning. Part of the problem is that we can't open windows or the pets will get out. (Except downstairs windows) We've taken to the formerly underutilized downstairs for watching movies, where it's much cooler, that and fans are our only defence. Chelsea and Laurel are dumbfounded by the lack of airconditioning in Seattle. But it was 120 in Vegas so...could be worse.
Anway on with the pride pictures...
FABULOUS!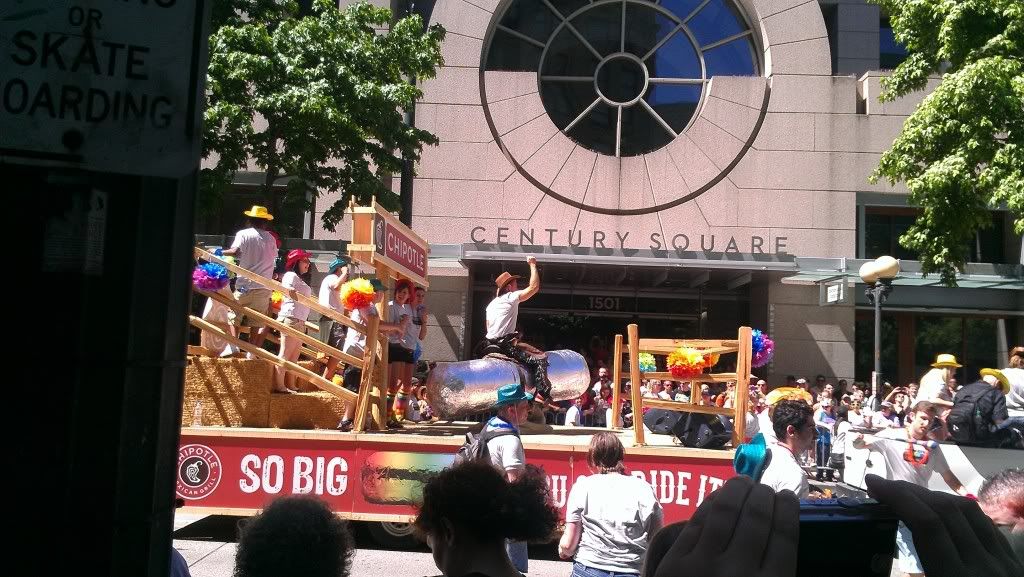 That man is riding a burrito!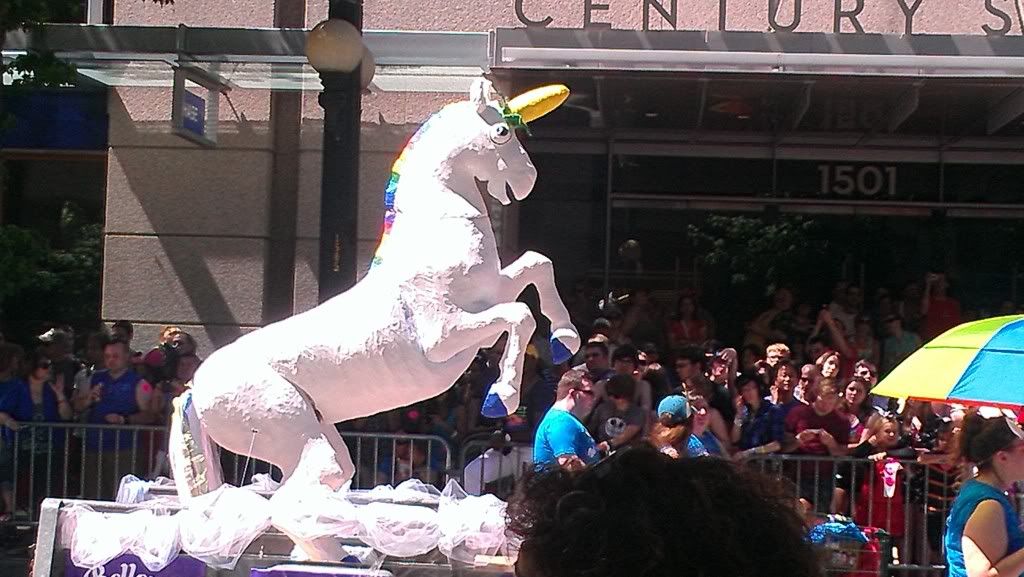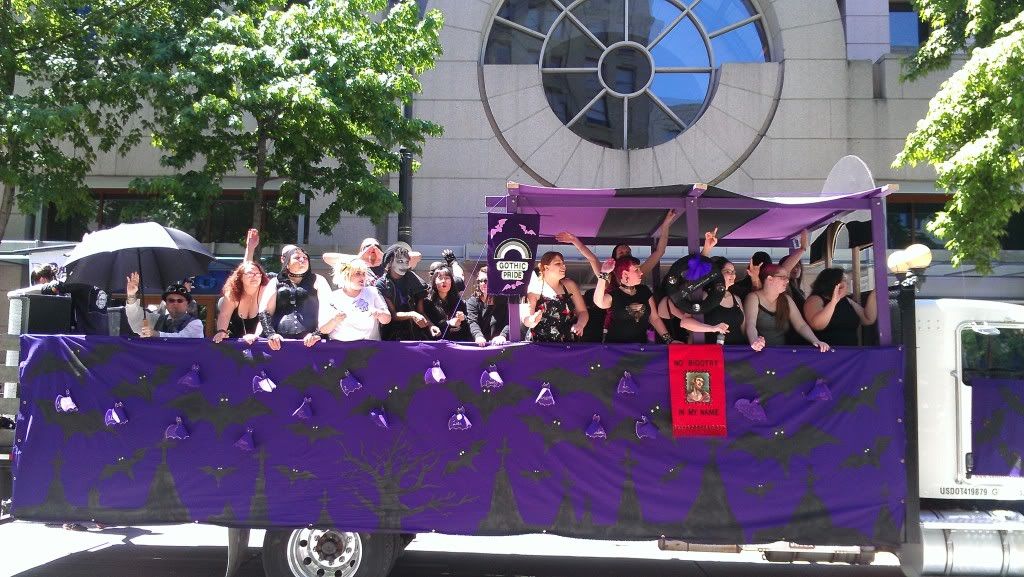 And of course our goth friends roasing in the sun...Astro wasn't marching with them this year. :( I guess he must have had to work or something.
Lindsey gets furry swag
Hey! None of us are Hungover!
A Massive amout of people at the Seattle Center this year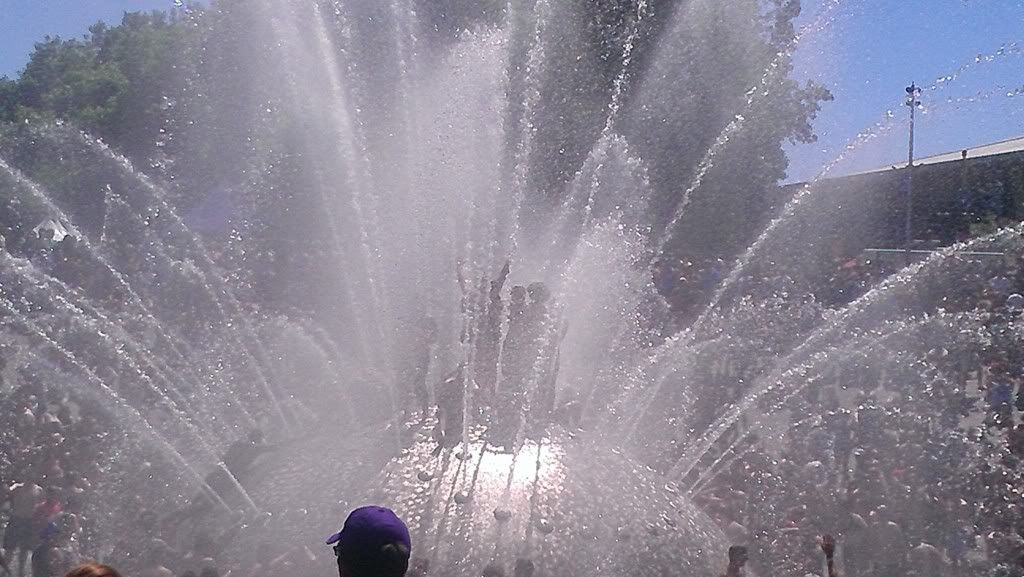 Never seen people actually manage to climb ON the fountain before.
HAPPY PRIDE!!
Oh yeah and to backtrack a little, on Wednesday, when the supreme court ruled DOMA unconstituional I hit up the rally downtown at the old federal building after work and met up with Raye and Aaron. I only caught the very very end of the rally but I got some pics there too.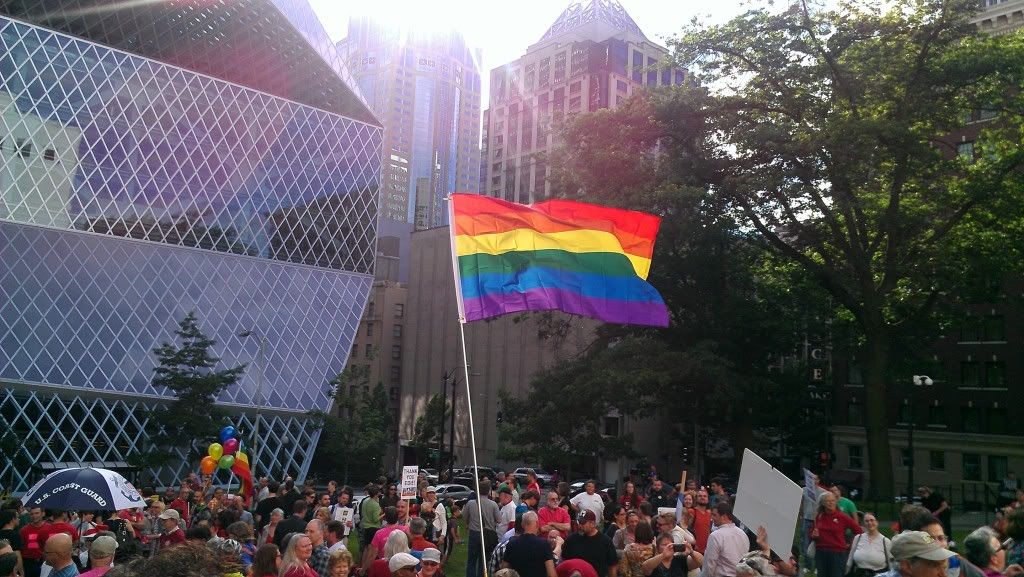 Though Pride weekend is usually a three day affir, this year though Andy and I just did the Sunday festivities, and by god, it was my first Seattle Pride parade not spend hungover since I don't know when.