Our 4th of July weekend was fairly chill. We went out and got a little grill for the fourth and had my folks over for drinks and BBQ watched the fireworks (and boat fire) on telly. We stayed home cause it's Vyvyan's first 4th and we weren't sure how he was going to react to all the booms and bangs. But of course since we had company over he hid downstairs the entire time untill my folks left and then meowed to be fed--as usual. Andy got the day off on Friday but I had to work what felt like a very long day and Saturday was chill as well, took Sparky for a walk around the locks, played some miniture golf, bought and watched some movies. Sunday was the surprise skype baby shower for Cathy. Her sister Ann put invitations and party favors together and coordinated with Doug about keeping it all a surprise. I hosted the skype party for the Seattle folks and got planning and prep help with Raye. Andy didn't schedule any man time to get out of the house soon enough and was therefore stuck with all that estrogen and volunteered to be the manly grill master. Dani, Sarah, Lindsey, Dorothy and Raye all came over for the shower. Cathy might have suspected something was up when she saw so many people logged into Skype at the same time but was still surprised that a full on baby shower was taking place for her. I think she was quite chuffed. We had a four-way skype conversation with us here in Seattle, Cathy and Doug in DC, her sis (and her baby) in Cali and their brother Andrew (and his wife and baby) in PDX. We played a little game quizzing on what we know about Cathy, she opened presants and then there was just chatting which folks in Seattle came in and out of as they went and got food from our big spread. Raye and I tended to make an exit when birthing talk got too graphic for our taste. Sometimes it felt like evesdropping on a Zeglin conversation as the siblings got caught up and, ans Ann and Andrew both have infants, talked baby shop. But that's fine. At the end we (in Seattle) toasted to the couple and to the baby on the way. We then enjoyed the use of our deck and all hung out for a while chatting, and played a game before folks took thier adorable party favors and went thier seperate ways to face the work week ahead.
The adorable little party favors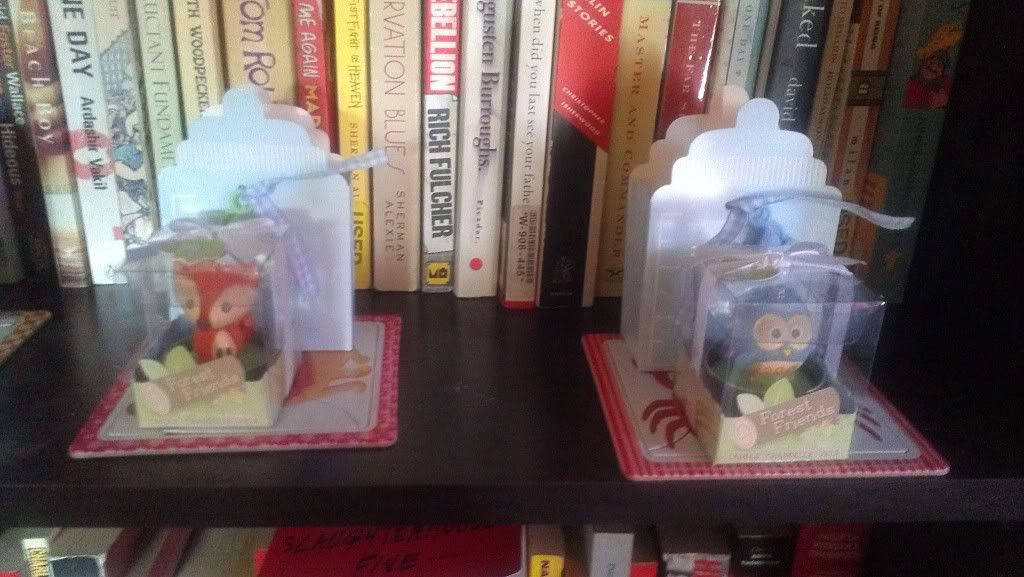 Skype chatting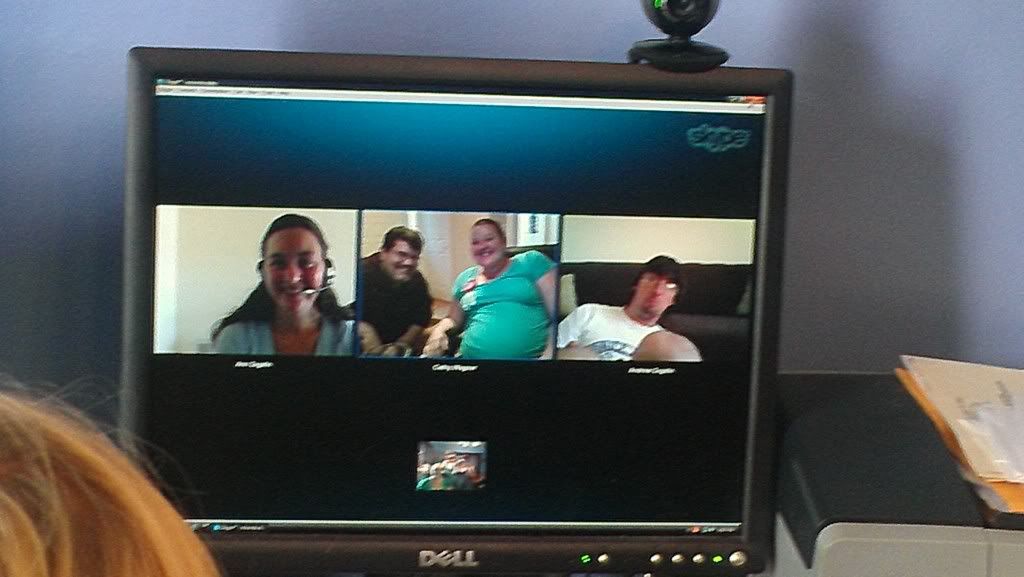 A Zeglin/Wagner Sandwich (Ann, Doug & Cathy, Andrew)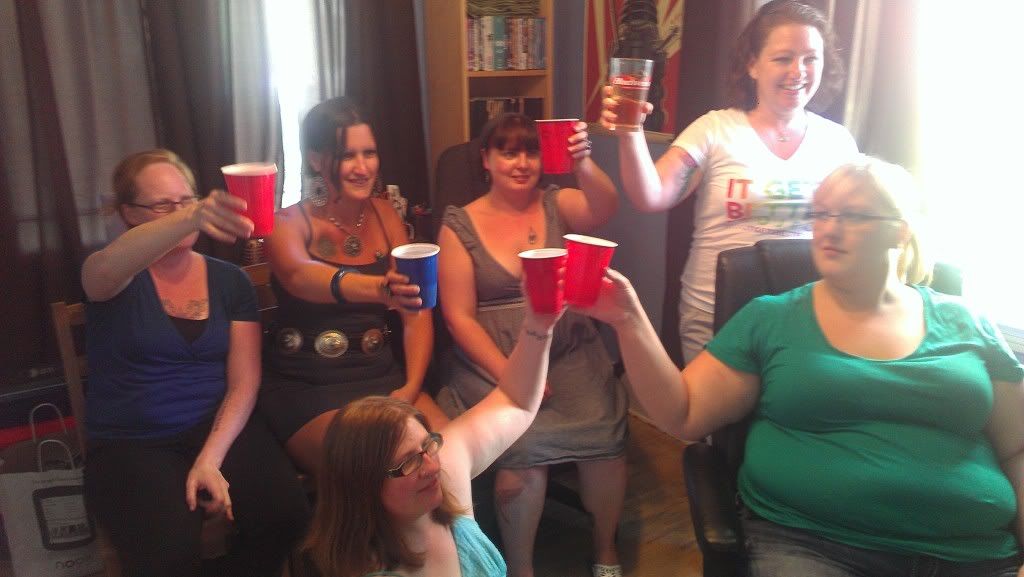 Hawaiin roll sandwich and the full spread after everyone brought their contributions and Andy had started up the grill.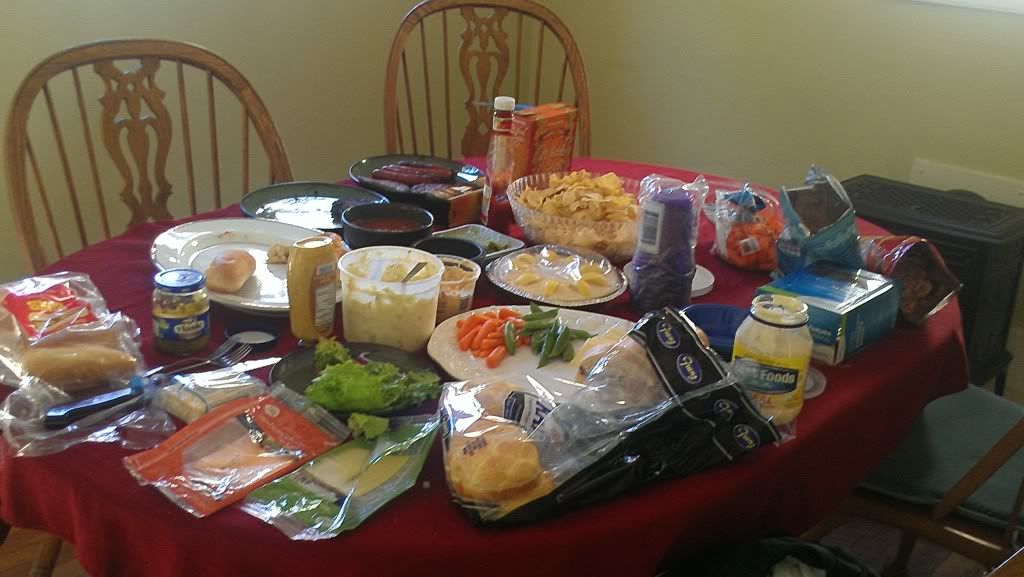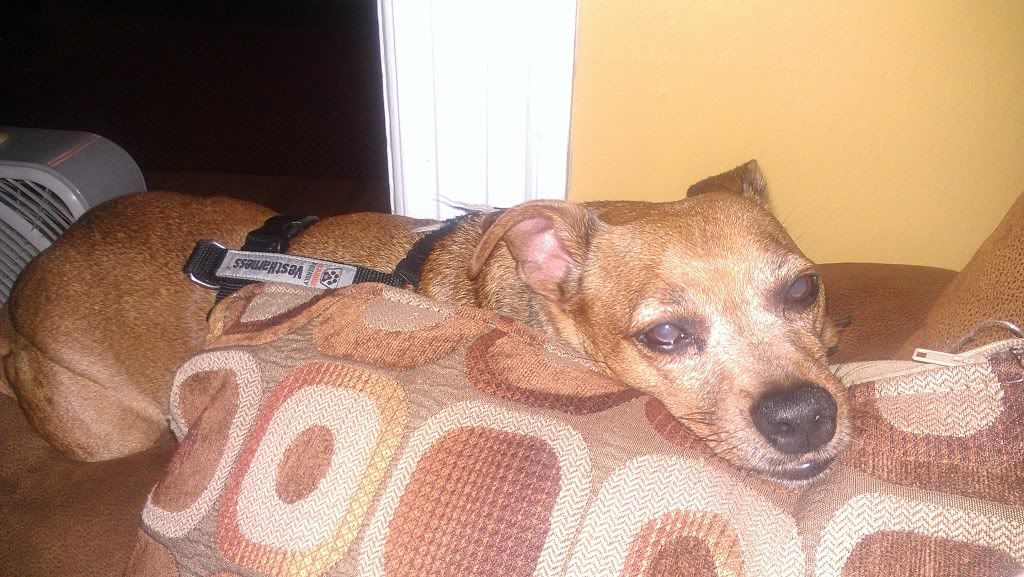 An Exhausted dog after everyone had left.