Vegas
So our honeymoon plans started with a weekend detour to Las Vegas to attend Nathan's wedding on the 28th (the weekend after our wedding). However, we learned when we were heading back home from our wedding that Nathan's wedding was not happening and no one was privy as to why. Less than a week out and hotel reservations were already long since booked and our flights to Hawaii were from LAS. This would be way more annoying if we had to go to someplace terrible and no fun for a wedding that ended up being cancelled like Salt Lake City or Albuquerque or something. At least in Veags it's not like one is want for something to do, especially since so many of his old friends are still down there to hang out with. We so we had a free weekend in Vegas to kick off our honeymoon.
It was laid back and cool though, we hung out on the property the first night—we were staying at the Hilton—and did a tiny bit of gambling but I cut Andy off from gambling kinda quickly because I hate to see money wasted and we didn't beg our friends for honeymoon contributions to waste in Vegas before the honeymoon properly began. (Yeah I hate gambling, I'll do a little in Vegas because you gotta, ya know when in Rome and all but I mean very little.)
Saturday, the day the wedding was supposed to be we instead went to his Carin & Rudy's for a BBQ with a bunch of folks. Sure there was some speculation as to what was up with there being no wedding but for the most part people told stories and joked around. I met some friends of Andy I hadn't met before—like Anthony, Rudy and Dawn--and hung out with some that I've met or know--Carin, Pam, Geoff & Heather. ("More than 3 people showed up" hahaha—sorry inside joke from that BBQ which I don't have time to get into, unfortunately). I had an absolute blast that night, it was good times. One of those nights you realize your cheeks and sides hurt from laughing so much.
Other than the BBQ we kinda took it easy in Vegas, mostly staying on the property (what without a car) or in our room (heh heh heh). We went to the pool and I ordered room service for the first time in my life. Sunday went to lunch at the Peppermill with Geoff and Heather (caught the Seahawks' comeback in the lounge beforehand) and had a good time. Vegas is still a freakin' weird place I couldn't imagine living there but both times I've been I've had a good time.
Hawaii
Early Monday morning we were off to Hawaii. Andy was made nervous by all the people coughing, sniffling and sneezing on the plane. I have a rant I need to write about the two different people in the world when it comes to putting one's seat back, but I'll have to save that for another time. Once in Honolulu we eventually picked up our rental car. After a long wait in line, in the sticky sticky humidity, we could have waited longer and upgraded to a convertible but itching to get out of the hot room we declined and too the car that was availibe. Hence the reason our honeymoon ride was a bloody Lincoln Mercury. Yep, we were cruising around Honolulu in an old people car. We named her Ethel and she suffered from a flat tire, so every few days we had to put air in her but, hey, embarrassing as it was, she got us around.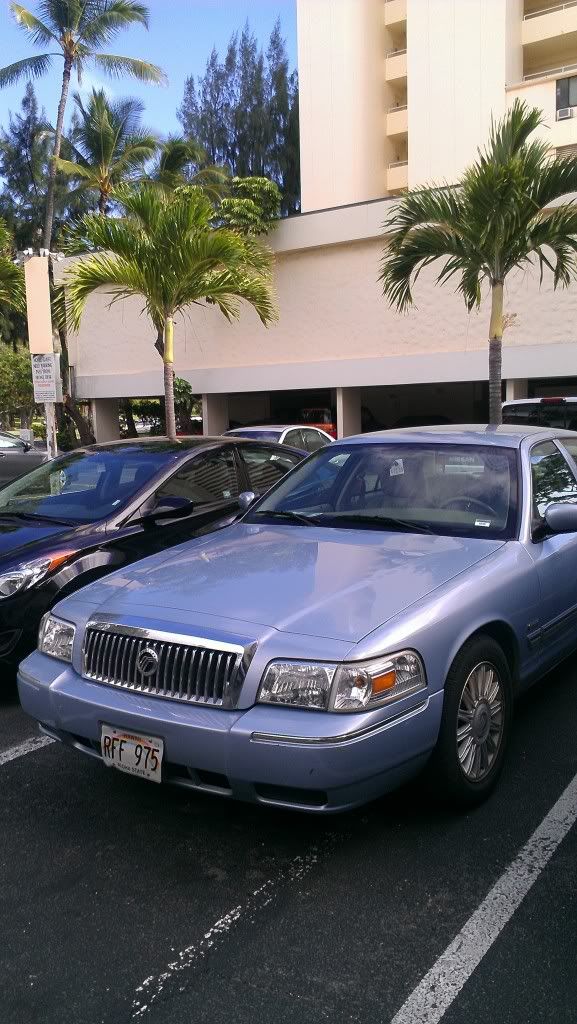 We stayed at the New Otoni which is at the quiet end of Waikiki, close to Diamond Head. The hotel was great, it had kind of its own secluded beach it was public but it was right there and the outdoor restaurant was right there on the beach too. Our room was kinda small but it had a deep tub and we had a view of both Waikiki and the ocean. It was lovely and the staff were so nice. There were Japanese families having destinations there every night, which was kinda fun to see all the different dresses and stuff. The Japanese restaurant in the hotel we went to on the first night wasn't really what we had in mind (sushi was obviously not their strong point) but we got to watch the sun set as we had our dinner and I tried new things so ah well. We would have far more fish as the vacation went on.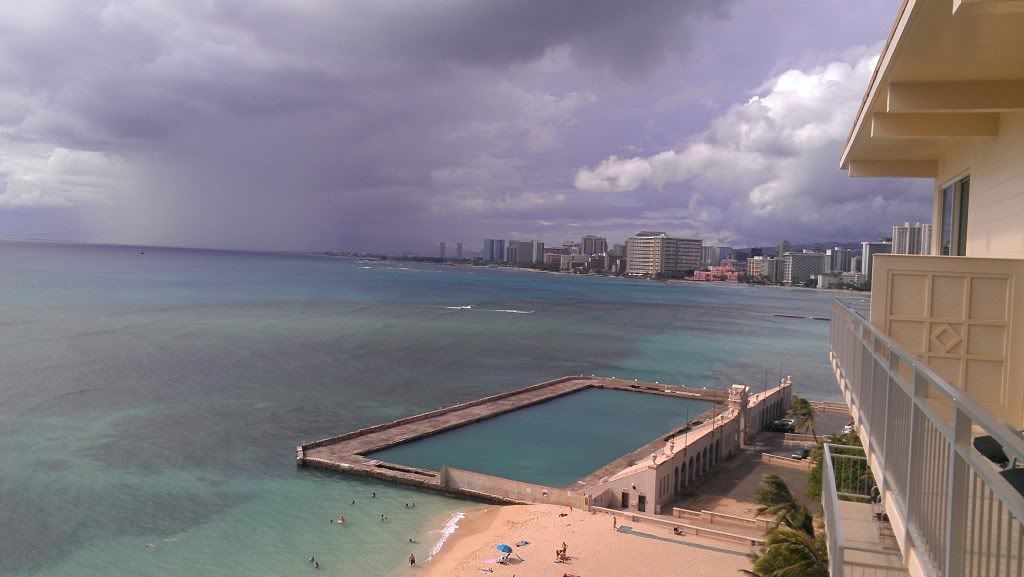 The west view from our room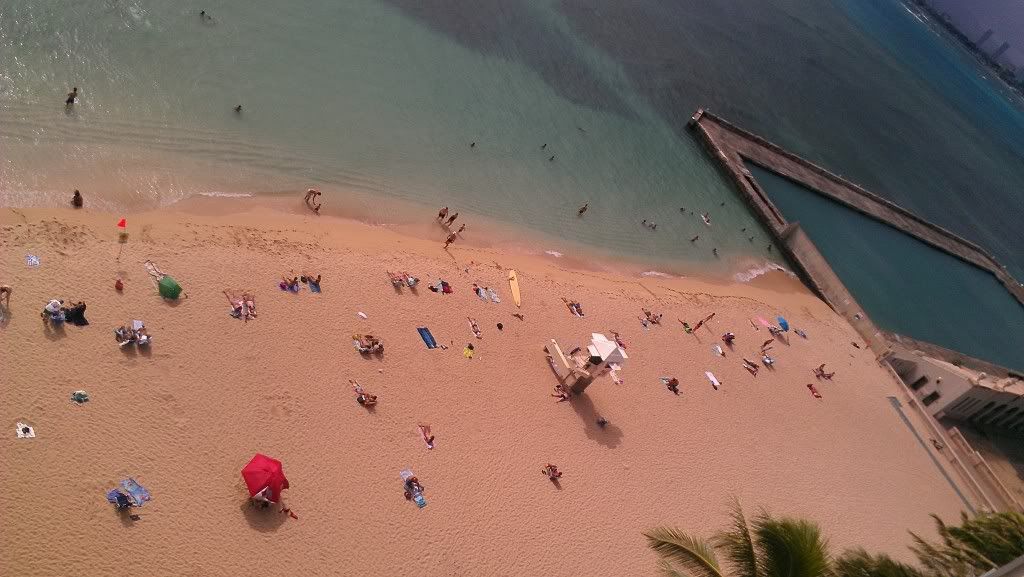 Our slice of Waikiki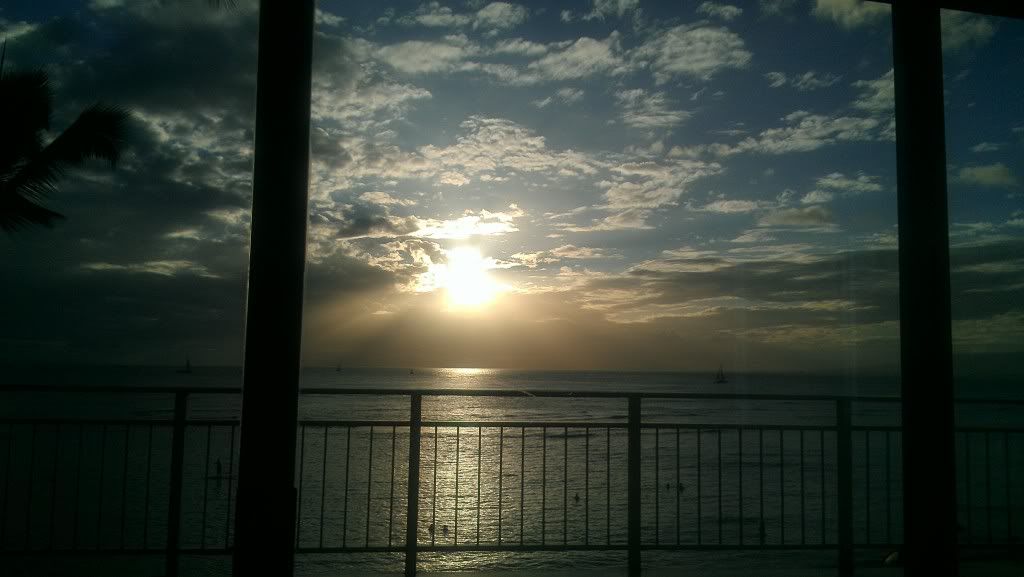 Our first Hawaii sunset
Our first full day, Tuesday, we went to the aquarium, which was close by, had a swim in the ocean and checked out Waikiki where we did a little shopping for appropriate Hawaii clothes (new sun dresses for Mir!). Being on Waikiki made me all the more thankful for our hotel down in its quiet corner. It's just more appropriate to be away from all that hustle and bustle on a honeymoon (plus we didn't have to cross a street all wet from the ocean with other shoppers and such after a swim that looked annoying). We started a the first of many routines of visit the fishes and eat the fishes, following up our aquarium day with a seafood meal on Waikiki beach. Afterwards, not quite ready to call it a night, we stopped and a Mexican restaurant and sat at the bar drinking margaretas. I tried a sip of Andy's pineapple coconut marg and actually liked enough I'd give a try to make that here. We stayed for a couple drinks then headed back to our hotel. In early days of our visit we weren't quite used to the time difference. We got up real early and crashed out early...we tried to party but It was difficult.
Diamond Head View from our smokin' spot outside the hotel.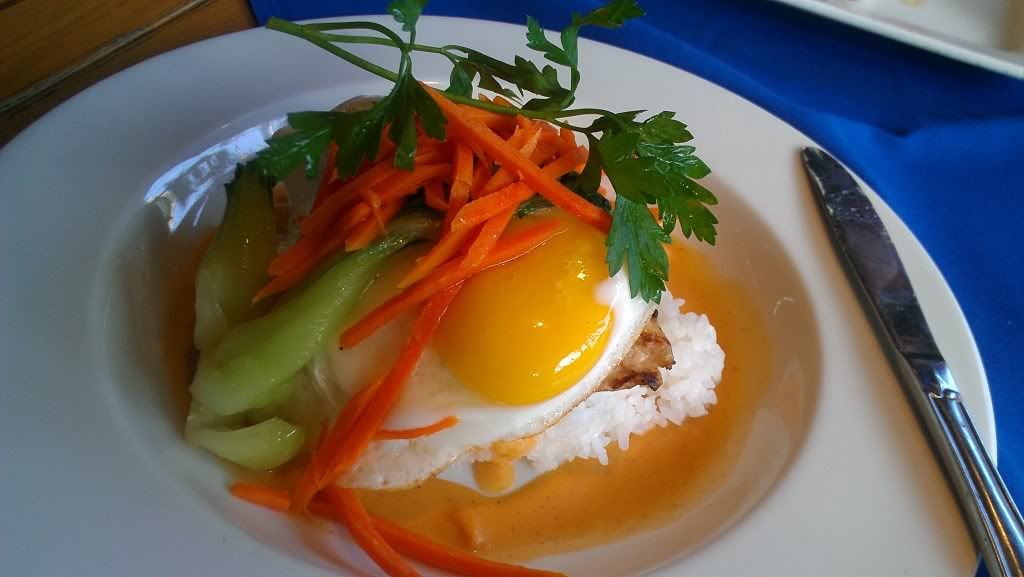 Delicious Hawaiian egg & fish dish!
Time for Fish!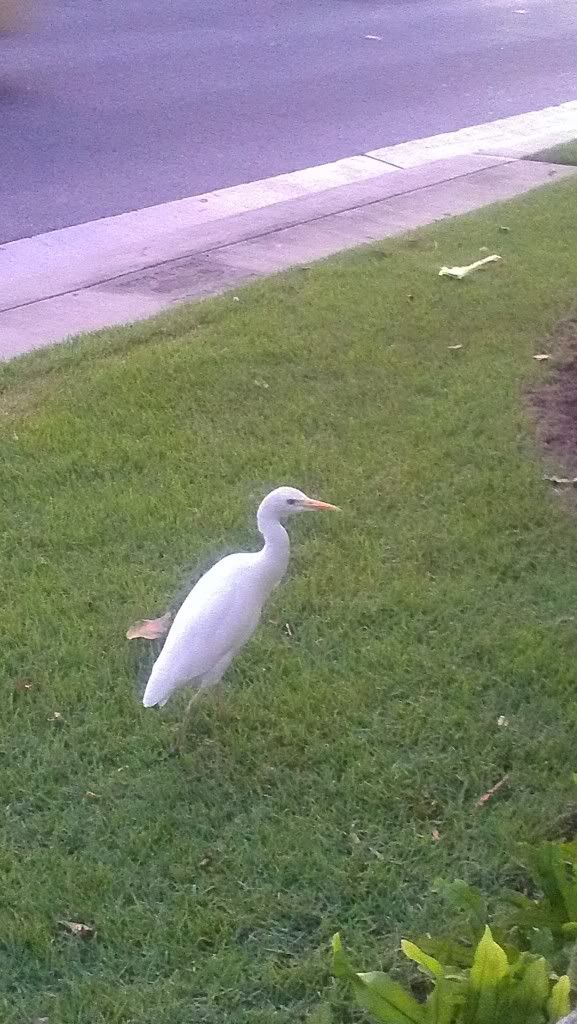 These birds did a crazy neck thing. It amused me.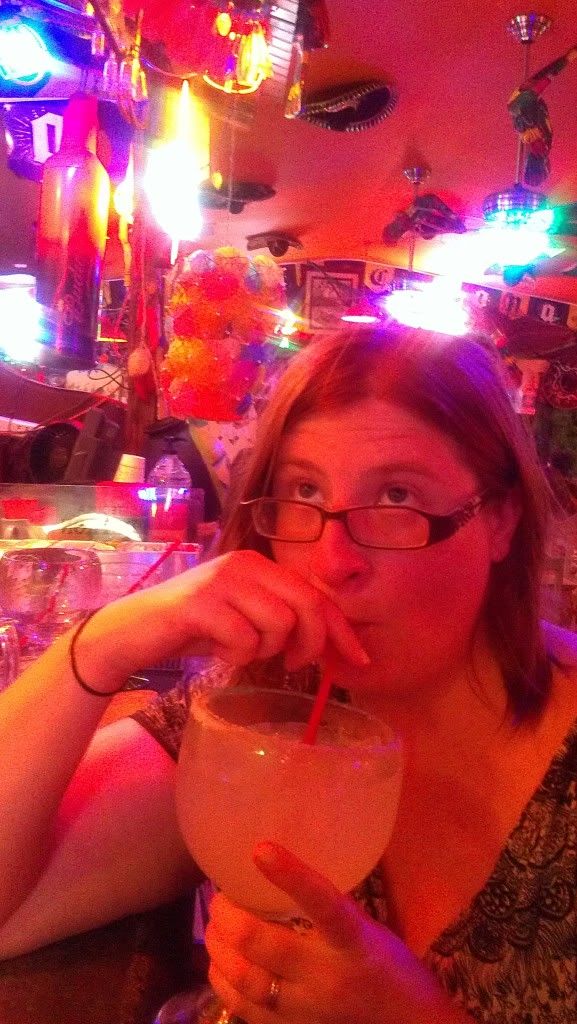 Margareta time!!
Allright out of time. Best post this far and more to come later.