It's taken me a while to get back to finish this. Life has gotten rather busy and hectic upon my return but I really want to get the stories down so I don't forget. The beaches of Oahu already seem a distant memory, sadly in the Seattle gray and stressful work situation. But anyway where was I oh yes, Wednesday.

Andy and I got up early, by nature of the time difference, hopped in our old-people rental car and went on an adventure. The first stop was the Dole Plantation. Sure this was a kind of silly touristy bit but I was really excited to do this because it apparently has the largest hedge maze in the world. Going through a hedge maze is one of those strange bucket list items for me for some reason. I think I can chuck it up to my love of the movie Labyrinth since childhood, but for ages I've wanted to go through a hedge maze. So we get to the dole plantation and after some breakfast there, we pay for our entrance fee into the maze and, with a little map in hand we start through the maze. I'm enjoying it at first, we go around corners and managed to find one of the little goals on the map you're supposed to try to find. We were in there for may seven to ten minutes before everything took a turn. I went around a corner and there was a muddy puddle a bunch of snails in my path! With a shriek, I managed to jump over them, but they were not the last ones I saw and suddenly the maze was no longer any fun for me when terror could be around every corner. We managed to get back into the open middle where the exit was a straight shot and I was done, done, done.

So after the hedge maze we decided to do the other activity the plantation had to offer, a little train ride around the plantation, called the Pineapple Express, tee hee hee. That was pretty cheesy but pleasant enough, some of the landscape was quite lovely and who doesn't like being on a little train?

When we were done with the plantation, we hopped back in the car and explored the North Shore. We went up over to Turtle Bay, and saw the resort area Forgetting Sarah Marshal was filmed at but really wasn't feeling the vibe of the beach there and continued on. Eventually we passed by an area of the roadside shrimp trucks we had read about and stopped there for some lunch. The shrimp was delicious! There was also a little antiques/swag shop that we checked out and a stand for shave ice, which I tried for the first time. It was pretty good, really fucking sweet but pretty good. While at this little roadside place, we also made a little kitten friend who was so sweet. Though after petting him we made sure to wash our hands before taking off, because it just seemed too opening of a Stephen King book or film about pandemic, that it all starts innocently enough with a honeymooning couple--whole life ahead of them, pet and adorable little kitty on holiday only to get sick and die first after getting back on the mainland, or worse dieing suspiciously on the plane. (Is that paranoid?)

We drove around for a while longer and stopped at Hukilau Beach for a swim. When we got back into Honolulu at around five or so we checked out Chinatown, which, interesting fact is the oldest Chinatown neighborhood in the US. However, it was disappointing, we showed up when the markets were closing and I'm not sure what it looked like in the day but it was kind of a slum at night. We did have a Chinese dinner there but didn't really stick around after that.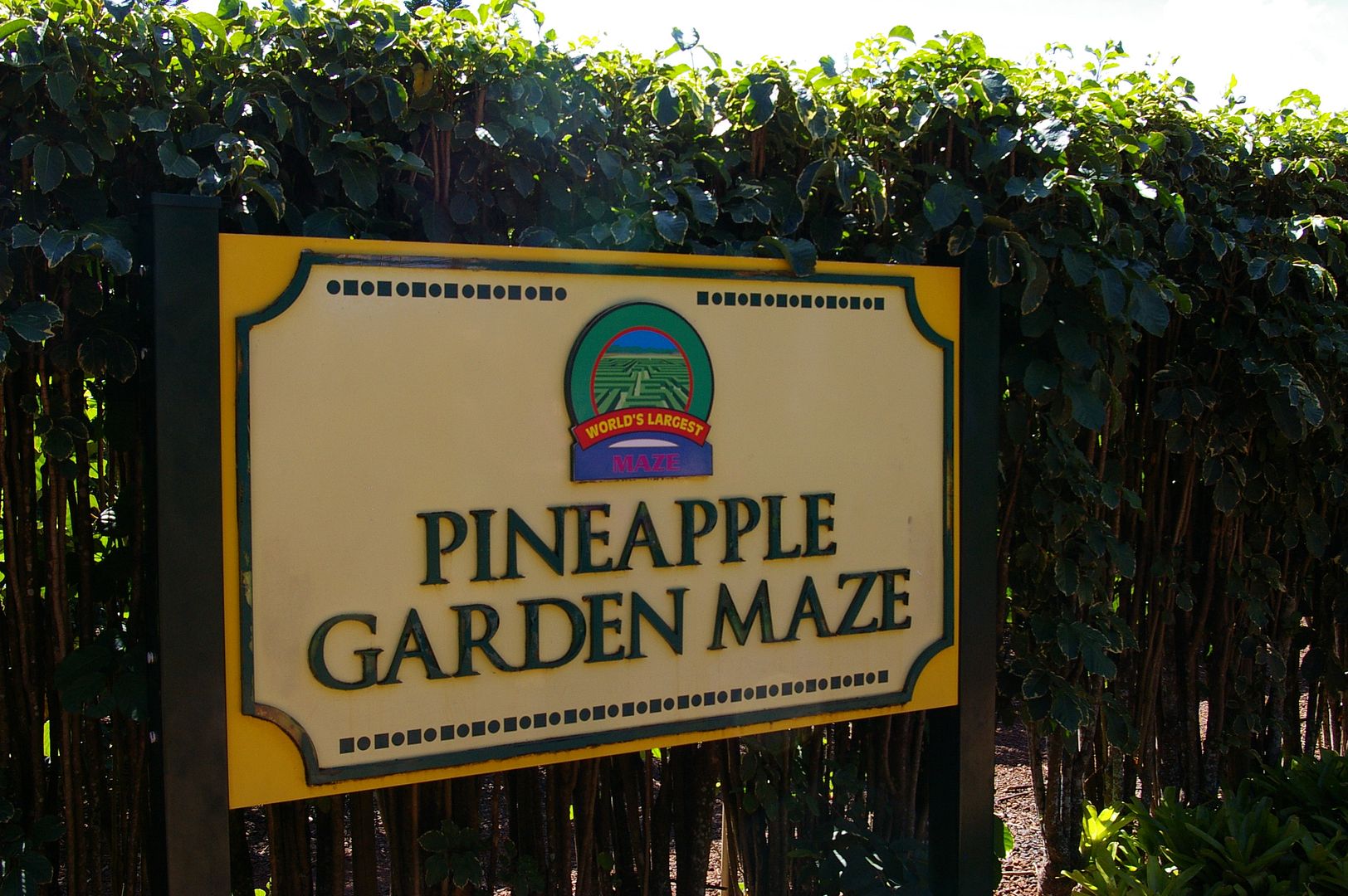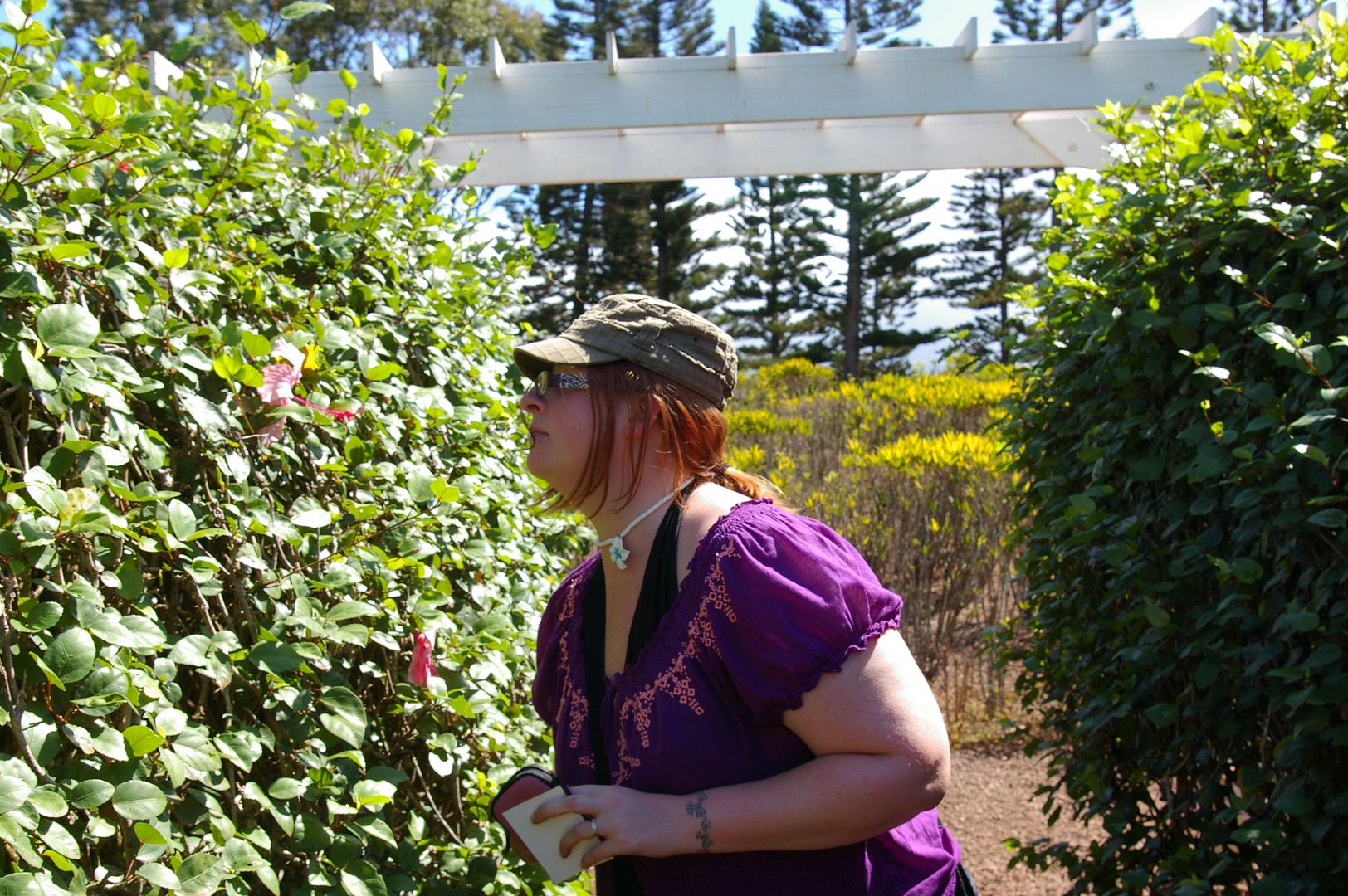 Stopping to smell the flowers before...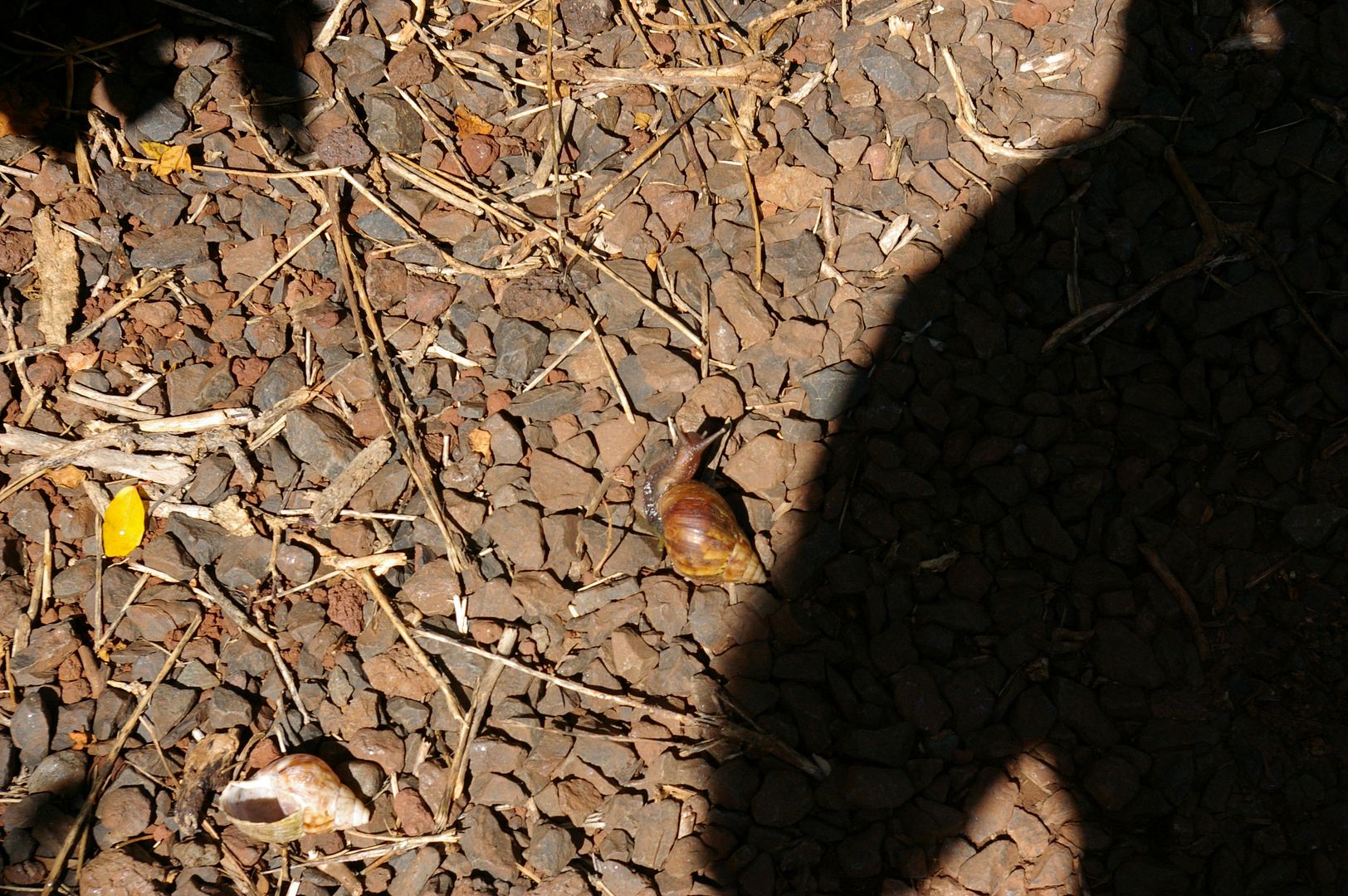 THe HORROR!!!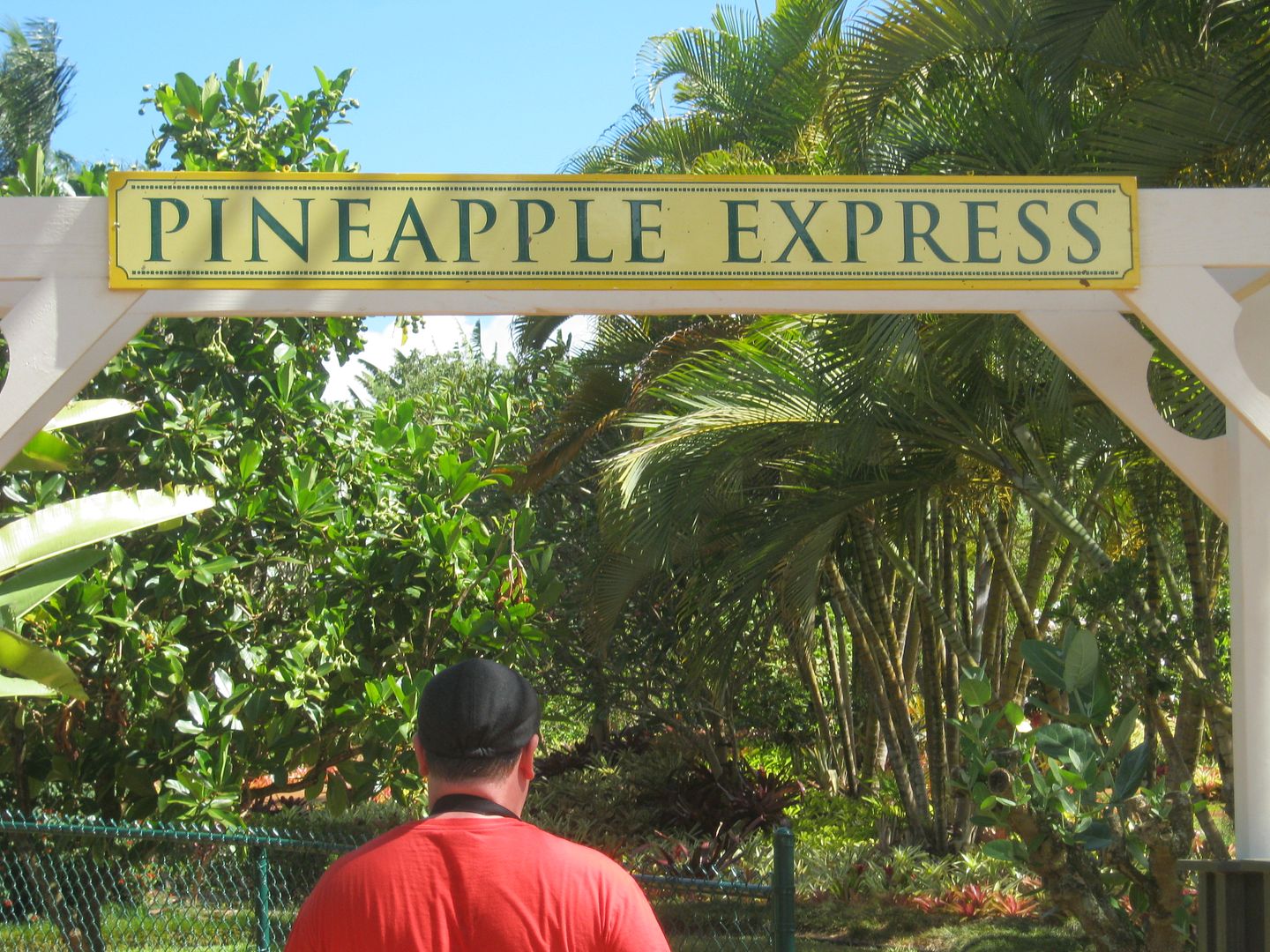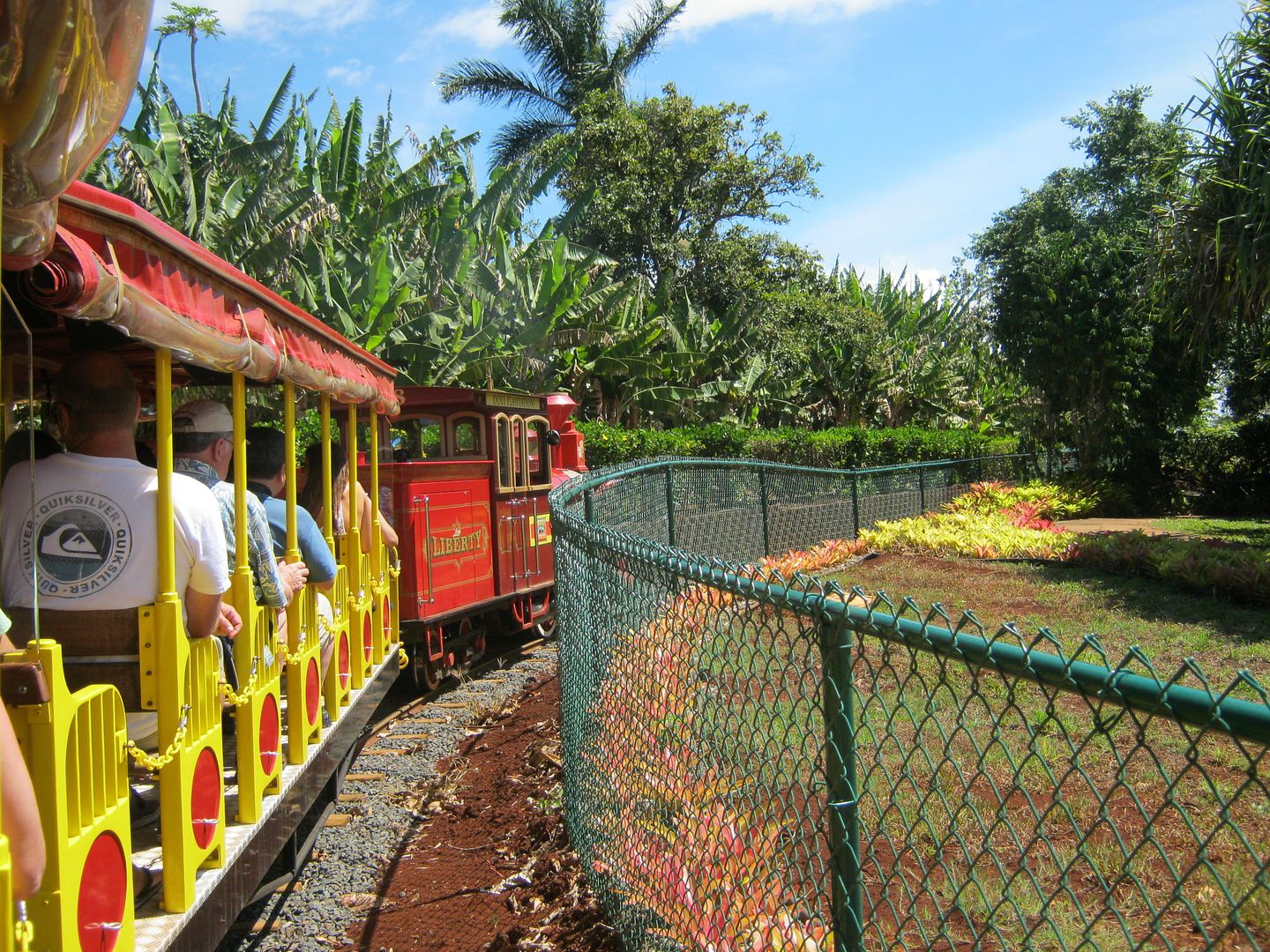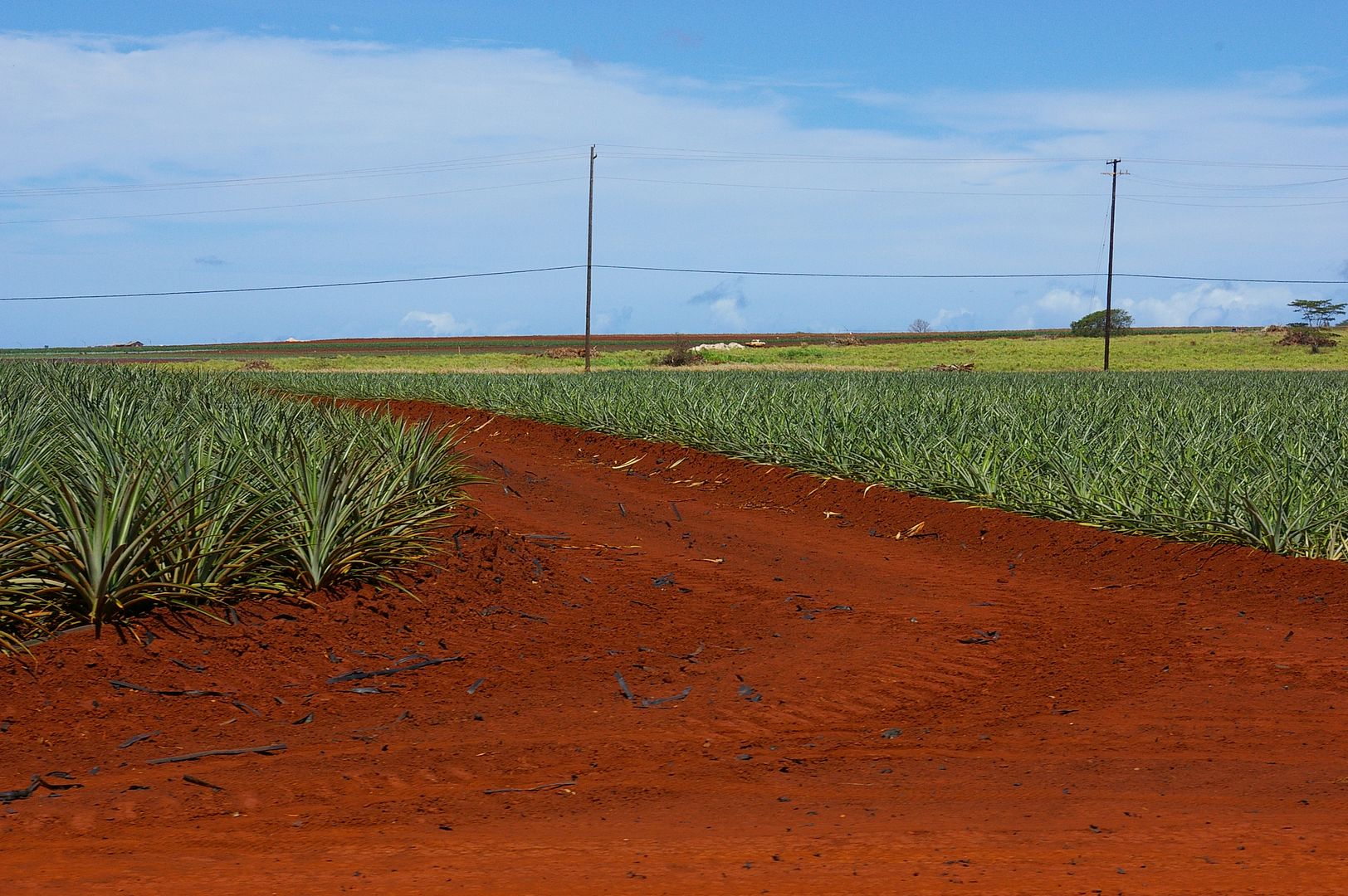 The Forgetting Sarah Marshal resort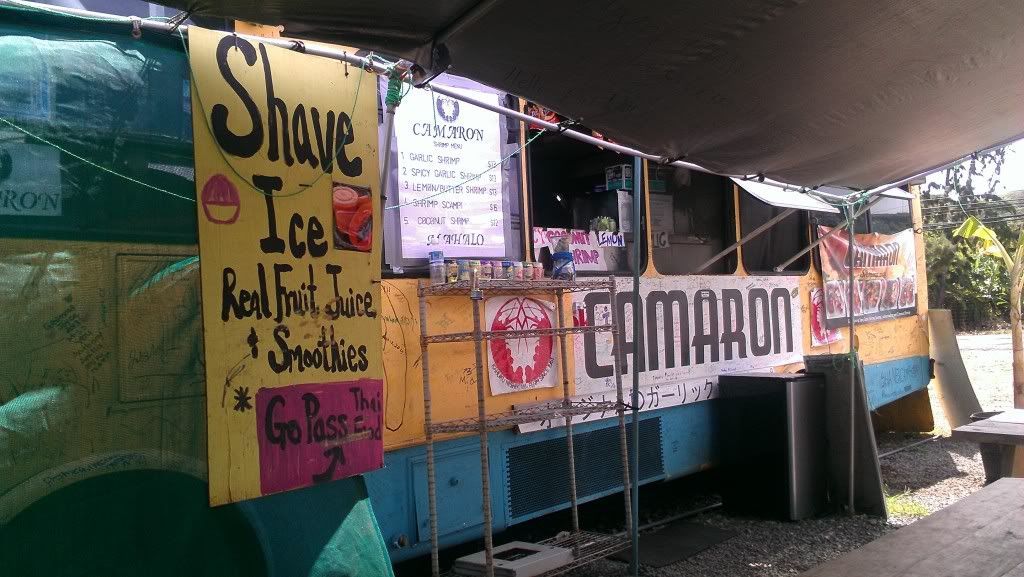 Shrimp Truck




Thursday was the day we were to check out Sea Life Parks. We headed east in the car but the drive took less time than we though and they hadn't opened yet so we just continued driving, looking for breakfast. We found a cute little cafe in Waimanalo and stopped in there. The cafe/gallery's specialty for breakfast were the croissant sandwiches with Gorgonzola that were fucking delicious. As the only ones in at the time we talked to the owner a lot and turns out, crazy small world that not only did he and his wife live in the Puget sound area, they used to live in my hometown of Edmonds and had a cafe in "downtown" Edmonds. Crazy.

After that we headed to Sea Life Parks. I guess the movie 51st dates lead me to believe this was a bigger water life park, like Sea World but, maybe a bit smaller in the movie they have like walruses and shit. But no, it's actually much much smaller and that was kind of disappointing at first. We were a bit underwhelmed when we started walking around. But we enjoyed a little seal show, and later went to check out the dolphin show, which was more impressive so we left on an up note. I don't know, perhaps Sea World has destroyed water life parks for me forever now. Nothing shall compare. I'm glad we checked it out though, there were plenty of "a fire at a sea parks?" jokes and "so long and thanks for all the fish" jokes to go around and we got to see a half dolphin and half orca, which I never knew was a thing and kind of boggles my mind a little bit.

That evening we had our luau to go to which was way West of the city. There was a bus that would collect us at our hotel, so Andy didn't have to worry about driving and could drink mai tais to his content. On our tour bus our host or escort was a super fun, hilarious guy. It was a long drive through Honolulu traffic and this guy went from the back of the bus to the front and talked to people got to know them and seriously remembered everyone's names for the whole of he evening. We got to the beach where the luau was just at sunset, they had us all take a picture in front of it before going on in. We got our drinks and chose a table then went and watched as they did the ceremony of unearthing the cooked pig from the ground and went back to our table. My one regret was that we ended up sitting at table where there was no one with us, so we didn't get to meet and talk with people. But we got our food, which was amazing. the pig was moist and succulent, and stuffed ourselves before getting more drinks and enjoying the Polynesian show. Once our drink tickets were done we bought these big bamboo cups which were a nice souvenir and it only cost five bucks for a double to refil them, so we got a nice pleasant buzz going on. When it was time to get back on the bus back to our hotels, our host really shined. He did kind of a comedy routine for us and played a ukelele. Andy video taped the whole thing but I think the 45 minute video was too much for our little camcorder and it didn't record properly but the ride home was a blast.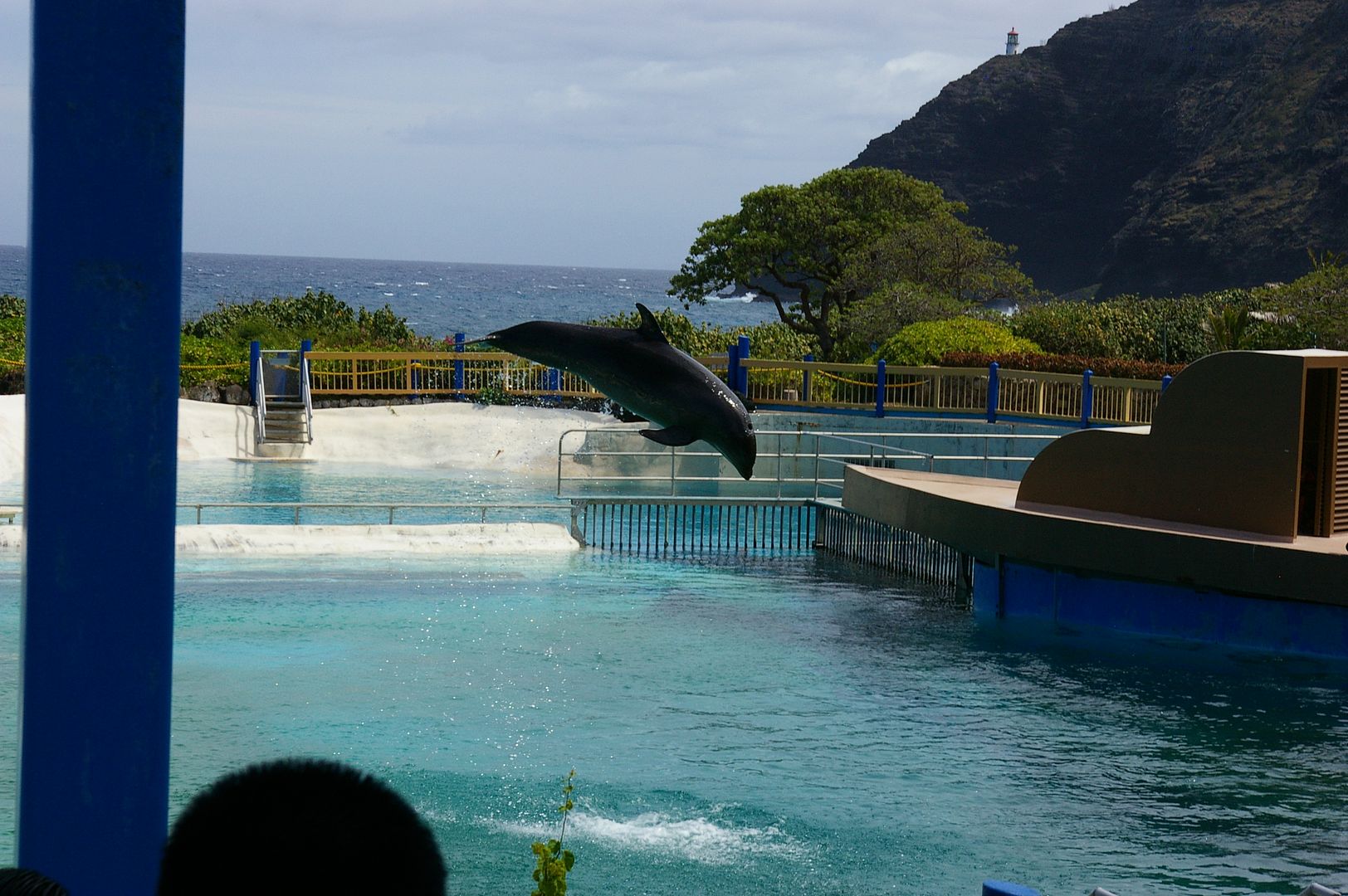 THis is the half dolphin half orca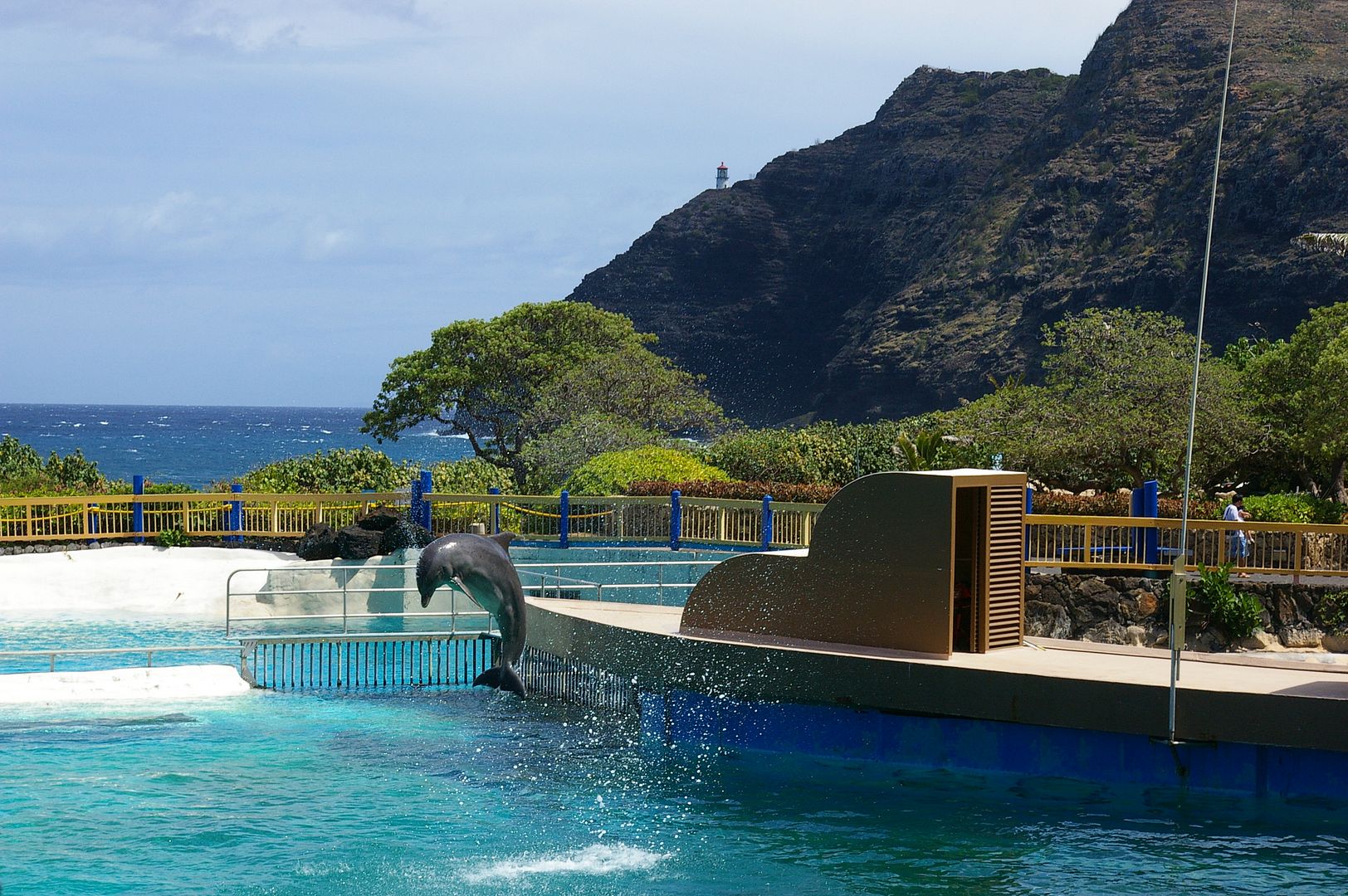 So Long, and Thanks For All the Fish



Sunset at the luau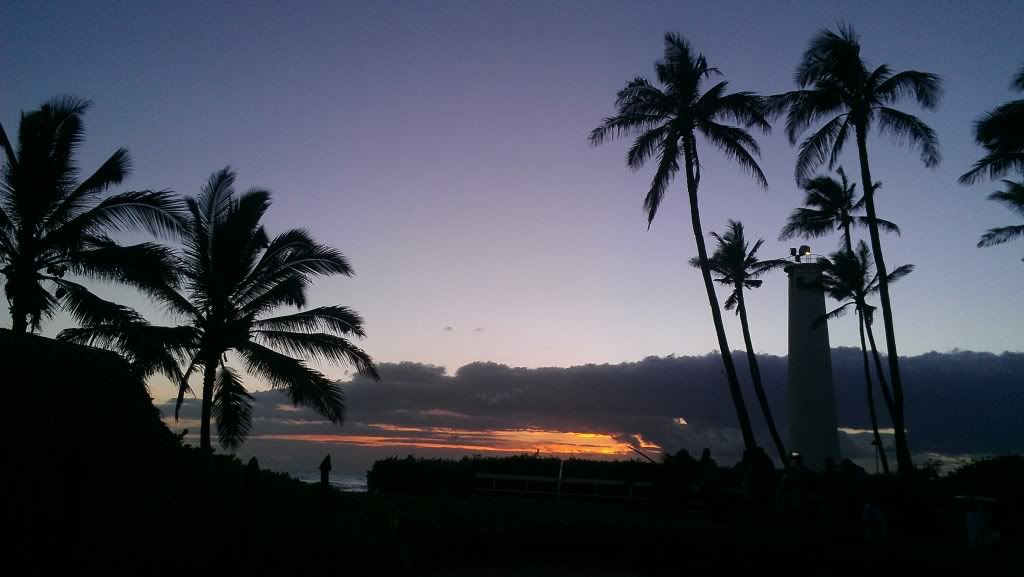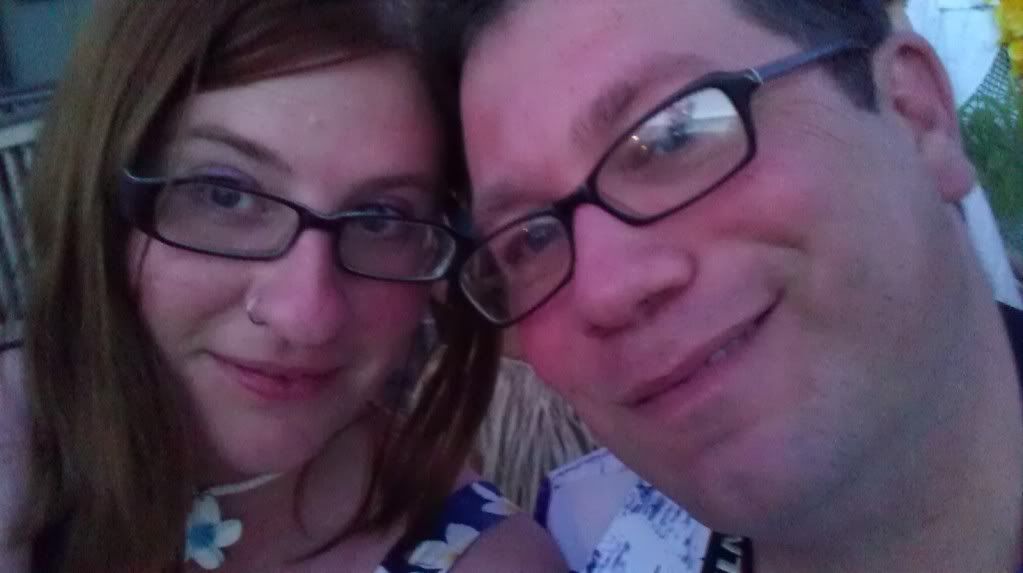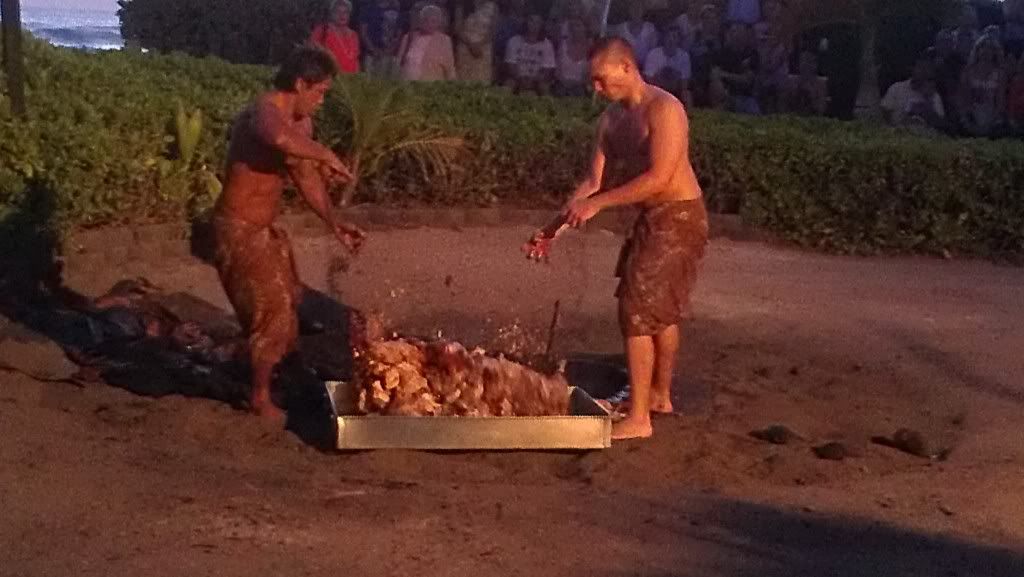 The Pig!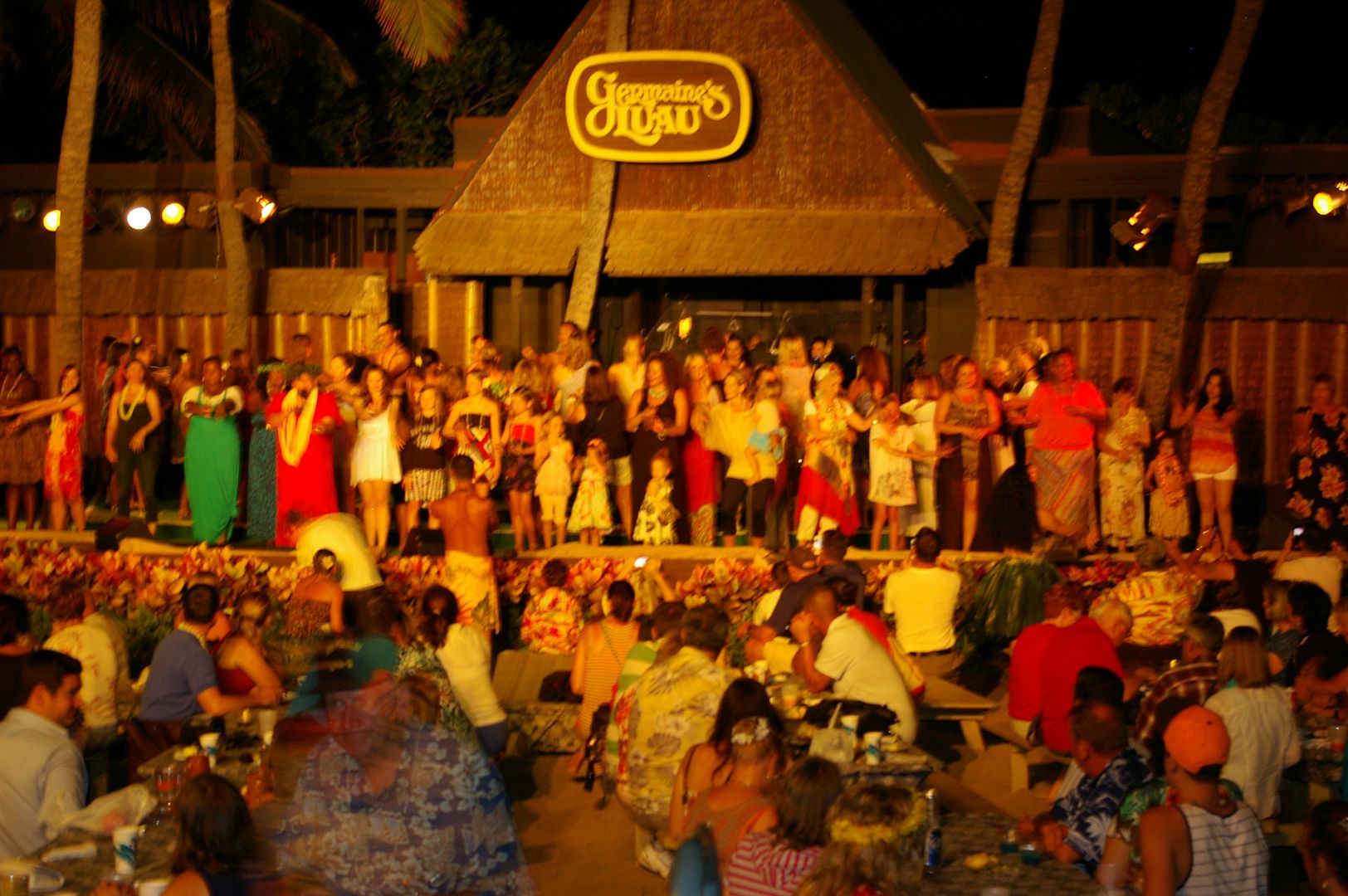 Teaching the white folks how to dance



Yum!



Our awesome host on the ride back to our hotel

Friday we headed back out to the east side. We stopped at the underwater scooter place asked them a few questions and made a reservation for Sunday morning. We then explored the east side some more and hit up another beach for a while. That evening we had reservations for the dinner cruise. Again, a bus took us out to the harbor and though our host on this bus was fun and all he didn't hold a candle to the guy from the night before. (Though to be fair the bus was 75% full of Chinese tourists so communication was a bit of an issue. They seemed to have a real laugh at him trying to speak Chinese to them, though.

Andy and I paid the extra 20 bucks a person to forgo the buffet dinner and do the clam bake, which was a wise choice. We got to feel like of like VIPs, allowed on the boat earlier and seated in a special section of the boat. This time we got to meet some people and we sat with a nice couple from Oregon. Leave it to the folks from the Pacific Northwest to spring for the seafood dinner. As we headed out to sea around sunset I was unable to eat my meal uninterrupted because the view of the city at sunset, with big pink clouds and a huge rainbow was just too pretty to not take pictures of. The food was yummy and we got mai tais in little coconuts for the evening. The sea was a bit choppy when it was time to get up but I was used to it. The one problem was that there was only one restroom per sex and the woman's room was plagued by a long line with some very sea sick people. There was one woman in particular who was having no fun all evening and stayed by the ladies room the whole evening. Now I don't know where she's from, maybe somewhere like Kansas and has never been on the open water before so I don't want to judge but she really should have taken mine and the woman from Sydney's advice about it being better to be outside in the fresh air and to watch the horizon when you're sea sick than to hull yourself up in the stuffy, now smelly bathroom. But that woman refused to leave the damned bathroom and from what I heard the unpleasantness got pretty out of hand for a while.

There was a Polynesian show on the main floor of the boat but Andy and I had just done that routine the night before so I was happy taking my coconut cup of booze and going out on the deck and watching the skyline. This was my favorite part of the trip. There weren't many people on the deck and I was there on the water with booze and my man and a lovely city view. I was so at peace and happy. The deck started getting crowded for the fireworks display on Waikiki, which apparently they do every Friday night (so if you want to do the dinner cruise, that's the best night to do so). As we headed back to port Andy I went back to our table on the top floor. Our floor was where the clam bake area was which was only a few tables and mostly the buffet for the Chinese tourists. When we came back up they were being entertained by a DJ who was getting them to boogie down on the dance floor, there weren't many at first but then he dropped Gangum Style and I saw the most awesome thing I've seen possibly ever. The song brought every Asian tourist on the boat to the dance floor, tourists of every age young and old and they lost their inhibitions and just danced away and were having a fucking blast. Middle aged women, old men and ladies, they all did the silly dance and were smiling, having a great time. I got video of that shit. It was a priceless moment.

Once docked we said our goodbyes to the couple from Oregon, got on our bus and were taken back to the hotel. Nicely buzzed and back early enough to still buy some booze at the convenience store before it closed, we kept the party going in the hotel room, drinking rum and staying up to the wee hours of the morning.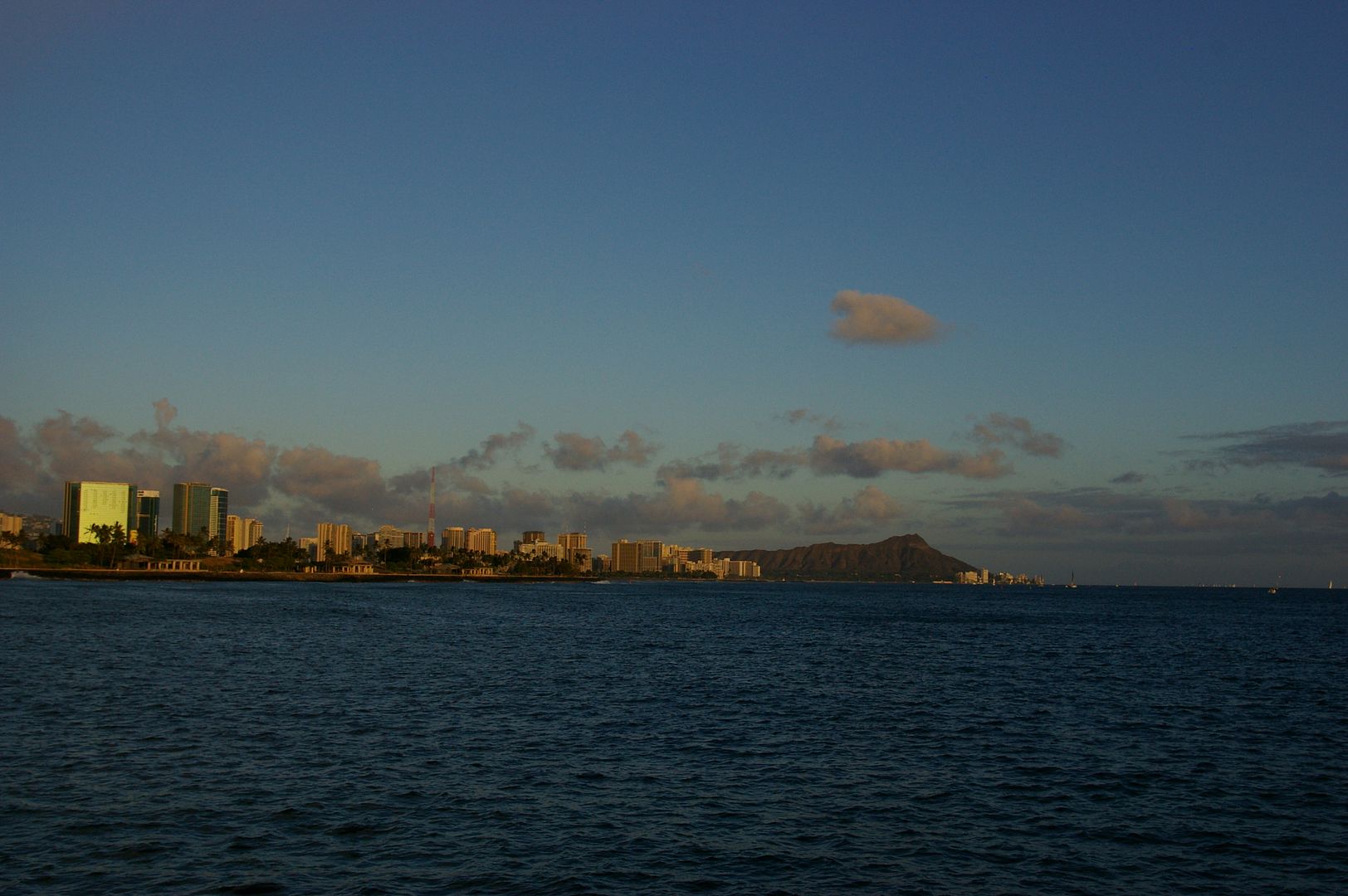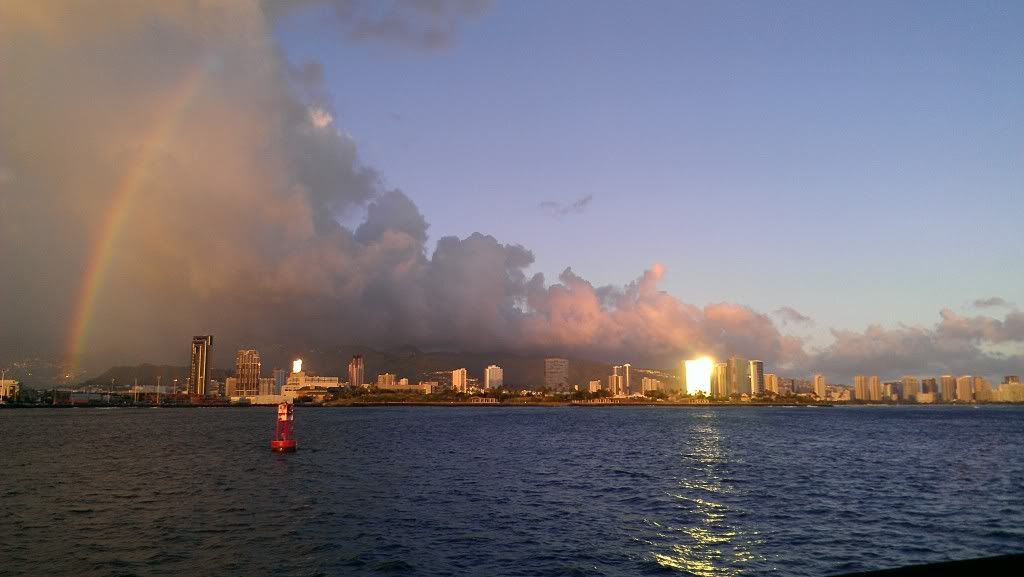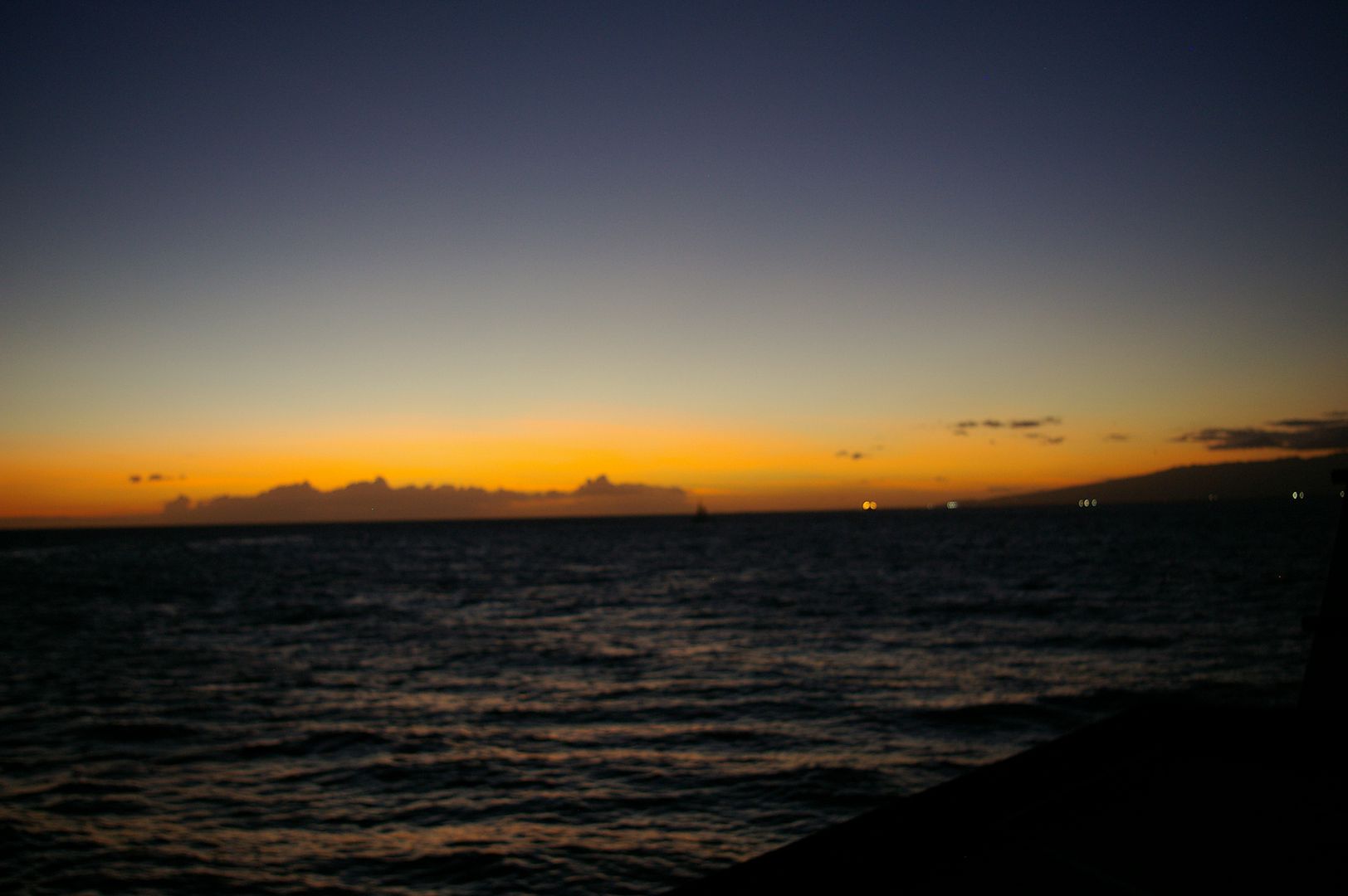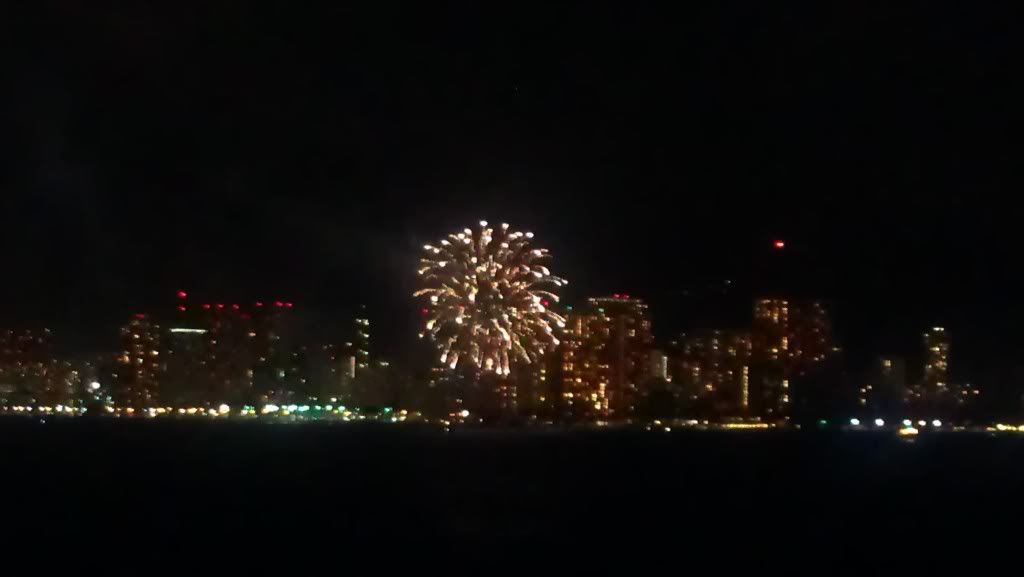 Sunday I remembered why I don't drink rum and the day was lost in bed, hungover. I made it to take a nice long bath which made me feel a bit more human and alive enough to do our one planned item for the day, meeting up with Andy's colleague from work who lives in Honolulu for dinner. We had a nice, fancy Italian meal with a view of the sunset and had a nice, laid back evening. We took it easy because the next day was our big date to swim with the fishes on the underwater scooters.

A quick bit of back story I almost drowned in a pool when I was 4 years old. As much as I love the water and love to swim, I don't put my head under water very much at all. When Raye and I were in Kauai we tried snuba-ing, which is like scuba diving except you don't have the tank on your back, it's up on a boat above you. At the beach, where they try to get you acclimated to the face mask and being underwater and teaching you how to breathe, I was unable to go forward with the dive. Going underwater and seeing I was under water put me in a panic, even though I could breathe my mind did not make that connection and I started breathing real quickly, which is what you're not supposed to do. So i was unable to do this. This underwater scooter thing is different. You're kind of in your own human fish bowl that's part of the scooter so it's less claustrophobic than scuba or snuba diving. However, that wasn't my issue, my issue was putting my head under water at all, so I was very nervous about this whole thing.

We got on the boat with two other couples and headed out to the ocean to meet up with the boat and the divers with the scooters. The people at the company were super nice and helpful. I can't compliment them enough for how cool and friendly they were. We told them about my reservations and they were supportive and helpful in overcoming my fear and getting me under there. One of the couples went out before us and we stayed on the boat and watched a seat turtle floating around. Then it was my and Andy's turn. I went in first. You've got to dive under a little to get into the bubble of the scooter. once I was under the diver guide started escorting me away from the boat. I was kind of freaked out being under water but I looked up and saw the ceiling of the sea right above me, only about ten feet away, and that put me a bit at ease. As freaked out as I was being under water I knew that I had the diver with me and the other guy snorkeling above me and keeping watch over me. But then my diver left me to go help Andy get into his scooter. There I was, left alone under the sea. We had joked about thinking about the movie The Abyss before hand but thinking about it while under water, didn't really help. Once my diver man was gone all I could do was breathe and tell myself I was going to be okay. I was still freaked out. I was just about to kind of freak out, being left alone under the water until I saw Andy come around on his under water scooter and he was wearing this adorable child-like grin on his face. Seeing how happy he was put me at enough ease to continue. The diver put some bread into a little pouch attached to our scooters to attract the fish for us to see and to help with the pictures. The fish were particularly attracted to my bread and I was all the sudden surrounded by tropical fish.

When I was a nipper, from like first through third or fourth grade, I wanted to be a marine biologist. Say what you will about the success of ultimately deciding on writing and the arts, but I would have made a really really rubbish marine biologist. I couldn't even put a hermit crab in my hand at the aquarium, having all those fish around me, kind of freaked me our. Don't get me wrong, it was an amazing experience and I'm really glad I did it. Especially with my problem of going under water I've long wanted to have the experience of being able to swim with the fishes first hand. I just wasn't ready for how many fishes there were and how close they were getting to me. The one thing I wanted to see was a sea turtle, which, luckily, our diver spotted and directed me toward. It was just a little guy but I saw him and was happy. It felt like a huge accomplishment to see a sea turtle under the ocean.

They put me and Andy, still grinning like a school boy, together to take some pictures. In the pic you can see how happy Andy is and you can see how anxious I was. We held hands. Then they let us kind of wander off in our own direction. Andy wandered off to explore some more. I felt the water in my bubble go from my shoulder to my neck all of the sudden, I don't know why, and that freaked me out enough for me to give our diver the 'I wanna go up right now' sign with my hands. The diver did as I asked and took me to the surface back to the boat, luckily only maybe five minutes or so before our time would have been officially up and I got out of the scooter. When I got back up on the boat, everyone was all proud of me for doing it and Andy didn't even know at the time that I had asked to come back to the surface. Andy surfaced and joined us on the boat a little afterward and I was all proud of what I had accomplished. I had managed to get over my fear enough to go under water and see a sea turtle. We hung out on the boat, talking to the owner for a long while while the last couple went in and had their time under the sea. Then we went back into the harbor and back to land.

Once back on land we went on a hunt for sushi, keeping on that theme of appreciating the sea life and then eating it. We wanted to have a better sushi experience than our first night. However it took some doing. In Seattle it's almost impassible to find sushi on a Sunday (that isn't a corporate chain). In Hawaii we found plenty of places, and we hit load of them up but none of them were what we were looking for. One of them was employing a bunch of white teenagers, much like that greasy teenage kid from the Simpsons, that wasn't what we were looking for. Eventually after looking at about five places we settled on a conveyer belt sushi place that was actually pretty good and did our damage there. After that we went shopping for swag for a number of hours and got stuff for folks at home. Then, that night we finally had dinner at our hotel restaurant on the beach and had an amazing meal. Again...it was fish.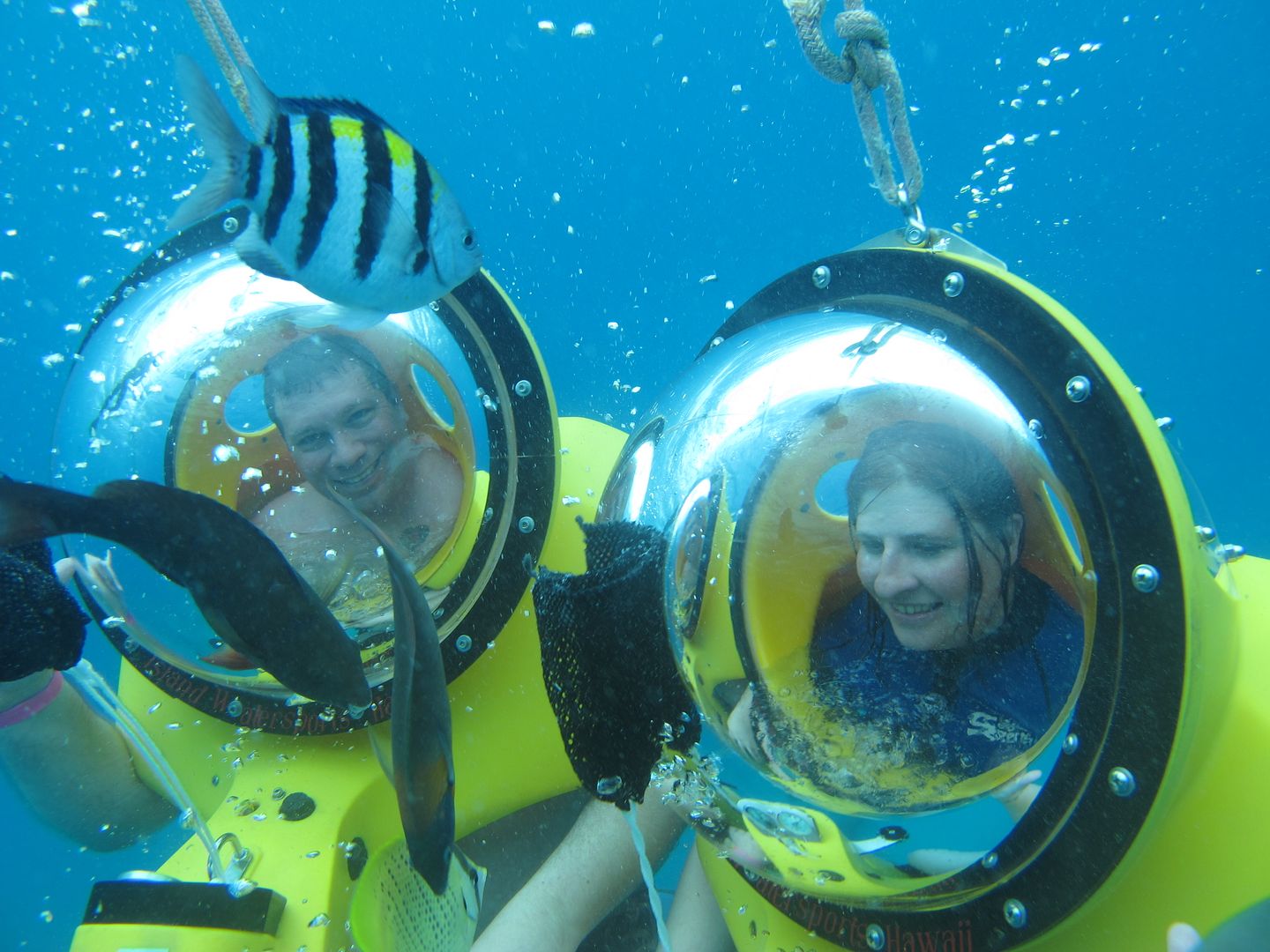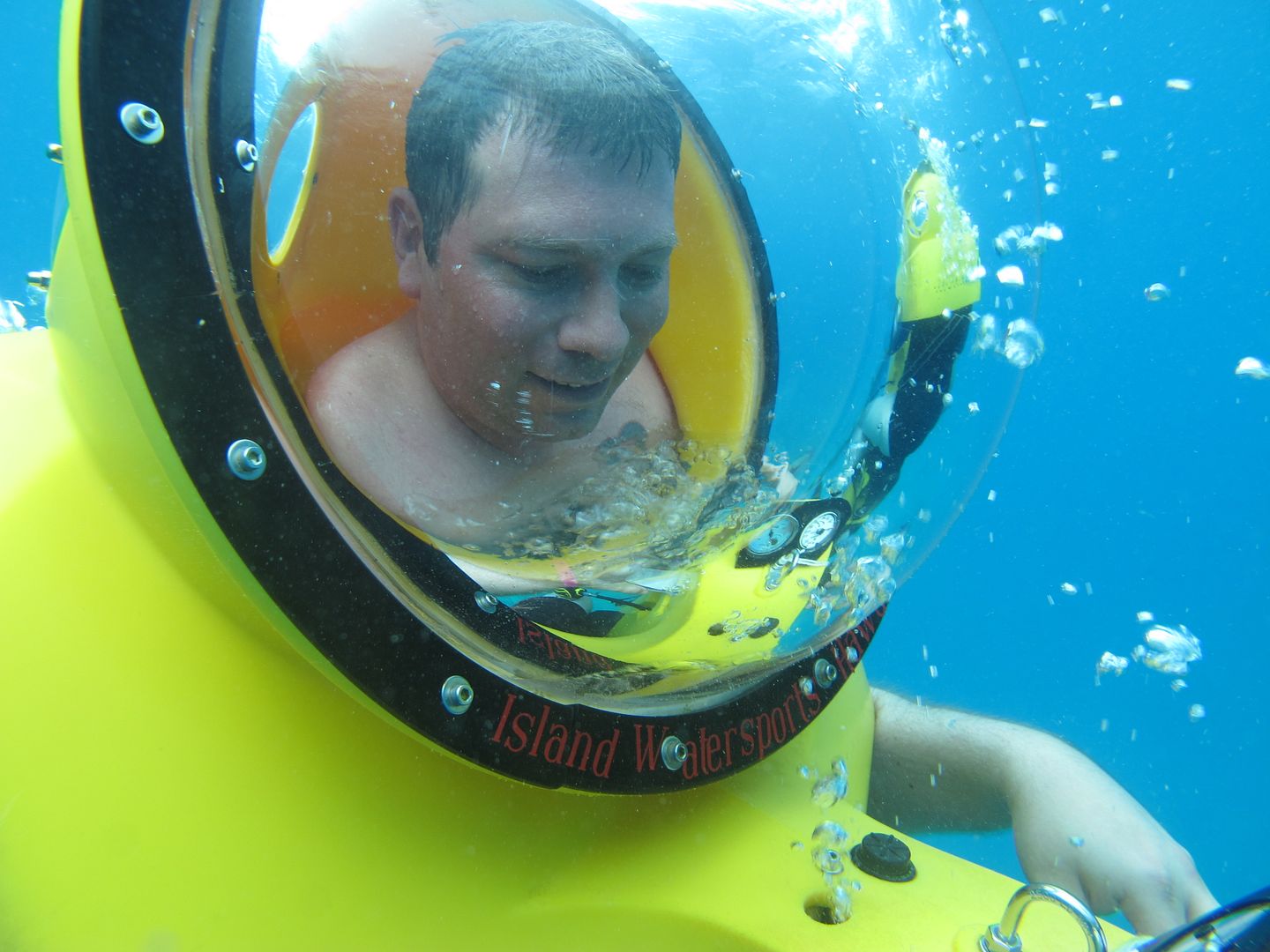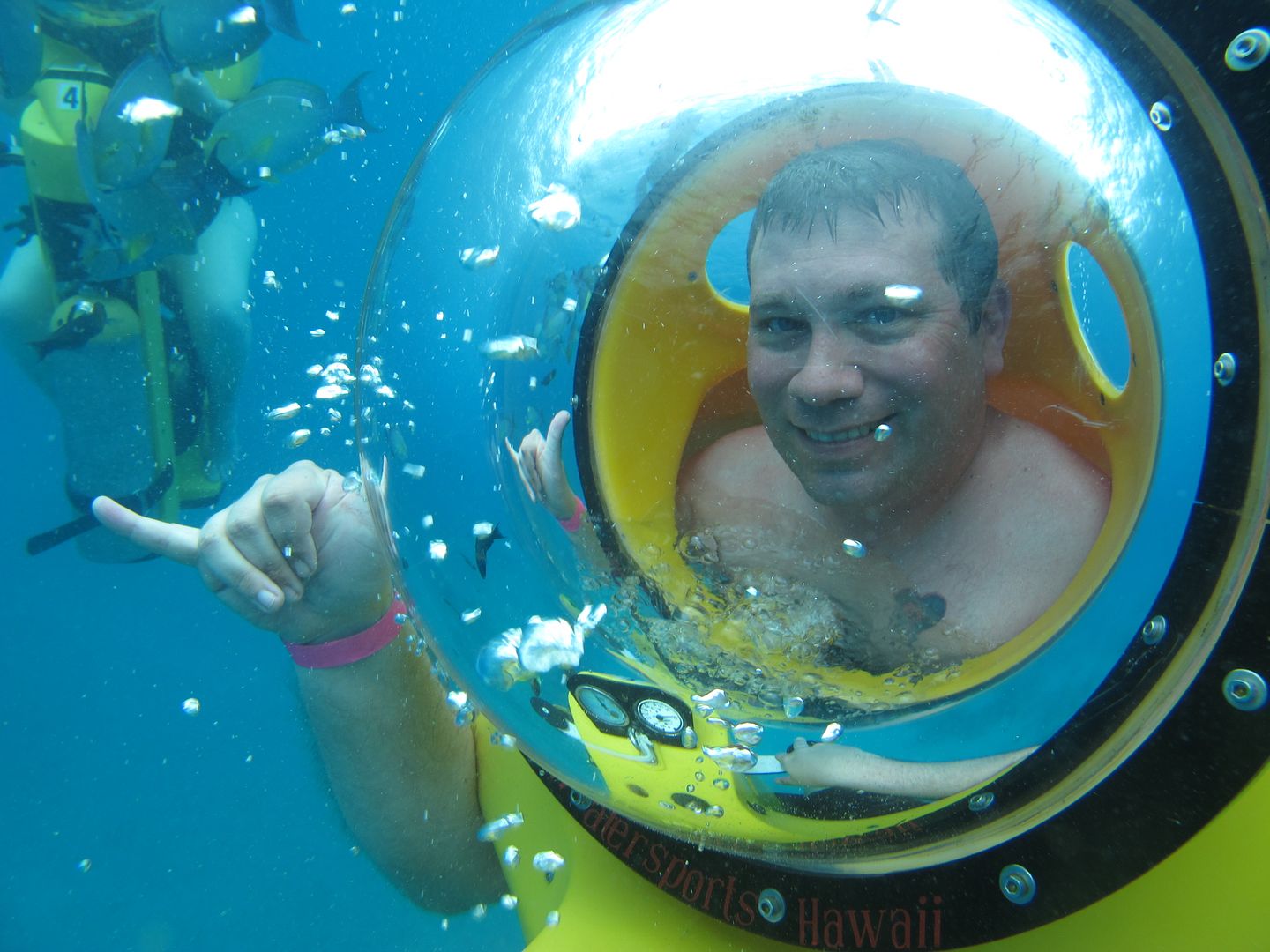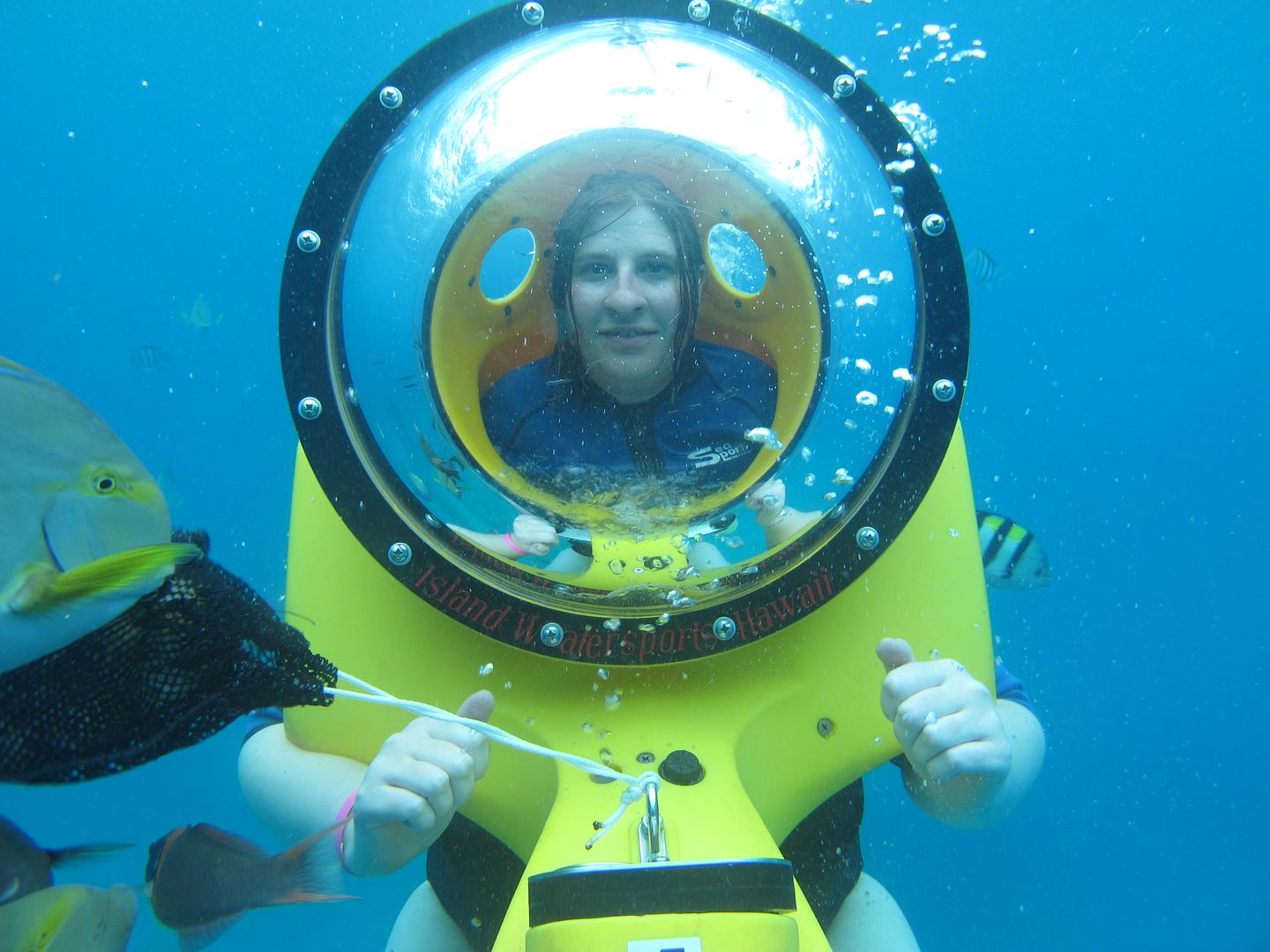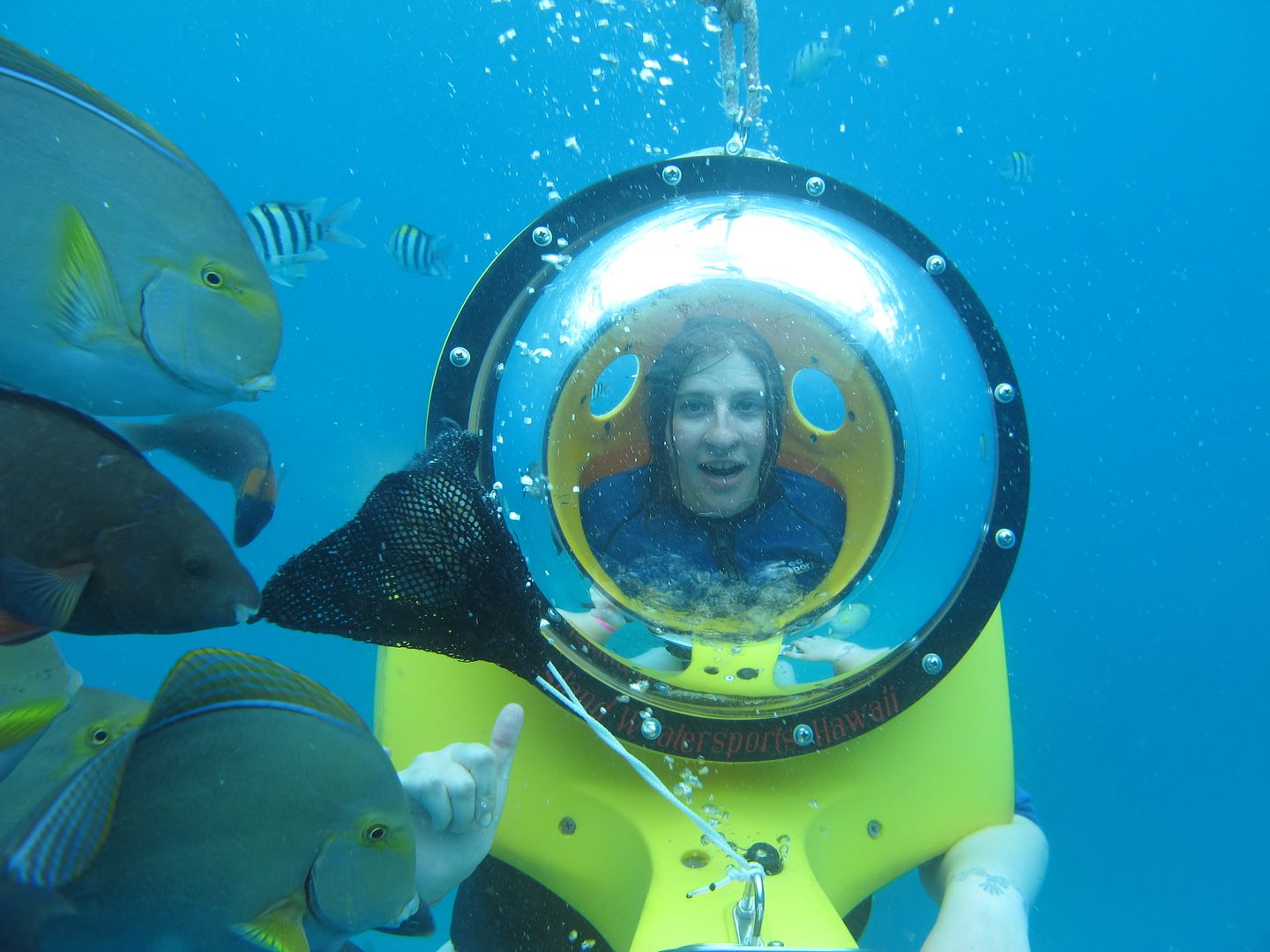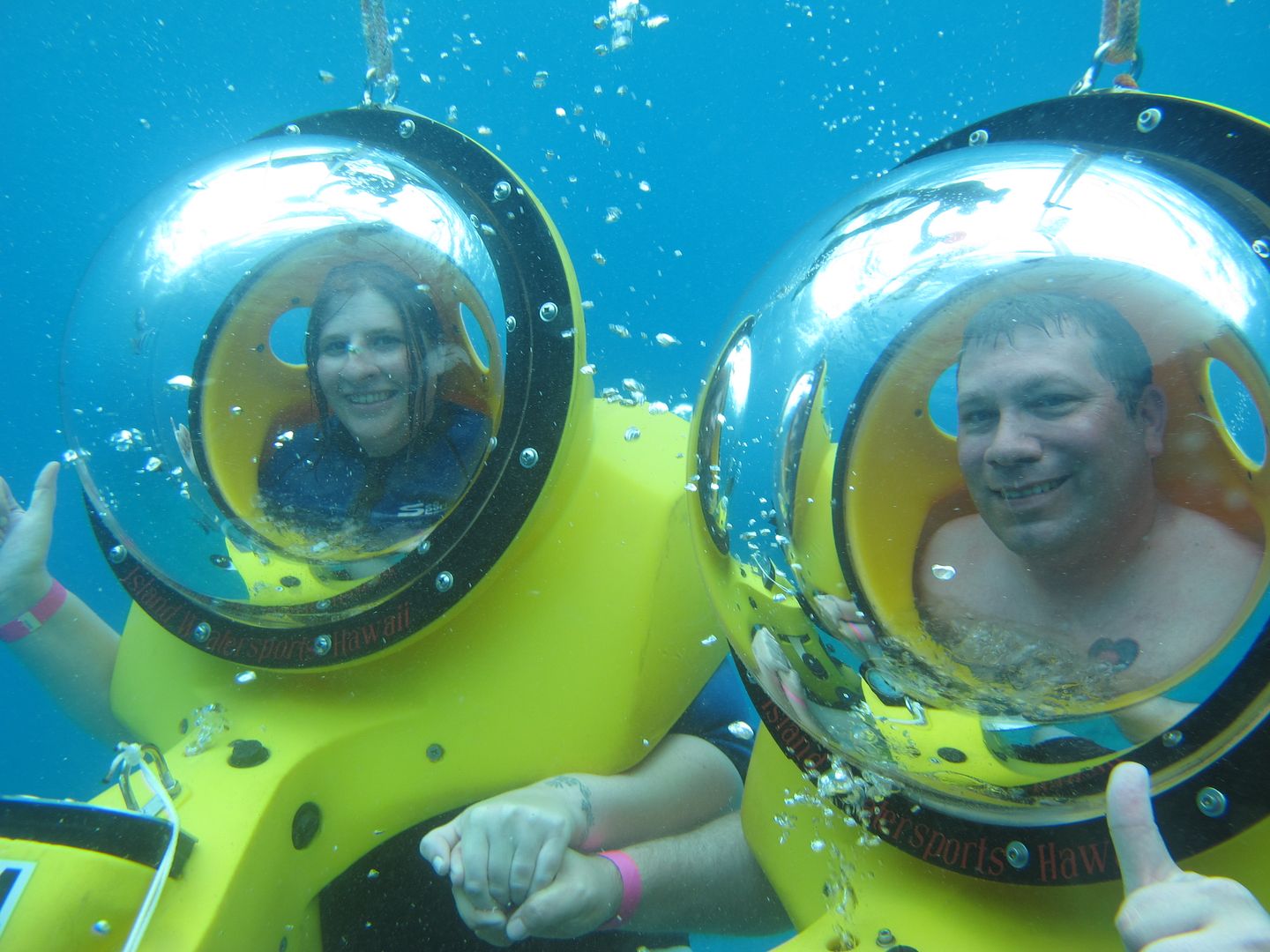 Monday we got back in the car and headed west. With the government shutdown going on we were under the impression that we wouldn't be able to see Pearl Harbor, but as we were headed out west that day I thought we should stop by and see what we could see, even if it was from afar. We got there and discovered that, even though the memorial and the visitor center were closed due to the shut down, the USS Missouri and the flight museum were still open to the public. So we parked the car and took one of the shuttles to Pearl Harbor. At the USS Missouri we got to go to a special presentation and listen to a talk with native Hawaiian Peal Harbor survivor and veteran of the Battle of the Bulge, Uncle Herb. His short speech about December 7th and his story about how frostbite at the Battle of the Bulge took his ability to walk made me teary eyed and afterwards we were able to shake his hand and get a picture with him. That was a real treat. We went on the ship and looked around. Though we weren't able to visit the memorial to the USS Arizona, it was visible from the boat and there were other memorials on land. We forwent the flight museum because, I guess being from Jet city, I wasn't too interested. So we bussed it back to our car. Even though we didn't get the full Pearl Harbor

Then we went to go check out the west side of the island. The valet guy said it was cool over there but we were not impressed. Actually it kind of looked like a third world country over there. It was very poverty stricken and arid. There wasn't much to see. We went as far as the highway would take us, to a beach area and there was also a special space observation, but we really just checked it out and turned around. We stopped briefly to investigate a cave, that I didn't have the balls to go very far in but Andy did and reported back that it was full of bats. We headed back to Honolulu and had lunch at a Teddy's Bigger Burgers which was a 50s themed local chain that was really good but uber filling. From there we went back in the car and went back on the Pali Highway to check out the Nuuanu Pali lookout point. We then went back to one of the towns on the winward side of the island, Kailua, where we hit up a beach. Having seen most of the island at this point, especially having seen the sucky west side, we agreed that outside of the city the winward side of the island was our favorite. We stopped at Kailua beach and went for a swim as the sunset. It was our last full night in Hawaii and it was terribly romantic, the sky turned from pink to purle as we were on seriously the softest, most calm and wonderful beach we had found during the whole vacation (and mind you we were on a beach at our hotel that we enjoyed whenever we wanted. This was absolutely lovely and a romantic end to our honeymoon. Again, I was quite happy but sad that it was almost over. We went back to the hotel and dinned at the bar before going back to our room to get our stuff packed for our return home.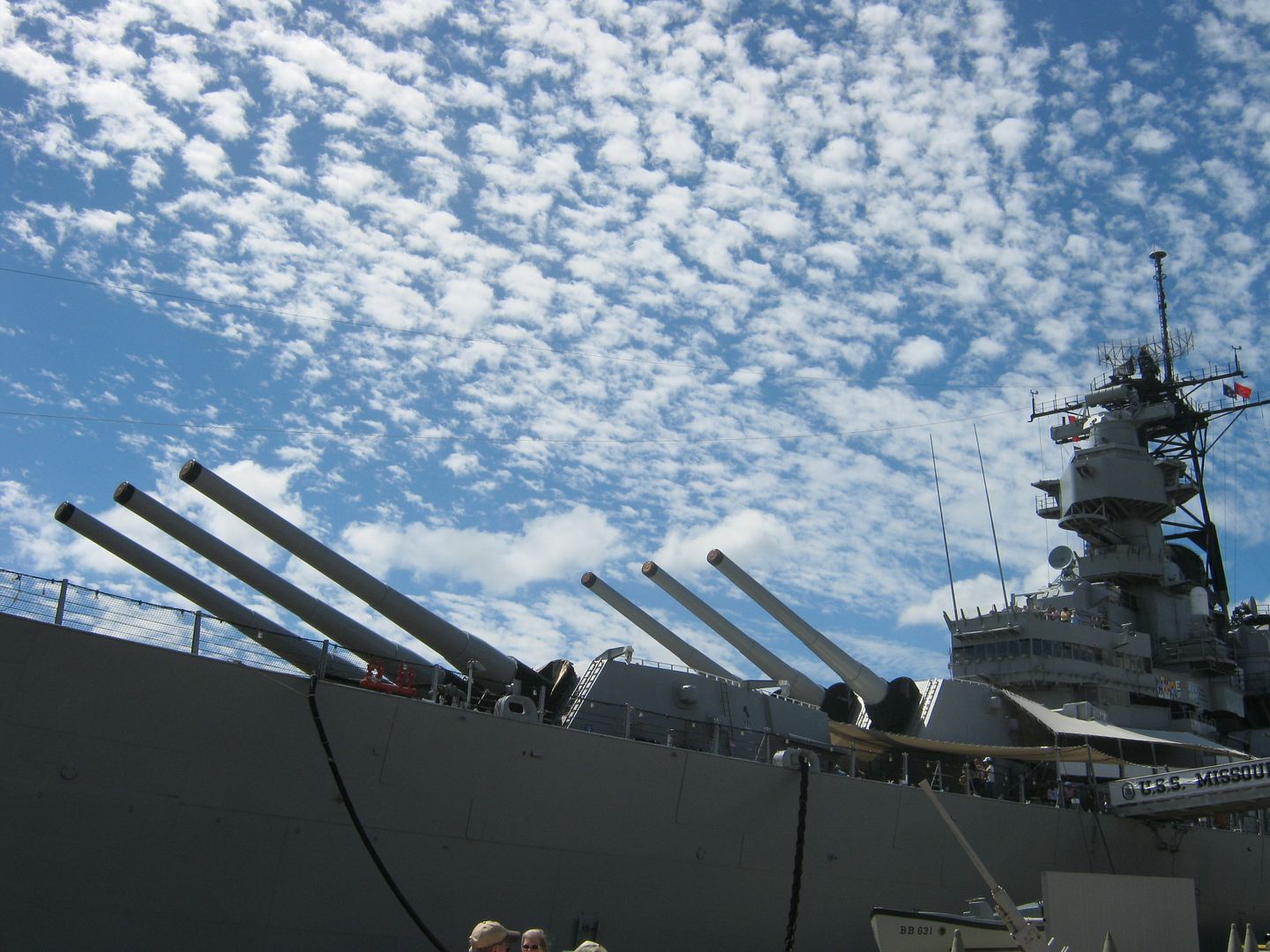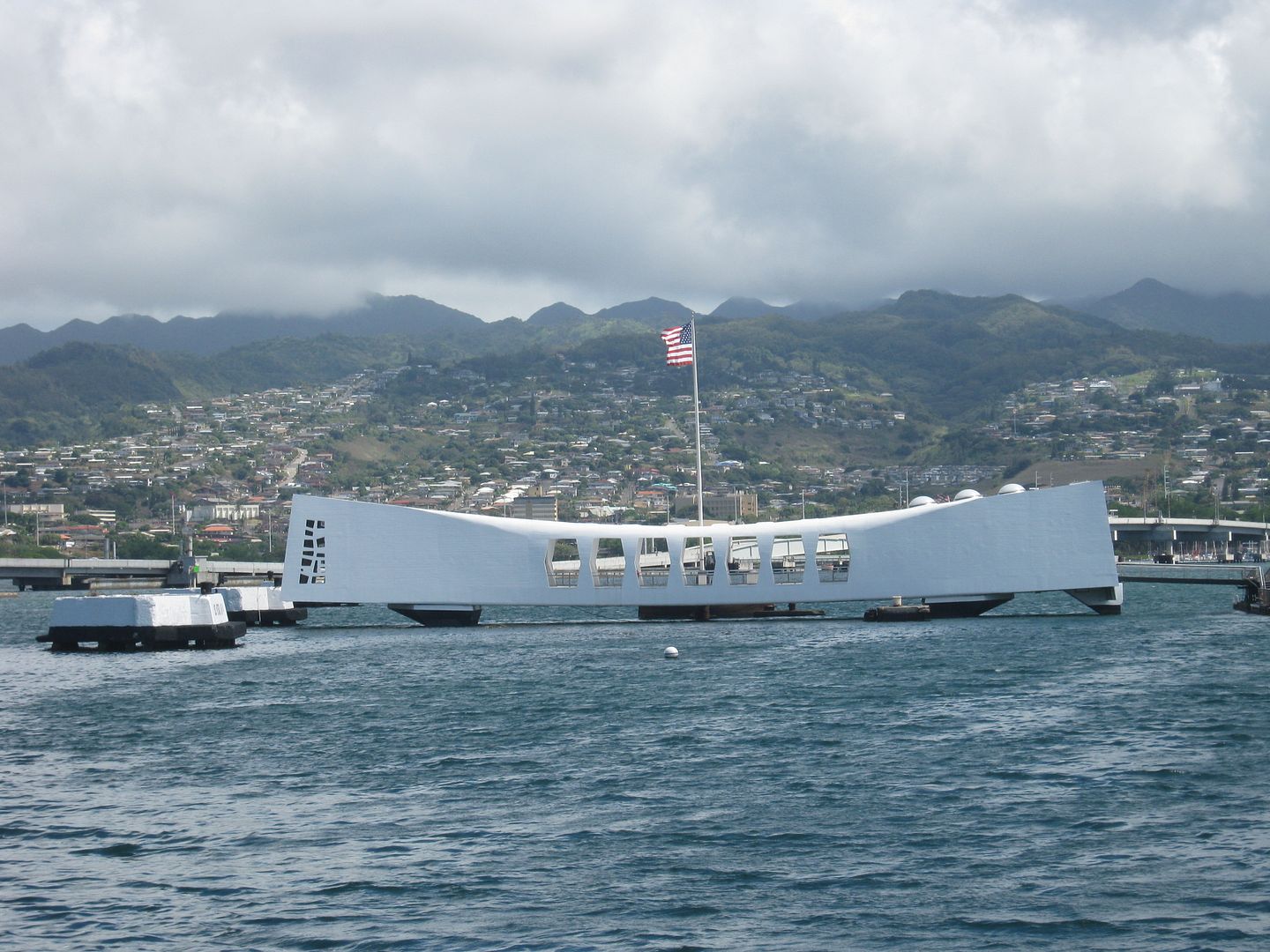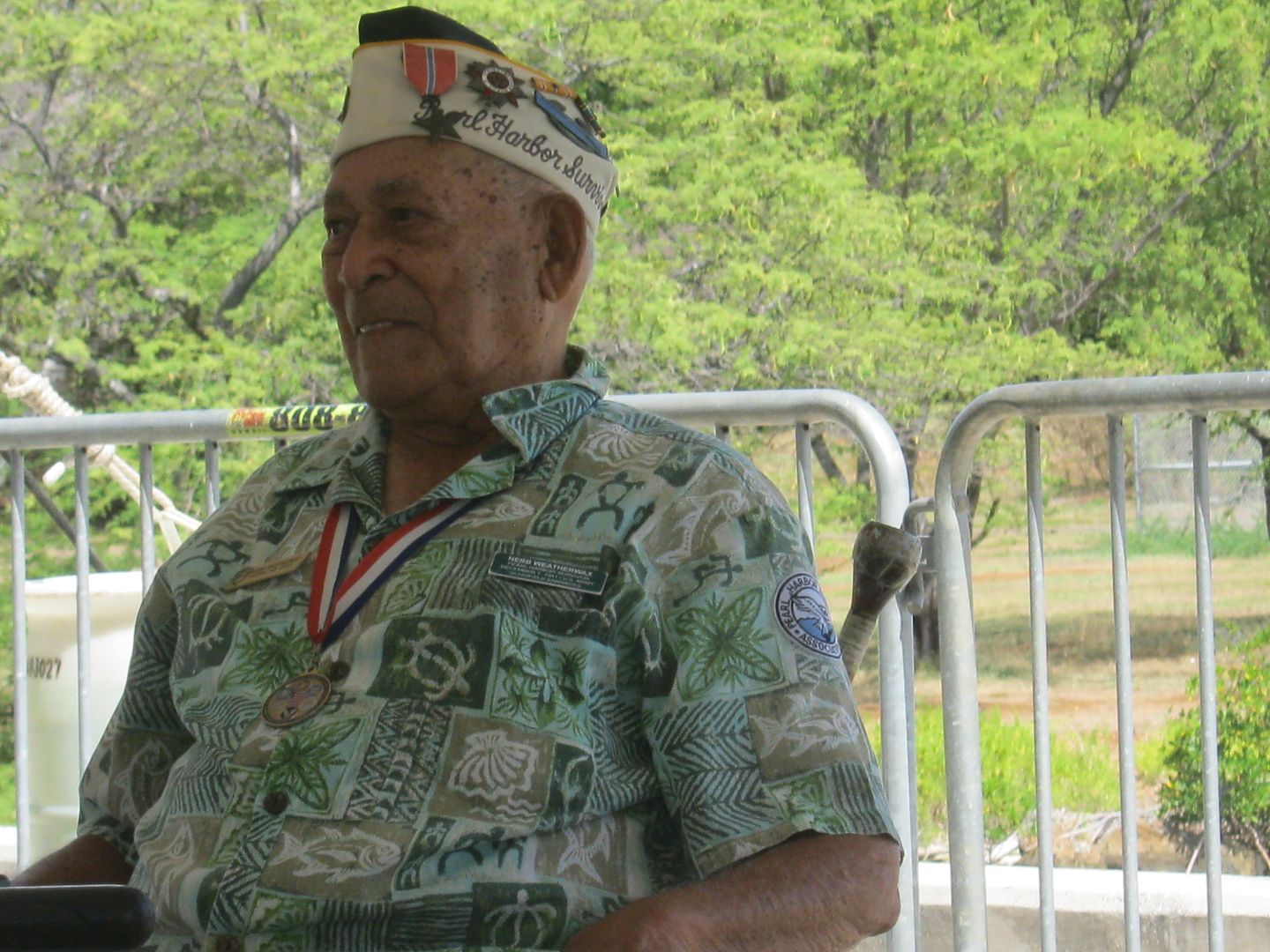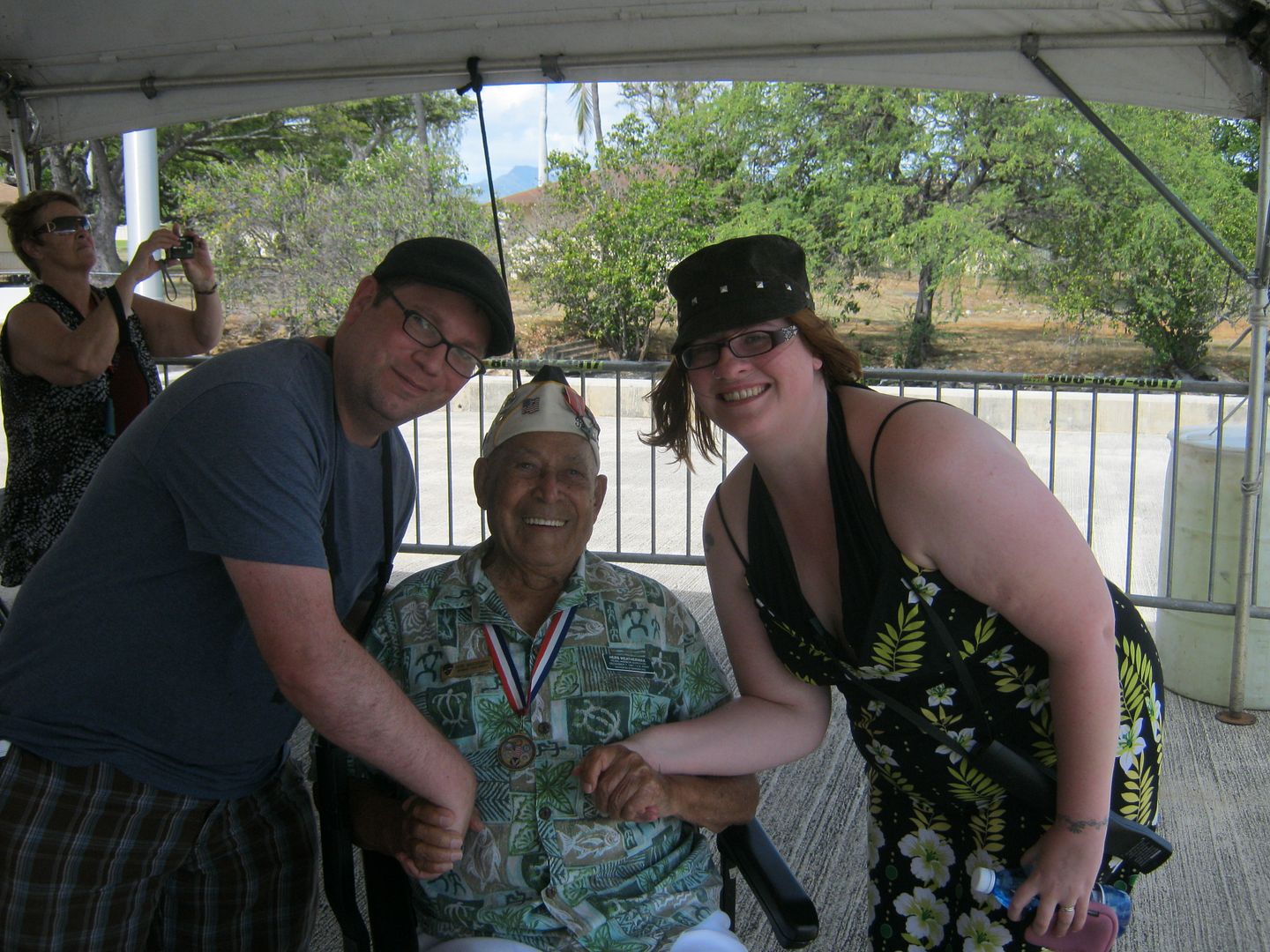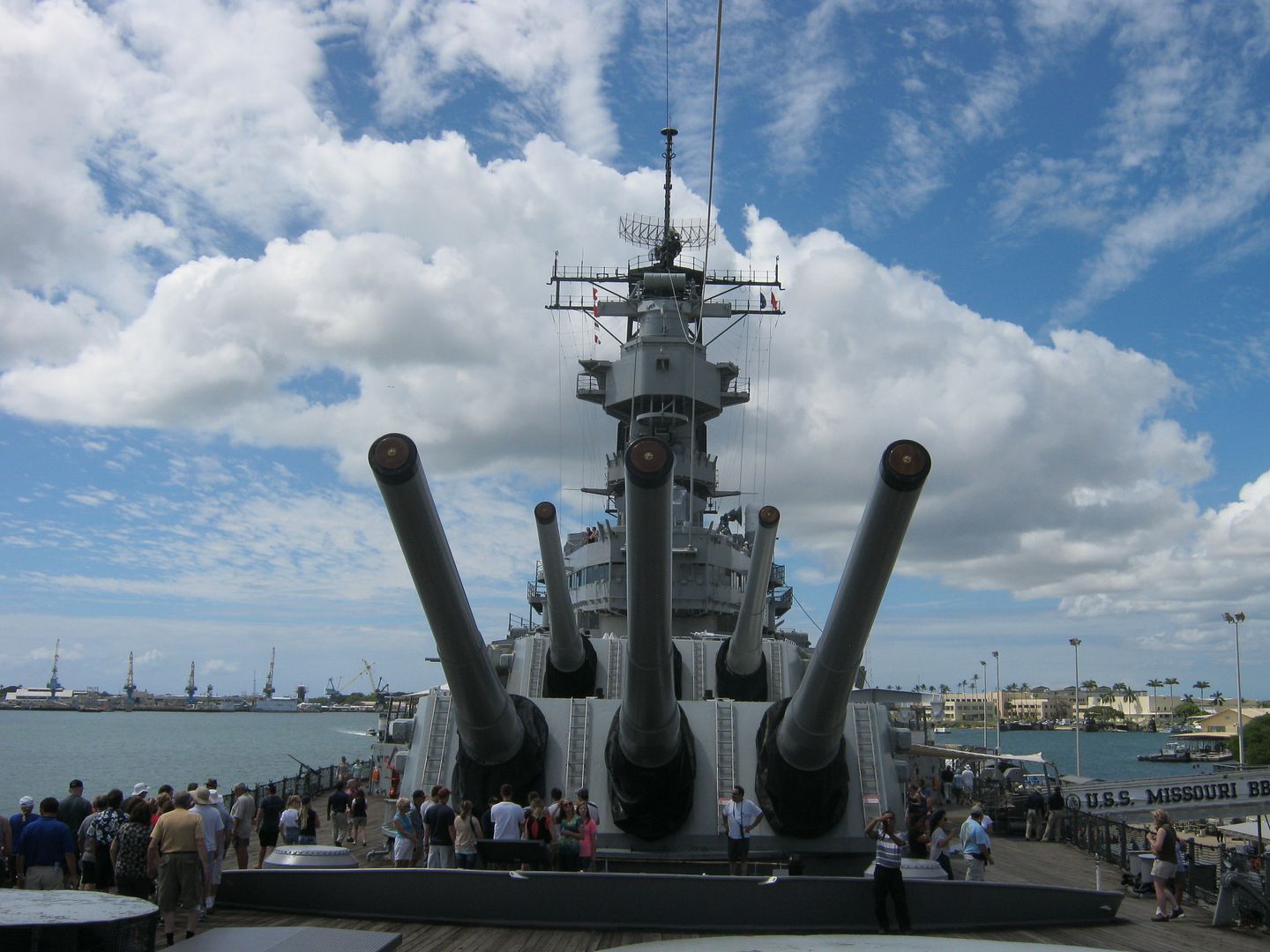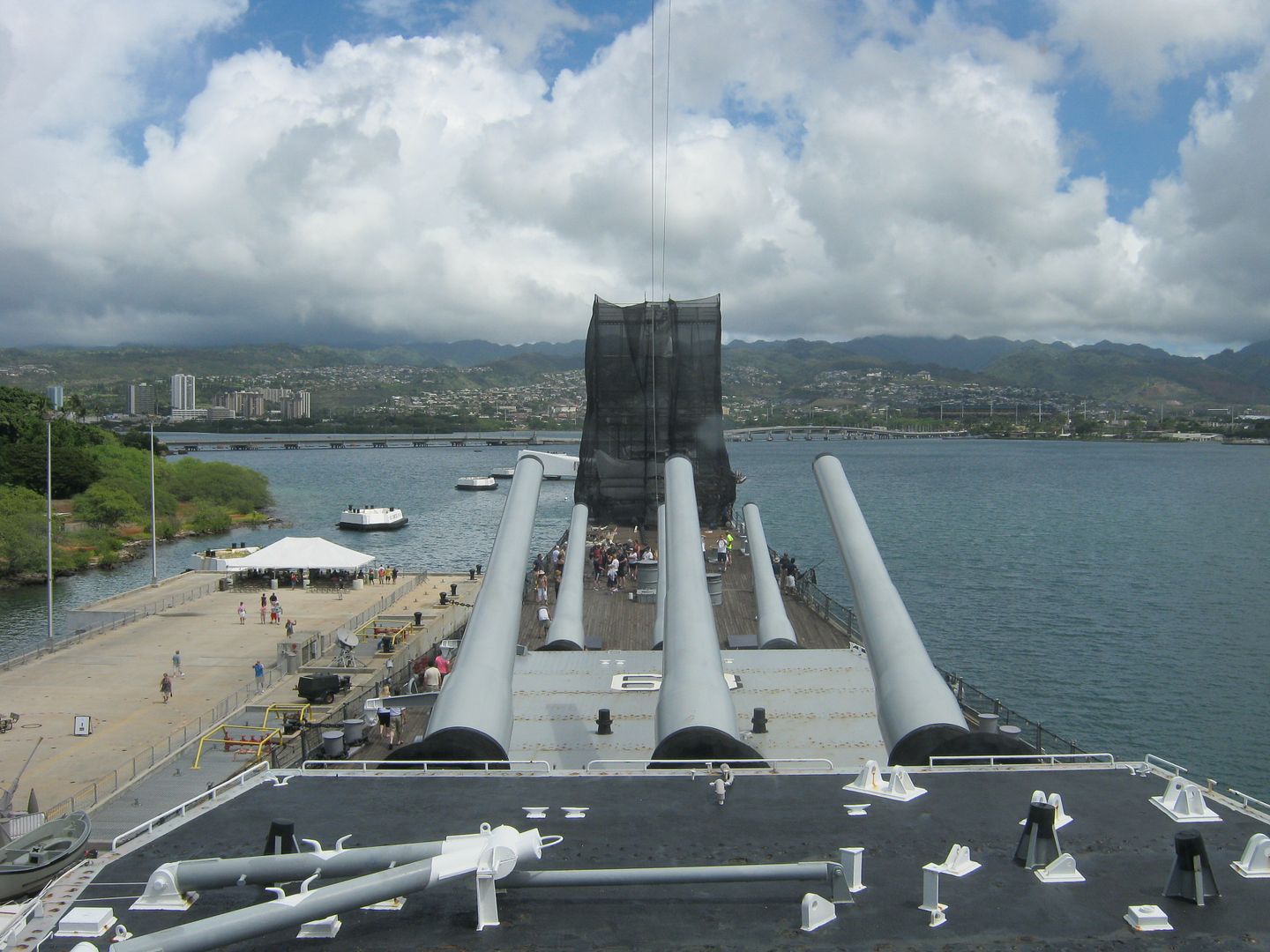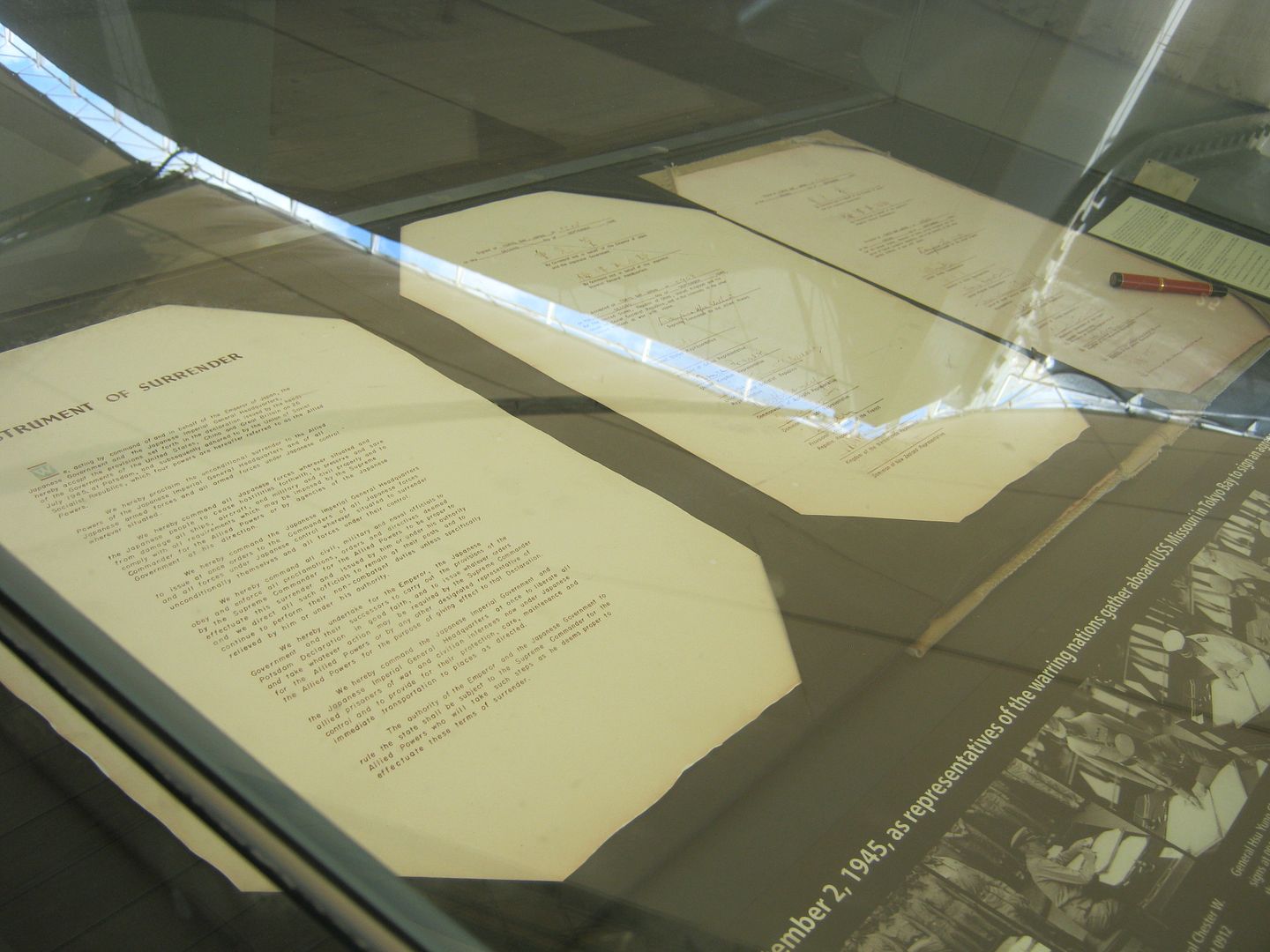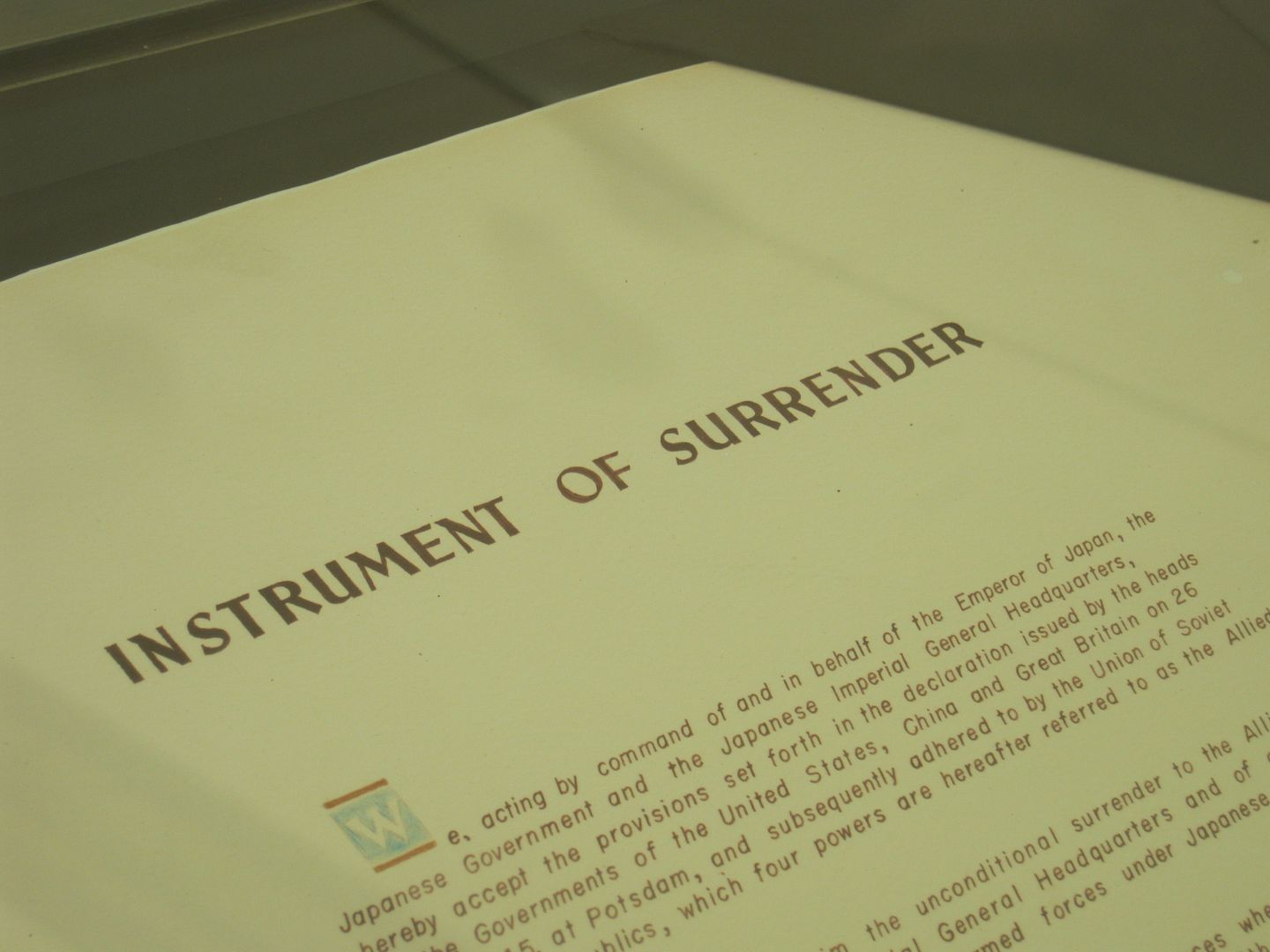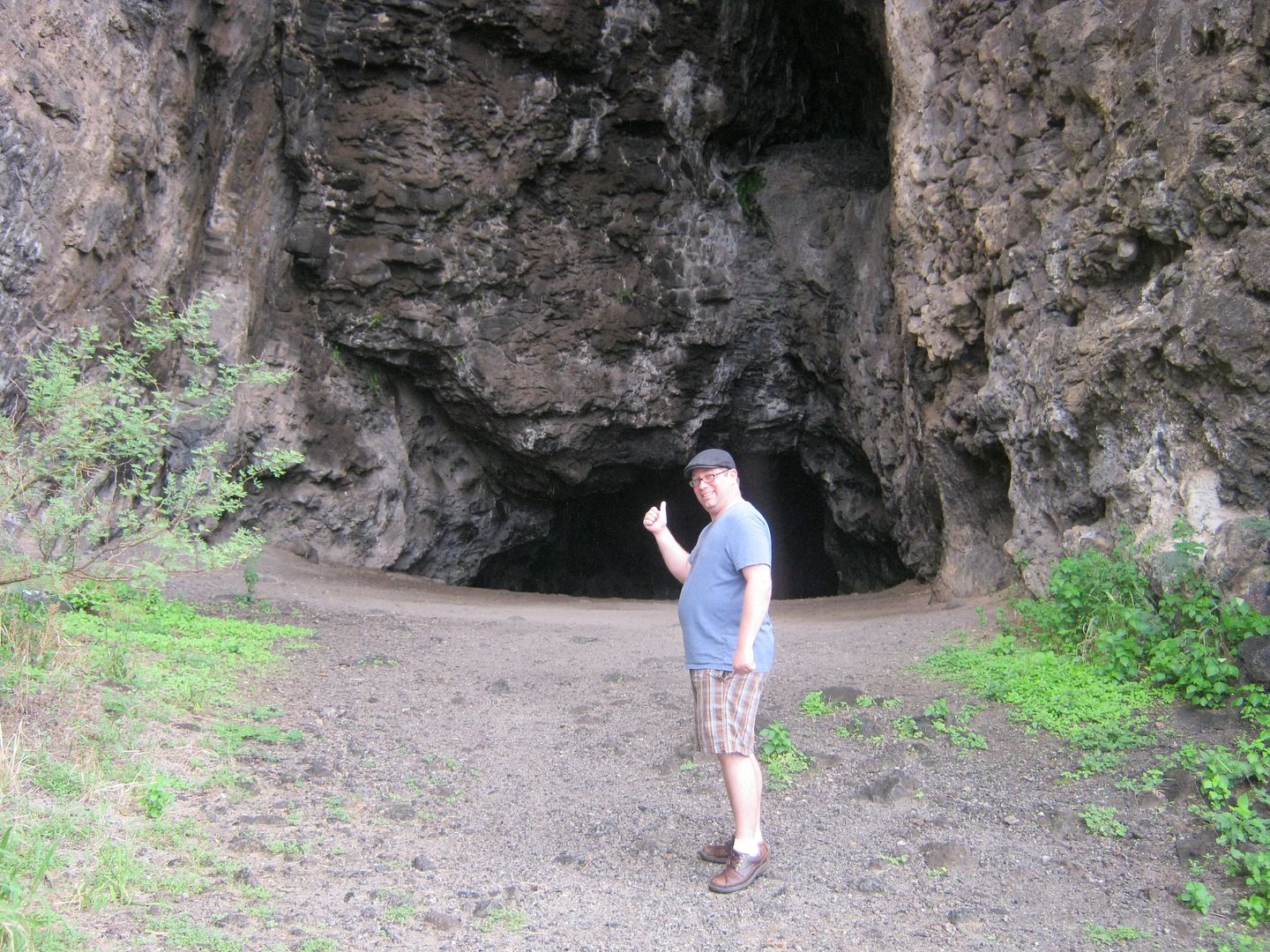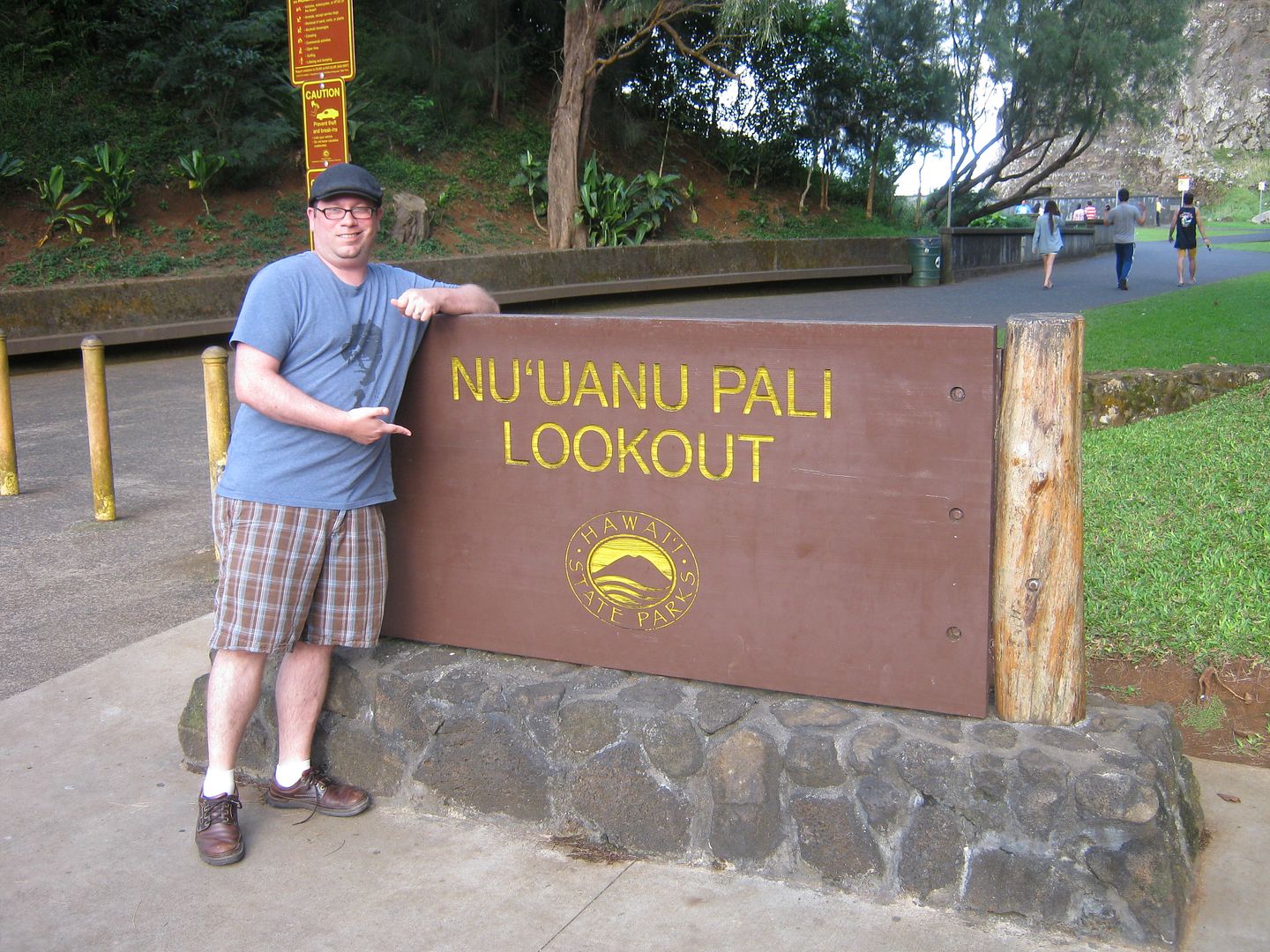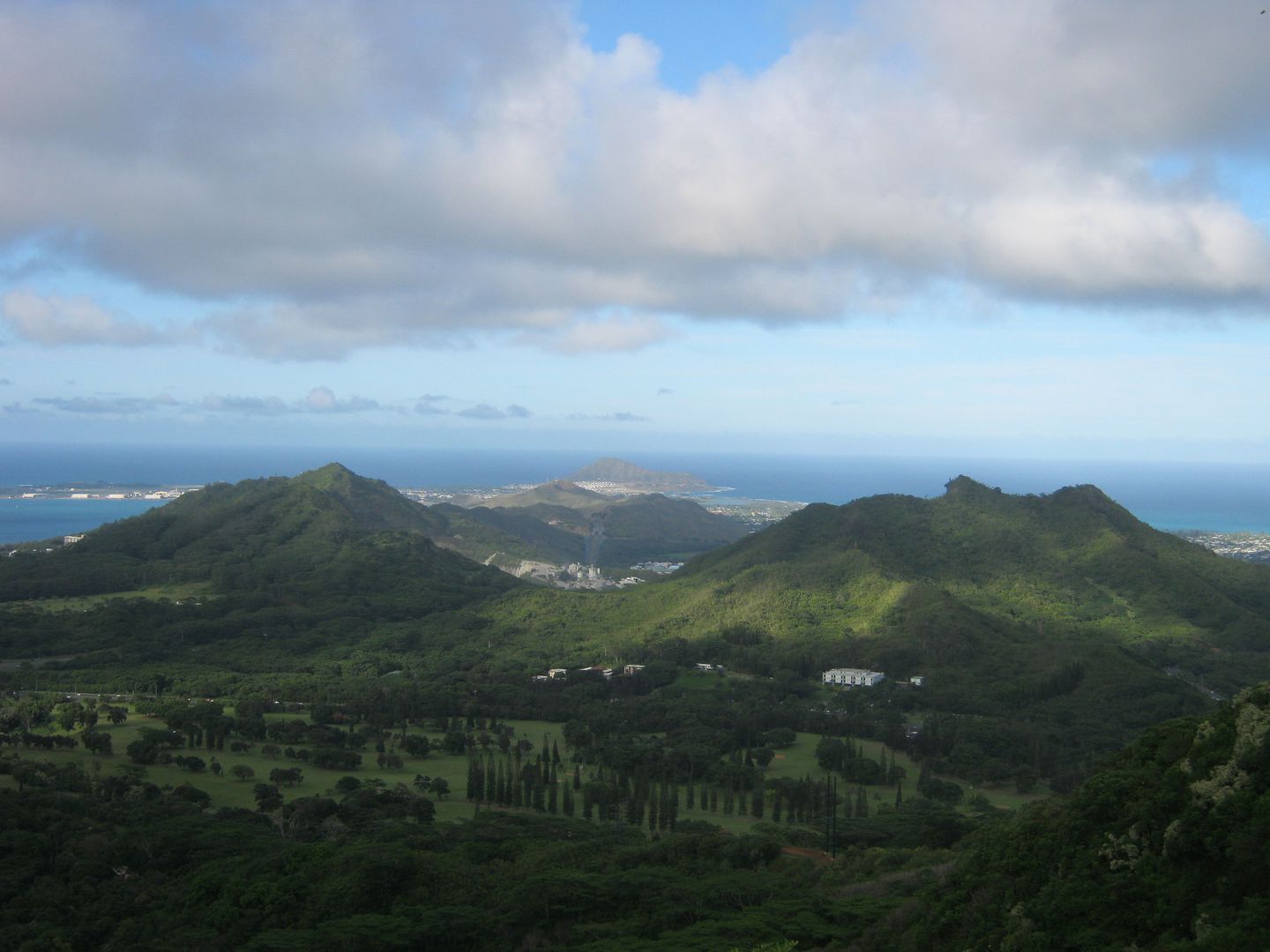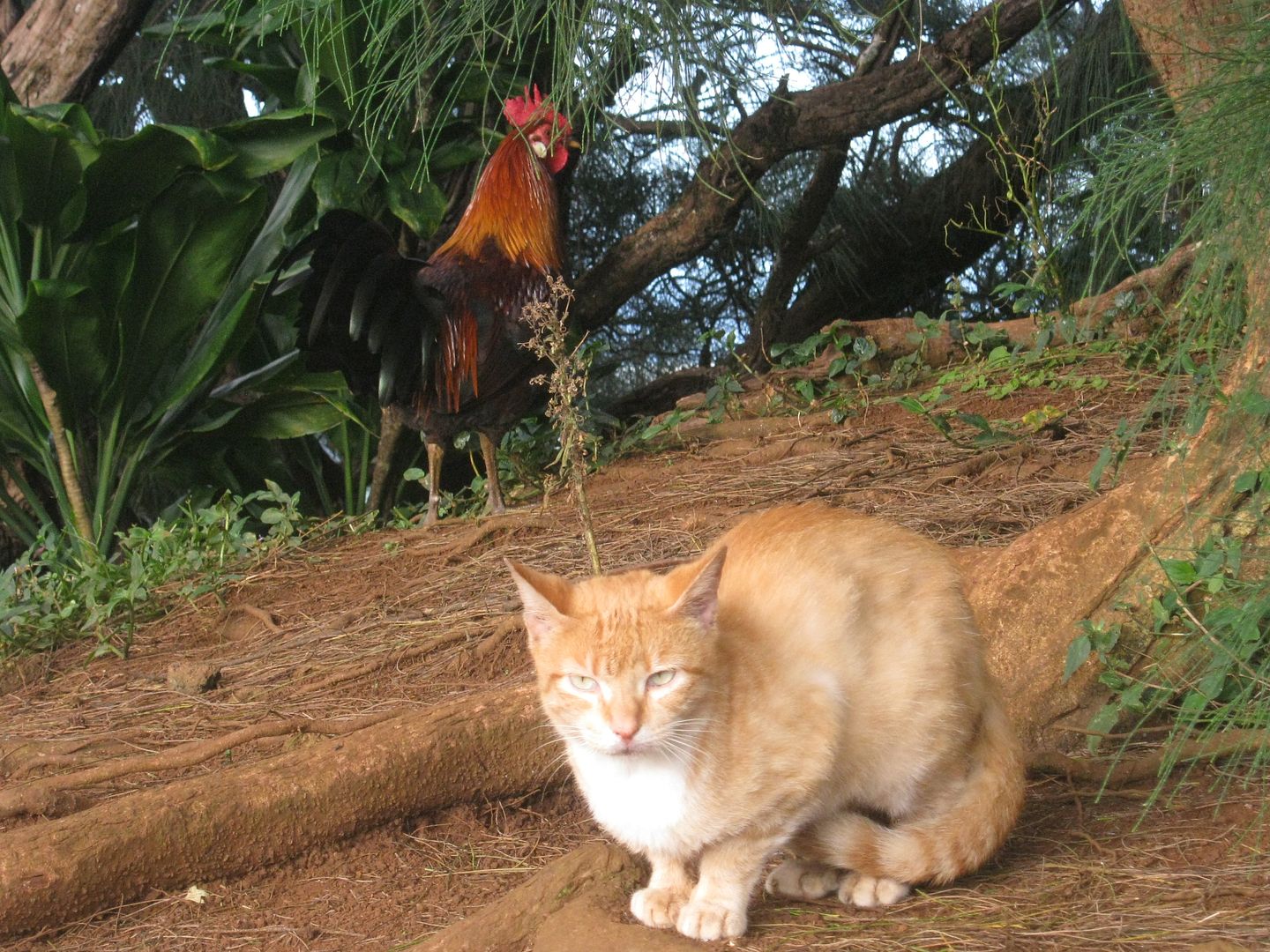 hehehe. Caption this. ;)

On our last day in Hawaii our flight home wasn't until later at night, it was a red eye, so we had the day to amuse ourselves. We went out to brunch after we checked out of our hotel and then hit up the zoo. It wasn't a huge zoo but it wasn't bad. We got to see plenty of animals and take pictures. After that we did a little more driving and checked out the town of Haleiwa which was a place we drove by after the Dole Plantation but never actually checked out. In that general area we checked out a beach (in the nighboring town, actually) and then went into the adorible little town center where we stopped in a mexican place for dinner and a couple of margaretas before heading back to the city and the airport to go home.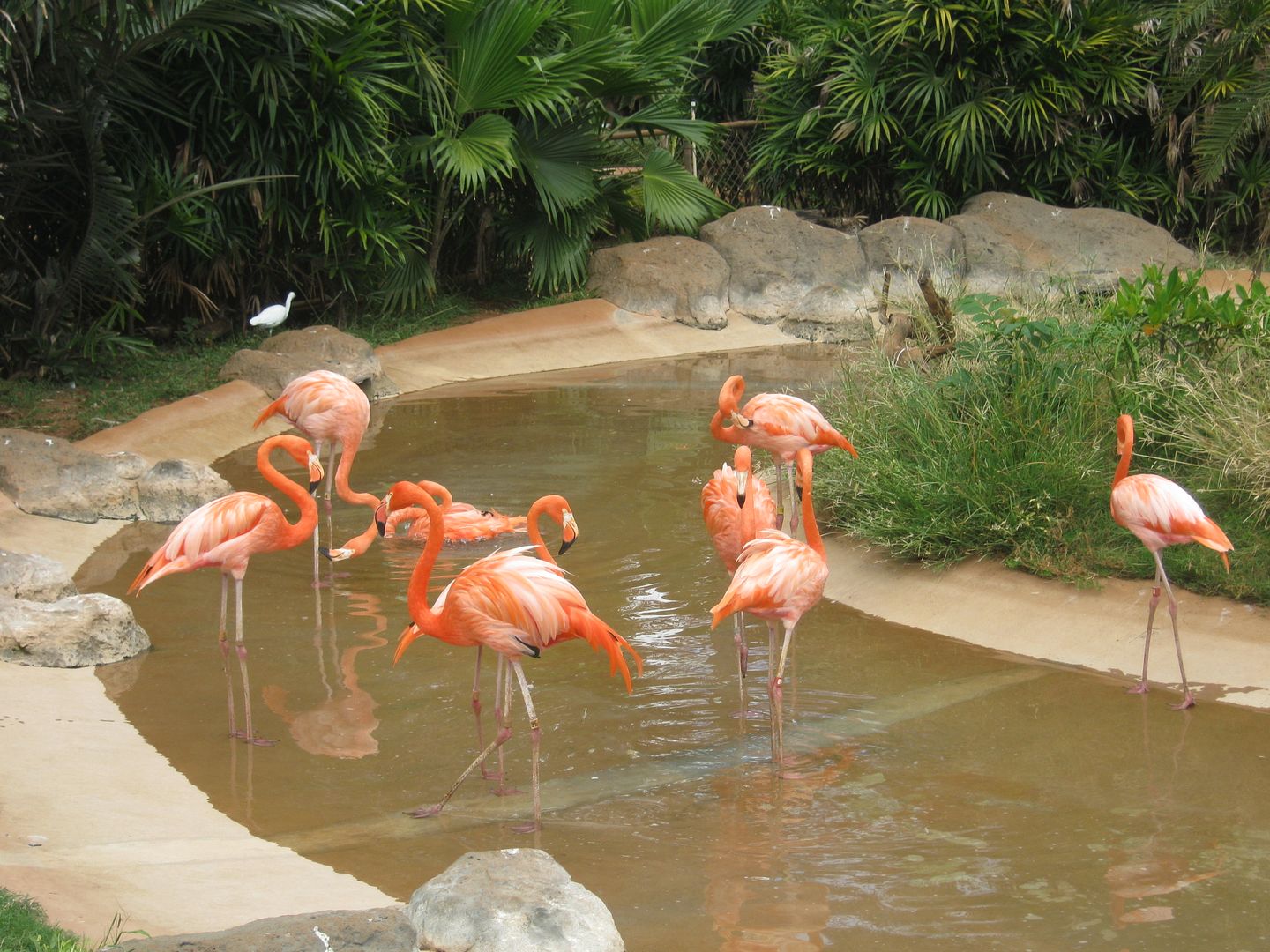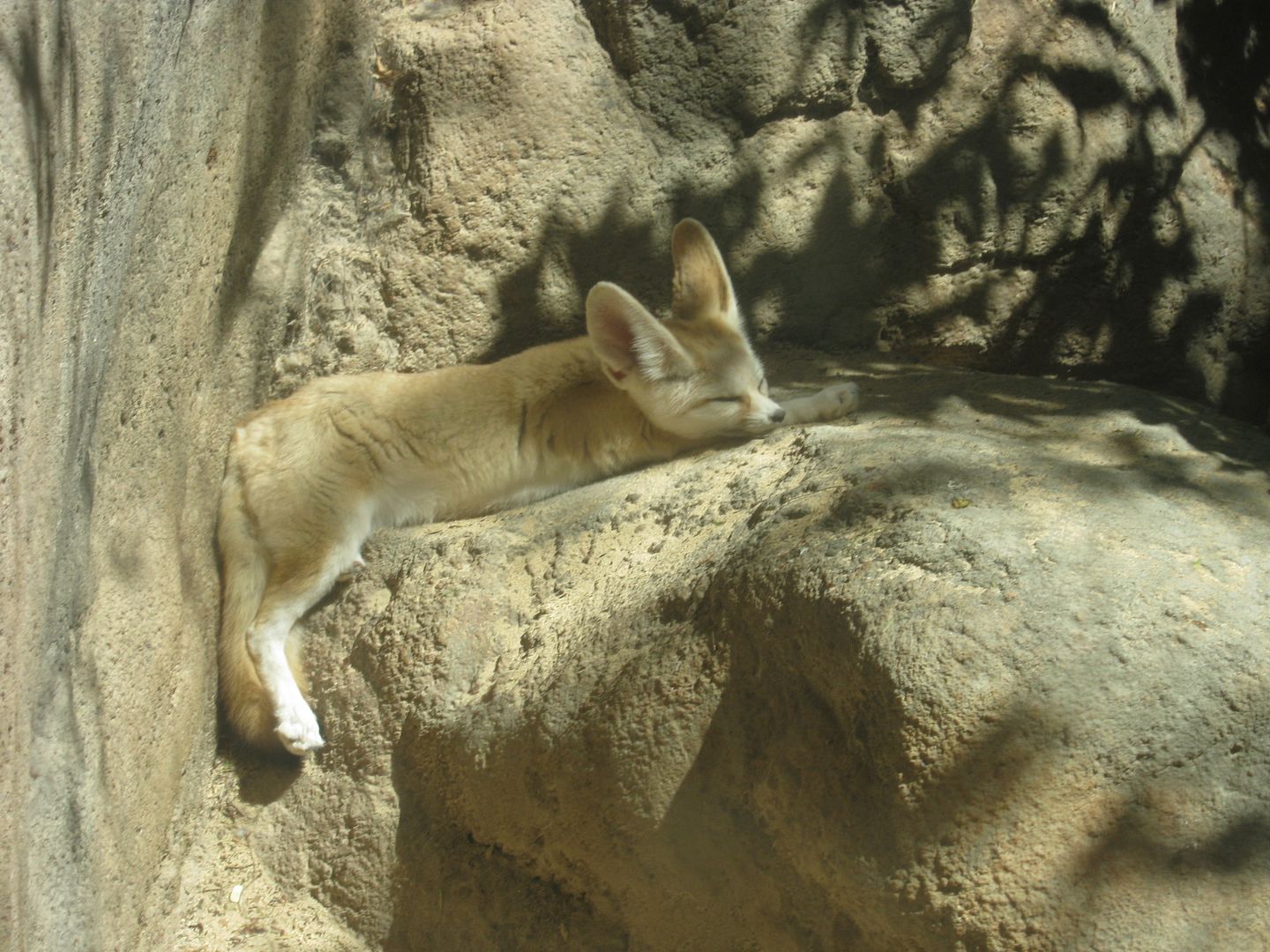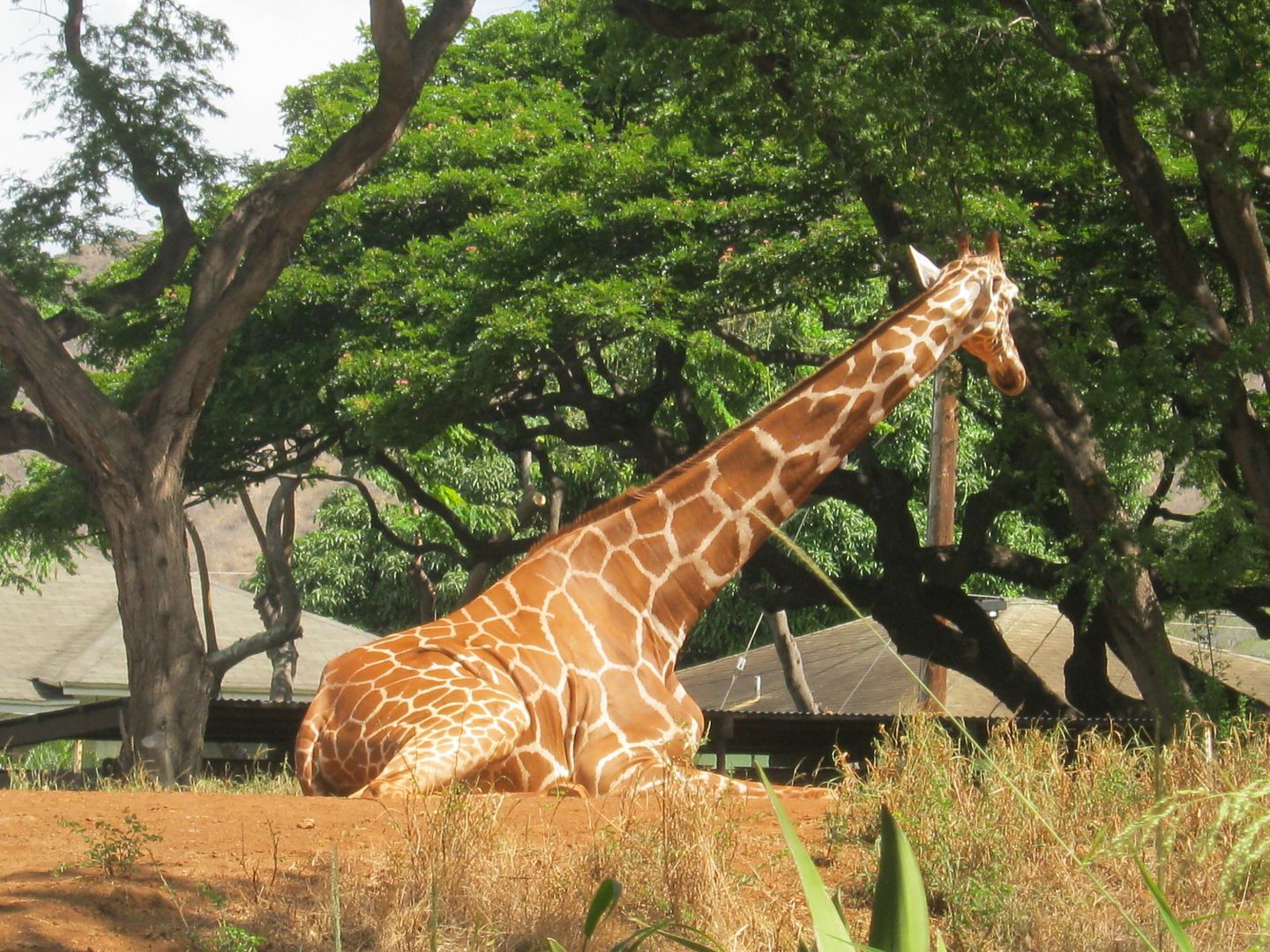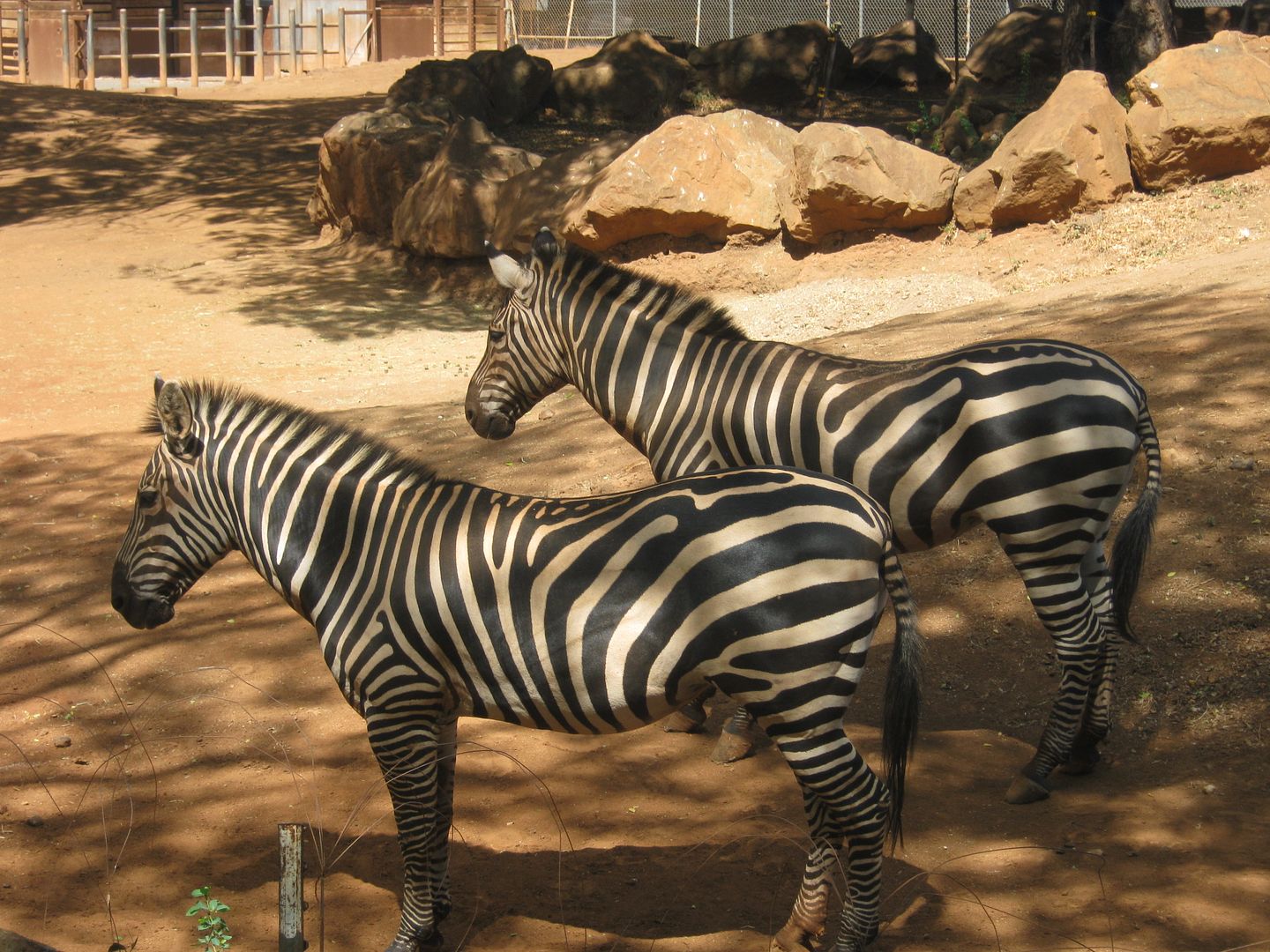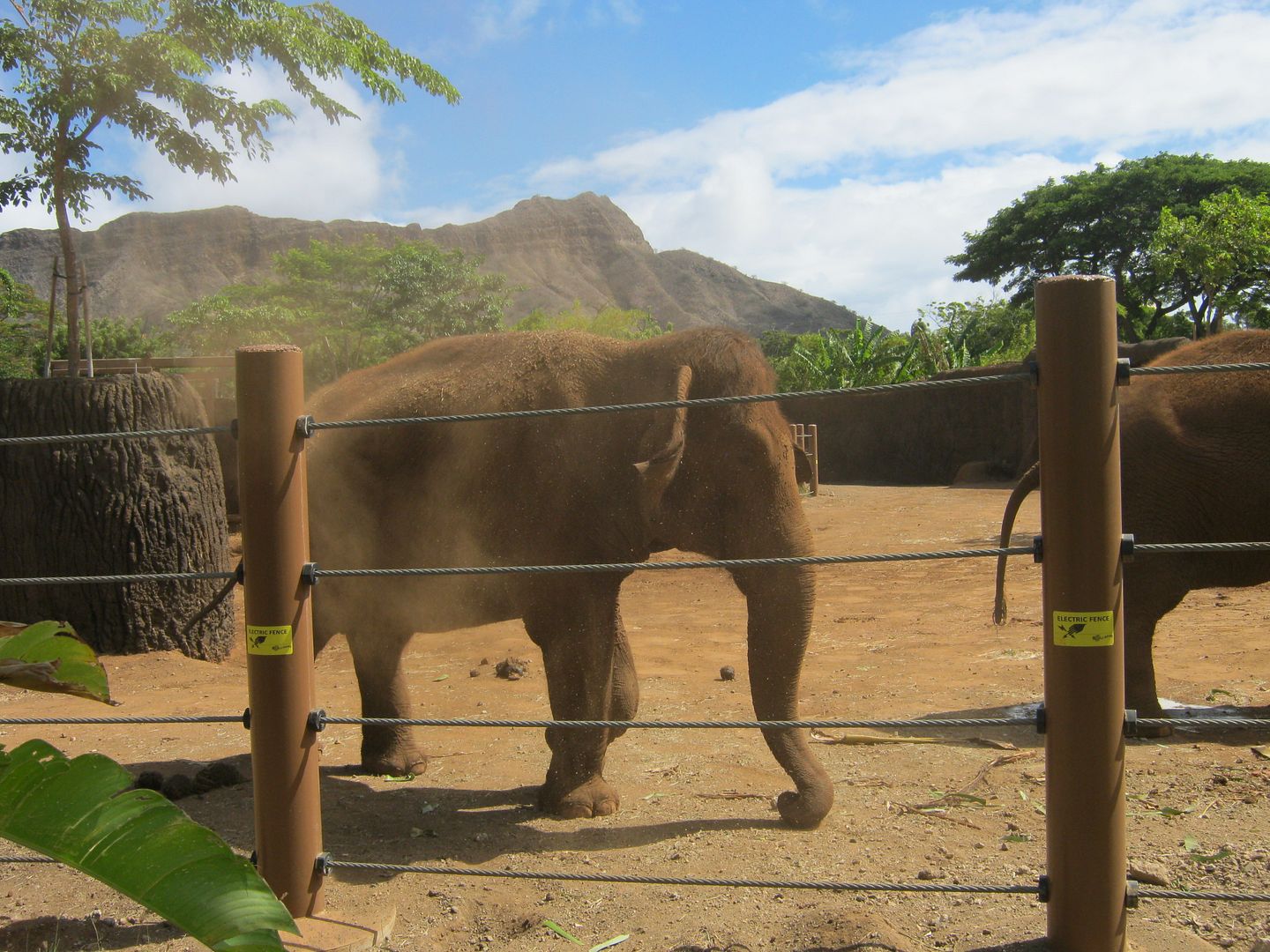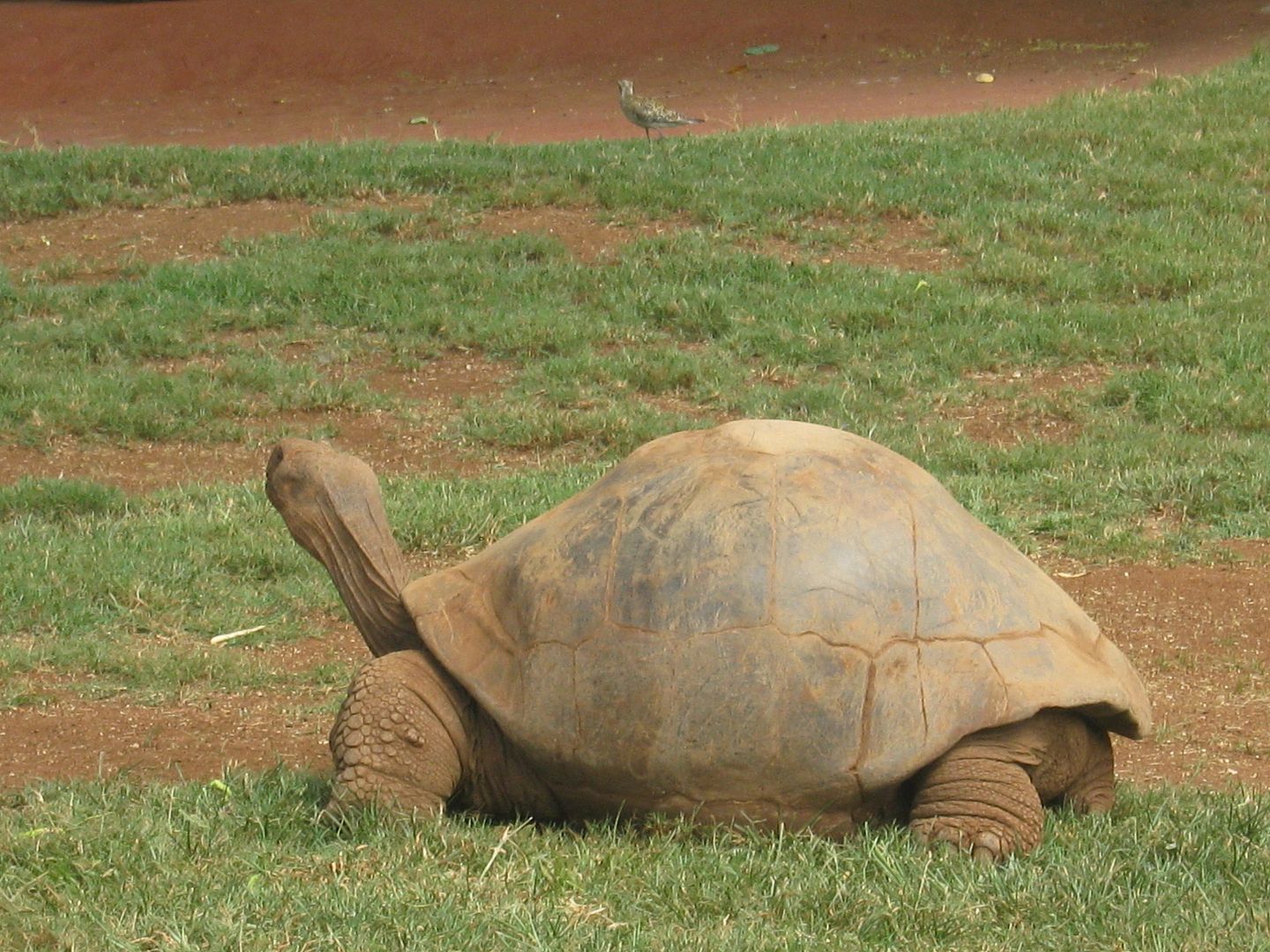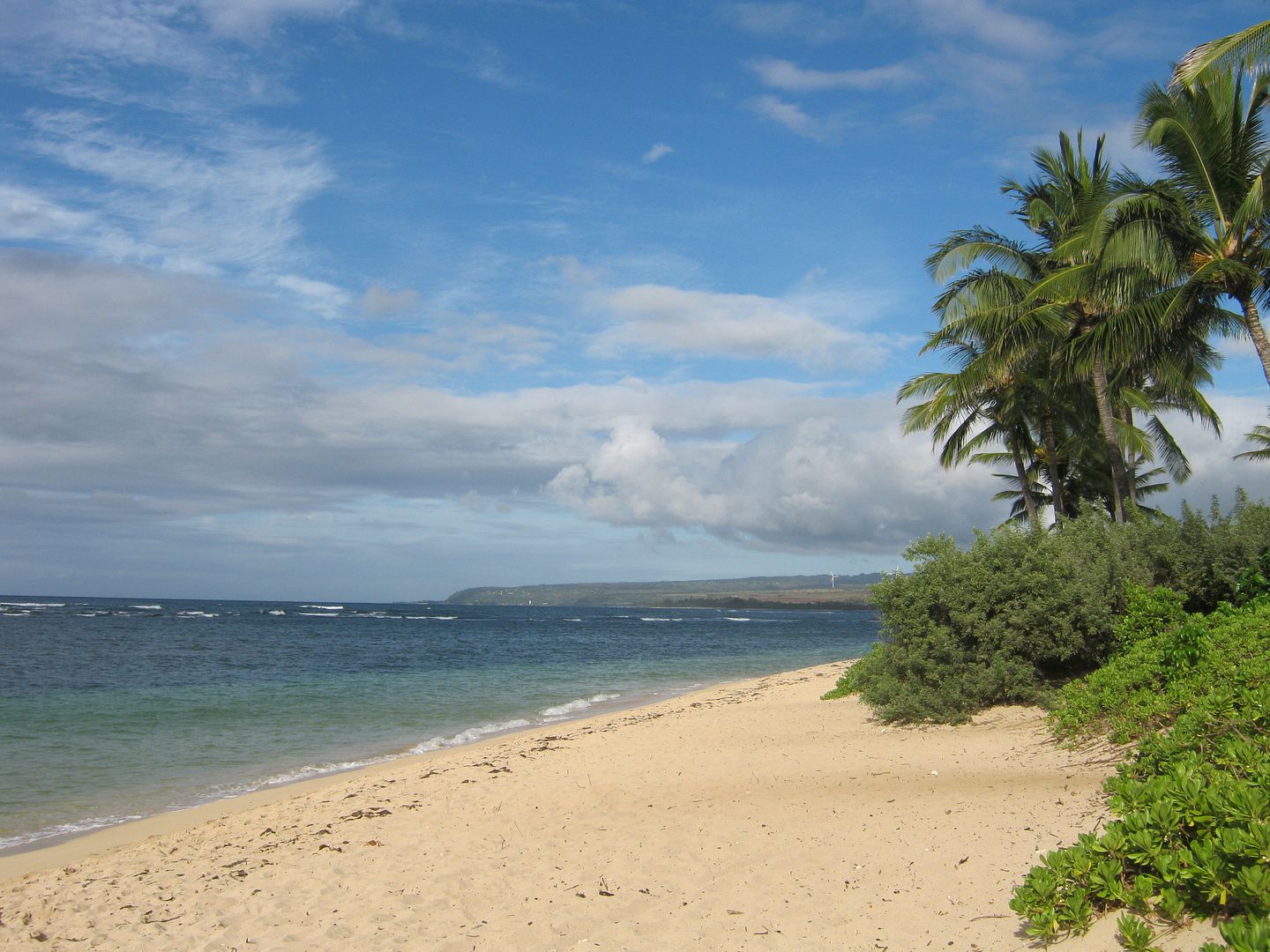 So I'm proud to say that we got to see pretty much all of the island. Even the shitty west side. We definitly explored and saw a lot in our time there and I left out the parts about our relaxing and swimming around on our little semi-private part of Waikiki.

We were kind of early for taking our car back and spent a lot of time at the airport. I had a comical fight with some vending machines to get Andy a Mountian Dew and myself a diet pepsi but from then on it was pretty much all just traveling, back to Vegas, then to Salt Lake City (eww) and then back home to Seattle. It was a long travel day and though it was sad to have our honeymoon over (and it's been stressful being home ever since. Not becasue of married life but just becasue of work stress and other things) it was good to see the pets and our city again. We've still got loads of swag to give out to people (we bought a bag full of nothing but swag) and it'll probalby take a while but we'll get them to people. But there it is. Most of the memerable stories of our lovely Hawaii Honeymoon.
Current Music:

The Velvet Underground. RIP Lou Reed :(