Solstice Cathy & Doug Gathering
On the 21st we had a gathering at our place for people to see Cathy, Doug & little Benjamin while they were in town. It was an early evening potluck gathering. Cathy and Doug showed up while we were still getting things together and they brought a couple bag of Dick's burgers as the potluck contribution, which I thought was really awesome. We had Raye, Dani, Sarah, Lindsey, Dorothy and Anna over. We all ate, caught up with Cathy and Doug and folks fawned over Benjamin. Sparky was very protective of the baby, which was really cute. Although Ben puked on Sparky's head which was apparently really hilarious ( missed it). Anna brought her new pup over and after some territorial barks and nips, Sparky and Oswin did some but sniffing and they got along fine. In fact, Sparky was a bad influence and showed Oswin to the basement and they both pooped down there. Anna was horrified but I thought it was funny. I guess Sparky liked him. Little shit. We started early at like 5 and folks had all left by 8. That made me feel really old but everyone had other parties to go to and Doug and Cathy had a baby to put down to bed, etc.
Charlotte's visit
We picked Charlotte up at SeaTac the next day and I cried happy tears when I saw and hugged her at the airport. She was here for the whole winter break but I felt really bad that I had to go to work and that Andy and I were tight with money and couldn't go out much. I felt like a bad host for her visit because we were going through so much stuff, Andy's health issue, the quitting of my job/spending evening applying for jobs, etc. It was a visit where we couldn't go out too much so we showed her
a lot
of movies in the evenings. Luckily though she hung out with Dorothy some and hung out with Raye and Lex some as well. They took her to West Seattle to look at xmas lights and to Golden Gardens for some winter bonfire time. I got one full Charlotte day where she and I went for a walk around Ballard and then went down to Pike Place Market. I foolishly wore my new Doc Martins I got for Christmas so I was in so much pain but we still had a nice day together.
Xmas
We did the usual xmas eve at my folks place with Charlotte. Tradition in my family is to spend xmas eve drinking cocktails and enjoying nibblies while watching xmas movie and opening stocking gifts. We had xmas crackers too to bring a little British tradition into the mix and make Charlotte feel welcome. We opened our stockings and my folks got Charlotte a stocking too. We watched A Christmas Story, which Charlotte had never seen before (how often do you get to show someone that movie for the first time, like never in this country). She really liked it and she seemed to like her gifts. It was a lovely night.
Xmas day Charlotte went and hung out with Raye and Lex and my folks came over with presents. We exchanged gifts. I felt really bad that I was too broke to give many gifts. I only got two things for Andy (one of which I bought before his birthday in November). I had found this company that makes personalized muppets of people. You give them a picture and say what features you want included and you get a puppet of yourself or a loved one. I jumped on that shit as soon as I saw it, thinking it was the most awesome thing ever. My folks took the suggestion of stuff I was going to get for Andy. He got one of those radio controlled helicopters (there were a lot of toys this year) to harass the pets with. I made out with Dr Who stuff galore, a 50th anniversary book, a TARDIS bathrobe(!) a couple of shirts and the season I was missing on DVD. Speaking of Dr Who, after dinner we tuned in for the Christmas Special and I was very disappointed. It had it's moments but overall I thought it was too convoluted and I just didn't like it.
Boxing day I had to go back to work but I met up with Charlotte afterwards and the bussed it out to Ballard to go to Cathy & Doug's second Seattle gathering at the People's Pub. There were folks I didn't know and all these kids but I got to see Cathy one more time as well as Dorothy and Anna and Raye and Lex and briefly Derek.
New Years
We didn't make any plans for New Years this year. I kept getting texts of "what's the plan for New Year" but I didn't have any answers. I wanted to do something where Charlotte could see the Space Needle but at the same time I was too broke to go out and a lot of people where in that boat. So Raye, Lindsey and Lex stepped up and hosted a gathering at their place. Party at Melrose!! Andy and I almost didn go. Andy was in a lot of pain. I had a shitty day at work (I could be seen weeping into my lunch at the Westlake Food Court, probably the saddest thing ever). We left a little later in the evening, like 10, but I'm really glad that we went. Being with my friends really cheered me up and it perked Andy up too. I made a promise to myself to not talk about the stuff bringing me down and I just enjoyed everyone's company. The fog was too thick to go to our old spot to see the fireworks at the Space Needle (there might be too much development to even see from that spot anymore anyway, with all the buildings going up on the HIll). Instead we went down to Arik & Marvins appartment and rang in the new year with a timed repeat of the ball drop in New York. Andy and I didn't stay too much later after that, probably left around 1:30 or so. Highlight of the night though. After Midnight we were back up at Raye's apartment and Dani, Derek, Dan, Ryan Charlotte and I were all on the couches talking and we were talking about terms for naughty bits and Charlotte heard the term "beef curtians" for the first time to which she loudly exxclaimed in her adorable accent "BEEF CURTIANS?!" We all fell out laughing. New ongoing joke methinks. :)
Charlotte's Farewell
On the Friday after New Years Dani hosted a farewell potluck dinner for Charlotte. It was Dani, Raye & Lex, Dorothy, Andy & myself and eventually Sam & David and Charlotte of course. We introduced Charlotte to Cards Against Humanity which is always a good time. Before it was time for everybody to head home we opened a bottle of champaign and made a toast to Charlotte, since the last time she was here she had to leave while the wedding reception was still going on. We toasted to her and hugged her. She's part of the family here in Seattle and we all love having her and we wanted her to know that.
Saturday morning, Raye, Lex and my folks all came by to hang out a little bit more with Charlotte before we took her to the airport. I made waffles for people and we all hung out and chatted. We took Charlotte to the airport for a tearfull goodbye.
Raye's Engagement
When folks were over at ours on Saturday, I was in the kitchen alone with Lex at one point and Lex told me on the DL that she was going to propose to Raye at Raye's birthday (in July). She said she wanted tme to know as the BFF. It was a long time to hold on to such a secret but I was gonna stay mum.
Then the next day on Sunday I got a call from Raye telling me that Lex proposed to her that morning and she said yes. I guess Lex couldn't wait. It was funny we talked on the phone for a while and I congratuated her then we hung up. I told Andy the news and he asked "so you're maid of honor, right?" I said "She didn't ask" like emediattely my phone rang again and it was Raye "I totally forgot, will you be my Maid of Honor." Ha ha ha. It is very sudden and surprising, especially becasue it's Raye, but Raye's happy and that makes me happy. That would make all of the former Girls (TM) married. Andy made a joke about how the book we wrote should be re-titled "how to get married really fucking fast". (Though in fairness we wrote that book like 5 years ago, I don't know if it's that fast.)
So congrats to Raye and Lex! More on that story as it develops (they say they're thinking summer of next year). I've got a bitchin' bachelorette party to plan down the line. :D
Okay so that's been the busy holiday season summed up. Now to some random photos and video from the past two weeks.
Our big xmas tree :)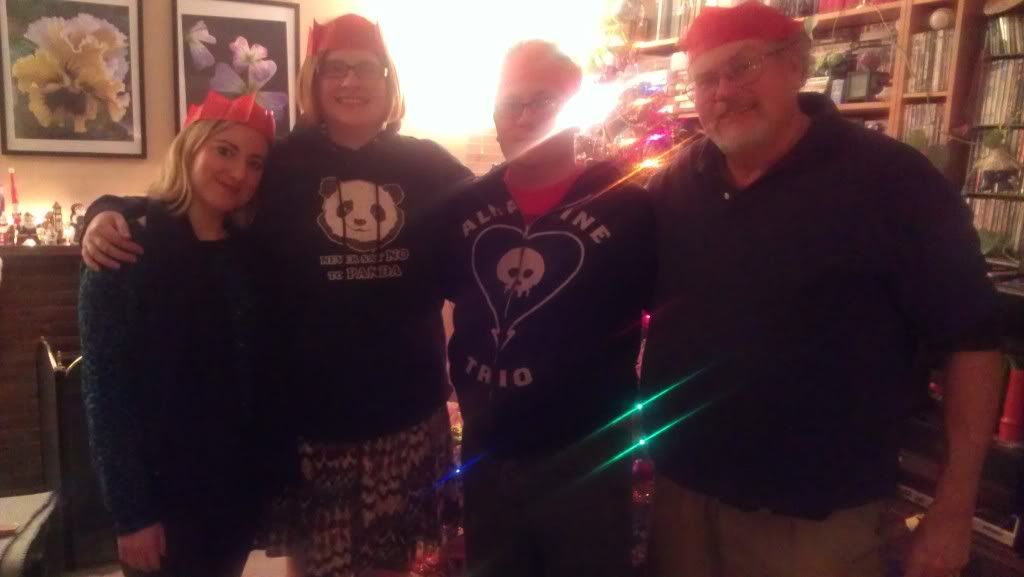 Charlotte, Mir, Andy, my pops on xmas eve
Freaking Sparky out with the little helicopter
I got Andy a muppet of himself!
Raye and Cathy @ People's Pub gathering on Boxing Day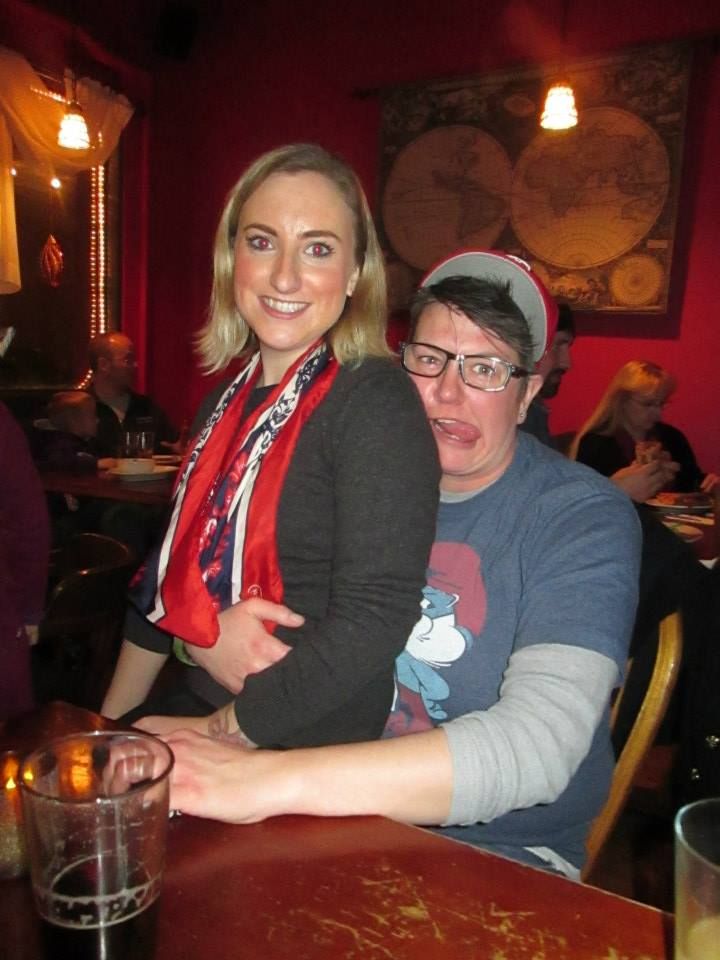 Charlotte & Lex at People's Pub
Beautiful sunset at Pike Place Market (hanging out with Charlotte)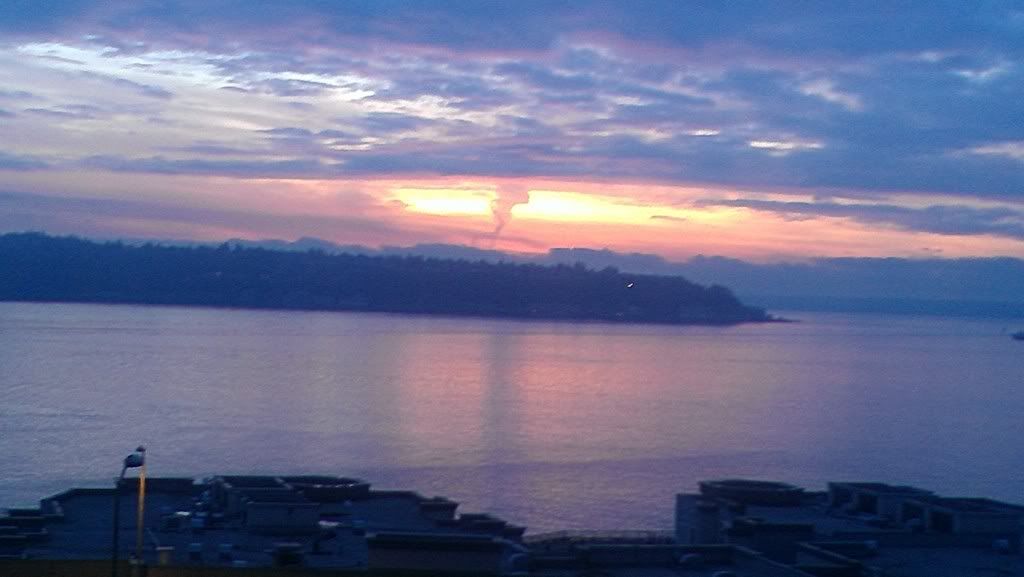 What is this strange thing in West Seattle?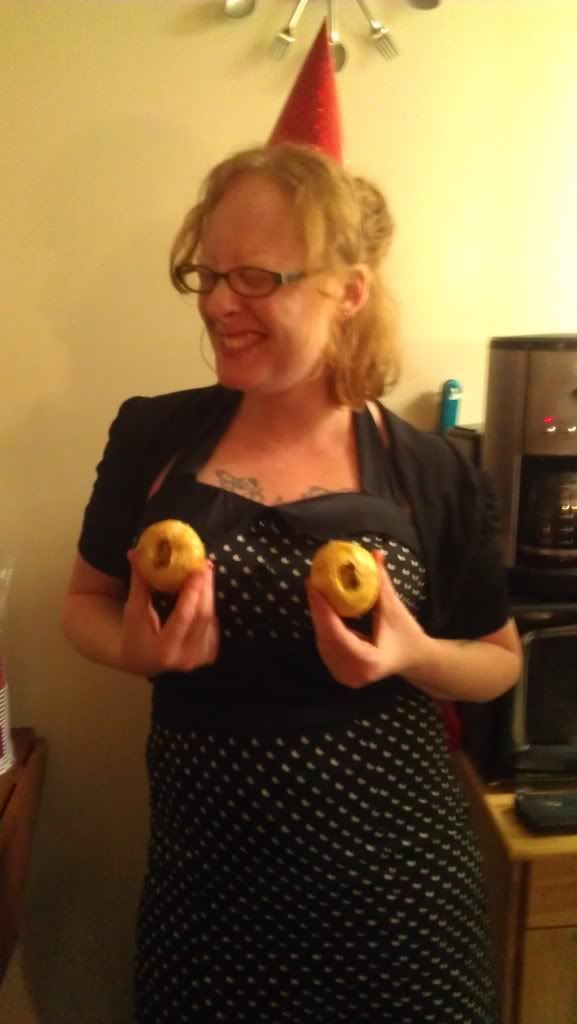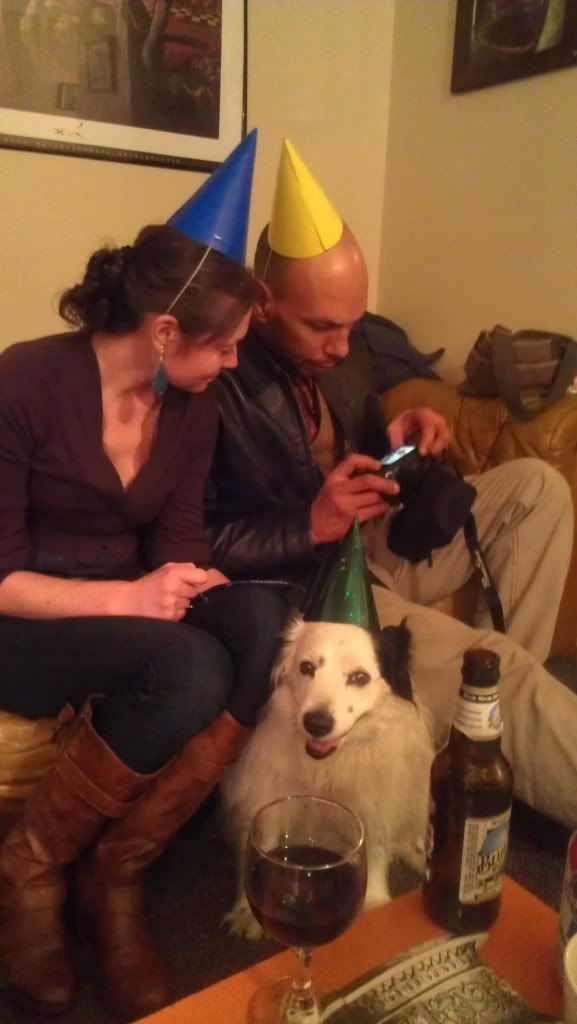 Sarah @ NYE party (left) and we had a dog with a party hat at the party! Just like a beer commercial!
Ryan, Andy & Dan, the Vegas Boys. :)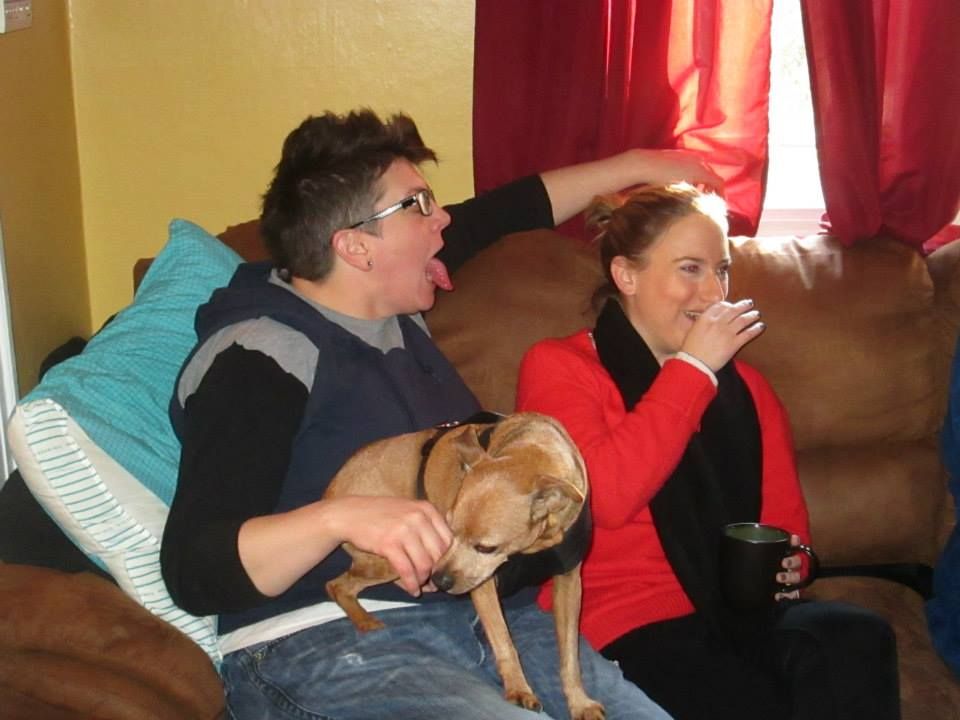 Lex, Sparky and Charlotte on Charlotee's goodbye day.